One of the reasons I bought my Industrial Sewing Machine is to have the ability to sew very thick material.  Don't get me wrong – you can certainly sew vinyl on a domestic sewing machine.  I have done that many times!  Sewing with Vinyl on my Industrial Sewing Machine is super duper easy!  I wanted to make an easy purse, but instead of simply using cotton fabric, I decided to switch up some of the materials for vinyl.  I started with the purse straps.  Let me show you how I enjoy Sewing with Vinyl on my Industrial Sewing Machine.  Let's make some Vinyl Purse Straps!

This post contains affiliate links for your convenience. ? Read my full disclosure policy here.
I chose the Ethel bag pattern, by Swoon patterns, because it is a simple and free pattern.  Since it is a basic pattern, I wanted to change it up with adding some vinyl elements in lieu of some of the cotton pieces.  I am also planning to add purse feet and a magnetic closure.  I will discuss those in future posts.  If you would like to make one too, here is what you will need and please note that I am providing some altered cutting measurements and additional materials below:
SUPPLY LIST 
Basic Sewing Supplies Needed
Sewing with Vinyl – Making the Purse Straps 
The following directions are in lieu of the Swoon Pattern instructions for step #3 (Handles).   Please note that these handles are cut different than the original pattern states.  These handles are cut as follows:
Alternate cutting measurements
Exterior Fabric: Qty (2) 2″ x 20″
Fusible Interfacing for exterior fabric: Qty (2) 2″ x 20″
Vinyl:  Qty (2) 2.25″ x 20″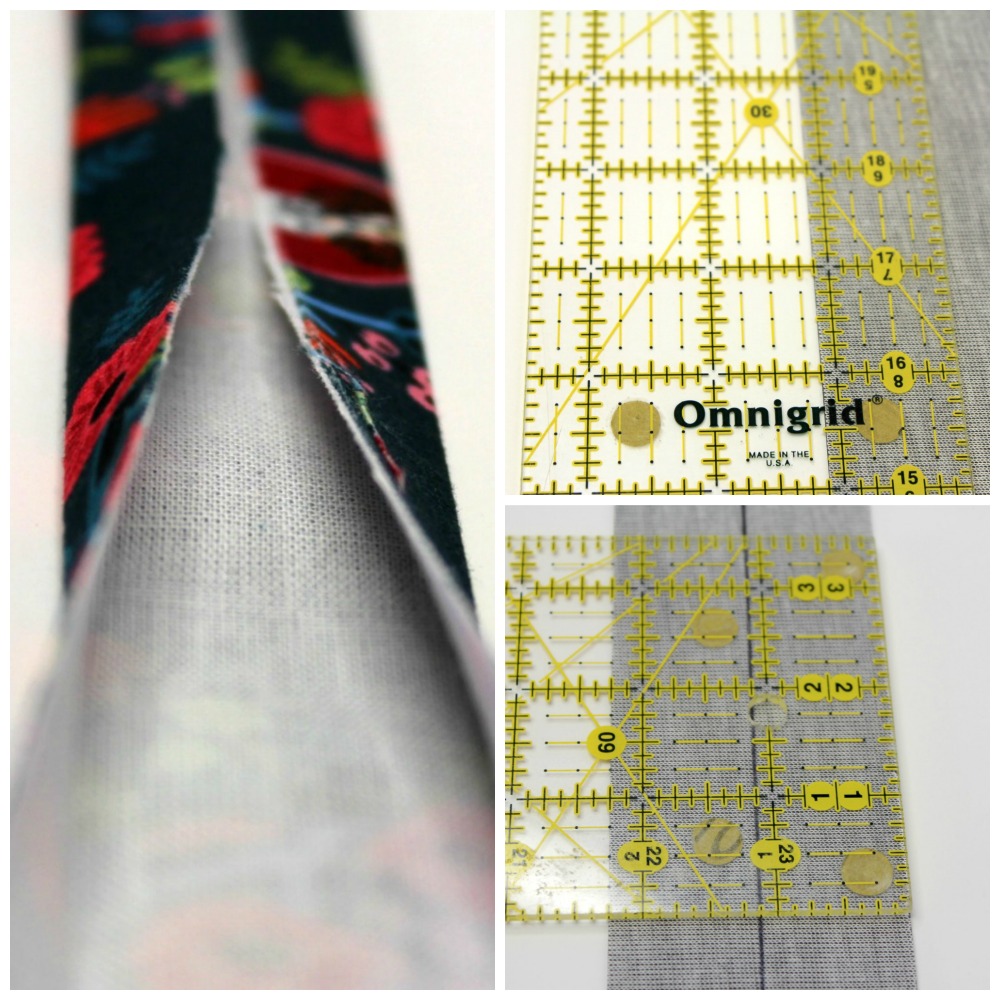 Step 1:  Fuse interfacing onto the wrong side of your exterior handle fabric.  Fold the handle in half, wrong sides together and matching the long edges and press to make a center crease.  Open and fold each long edge to the center crease, so that the long raw edges are gutting up agains each other at the center and press.  Do this for both exterior handle pieces.  Set aside.
Step 2:  Mark a middle line at 1.125″ (1 1/8″).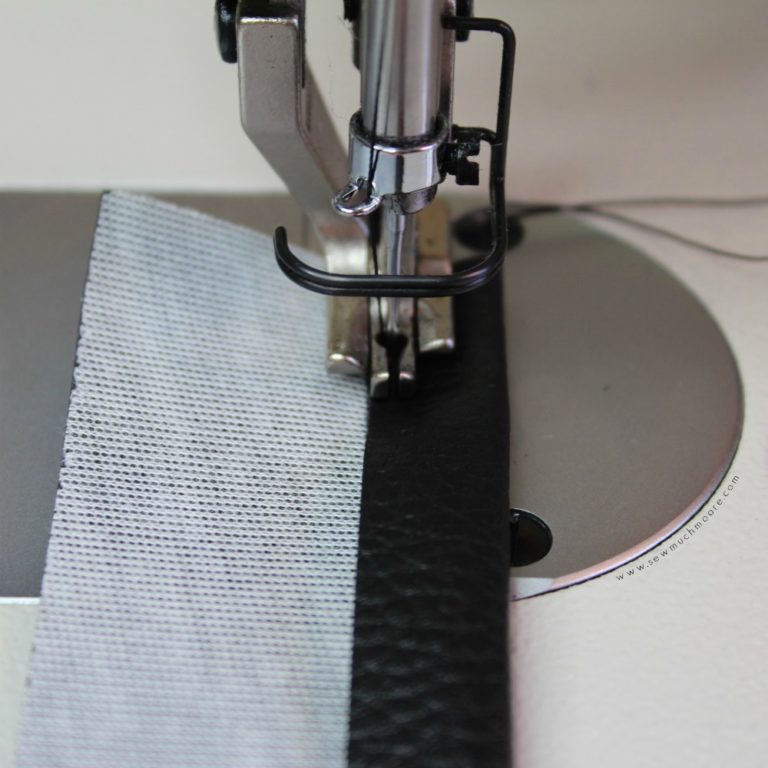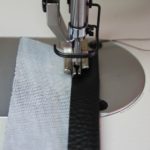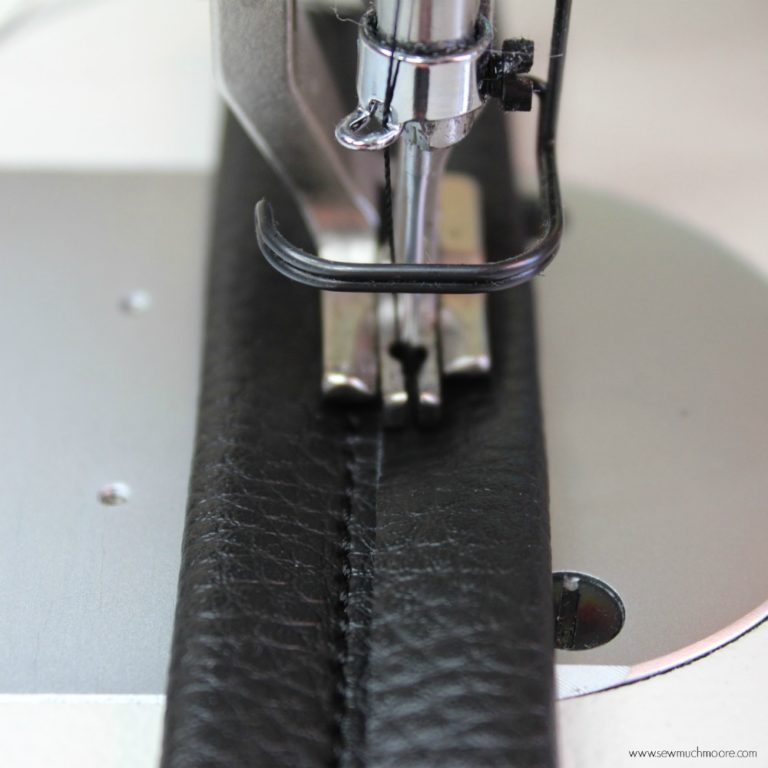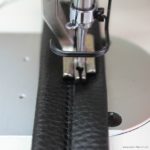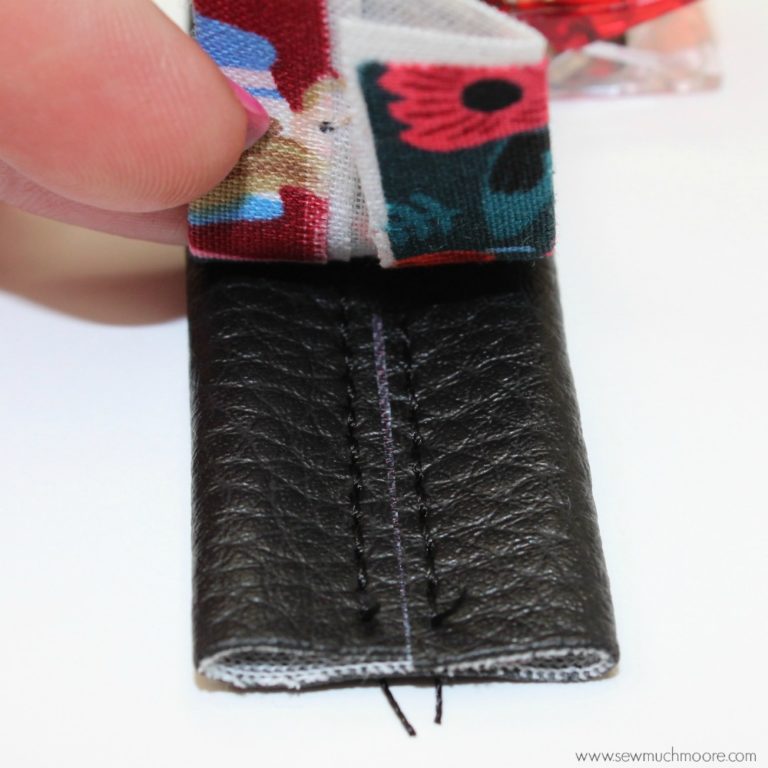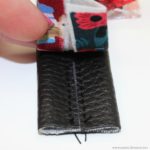 Step 3:  Fold one side of the vinyl towards the marked line and sew down the entire length of the strap.
Step 4:  Fold down the other side of the vinyl to the center and sew down the length of the strap.  Repeat for the second vinyl strap.
Step 5:   Place the Exterior fabrics on top of the vinyl straps, wrong sides together.  Clip in place along one side.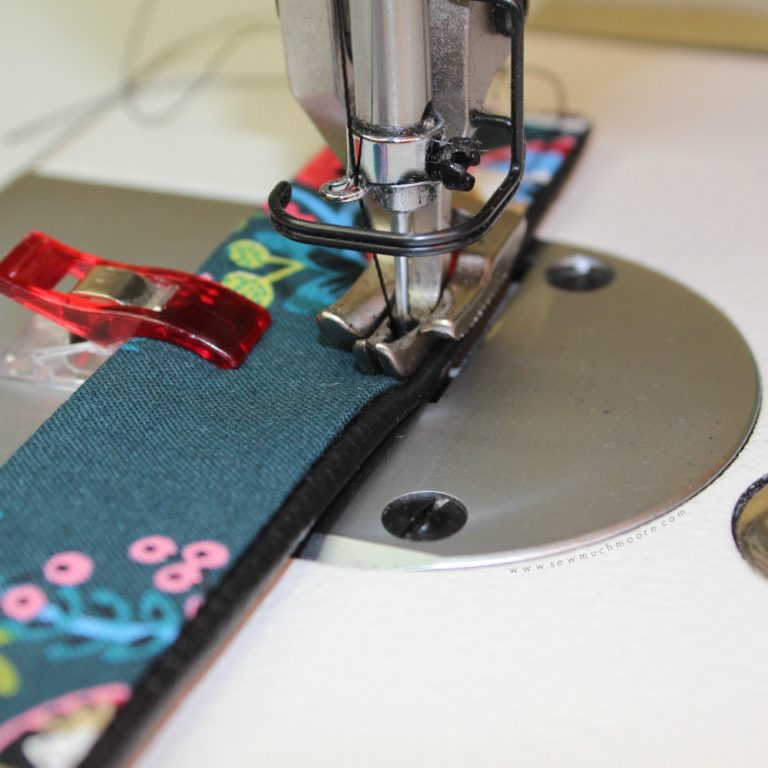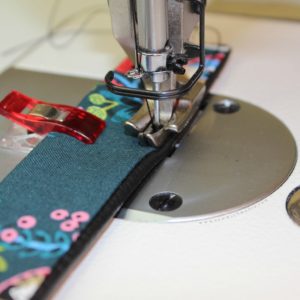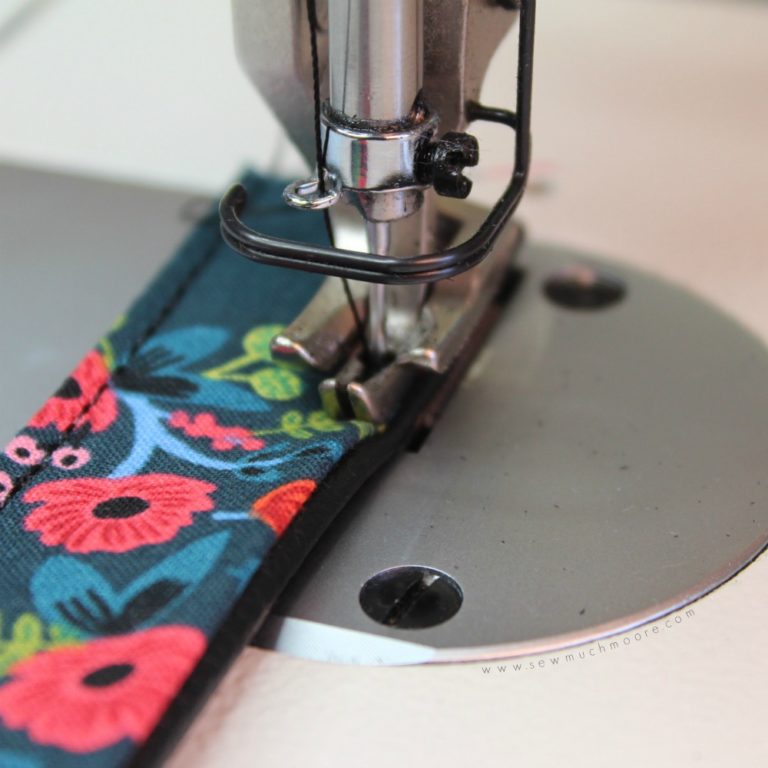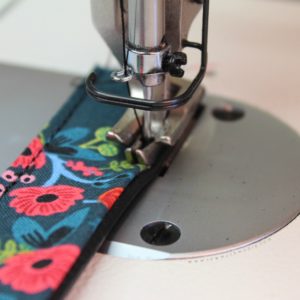 Step 6:  Using clips to keep the exterior and vinyl fabric in place, sew along the edge of strap.  I recommend sewing about an eighth inch from the edge of the strap.
Step 7:  Sew along the last edge of the strap.  Repeat for the second strap.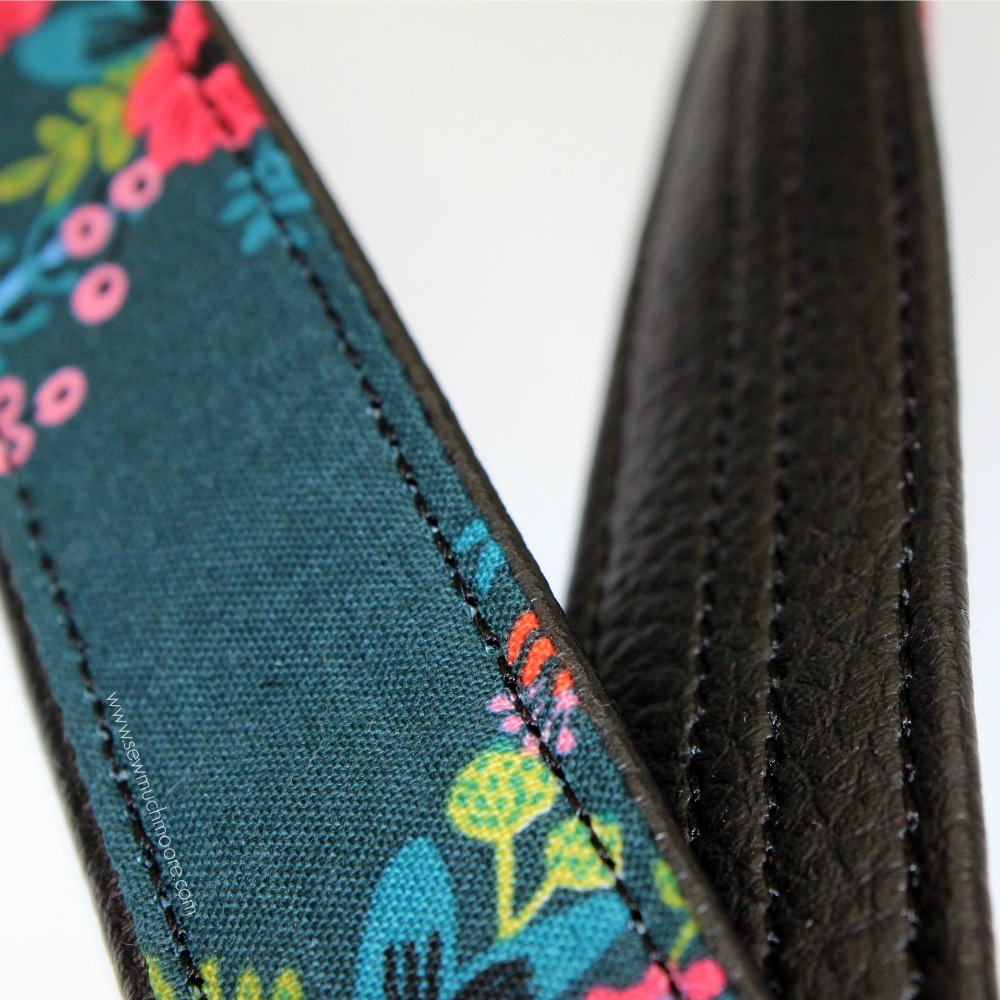 Your vinyl purse straps are finished and should look fantastic!  I hope you try this fun and easy technique and incorporate it into your next bag project!  Fun and easy!!
Sewing with Vinyl – Purse Strap VIDEO TUTORIAL
I don't know about you, but I LOVE a video tutorial as well!  Check out my YouTube video which shows you how to make a Vinyl Purse Strap!
This is the fifth and final post in this series.  Be sure to subscribe to my Newsletter so you can be the first to know when my next blog post becomes available!
Because I made (3) straps and only need (2) for my bag, I made the extra strap into a fancy key fob!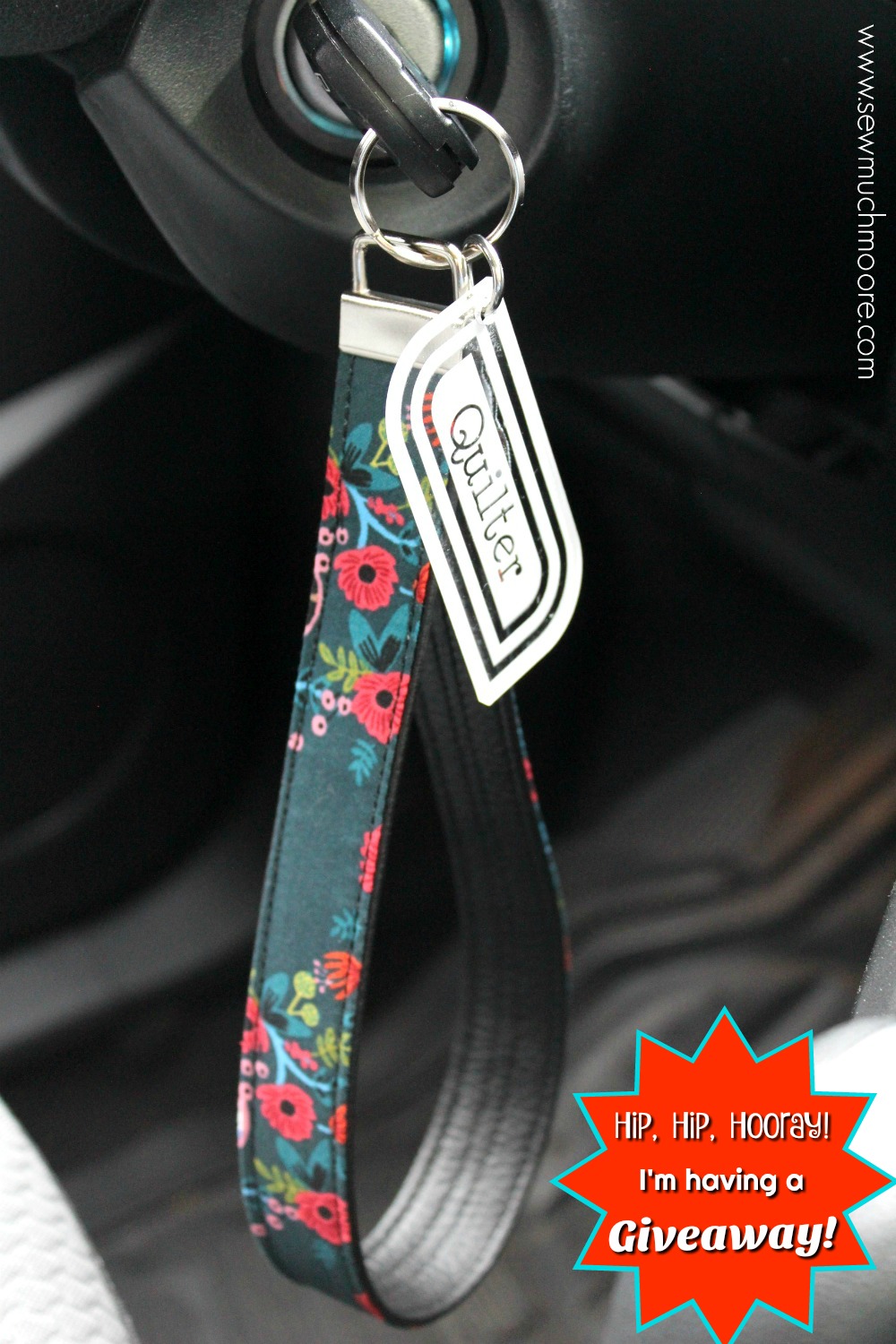 Thanks to all that entered this giveaway!  The lucky winner has been contacted!  Yay!
Happy Sewing!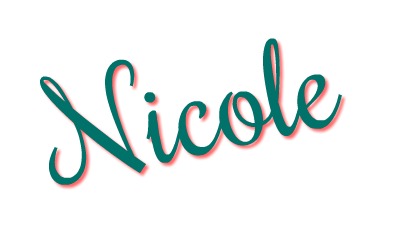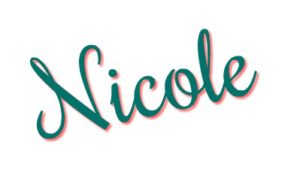 Be sure to check out my most popular posts!
SaveSave