Industrial Sewing Machine
I never thought, in a million years, that I would own an Industrial Sewing Machine!  When I thought of Industrial Sewing Machines, I would think of a sweatshop factory in Asia or even the group of prisoners on that Netflix show – Orange is the new Black.  Haha!  So, how on earth did I end up owning my own Industrial Sewing Machine?  Let me tell you all about it!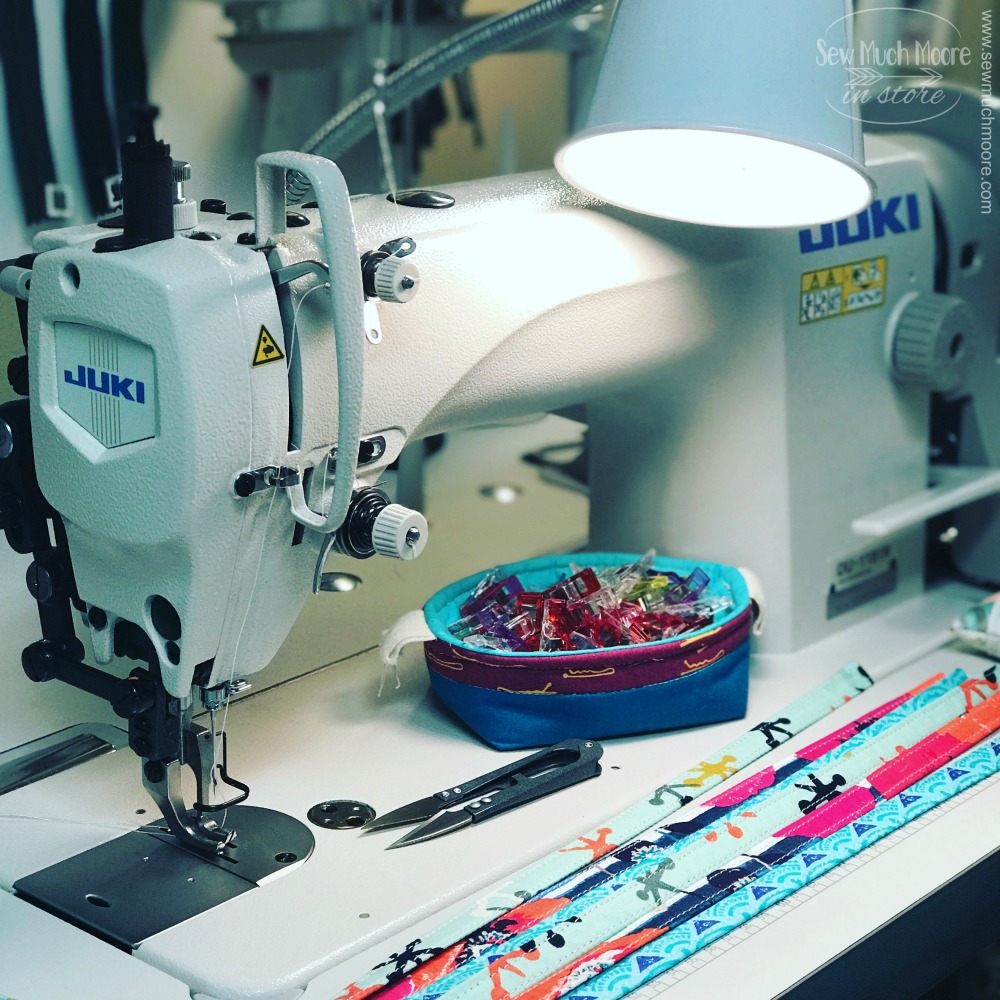 This post contains affiliate links for your convenience. ? Read my full disclosure policy here.
Why I needed an INDUSTRIAL sewing machine
A few years back, I started selling handmade sewn items online.  At first, I was just selling some left over craft show items.  Then, I learned how to sew with zippers and everything changed!  I was making Makeup bags, Shaving Bags, Toiletry Bags and on and on.  Over the past several years, my domestic sewing machine was really being abused.  I would take my domestic machine in for regular maintenance.  Even with bi-annual tuning and maintenance – I was continuing to have issues.  My domestic machine would also struggle with some of the thickness of the materials I wanted to sew.  It would never fail to start to have trouble during my peak sewing season (Christmas and Back-To-School).  I was also limited in the amount of maintenance that I could do to my own domestic machine.  I could keep it clean and oiled, but that just wasn't enough to keep it in constant prime condition.  It was clearly time for a business upgrade!
which industrial sewing machine should I get?
I started doing some research on new machines.  A quilting friend of mine suggested that I look into the Juki Brand.  At first, I was not interested because I was making some bags with exposed seams and needed the zig zag stitch.  My search for an Industrial Sewing Machine brought me to a wonderful Facebook Group, which was founded and is managed by Jessica of Sew Da Kine.  In this group, Production Bag Making, I learned SO MANY THINGS from folks who already own an Industrial Sewing Machine.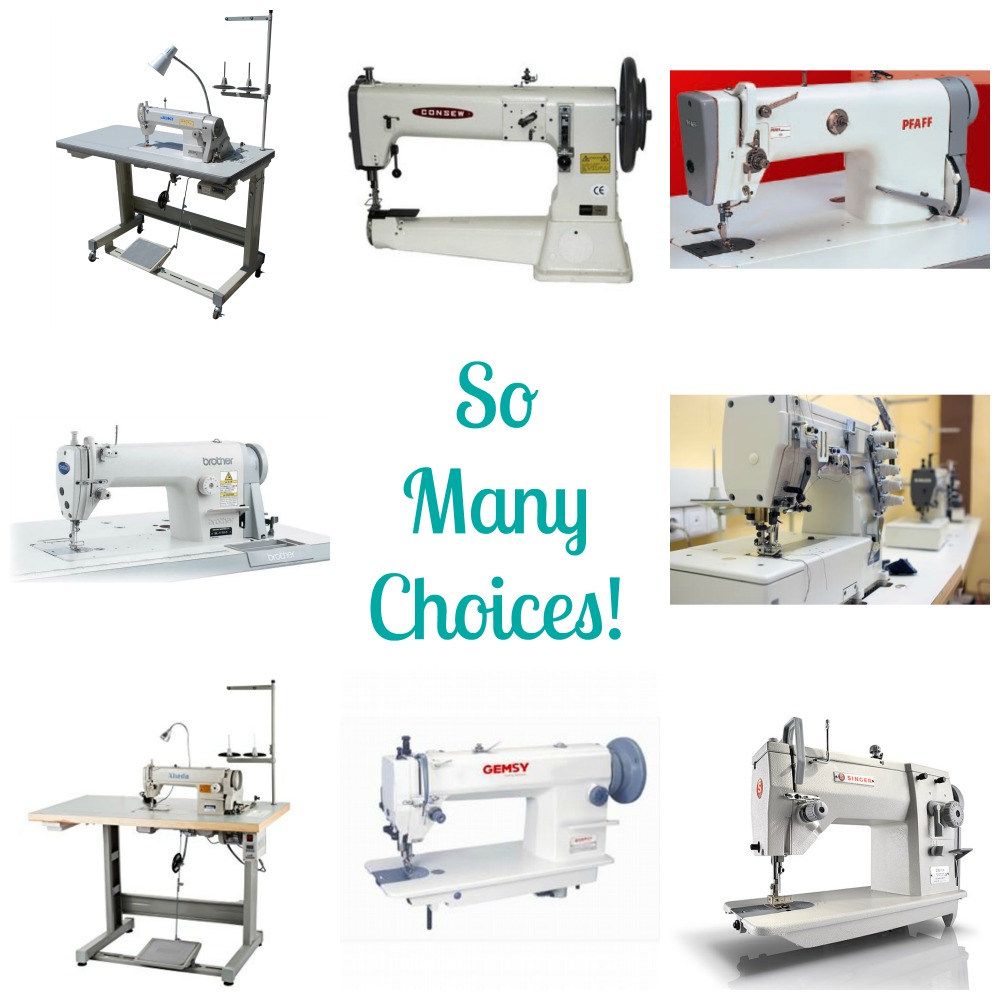 During this time, my Mom was also looking to upgrade her domestic sewing machine.  My Mom discovered the NCW pattern by Emmaline Bags and was making wallets for everyone!  I shared the Facebook Group with my Mom and we were both stalking all the info this group had to share.  My Mom was the first to take the Industrial Sewing Machine plunge.
First, my Mom bought an industrial sewing machine
Mom bought a Juki DU-1181N.  Once it was delivered, my brother-in-law carried the head and the various boxes down to her sewing studio.  I took a trip (my Mom lives 3 hours away) and we spent an evening putting her machine together.  I was really nervous about the assembly process, because I am not a mechanically inclined person.  Luckily – Mom bought her machine from Sewing Gold.  Sewing Gold provided a really great step-by-step instruction video on how to put the machine together.  I was truly amazed that we did it!  It was so much easier than I ever thought it could be.  We could not have done it without the video!
Yes, I'm just like my Mother – I had to get an Industrial Sewing Machine too!
which industrial sewing machine I chose
Even though my Mom had great results with her Juki and loved where she bought her machine, I wanted to check all my options.  I was still sure that I needed the zig zag stich so I was thinking about getting a Sailrite machine.  I hopped onto Facebook Group and asked all sorts of questions.  I learned about the difference between a clutch motor and a Servo Motor.  I learned about needle size and more than I ever wanted to know about the companies to avoid.  (haha!)  I was determined to wait until after the holidays to buy a business sewing machine.  I had just launched my Amazon Shop (in late October) and wanted to get my Holiday season finished before I started to work towards a budget for the new machine.
I knew it was time to buy an industrial sewing machine
As fate would have it, my Amazon shop exploded in sales and I bought my new machine on Black Friday of 2017.  I called Steve Levin, from Sewing Gold, and told him what I wanted to use an Industrial Sewing Machine for.  I explained to Steve that I wanted to use my machine for making bags out of interfaced cotton and possibly more cork fabric, vinyl and leather as well.  Because I have a quilting background, I was interested in the walking foot machines (not that this machine is used for quilting).  Steve offered me a free Servo motor upgrade and my new Juki DU-1181N was delivered a week later!
After my Holiday rush was done, I took a mini vacation from online sales and got to know my new machine.  I had some questions at first and Steve was an email or a phone call away!  I can honestly say that dealing with Steve has made owning this machine less intimidating than I could ever imagine.  Once, I had some thread stuck in the bobbin area and Steve showed me how to fix it myself.  He has several videos on YouTube.  You can check out his channel or call him with any question.  I highly recommend Sewing Gold!
Check out this video that Steve made, which shows the versatility of one of the many Industrial Sewing Machines that he sells.
If you follow me on Instagram or Facebook, you will know how much I love my new machine and how many bags I can produce!  It's great and I would highly recommend looking into something like this if you want to take your bag business to the next level!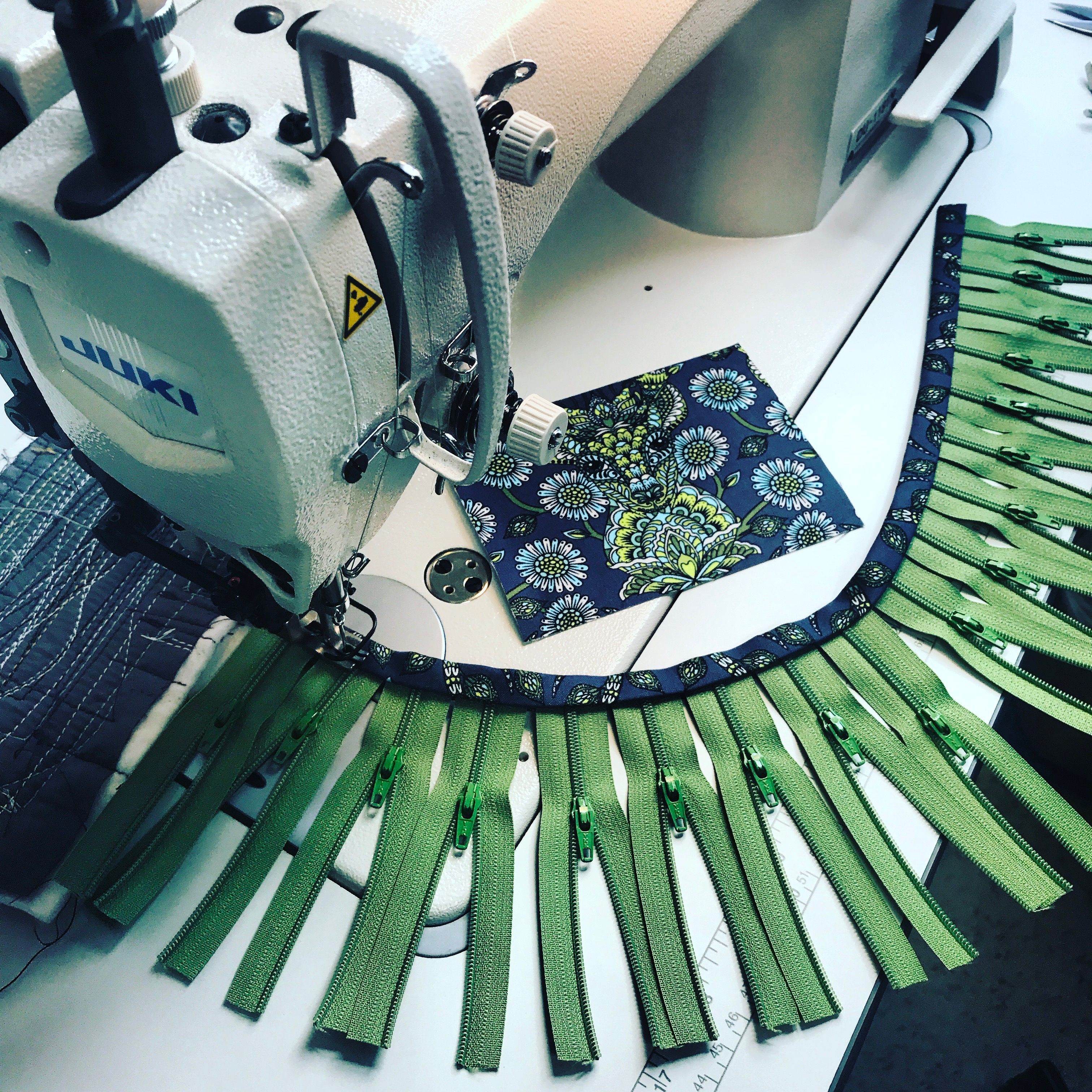 This is the first post of a series I have planned.  Be sure to subscribe to my Newsletter so you can be the first to know when the next installment is released!
Our friends at Sewing Gold offered a free package of needles as a giveaway prize!  How generous!  Congraduations to Laura!  You can see what Laura makes with her Industrial Sewing Machine right HERE!   Thanks to everyone for participating!   And THANK YOU Sewing Gold!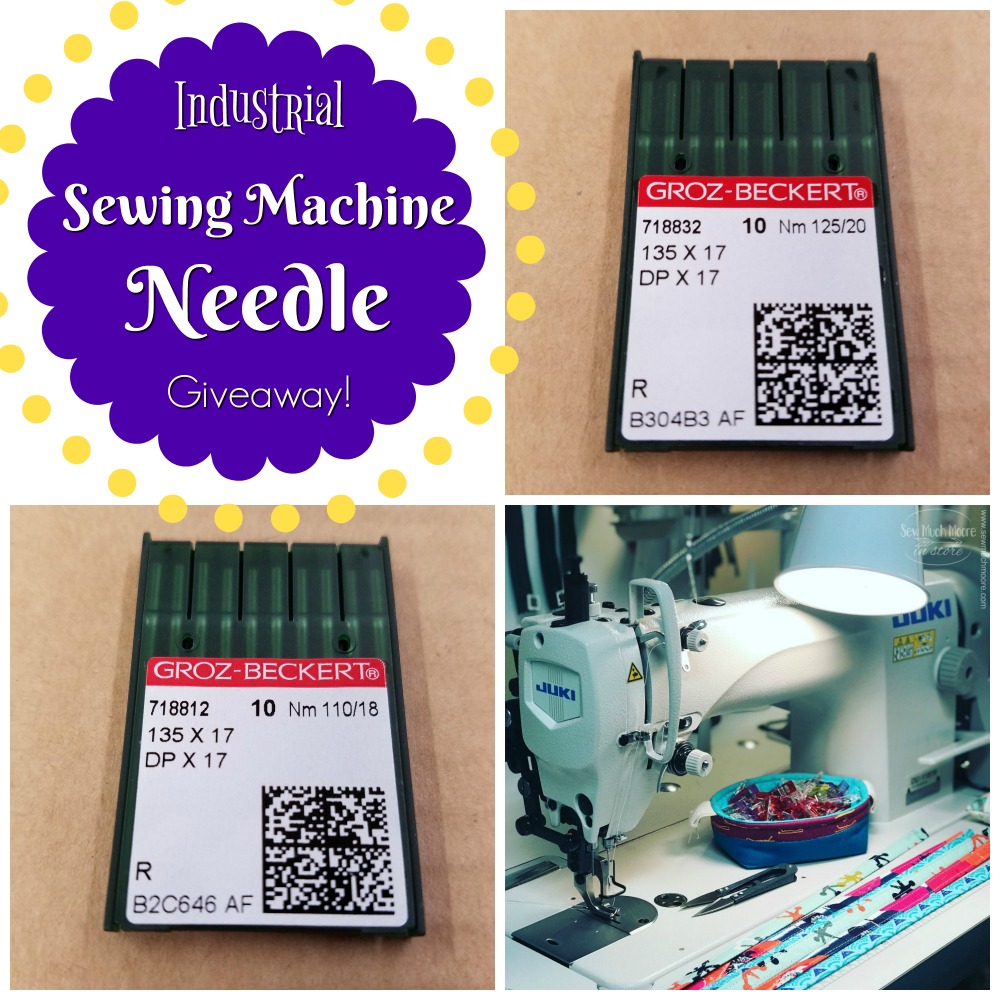 Leave any questions in the comments and I will answer them as quickly as I can!
May all your stitches have perfect tension!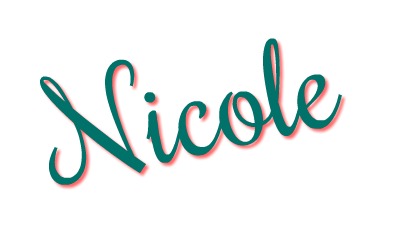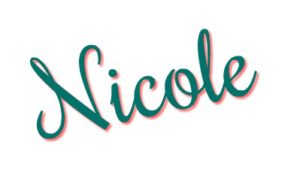 SaveSave