Industrial Machine Maintenance
When you sit down to either start or continue a sewing project, you don't want mechanical problems.  Many times, mechanical problems can be avoided when you practice preventative maintenance on your Industrial Sewing Machine.  Let me show you a few tips that I have learned along the way about Industrial Sewing Machine Maintenance!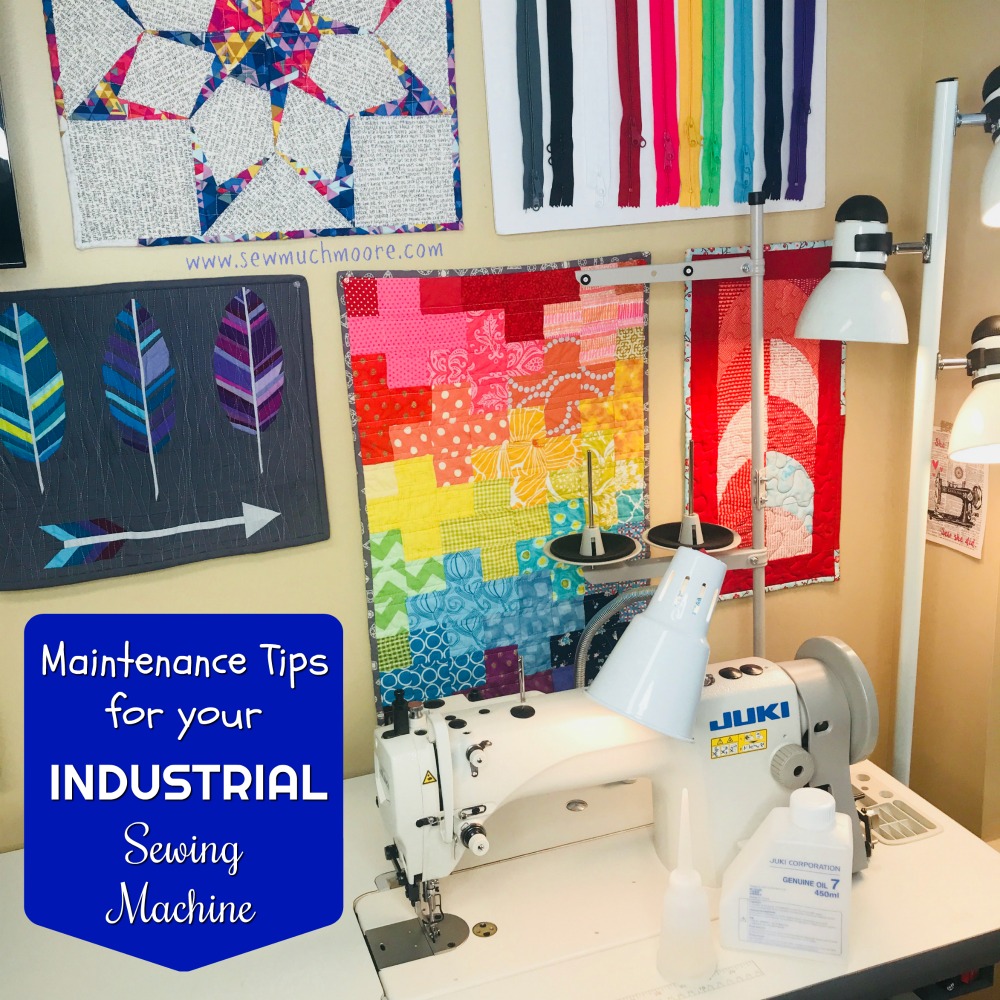 Industrial Sewing Machine Maintenance – Tip #1
Keep your bobbin area clean.  This is a really simple way to avoid lint buildup and possible issues with gear grime.  Simply lift your machine and set it on it's rest.  Inspect the bobbin area for lint and thread clippings.  Be sure to wipe out the bobbin tray and remove all the debris that collects over time.  To make a thorough job of it, be sure to take out your bobbin case and clean this out as well.  You would be surprised how much lint can collect in such a small place.  Take your lint brush and clean out the bobbin mechanism and the surrounding area.  Don't wipe away any grease (as this is needed for proper operation).  Just concentrate on removing the lint, dust and any fabric or thread debris.  This is a great way to practice Industrial Sewing Machine Maintenance.
Industrial Sewing Machine Maintenance Tip #2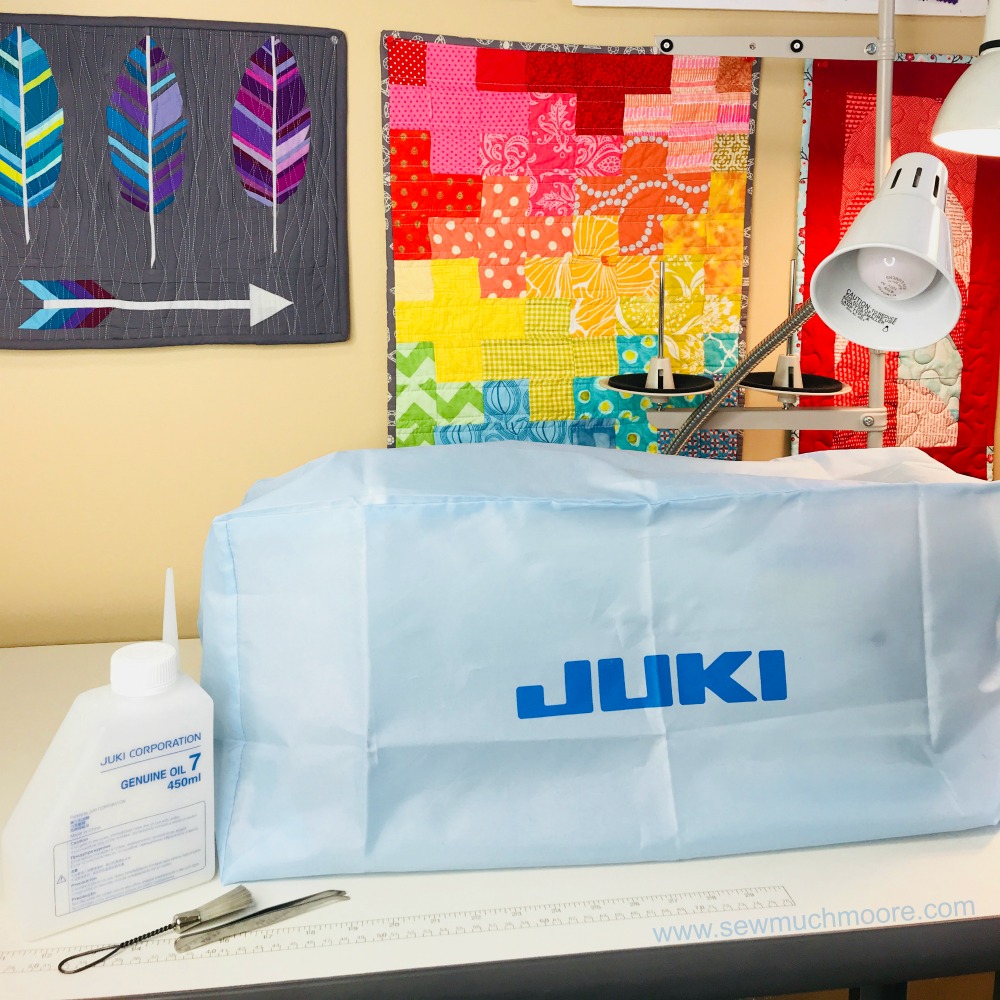 Use your dust cover.  I know……it's just that simple!  Even if you use your Industrial Sewing Machine every day, it does not hurt to cover it when it is not in use.  It's kind of like using your garage for your car.  If you take care of the things you own, they will usually work when you want them to!  A dust cover is a very simply way to keep unwanted dust from resting on and in your machine.  If you have small children or curious folks in your work space – the dust cover gives the impression of "off limits". This is a super simple way to practice Industrial Sewing Machine Maintenance.
Industrial Sewing Machine Maintenance Tip #3
This one is probably the most important tip.  You really need to oil your machine regularly.  The manufacture usually recommends this to happen on a daily basis.  Since my Industrial Sewing Machine is not used in a "factory", I usually only oil my machine twice a week.  Sometimes more – it just depends on how much I am making at the time.  There are 5 points to oil on this Industrial Sewing Machine.  These are indicated by a RED dot.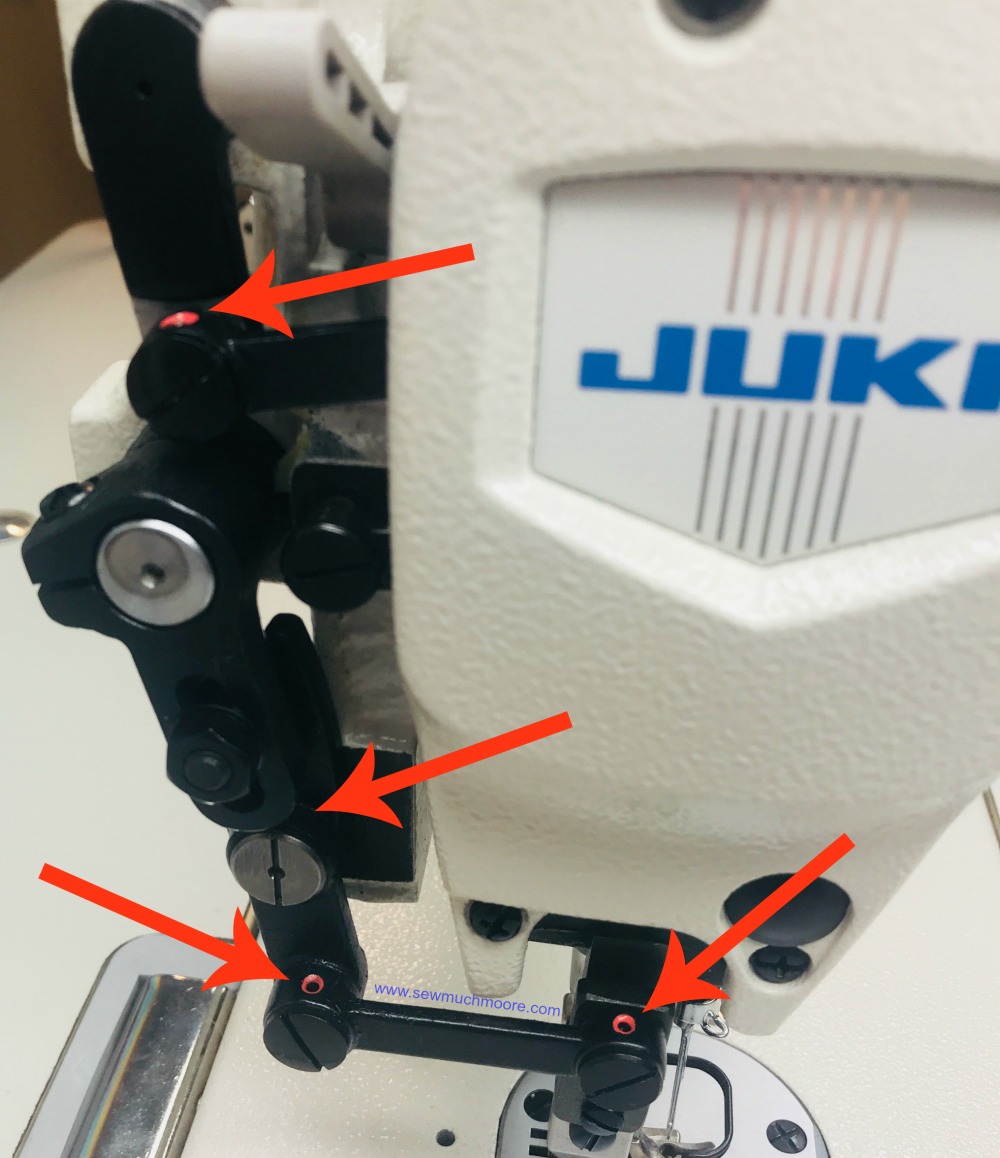 There is also an oil point located inside the machine.  Try to get a few oil drops on the felt piece that is inside the machine.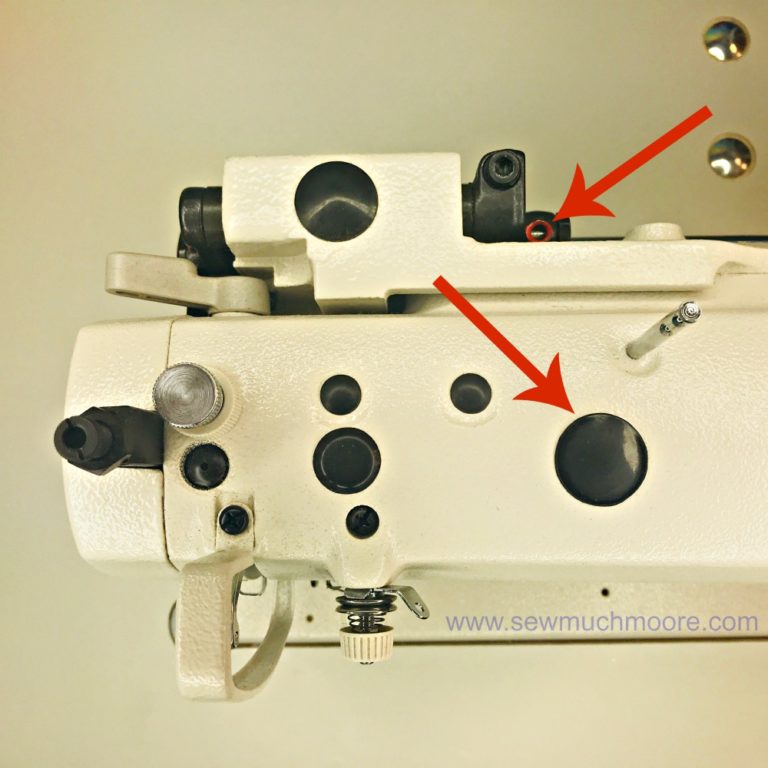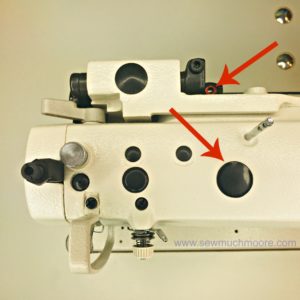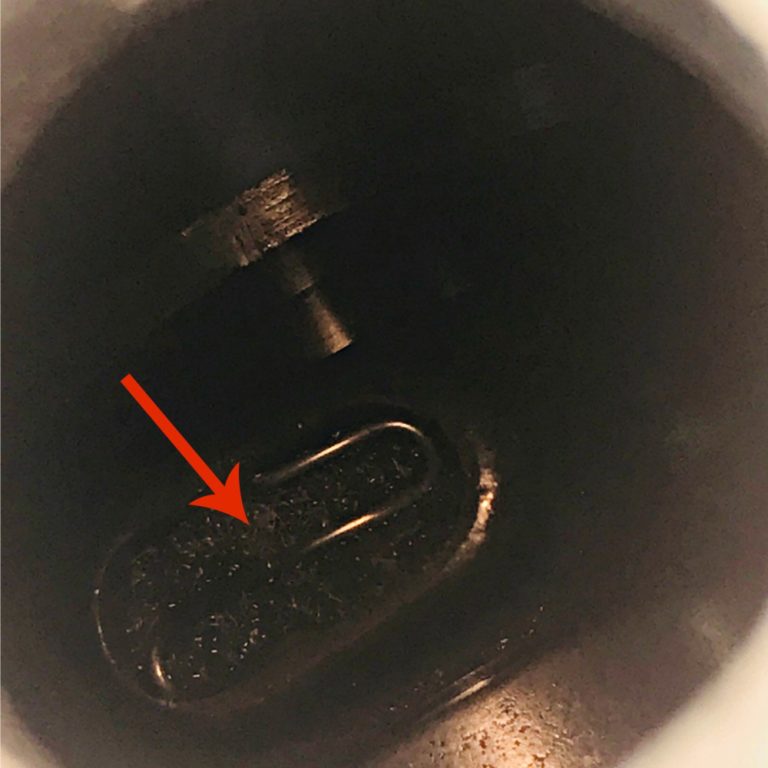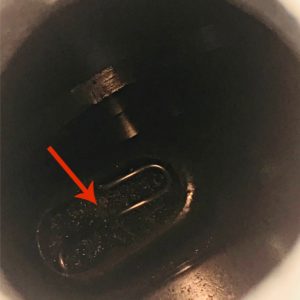 Once you apply oil to each of these points (several times if necessary), you will want to lift your presser foot and run your machine for a couple minutes until you see oil splashing in the sight glass.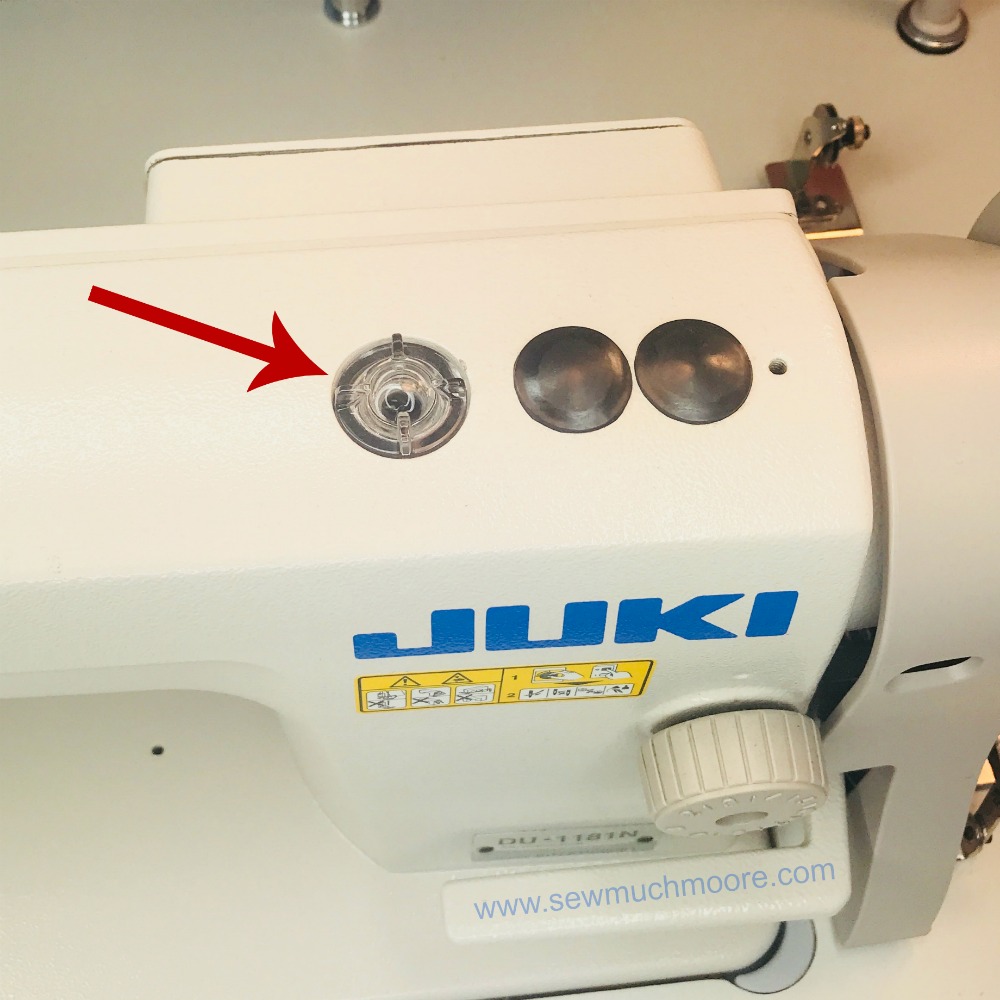 Industrial Sewing Machine Maintenance Tip #4
Take off the Throat Plate in order to get all the lint that gets trapped in between the feed dogs.  If you have never done this before, the screws may be pretty tight from the factory.  Once you get these screws out, you can remove the plate and give that area a proper dusting.  Be sure that any lint or debris does not accidentally fall into the oil pan.  Depending on how much use your Industrial Sewing Machine gets will determine how often you need to clean under the throat plate.
Industrial Sewing Machine Maintenance Tip #5
While you don't need to actually change the oil in your machine about once ever year or two (depending on use), you really need to ensure that you keep the oil as clean as possible.  One way to help would be only lift your machine if you need to check the oil level or for maintenance.  It is not recommended to lift your machine to remove a bobbin.  Doing this may unnecessarily expose your oil to foreign objects.  If you see any pins, loose thread, dust or debris in your oil pan – you need to remove that ASAP.  You do not want your oil pump to accidentally get anything but oil in its system.  Keep it tidy!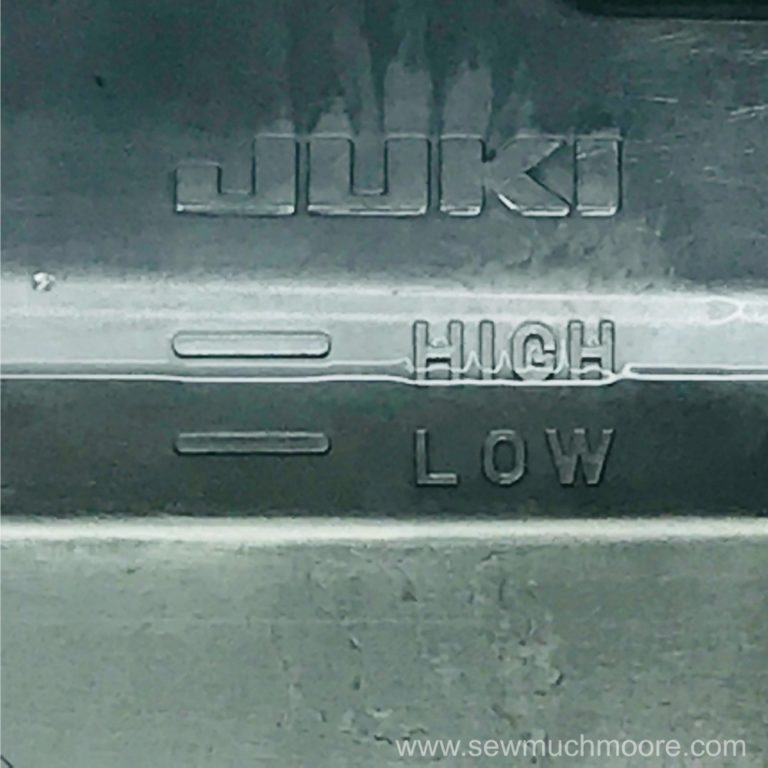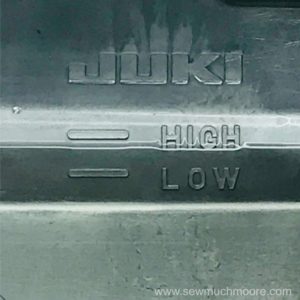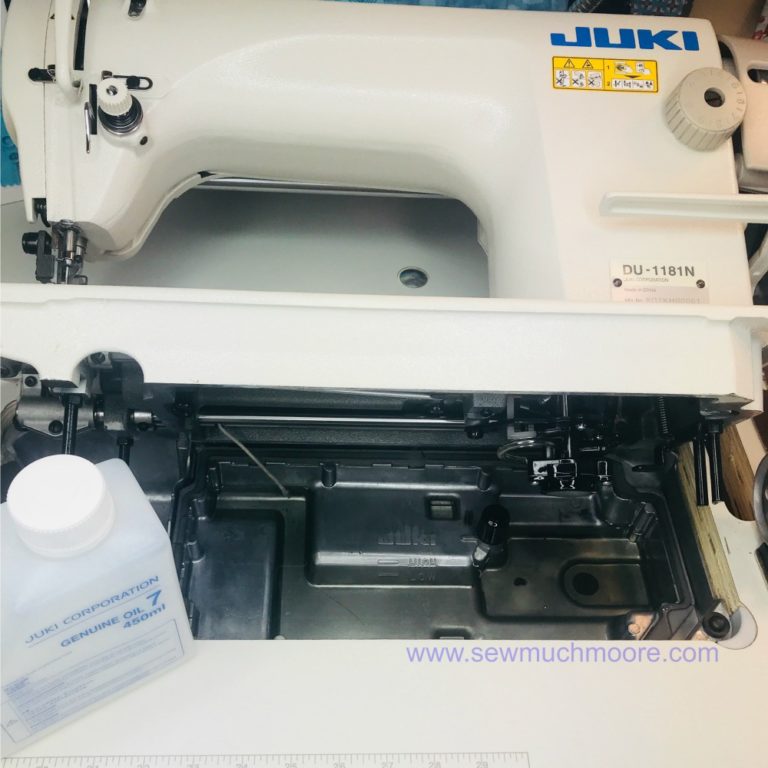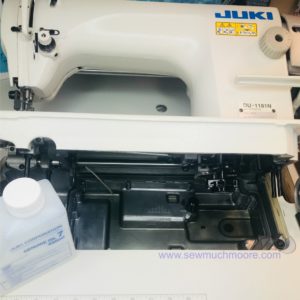 If you find yourself with problems, even after practicing these basic maintenance tips, contact your dealer for assistance.  Most shops are very friendly and able to help you either in person or over the phone.  When I purchased my Industrial Sewing Machine, there was not a local Juki distributor or dealer.  I have called Steve with Sewing Gold several times for help or advise on my Juki DU-1181n.  It's always nice to enjoy the equipment that you invested in.  Just be sure to take good care of it and you should enjoy your Industrial Sewing Machine for years and years!
I made this quick video to give you a visual of all the tips I covered in this article.  Enjoy!
This is the second post of a series I have planned.  Be sure to subscribe to my Newsletter so you can be the first to know when the next installment is released!
As a special treat, I offered a free window decal (vehicle not included – haha) as a giveaway prize!  How fun!  I have one for my car and I get TONS of positive comments.  It's a great conversation starter and all your sewing buddies will want one too!  The giveaway is over, but you can order one of these for yourself.  You can find these on Amazon!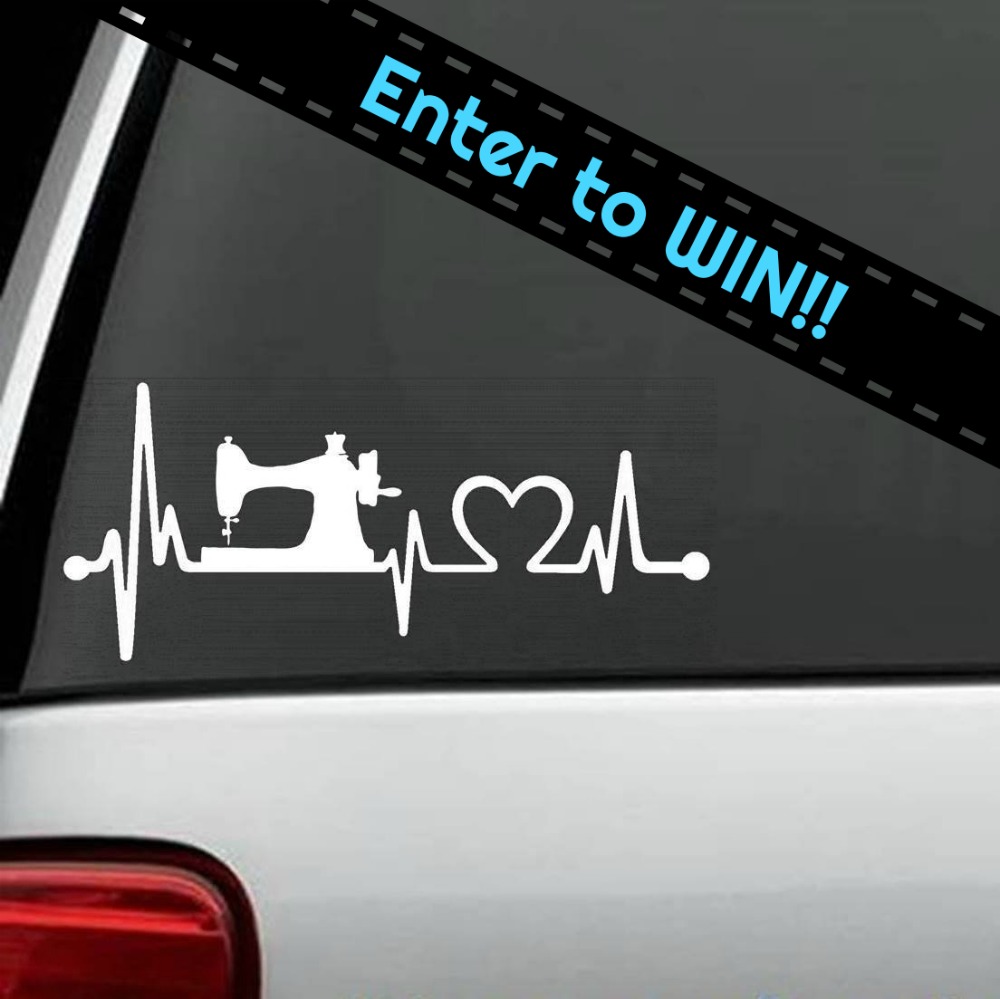 Thanks to everyone for participating in my giveaway!  Congratulations to the winner!
Happy Sewing!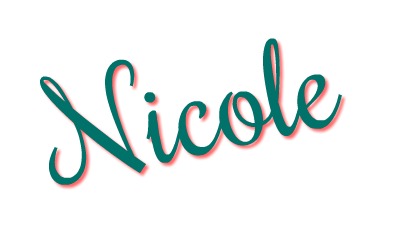 SaveSave
SaveSave