As Quilter's and Sewists, we love to have all the latest tools and techniques to keep us evolving and creating!  I've been a quilter and sewist for some time now and have worked in and around the industry long enough to see many of the newest and latest trends & notions on the market.  I have divided this Quilters Gift Guide into several categories.  Whether you are looking for Quilt Pattern, Notions, Equipment or simply some inspiration – There is a little bit of everything for every Creative Person.  Let's dive right in!
This post contains affiliate links for your convenience. 🙂 Read my full disclosure policy here.
My Favorite Kits of 2017
Let's face it – there are a TON of patterns out there!  It can be a little intimidating and overwhelming to choose a pattern that you will want to start AND finish!  This is the reason I LOVE Quilt Kits!  You already found the pattern you love, and the difficult part of choosing the PERFECT fabric has already been done!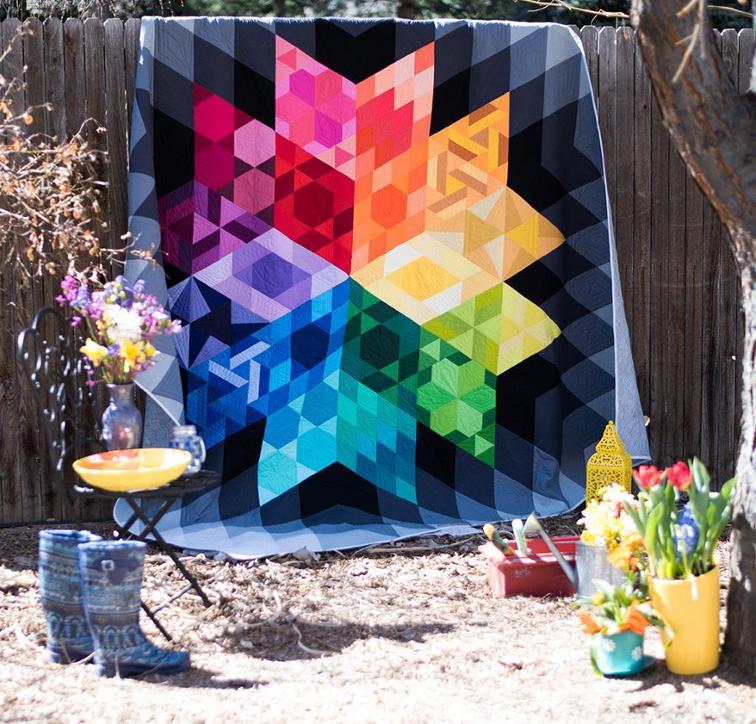 This kit helps set a pace by giving you blocks and colors to work with individually.  You will build your skills while enjoying the vibrant colors that this kit has to offer.  This queen-size quilt is majestic indeed! Your Julie Herman BOM Quilt Kit includes a pattern and vivid fabric from the best-selling Kona Cotton line, to sew this 97″ x 96″ quilt top. Featuring nine stunning blocks —- and no tricky set-in seams! —- you'll love how this captivating combination of dark and bright hues creates a unique, dimensional effect.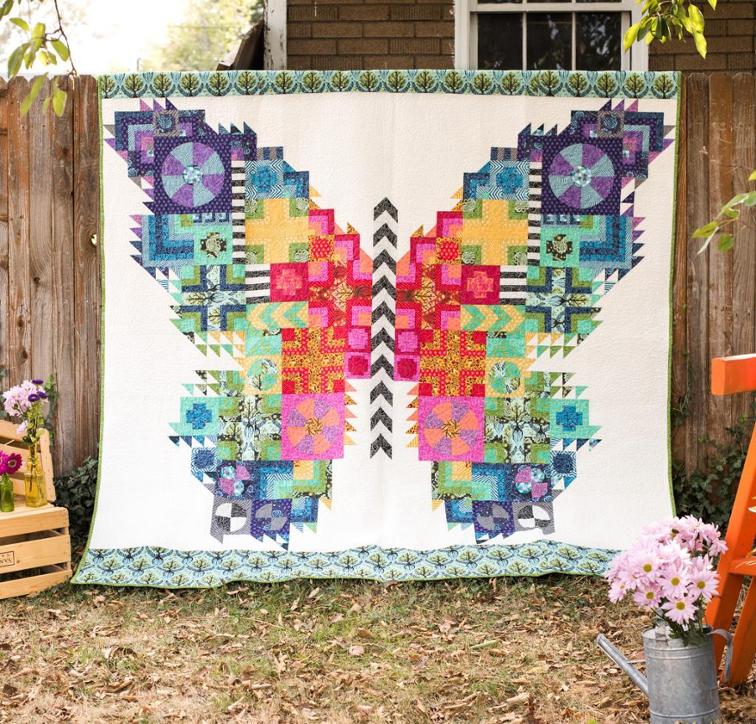 If you love Tula Pink as much as I do, I can guess how much you would LOVE to make this quilt!  I can't decide which I like better….. The pattern, or the fabric!??!!!  Don't flutter by this amazing kit! The Butterfly Quilt Kit from FreeSpirit includes a pattern and sensational Tula Pink fabric, to sew this distinctive design. Featuring whimsical prints in a rainbow of luscious hues, this quilt top is sure to be loved by everyone who sees it!  The kit includes almost 13 yards of fabric!  As with all things Tula, this will not be available for long!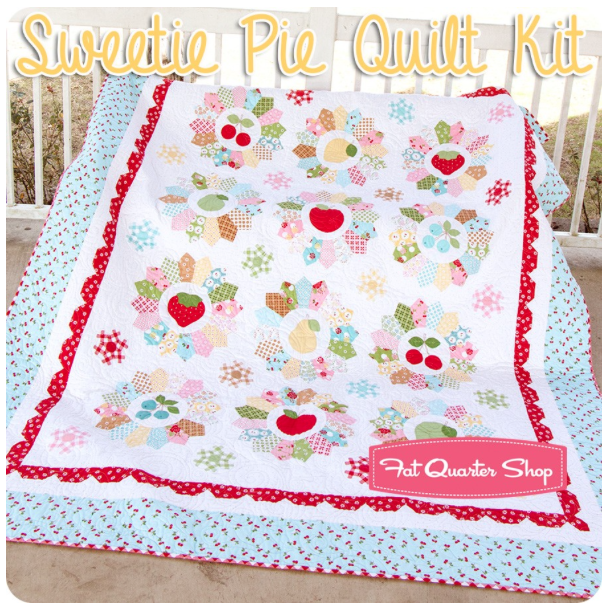 If you are looking for your next Spring project – this Sweetie Pie Quilt Kit is perfect!  The sweetness is oozing from the fabric and layout.  Lori Holt wants to help you make something sweet! Using Fruit Salad Sew Simple Shapes and her 8″ Pie Ruler, you can make the perfect Spring or Summer quilt. Get started with the instructions from the Free Patterns Page and then follow along on Lori posts a block a blog, plus other fun projects along the way with her Sweetie Pie Sew Along!
My Favorite Notions & Tools of 2017
Recently, I've been searching for and using unique tools and notions that can make our sewing lives easier.  I found a few you would love! I'm a strong believer in making sewing as efficient as possible by using useful tools . This is why I've gathered a list of notions that can speed up your sewing and help you give your project that professional final touch.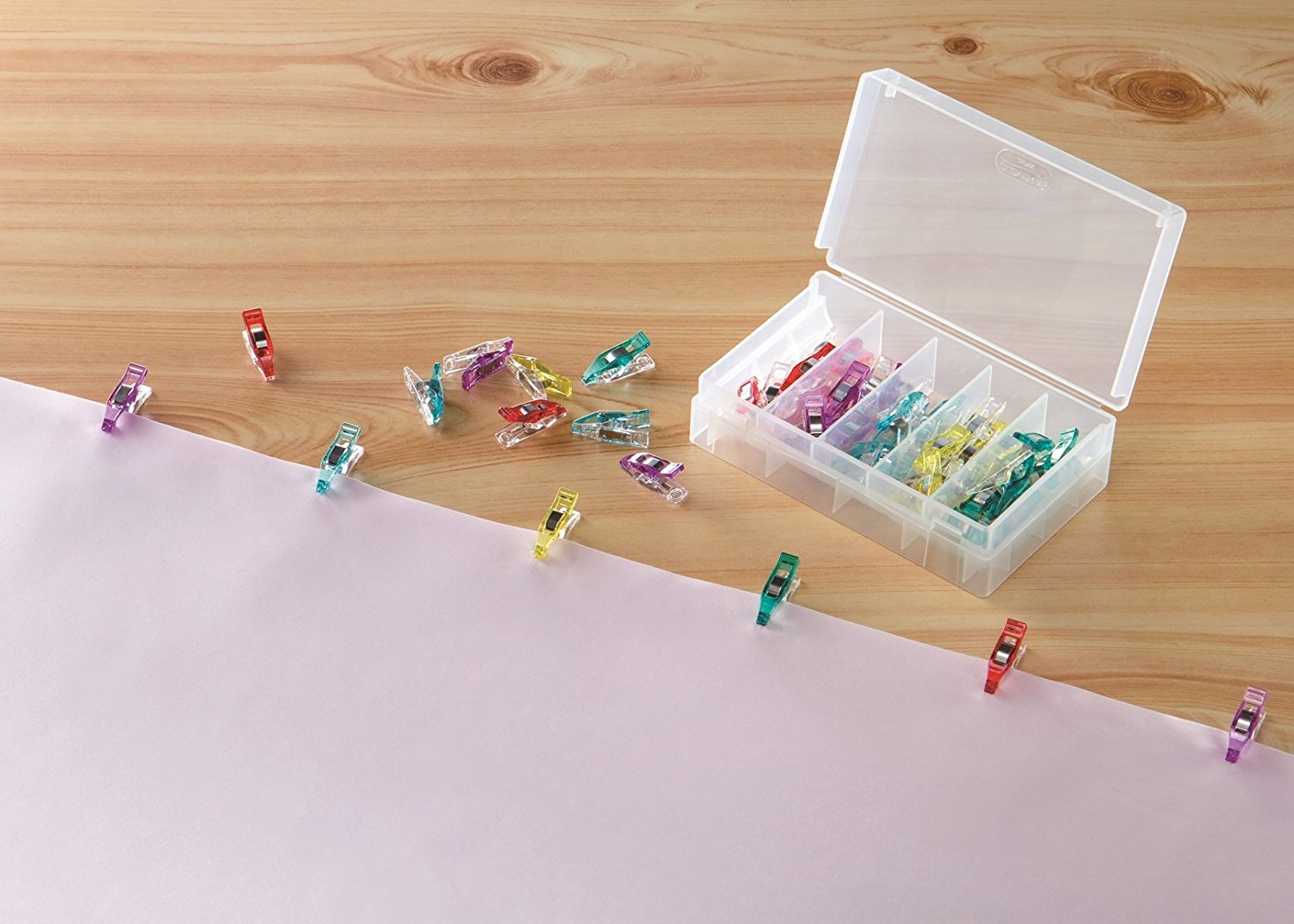 You have probably been using the original sized Clover Wonder Clips already.  Have you tried the smaller version yet?  These Clover mini wonder clips are ideal holding pieces together in tight sections. (Think binding corners!)  The small size works well with miniature patchwork, doll clothes and all work that requires non-slippage of layered materials. Eliminate Pinning and keep sections or layers firmly together.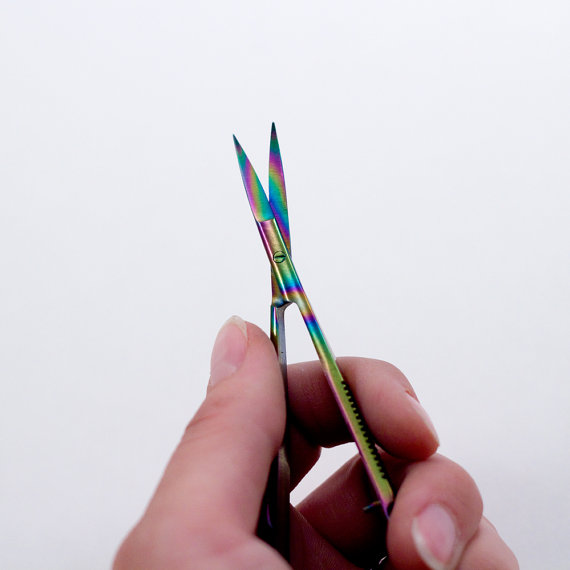 Perfect stocking stuffer!  These Tula Pink Snips are Titanium coated (Fancy Pants!!!)  The thin fine blade allows you to get as close as you want without snagging, jabbing or poking your work.  The micro serrated blade holds your thread ensuring no slipping or bending, giving you a clean cut the first time every time!  Don't you just love the iridescent color too?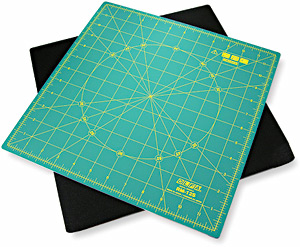 I've had my 17″ Rotating Cutting Mat for 3 years now.  I use it ALL the time!  This 2-piece mat has a non-slip bottom layer with interlocking green top cutting mat, yellow grid lines and markings, that rotates 360 degrees smoothly.  I love the Self-healing finish, which reseals surface cuts and provides a continually smooth surface for all my cutting projects.  I am sure to store my mat flat and out of direct sunlight.  You can also get 12″ Rotating Cutting Mat as well!  I even have a smaller 6″ rotating cutting mat – super handy for the work at your machine!
Show me the Fabric!
We all have our favorite Fabric Designers and Fabric lines.  I love the quilting and sewing industry because you can always be sure to find new and exciting fabrics each season!  2017 was full of some amazing Designers and Collections.  I love to keep up-to-date with these new products by subscribing to different Subscription Boxes.  You will always be pleasantly surprised and they are packed with all sorts of goodies (not just fabric).  Here are a few of my favorites!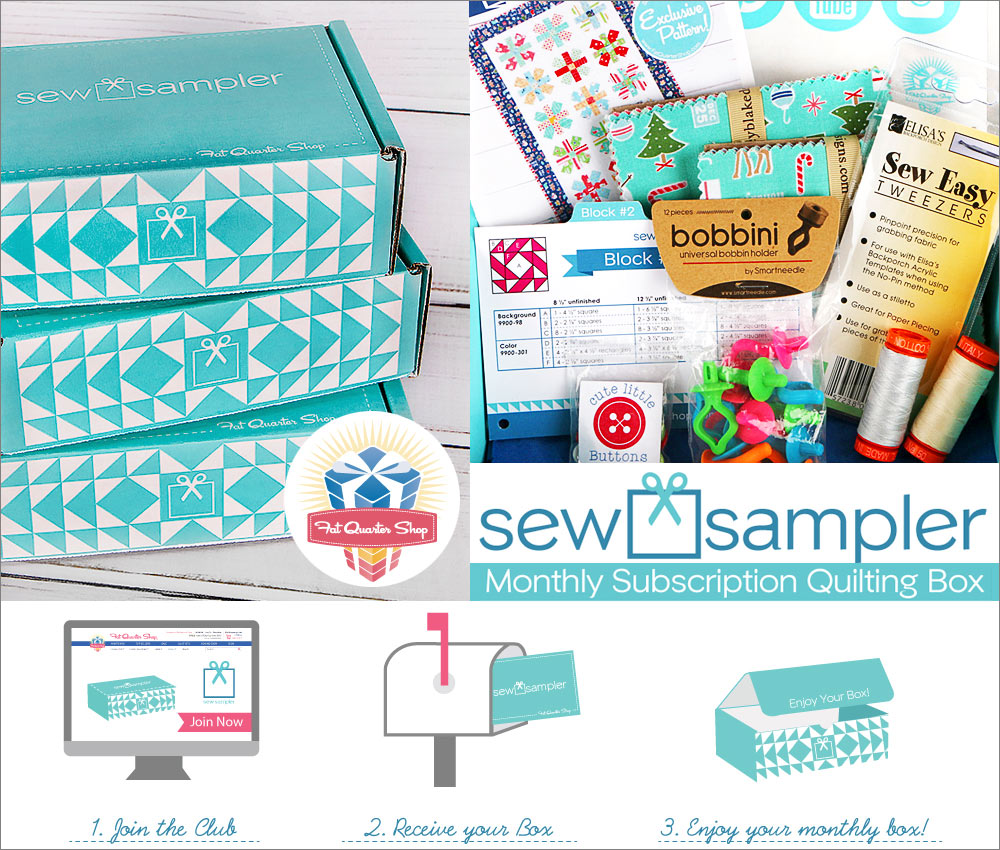 The Sew Sampler Box is a monthly subscription quilting box that automatically delivers surprise quilting goodies to your door every month!  Each month will feature a specific theme sure to surprise and inspire you!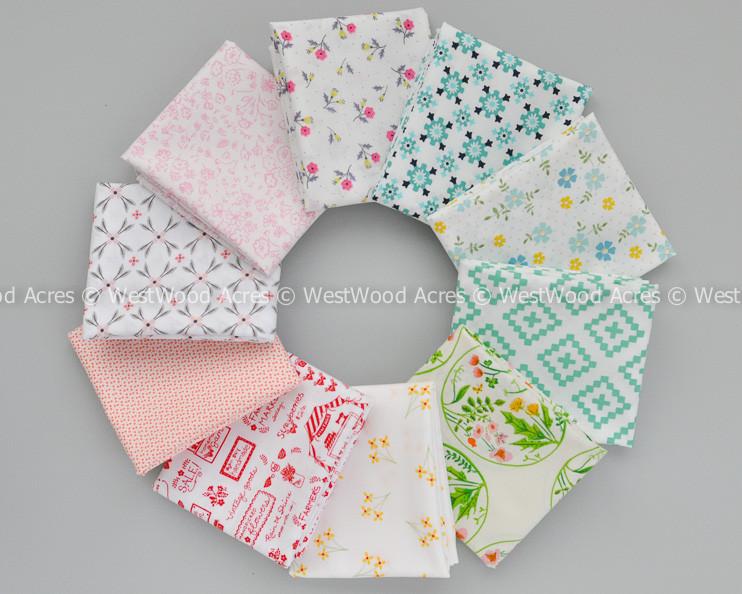 If you've ever wanted to increase your Low Volume Fabric collection – this is the Monthly Subscription for you!  The Inside Voices Club will send you low volume fat quarters each month!  This club runs year around and you can join or leave at any time. There are however a limited number of spaces, so get your name on the list today!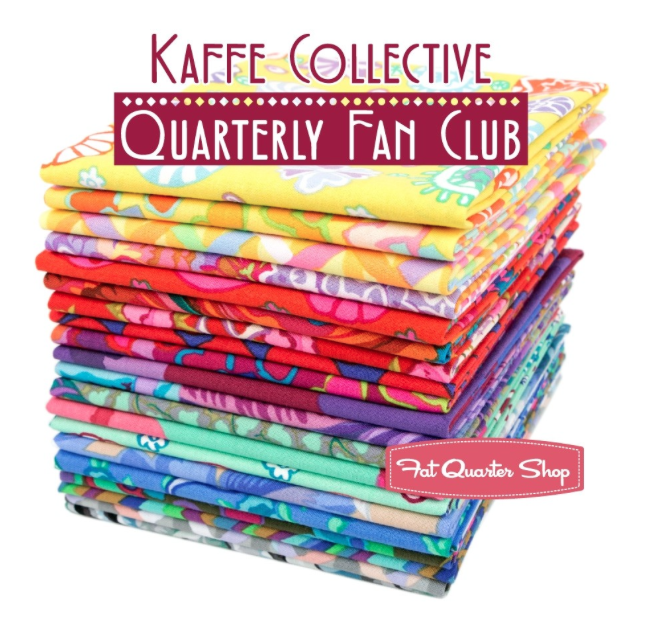 Sign up for the Kaffe Collective Quarterly Fan Club and receive 20 fat quarters from new Kaffe Fassett Collective collections and an exclusive pattern designed to use with the fat quarters.  Of course you don't HAVE to use the pattern – you could just pet the fabric!  I love that his fabric collections are so bright and vibrant!
The 2017 Page Turners!
I love a great Quilt Book or Magazine!  They are full of inspiration and ideas!  It is a rare thing to find a publication that has me saying, "I want to make everything in here!"  Here are the three I know you will love!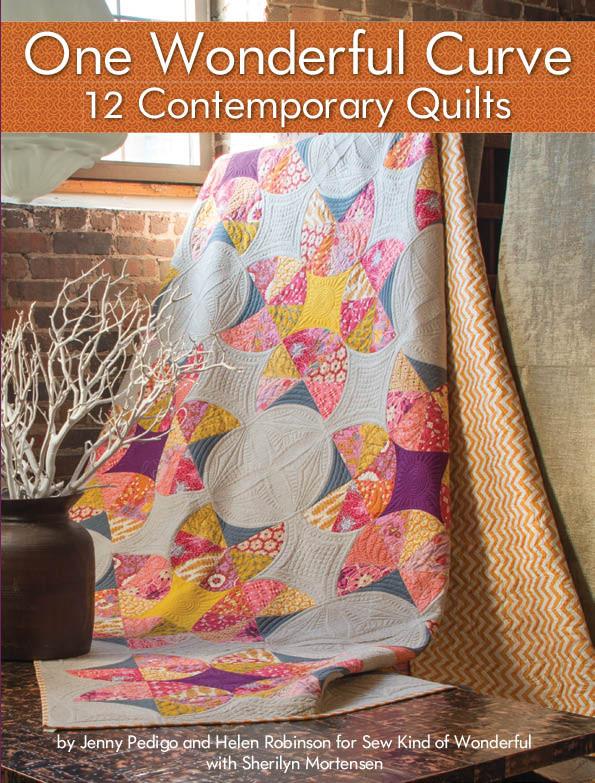 My local Guild hosted a schoolhouse workshop, which featured a couple patterns from this book, One Wonderful Curve.  Also needed are the Quick Curve Ruler and the QCR Mini.  Before this class, I was not certain that I could successfully sew curves.  They seem so intimidating!  The rulers and the patterns in the book are easy to follow!  Give them a try – you will LOVE it all!
Quilt Maker Magazine is the ultimate pattern magazine for today's quilter! Each issue has at least a dozen patterns in full color with full-size pattern pieces, step-by-step illustrated instructions, complete yardage listings and specifications, and more! This is a must-have magazine for the quilting enthusiast!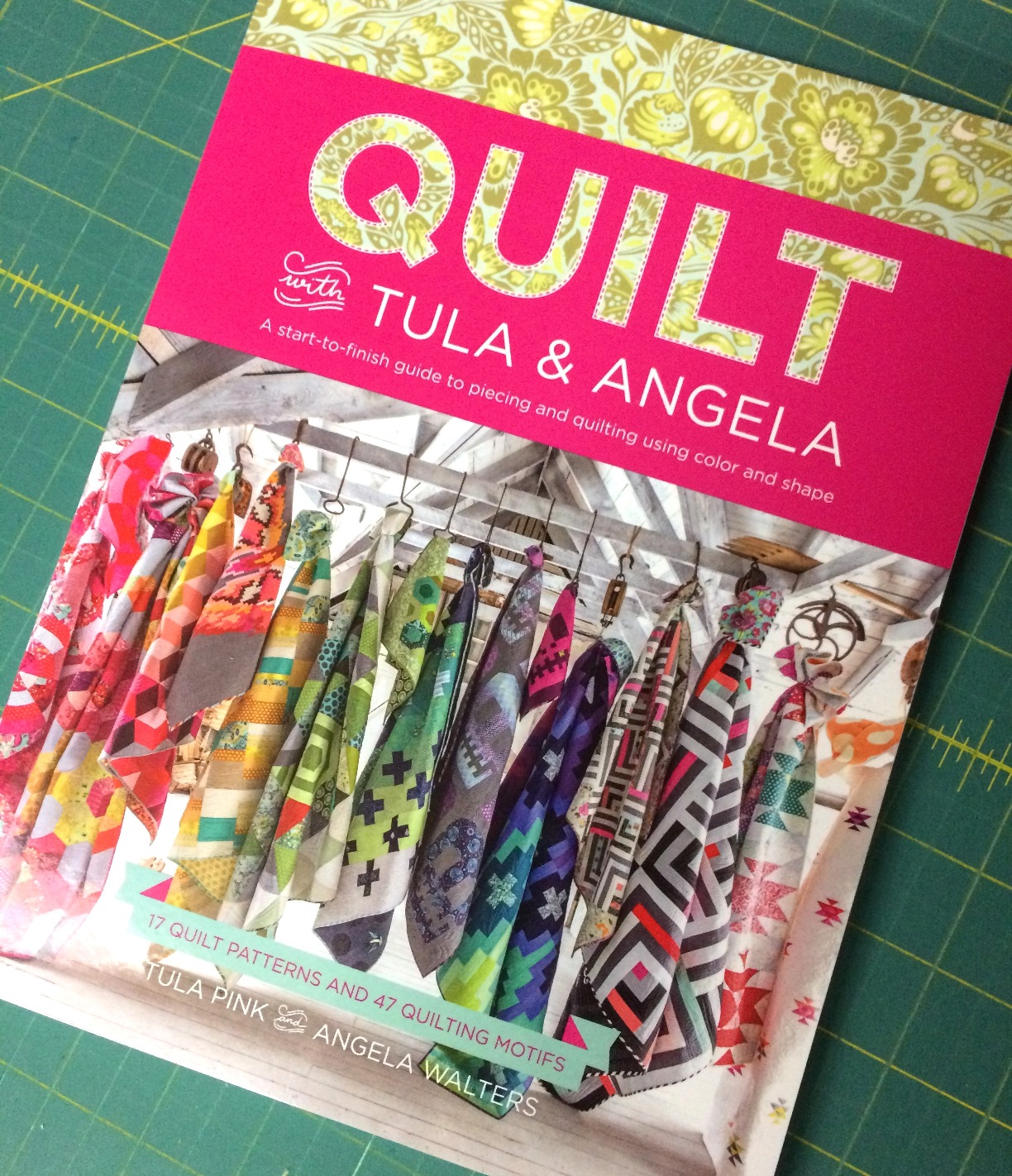 Add color and punch to your next project with Quilt with Tula & Angela.  Known for her cool, innovative style, Tula Pink will inspire you to toss your color wheel and commit to her signature approach to combining colors. Angela Walters creates the complementary finish and surface texture for each design, resulting in the perfect marriage of color and style for each of the featured 17 quilt projects.  Pairing one shape with one color family in each chapter, you'll step through quilts of varying sizes, at the same time enjoying a front row seat to the creative collaboration between these mavens of style.  In addition to the 17 signature Tula Pink quilt designs and 42 quilt design motifs from Angela Walters, you will also be treated to useful tips on choosing fabrics and mixing up prints and approaching the quilt process.  Featuring bold illustrations and gorgeous photographs, Quilt with Tula & Angela is the comprehensive approach to intuitive color choices you've been waiting for.
Dress for Quilty Success!
I attend lots of Sew Days and Quilting Retreats.  I love to "Dress the Part" by wearing fun Quilty shirts and accessories!  These are some of my Favorites!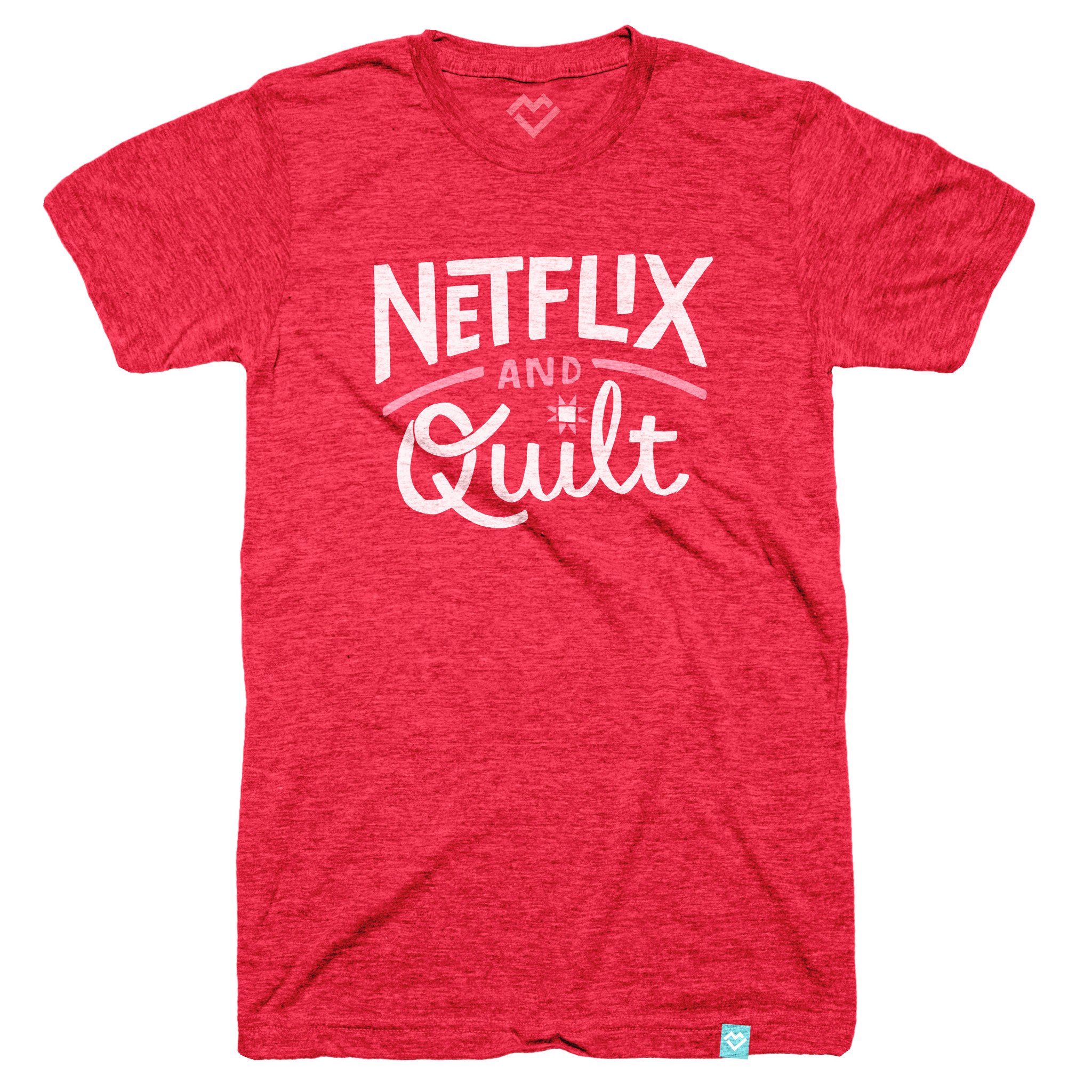 This T-shirt says it all!  Am I right?  The Maker Valley Netflix and Quilt t-shirt features the hand-lettered phrase "Netflix and Quilt" (the quilter's equivalent of "Netflix and Chill" of course!) on one of their super soft heather red tri-blend tees.  They create new products for creative makers (those who sew, quilt, embroider, knit, crochet, etc.) like this every month—follow Maker Valley on Instagram if you'd like to play along.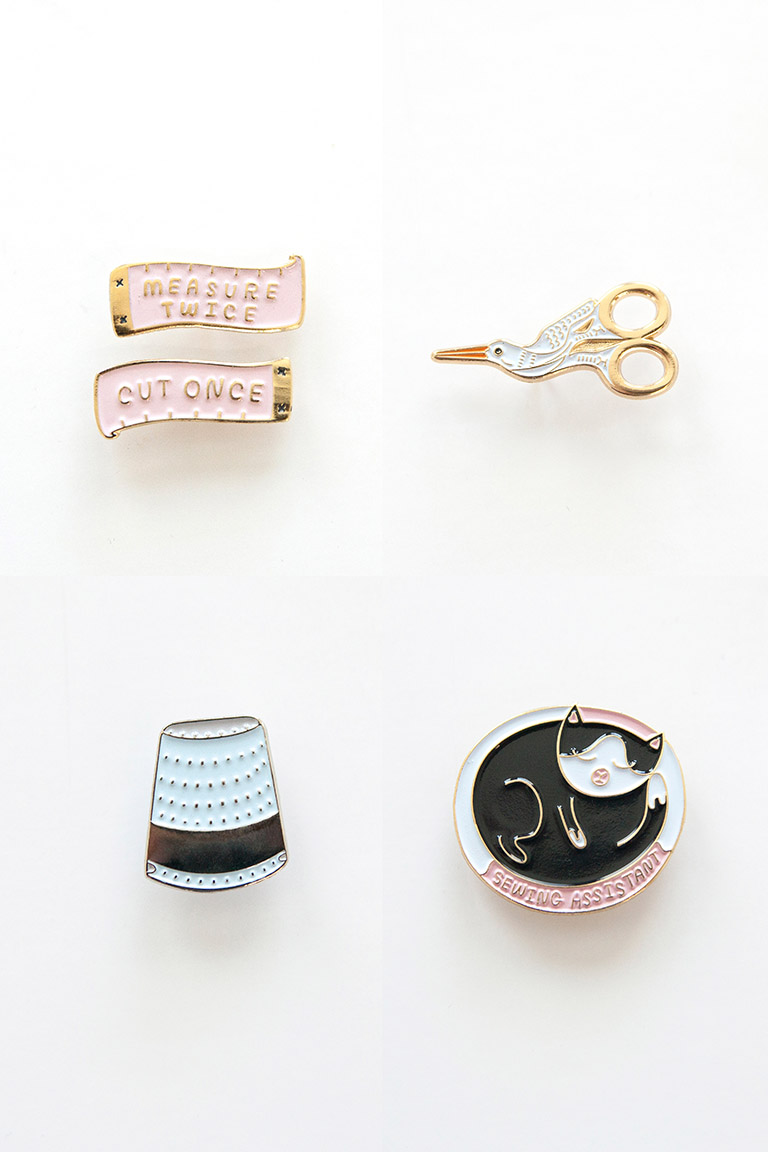 Every denim jacket needs a pin, and everybody who sews needs a sewing-themed pin, right? We've got the perfect accessories for your coat, tote bag, or sewing machine case.  You can buy these individually or get all four of Colette's best-selling enamel pins for the price of three. This bundle includes the following pins: Sewing Assistant, Thimble, Stork Snips & Measure Twice Cut Once.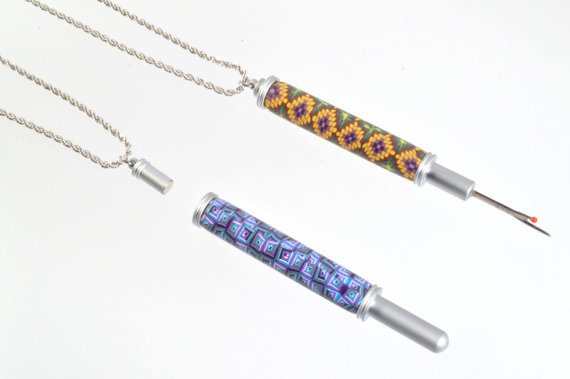 I love how function meets style with these Seam Ripper Necklaces!  These seam rippers hang around the neck so that it is always handy. It hangs on a long necklace so that it can be used from around the neck. A magnet allows for a quick release from the necklace to use 'off neck'. The ripper is held into the base by a spring so that it can be reversed in the holder for safety. Also PERFECT for weeding vinyl.  Always have what you need, right at hand!
Knowledge is Power!
Our friend, Benjamin Franklin, said it best, "An investment in knowledge pays the best interest". I could not agree more!  Kansas City is fortunate to have a very active Guild that offers a variety of classes and learning opportunities.  I strongly recommend you join a local Guild!  Check the Modern Quilt Guild website to see if there is a local chapter near you!  Having a fellowship of people who enjoy the same thing is an invaluable gift indeed!  While taking classes in-person is always best, you can also consider some online training.  Here are some online classes that I can recommend: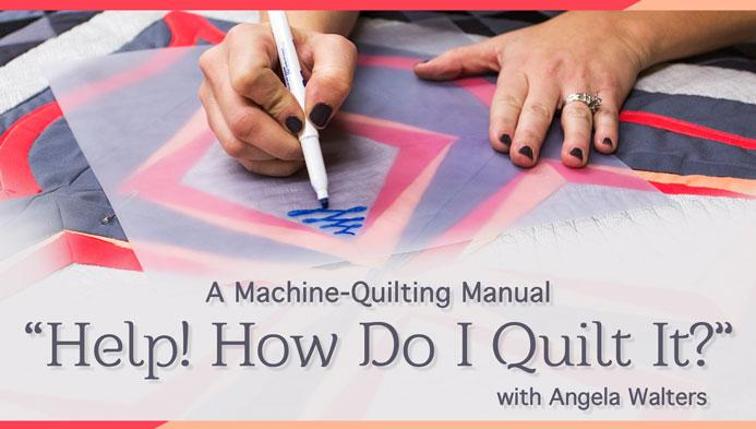 I am fortunate enough to live in the same city as Angela.  I have taken her classes and visited her local quilt shop.  Angela is truly a delight!  In this class, 'How Do I Quilt It', Angela can help you to choose the perfect design for your quilt top every time! Angela  reveals must-have techniques for selecting and stitching designs that enhance six of the most popular quilt types, from appliqué and paper-pieced to medallion and sampler quilts. You''ll discover the questions that should always guide your quilting design decisions, learn easy auditioning methods and expand your quilting library with simple variations of Angela's go-to designs. Enjoy step-by-step guidance as you use quilting to unify a variety of blocks, showcase specific motifs, break up borders and much more, all while adding stunning texture and movement to your quilt tops. Find out how to enhance every quilt you make, and enjoy every stitch!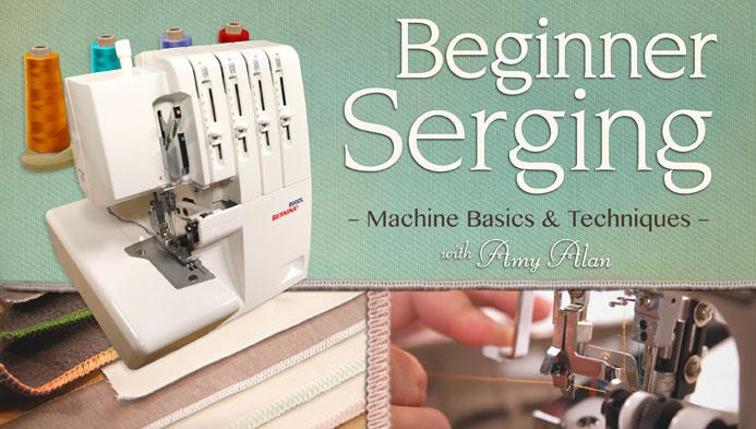 Those machines can be intimidating!  Threading the machine can give you anxiety for sure!  Gain confidence using your serger with sewing instructor Amy Alan. In the Beginner Serging class, Amy will begin with an overview of serger threading and maintenance. Then, she helps you learn how to create nine different types of basic stitches and create a serger stitch book you can reference again and again. For those tricky serger slip-ups, Amy will show you how to troubleshoot common issues like poor tension, skipped stitches, fabric rippling and more. Now that you've refined your serging skills, put them to the test with three fun skill-building projects. Make an exposed zipper bag, an ombré ruffled apron and a striped knit scarf! To finish class, add versatility to your serger with blind hem, elasticator and gathering feet.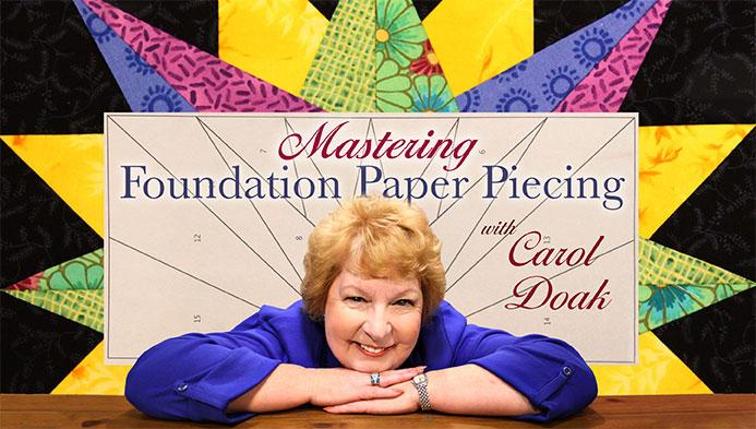 I've said it once, and I'll say it again – Carol Doak is the QUEEN of FPP (Foundation Paper Pieacing).  Her class, Mastering Foundation Paper Piecing, is defiantly worth your time!  You have seen the result this technique can offer – it's time to put this skill into your tool belt!  Don't be intimidated by complex patterns and precise piecing. Award-winning quilt instructor Carol Doak will help make paper-piecing easier no matter your skill level, as she teaches the finest quilting techniques through four exciting projects. You will learn everything from the fundamentals and history of paper-piecing, to joining intricate block designs.  Start with the Bird of Paradise Block, then apply your skills to the Sunflower Fun small wall quilt. After piecing the Star Light 9-Patch quilt, you will move on to the dramatic Mariner's Delight pattern that will test your abilities in piecing triangular units. As a class bonus, Carol's e-book "50 Little Paper-Pieced Blocks" (a $14.99 value) is included FREE!  Be sure to get your Add-A-Quarter Ruler and Seam Presser tool.  These will be valuable notions to have when FPP.
Gift Certificates FTW!
I love to shop at my LQS (Local Quilt Shop)!  It's best to make a habit of shopping our local shops first.  You will likely find many treasures and want to be back for more.  Your LQS will have a higher quality of fabrics to offer than your Big Box Stores.  You may even find an interest in a class or two.  Don't forget to ask about their block of the Month programs!  Be sure to show the love and Shop Local!  My LQS is First City Quilts in Leavenworth, KS and my favorite online shop is owned and operated by my friend, Tia Curtis!
If you don't have a local Quilt Shop near you, I recommend shopping these fine websites.  The Fat Quarter Shop and Fabric.com are stocked full of the latest trends and stay current with all things awesome!
Whew!  I wish I could have included more Favorites!  It's really difficult to only list a few!  What do you love that I left out?  Comment below and let everyone know!