Sometimes, I make commissioned quilts.  It is not very often that I do this – simply because it is very expensive for the customer.  I had a customer request that I make a quilt for their son, who would be graduating from High School.  We looked through quilting magazines and she decided upon The Hashtag Quilt.  Let me tell you all about it!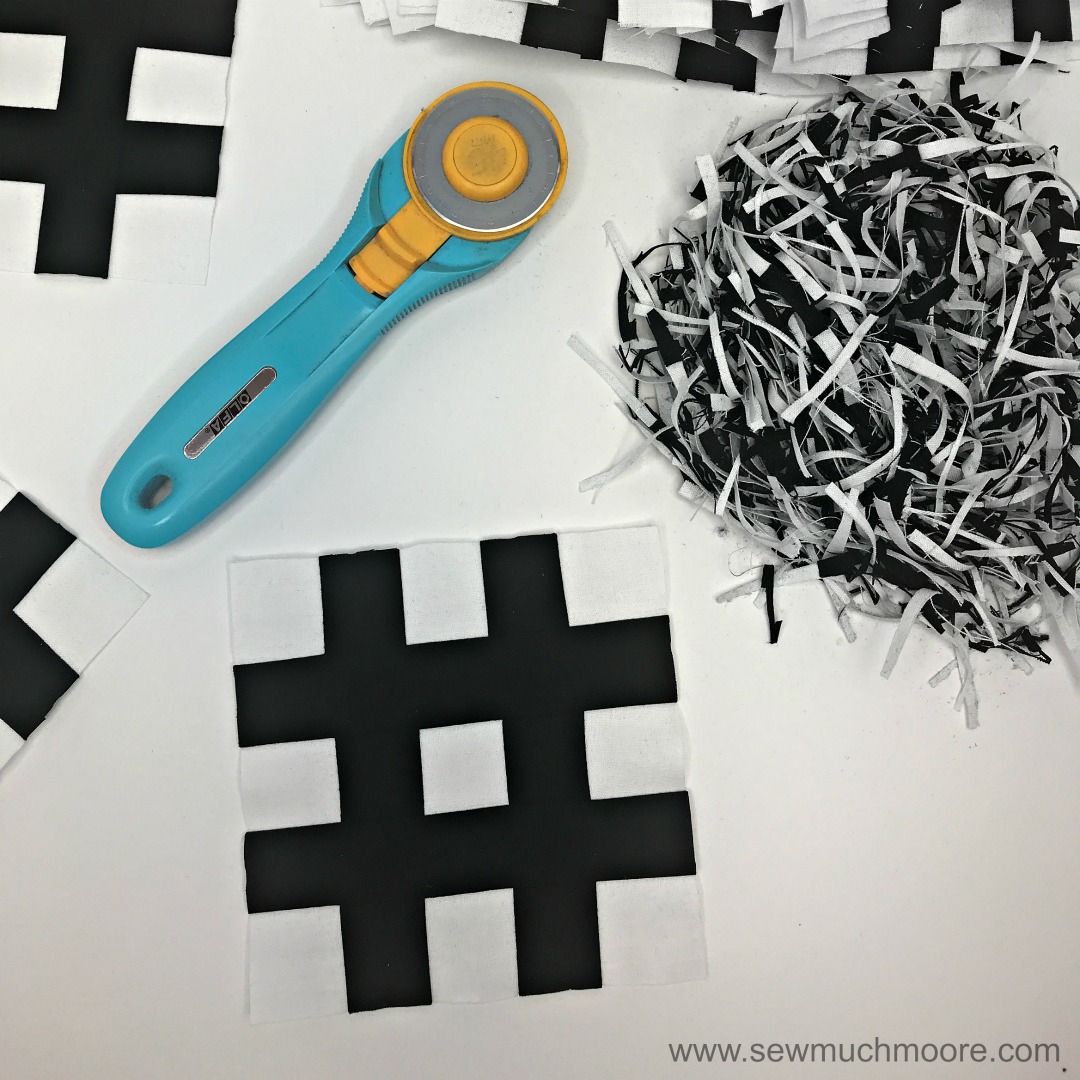 This post contains affiliate links for your convenience. ? Read my full disclosure policy here.
The Hashtag Quilt – MATERIALS LIST
Qty (1) Layer Cake Package of qty 42 10″ fabric squares

I cheated and used black yardage (I cut these into a million strips!)

Qty (3.5) yards of White Fabric (this is for the background and the border
Qty (.5) yards of Fabric for the binding (I just used my black yardage and cut the strips a little wider)
Fabric for backing
Cotton batting (this is the exact batting I used)
The Hashtag Quilt – SUPPLY LIST
Sewing Machine with a quarter inch presser foot
Cotton Thread (I recommend Aurifil 50 wt)
Rotary Cutter with sharp blade (no kidding about a sharp blade)
Acrylic Ruler – I recommend the Stripology Ruler.
Cutting Mat
Iron & Ironing Board
Sewing Pins or Wonder Clips
Be sure to check out my Amazon Shop to get all your Quilty supplies!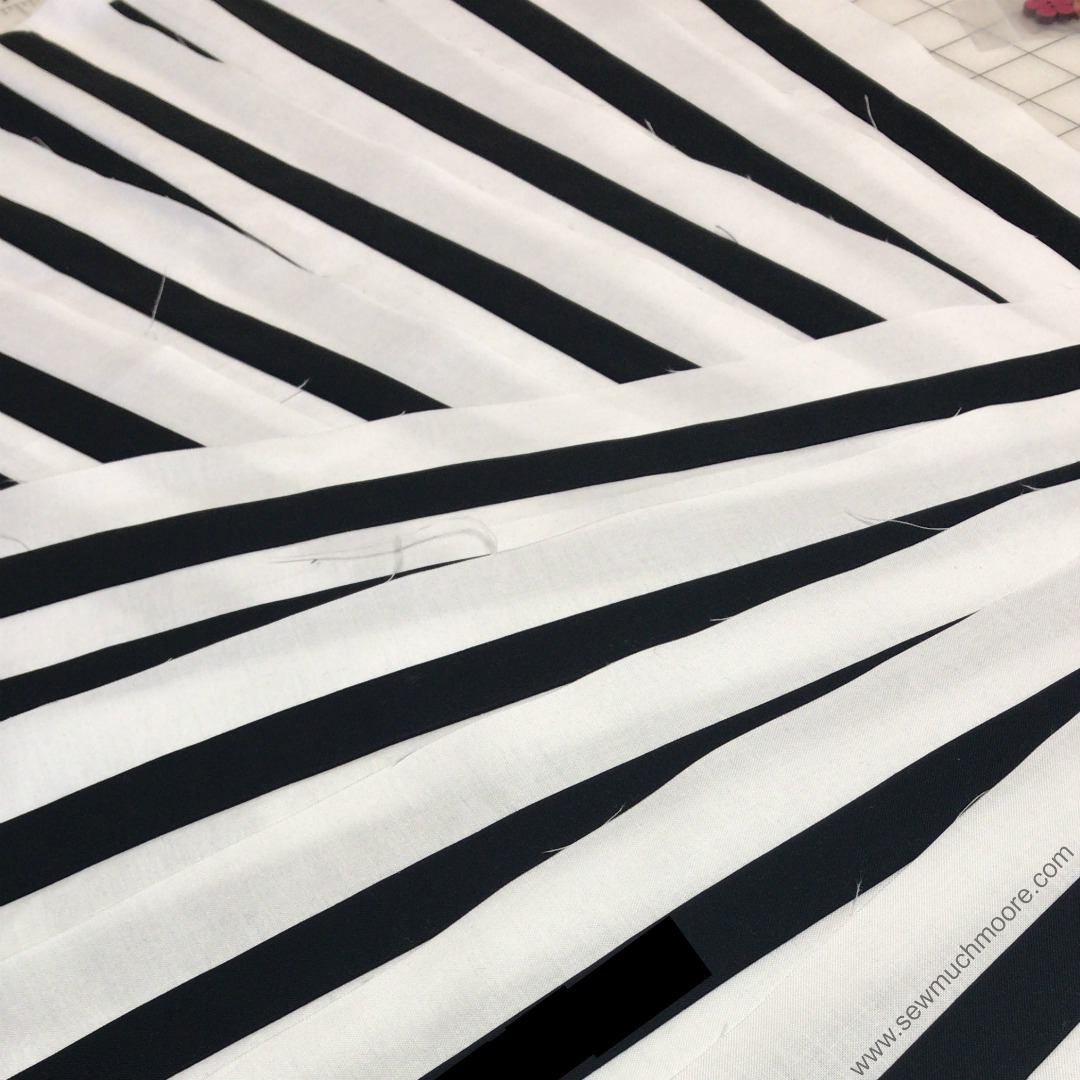 The Hashtag Quilt – assembly
I definitely found the Stripology ruler to be a MAJOR time saver for this quilt!  So many cuts of the same size!  I also highly recommend that you use a 1/4″ quilting foot (be sure you get the right one – tons of choices for different machine shafts).  There is tons and tons of chain piecing, so be sure to wind lots of bobbins too – or you can cheat and get the pre-loaded bobbins.  I won't tell – hehe!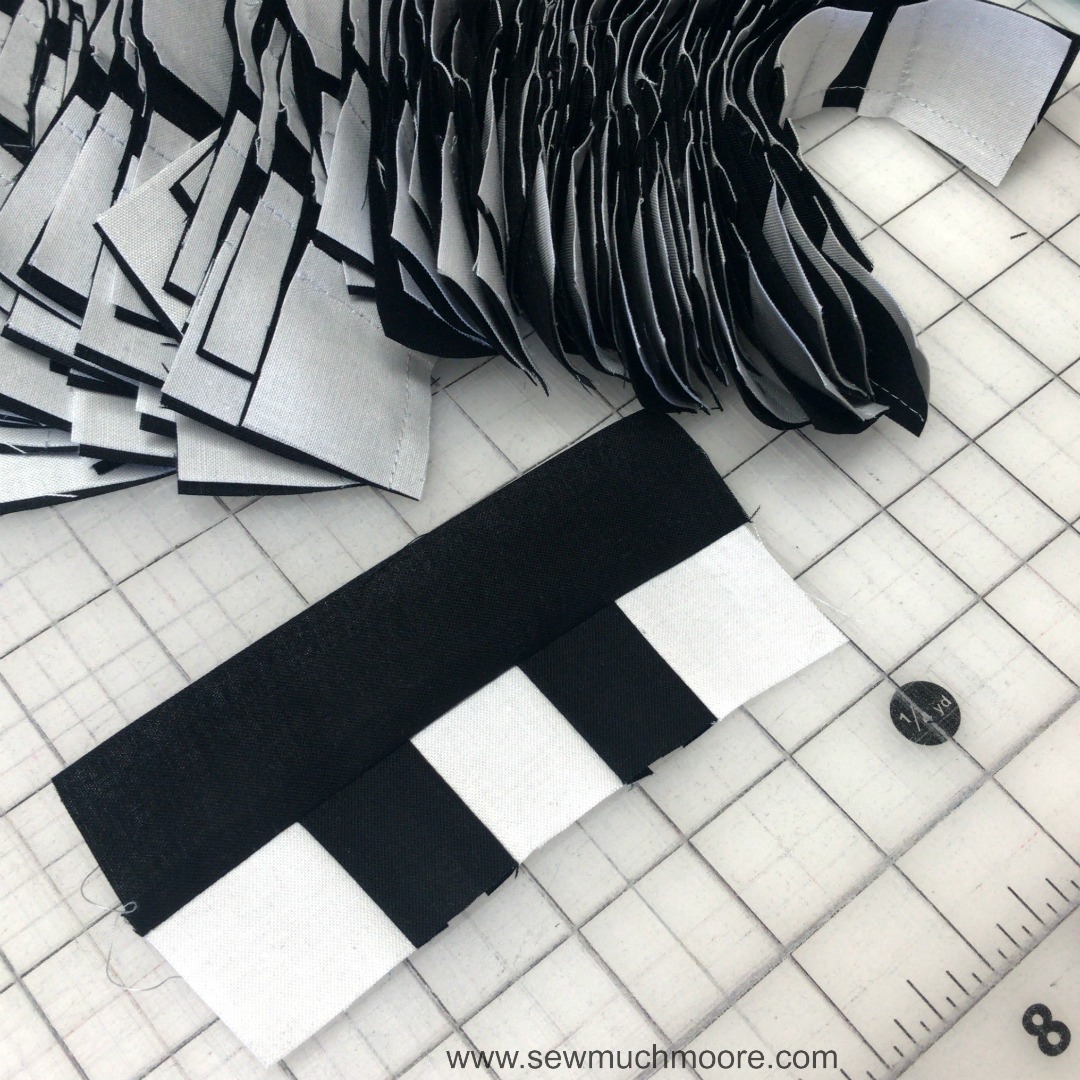 I created 2 kinds of strip units.  The first strip set was white/black/white and the second set was black/white.  I sewed these together and then cut them to size.  I sewed black strips perpendicular to create the hashtag.  I followed the instructions in the following video to create the remainder of my quilt top.  Check it out!
The Hashtag Quilt – almost finished!
Once I had my quilt top assembled, I drove to my friend's house to rent some time on her wonderful long arm quilting machine.  Once you use a long arm quilting machine – it's difficult to go back to quilting on your domestic (just sayin').  I know everyone doesn't have a long arm option, so you can always use free motion quilting on your domestic.  It's simple!  Be sure you have a Darning Foot!  There are different kinds, based upon the shaft of your specific machine.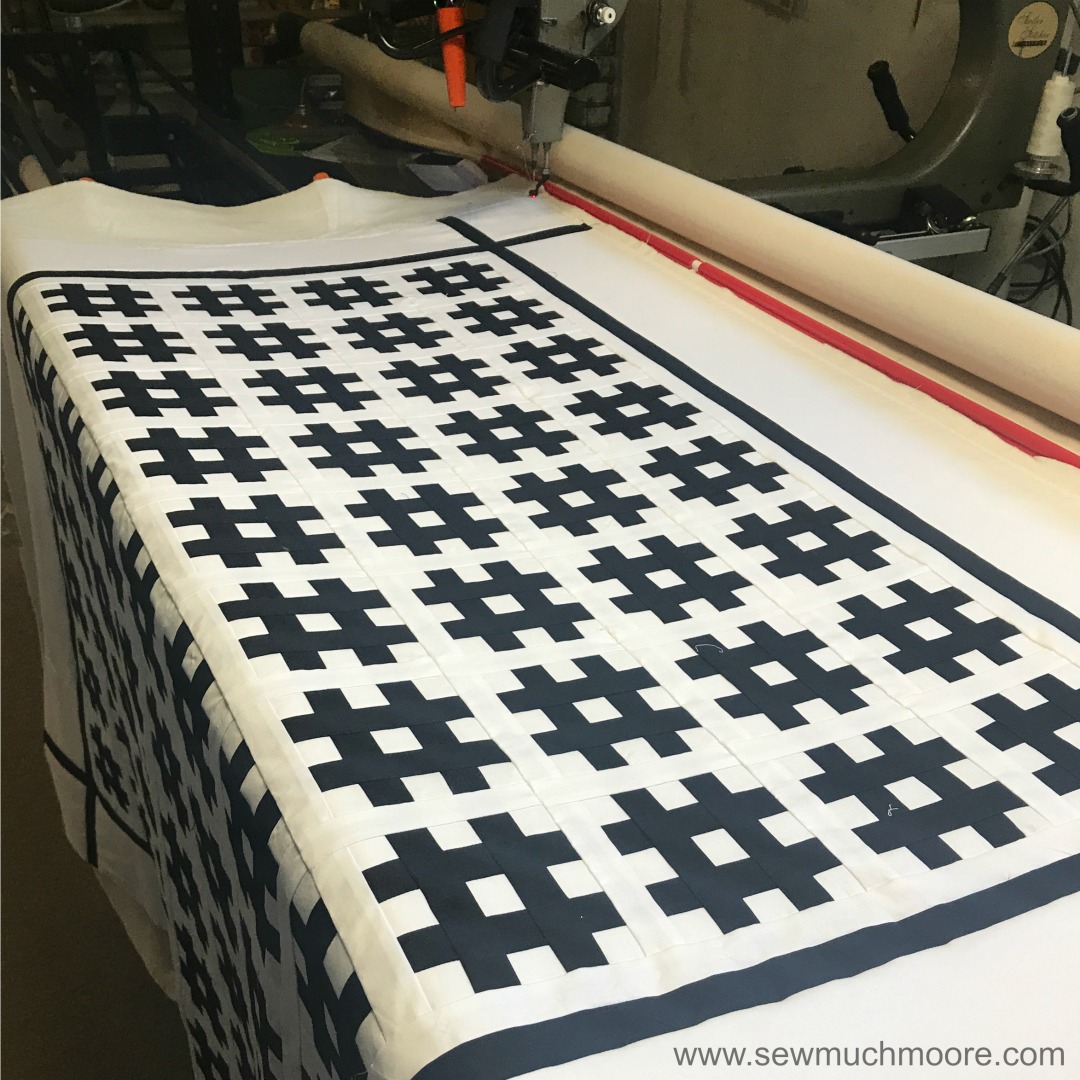 I always love my time with my friend's long arm machine!  I would love to have one of my own, but I have NO ROOM!  Maybe someday!  Until then, I hope to keep Tia Curtis as a close quilty friend!  She is so helpful and wonderfully talented!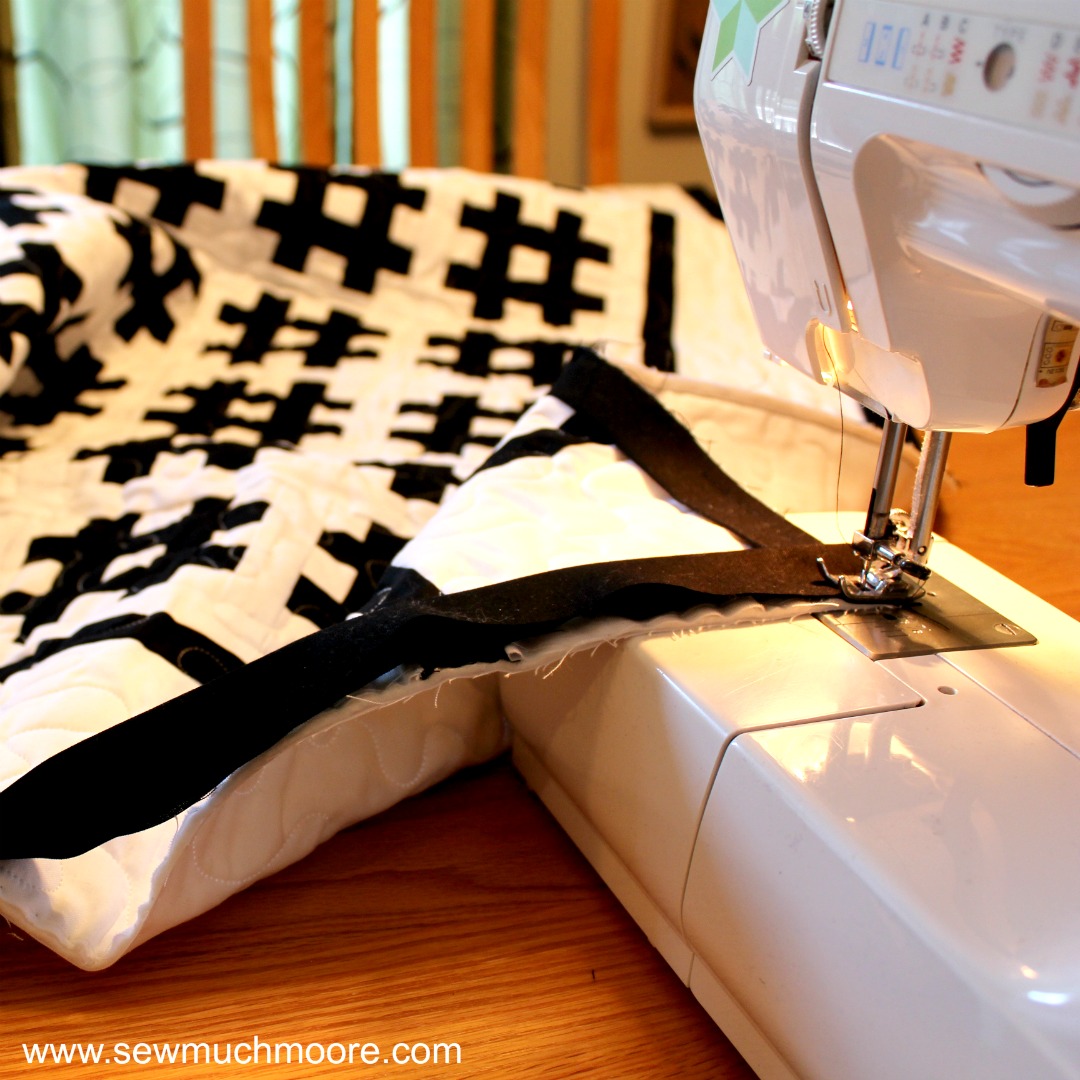 Once I sewed on the binding, I could not wait to take some pictures of this amazing quilt!  I convinced my husband to help me take some pictures of the finished quilt.  I liked this picture the best!  What do you think?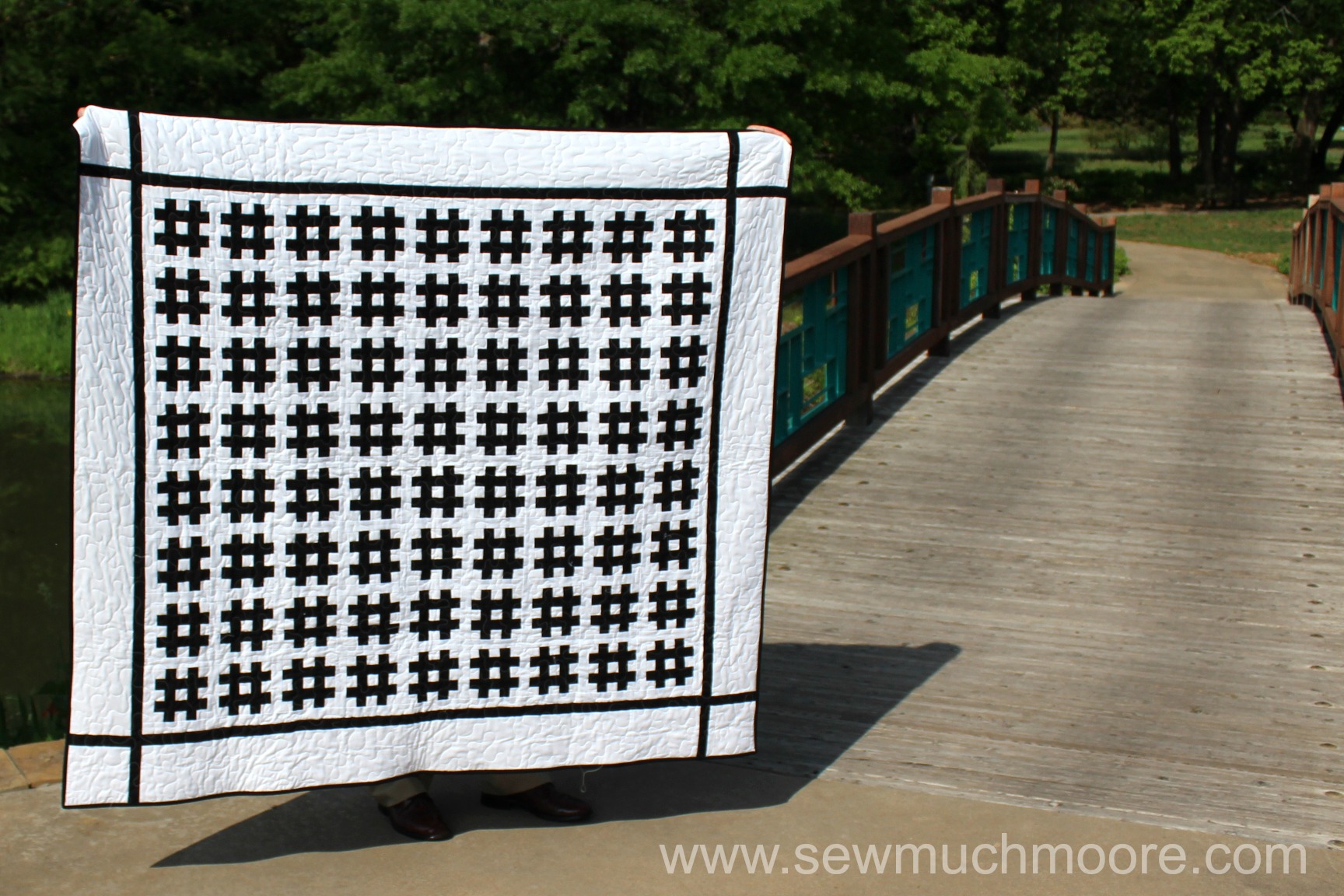 Making this Hashtag Quilt was fun!  There were times when I had to give my eyes a rest (all that black and white can make you dizzy).  But in the end, I just loved it and so did my customer!  Yay!
If I were ever to make this quilt again, I think I might use more color(s).  What color(s) would you choose?  Comment below and inspire me!
Happy Quilting!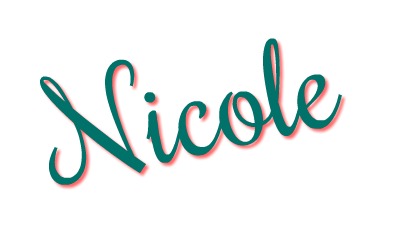 Be sure to check out these Quilty posts!