The Baby Ooo Quilt is a modern and fun project!  One of our neighbors was getting ready to become a first time Grandma!  She asked for a quilt to match her soon to be Grandson's nursery.  My inspiration for the Baby Ooo Quilt was from the full sized version of the Ooo Quilt I had finished a few months ago.  The Ooo Quilt was chosen from one of my Missouri Star Quilt Company Block books.  This was from Volume 1, issue 4.  In the book, this quilt was called "Jump Rings".   I chose some really great, limited edition, fabric.  Let me show you all about this quilt so you can make one too!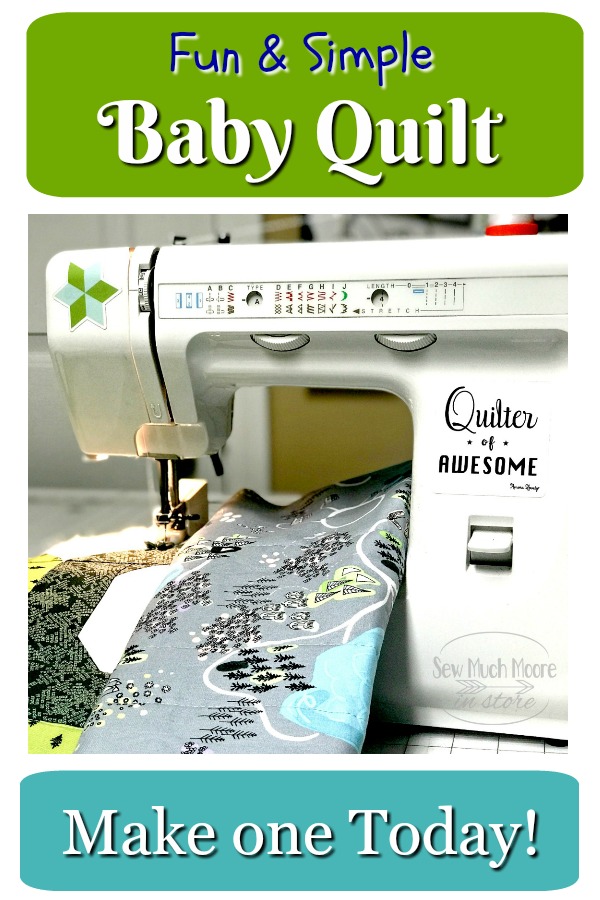 This post contains affiliate links for your convenience. ? Read my full disclosure policy here.
THE Baby ooo QUILT – MATERIALS LIST
Missouri Star Quilt Company Block Magazine (Volume 1, Issue 4)
Qty (6) Fat Quarters
Qty (.75) yards of background fabric (Kona White)
Qty (1.5) yards of binding and backing fabric (I thought the Lake Map print from the Night Hike line was best.  Beware – it is extremely limited!)
Cotton batting (this is the exact batting I used)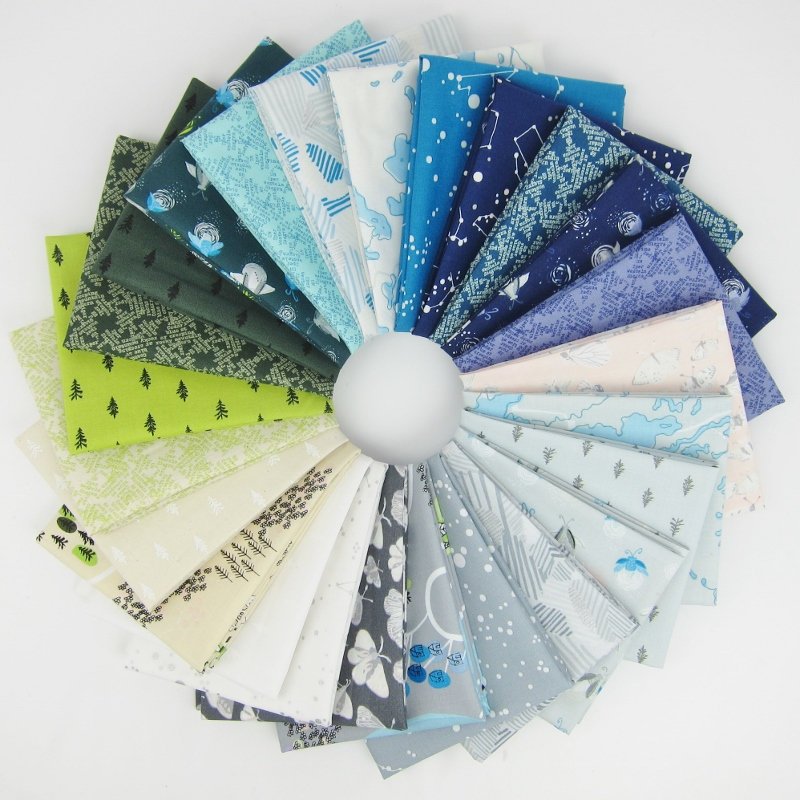 THE baby ooo QUILT – SUPPLY LIST
Sewing Machine with a quarter inch presser foot
Cotton Thread (I recommend Aurifil 50 wt)
Rotary Cutter with sharp blade (no kidding about a sharp blade)
Acrylic Ruler
Cutting Mat
Iron & Ironing Board
Sewing Pins or Wonder Clips
Be sure to check out my Amazon Shop to get all your Quilty supplies!
THE baby ooo QUILT – ASSEMBLY
Be sure to get yourself a copy of the Block Magazine.  In the pattern, you will find all the details for assembly.  The process is really simple.  Instead of using a jelly roll, I just cut up my fat quarters as show in the pattern.  Deciding upon the layout was fun.  It took me several times to finally settle upon a layout!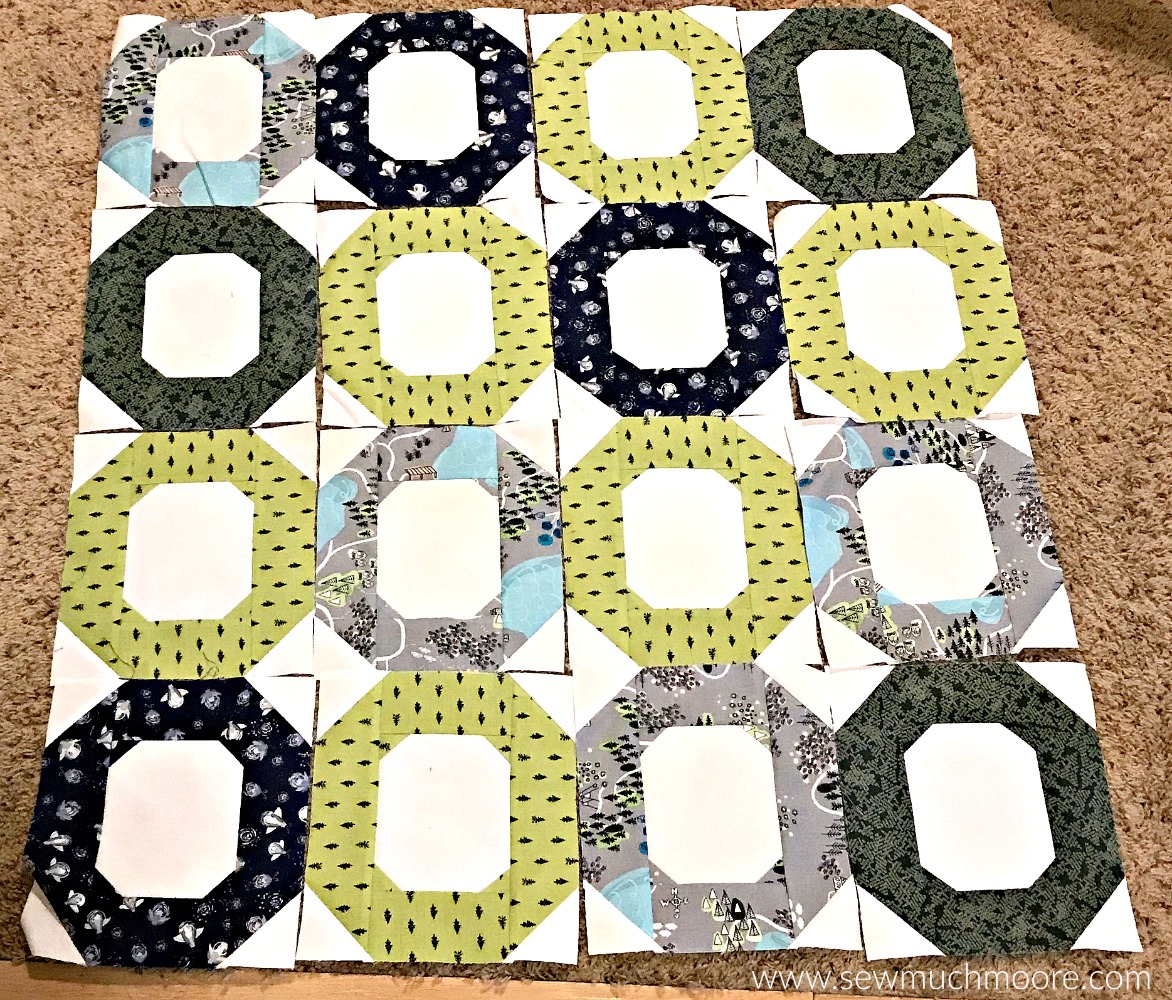 I numbered my rows, after I decided on the layout.  That really helps me to keep things straight when I get the blocks back to the machine for sewing.
TIP:  I used the following video tutorial as a general guide for assembly:
THE 000 QUILT – ALMOST FINISHED!
Once I had my quilt top assembled, I decided on some simple stitch-in-the-ditch quilting.  It's simple and fun!  Be sure you have a Walking Foot!  There are different kinds of Walking Foot attachments, based upon the shaft of your specific machine.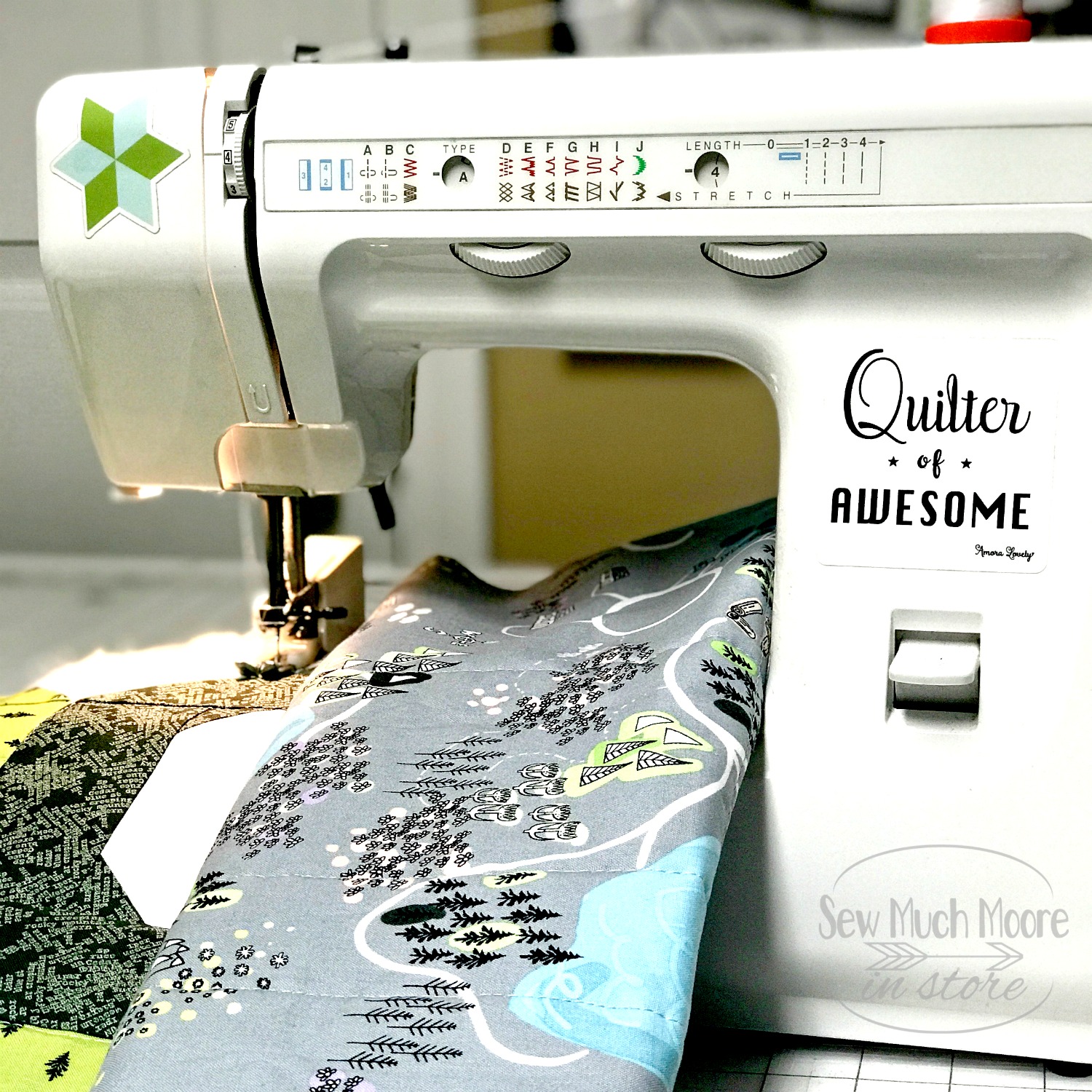 I also wanted to add a "special touch" to the quilt, so I added some Big Stitches with some special 12 weight thread from Aurifil.     I didn't use a hoop because my quilt was already quilted.  I just added some big stitches on the inside boarder of each "O".  What do you think?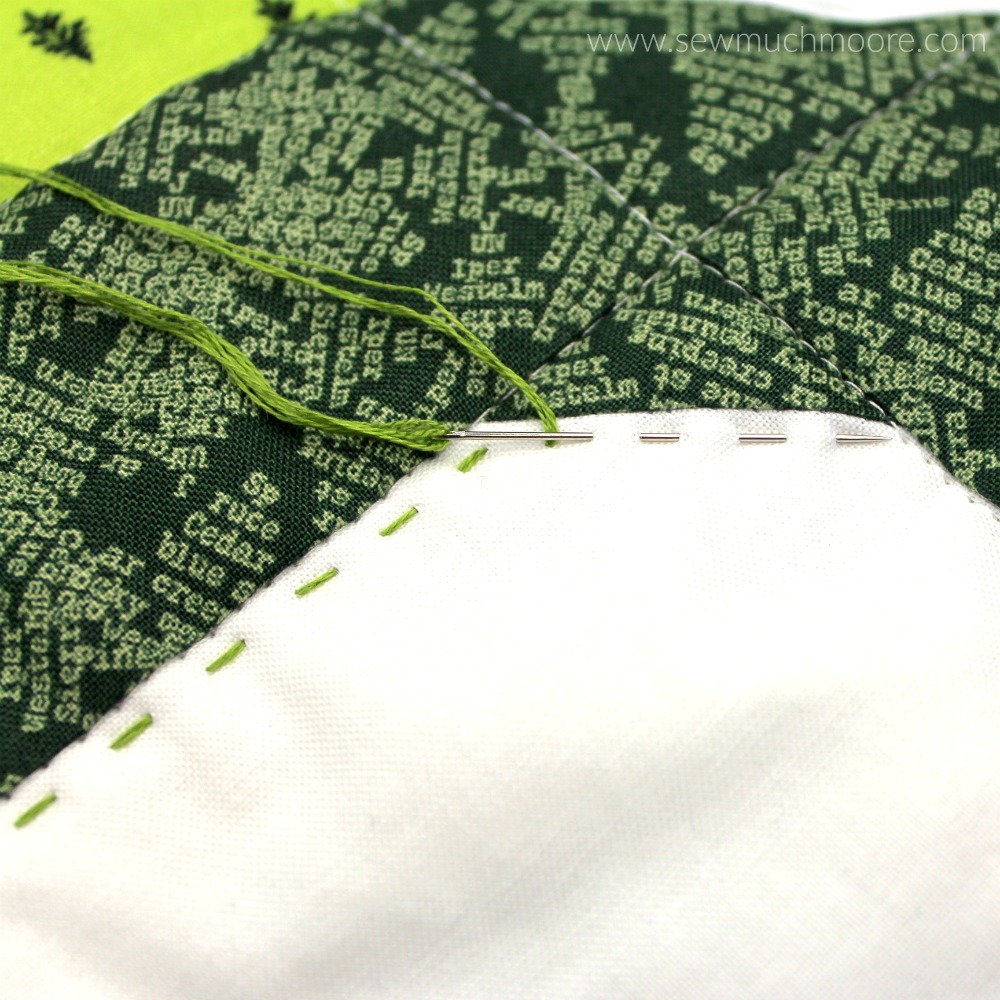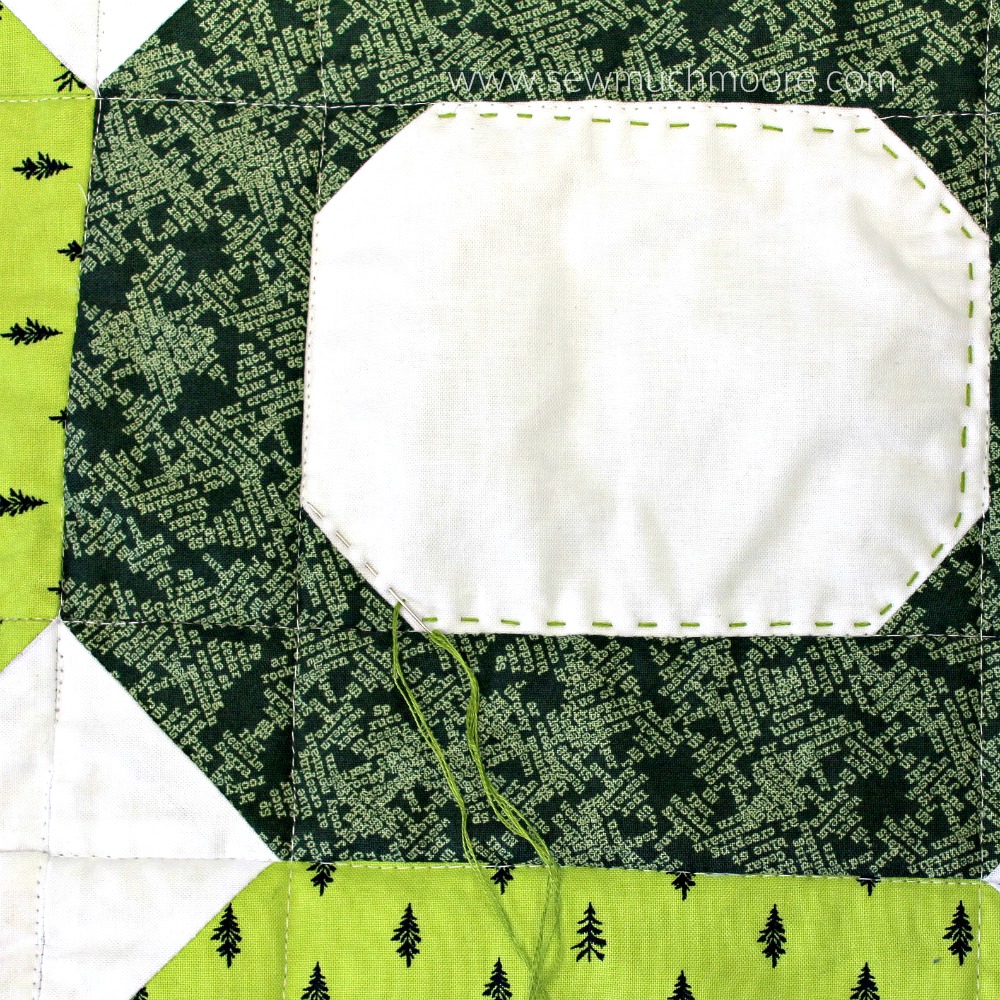 Once I sewed on the binding, I could not wait to take some pictures of this amazing quilt!  I was also a little late in getting this to my neighbor, so I headed to the backyard and snapped this completed picture.  I think it is too cute!  And I will definitely be adding big stitches to more projects in the future!  Making this Baby Ooo Quilt was fun and easy!  I just loved making it and my Neighbor loved the result!  Yay!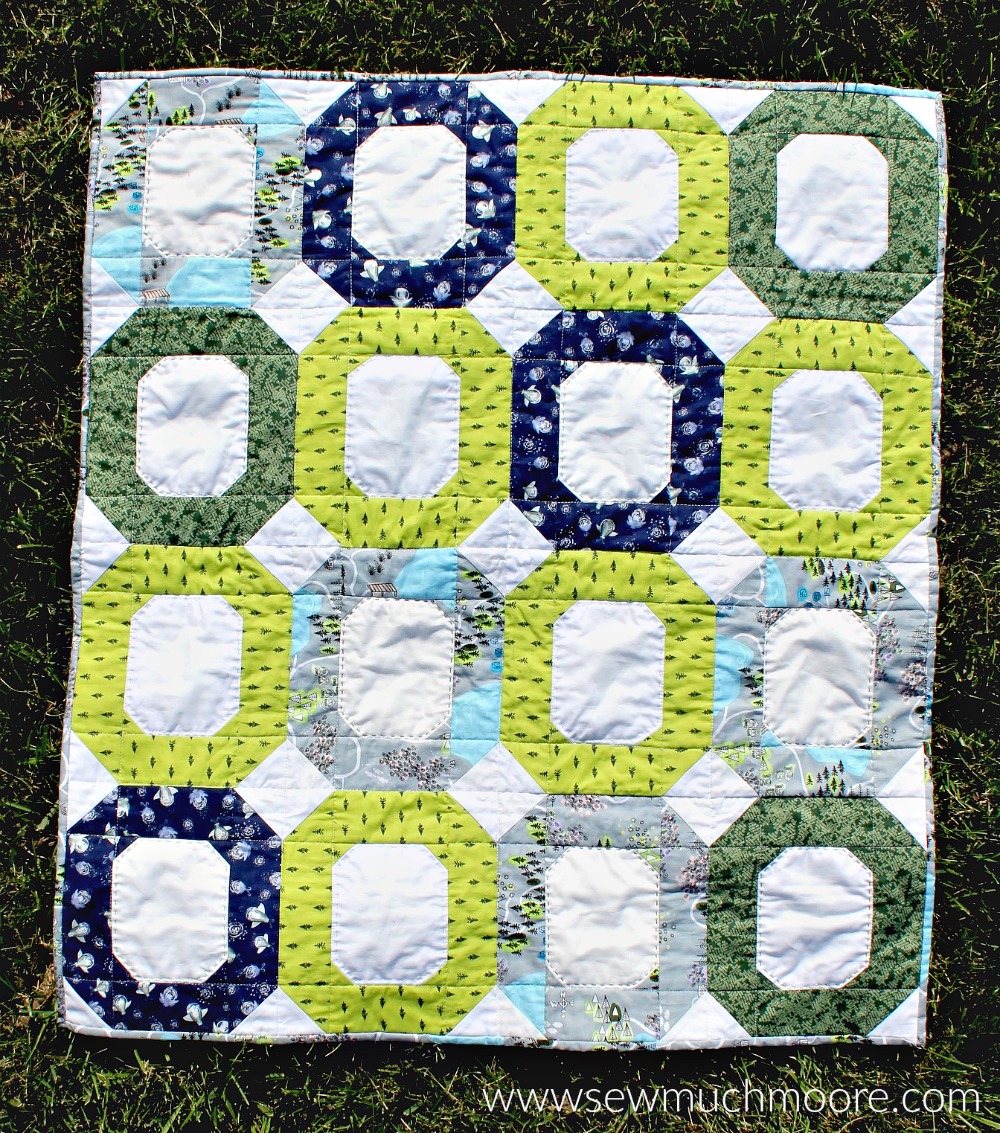 If I were ever to make this quilt again, I think I might try one for a baby girl.  Just think of the fabric possibilities!  I hope you make one of these quilts.  What fabrics would you choose?  Let me know in the comments below!
Happy Quilting!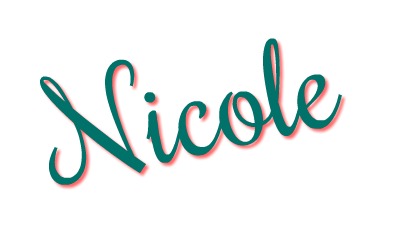 Check out these Quilty Posts!