I am super excited to announce that Juki has sent me a frame (and lots of other goodies) for my Juki J-350 Miyabi Longarm! If you recall – I already owned the machine, but mine was on a table with extension leaves. This new setup is the same model machine, but now on a 10′ frame! I can't wait to share more about this, so let's dive right in!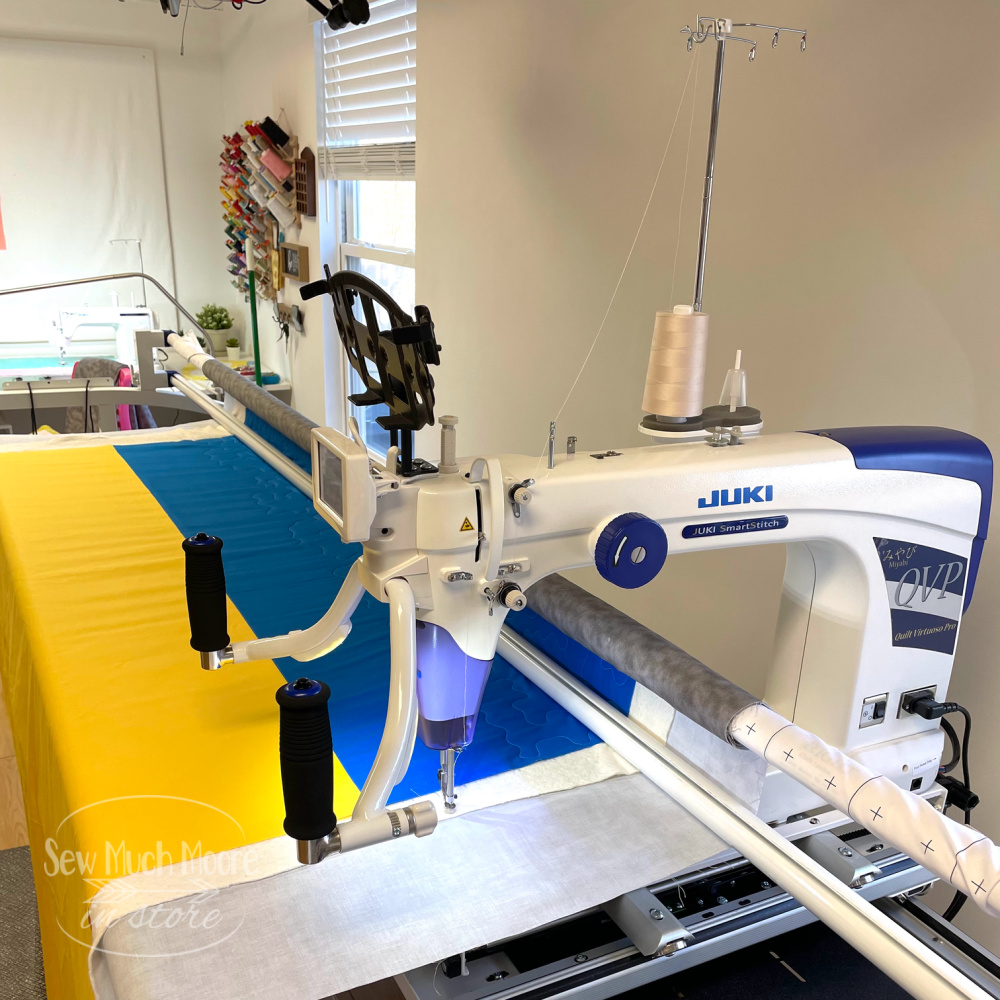 Juki J-350 Package Details
Not all Juki J-350 packages are created equal. In fact, there are several different ways you can build your own long arm. For the past five years, I've had my J-350 on a table and that has served me very well. Until just recently, I've expanded my sewing space to accommodate a larger Quilting system. Juki sent me an entirely new system. I have a new J-350 head, they sent me a 10 foot frame, they even sent me the Quilting automation system. I'll be sharing more about the automation system after I receive training and obtain an interface for the software. Click HERE If you want to see all the frame options, for this system.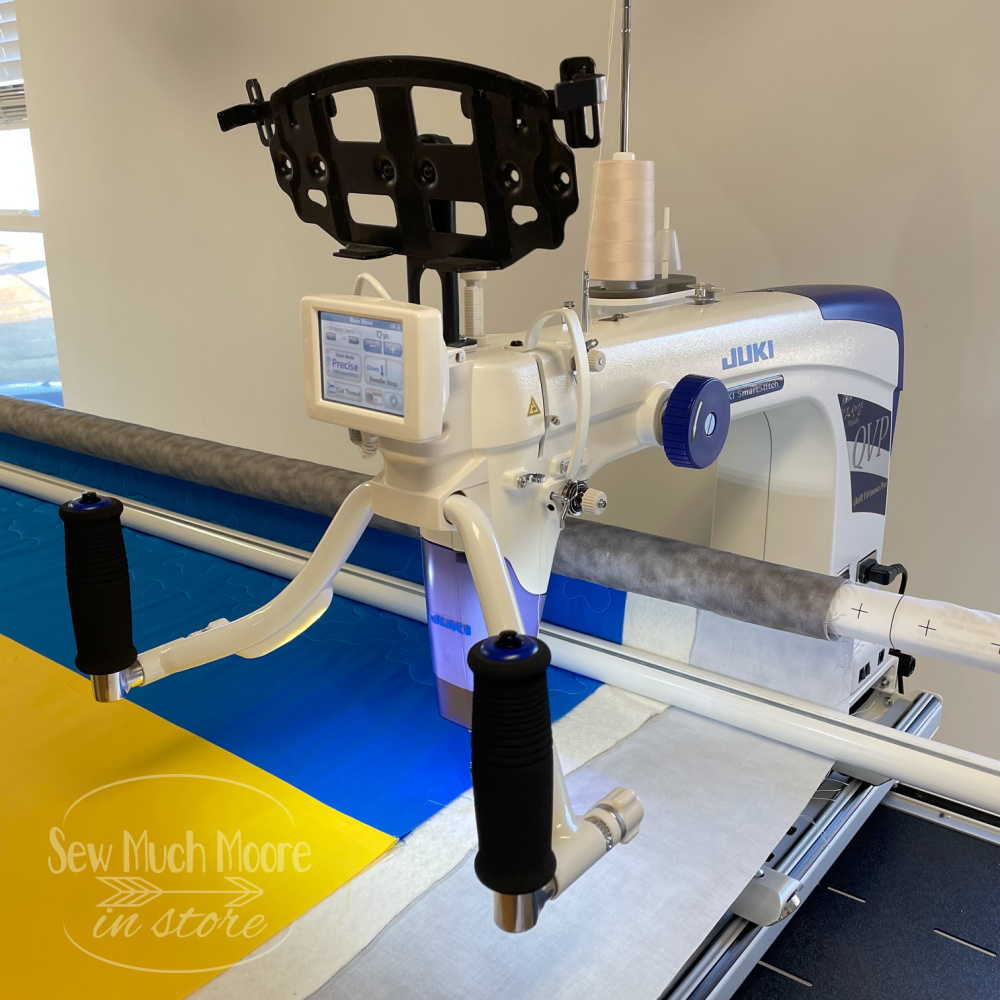 You'll notice a large black frame above the machine head. This is where a tablet will go so I can stitch out computerized designs with a software package called Quilter's Creative Touch. More about that – once I receive my training next month!
Look at the size of this frame
I knew that I needed a bigger space to accommodate a system like this, so we recently knocked out a wall in our house and created a new studio for my home based business. This was a long time coming and I can't wait to share more about my new space in an upcoming article. The frame that I knew would fit nicely in my new space is ten feet long. You have to figure a few more additional feet on each side to accommodate the side pieces and general maneuverability around the system. I could've probably fit the largest frame, which is a 12 foot frame, but I knew I needed to be able to maneuver comfortably and so I opted for the 10 foot frame. Just take a look at the entire system from this Birdseye view.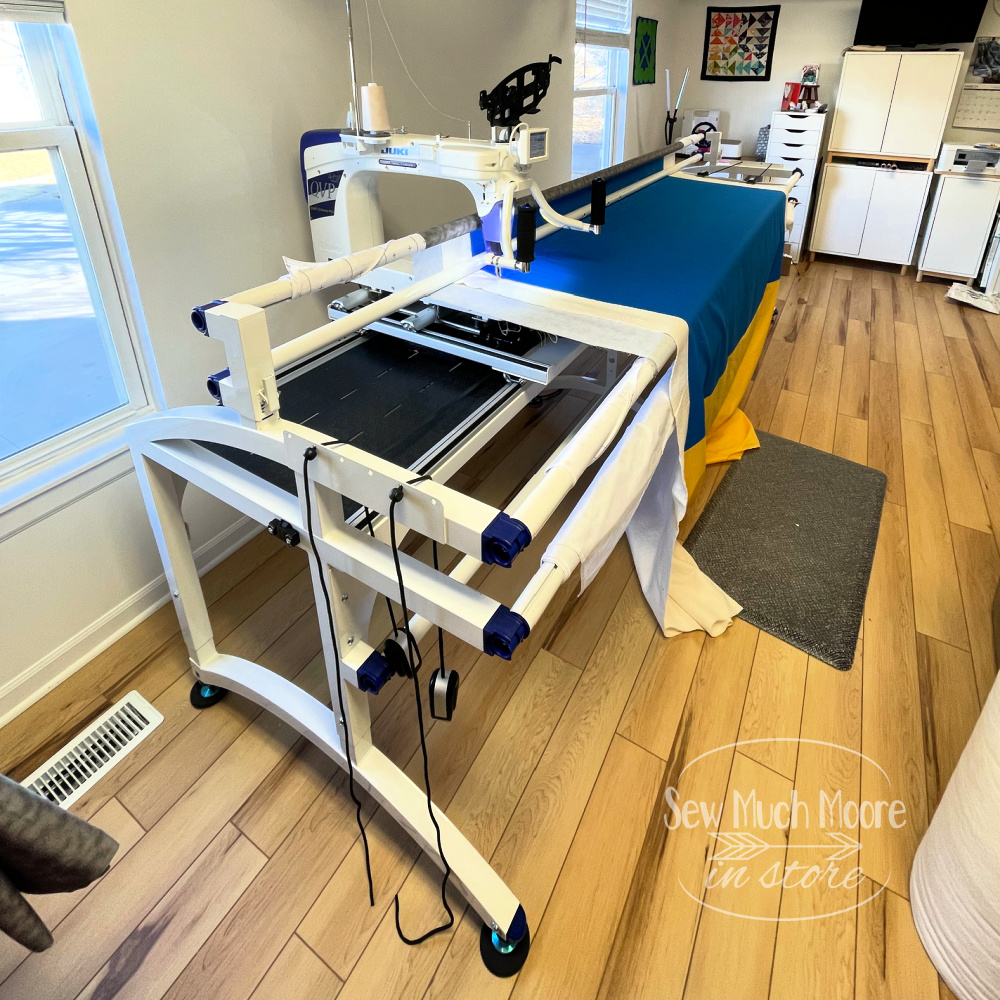 This view is a little tricky to comprehend, but when I share more about my studio renovation – this will make more sense. The system spans across the back wall, but is still leaving me room to maneuver on either side and even behind the machine. You have to leave a little bit of room behind the machine so that the head can travel behind the frame to make the most use of the 18 inch throat space on the Juki J-350. To learn all about the features of this amazing machine, check out my first article HERE.
The best service and install!
I feel really lucky to have some fantastic local dealers. Joan and Robert with Quilters HQ have been my friends for the past several years. I've purchased all of my Juki machines through them and they have been so great and easy to deal with. This power couple personally set up my machine and even stayed to help me test it out and showed me some tips and tricks along the way. I reordered the entire installation, so stay tuned for that video coming soon!
If you are in the Kansas City area, I highly encourage you to stop by one of their shops and say hello.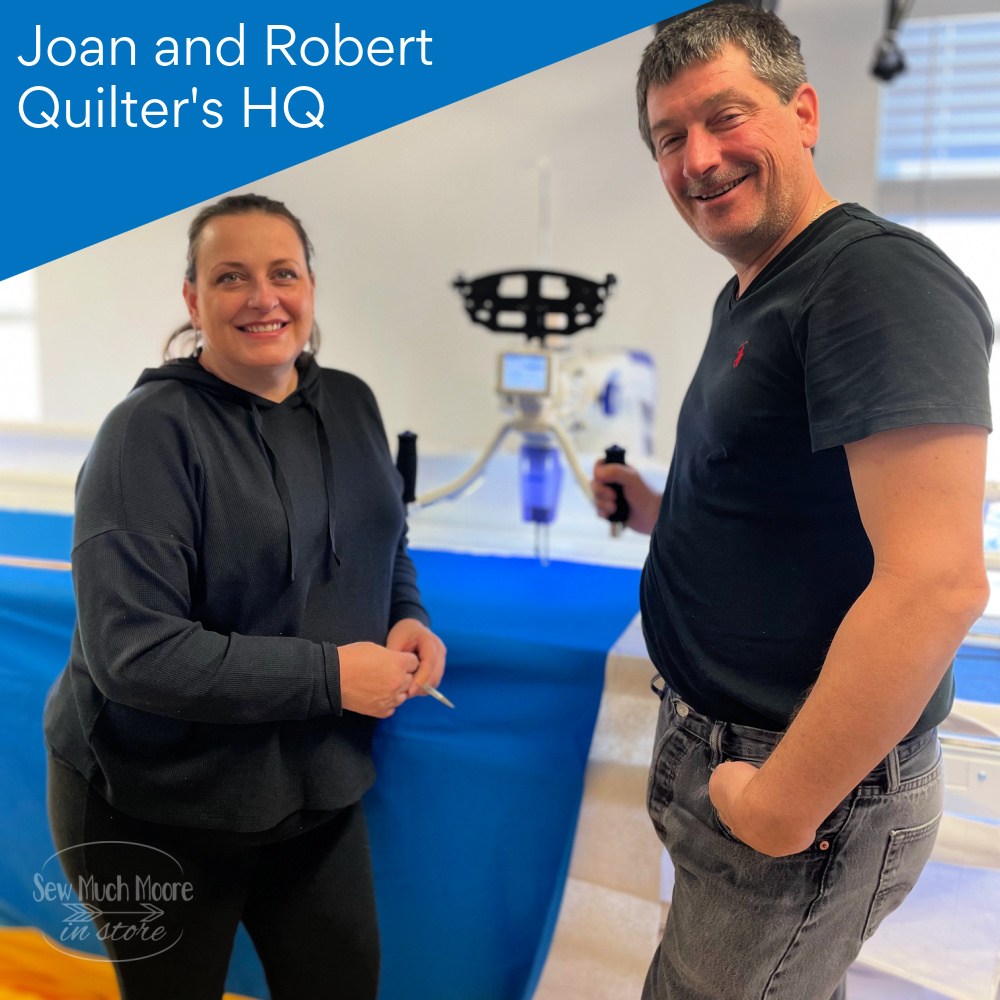 If you are looking for a Juki dealer in your area, click HERE and see where you can test drive a J-350 yourself! I know you will love it! If you want to test drive a machine at a show or an event, click HERE to see all the places that Juki plans to be with this amazing machine!
Watch the Installation Video!
More quilting goodness to come. Keep up with me daily on Instagram!
Happy Quilting!