This month's Sew Sampler Subscription Box by Fat Quarter Shop is a lovely collection of materials and supplies.  I was extremely excited when I opened my Subscription Box and discovered all the goodies in store for me!  This months Sew Sampler box, so aptly called "Spectrum,"  is full of colorful goodness.  I really love the shimmery gold in all the Fabric!  Let's just let the pictures do the talking!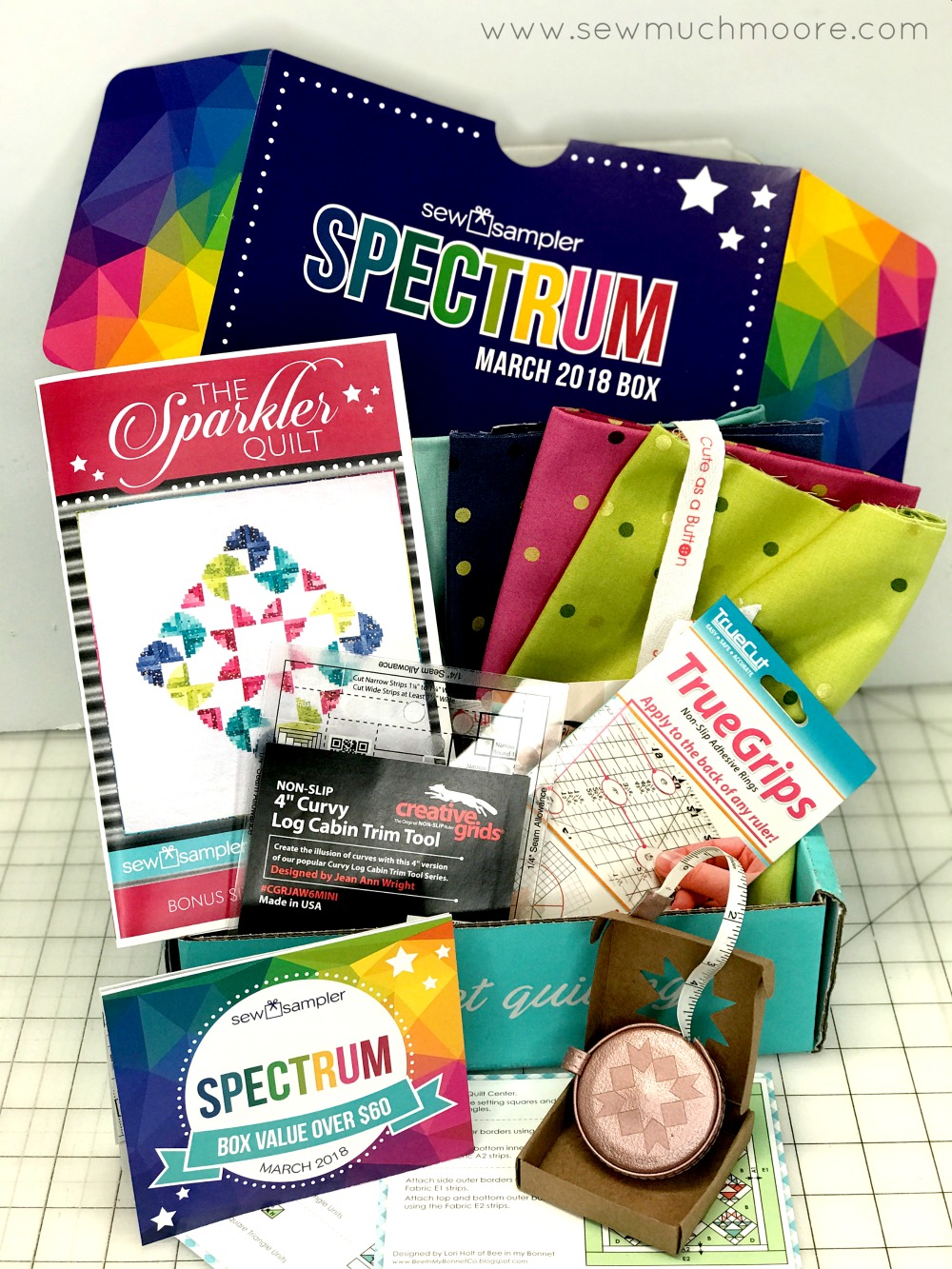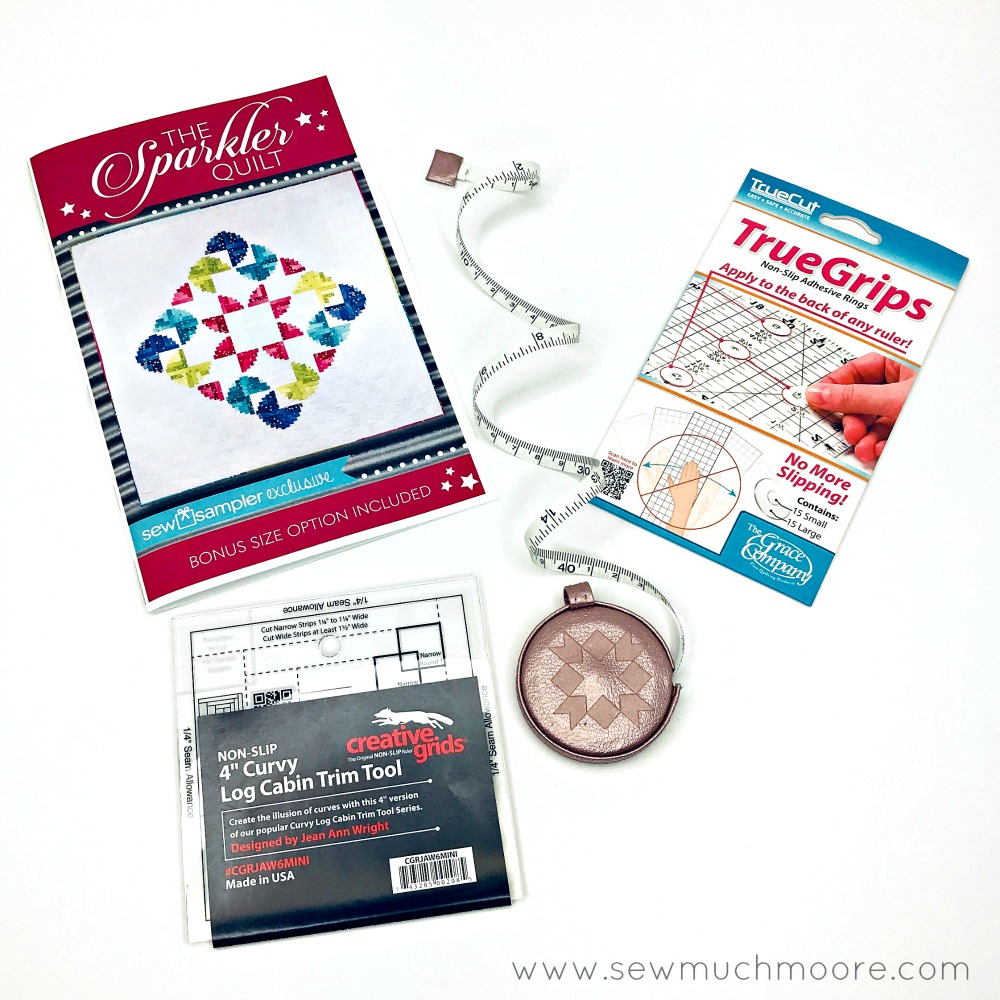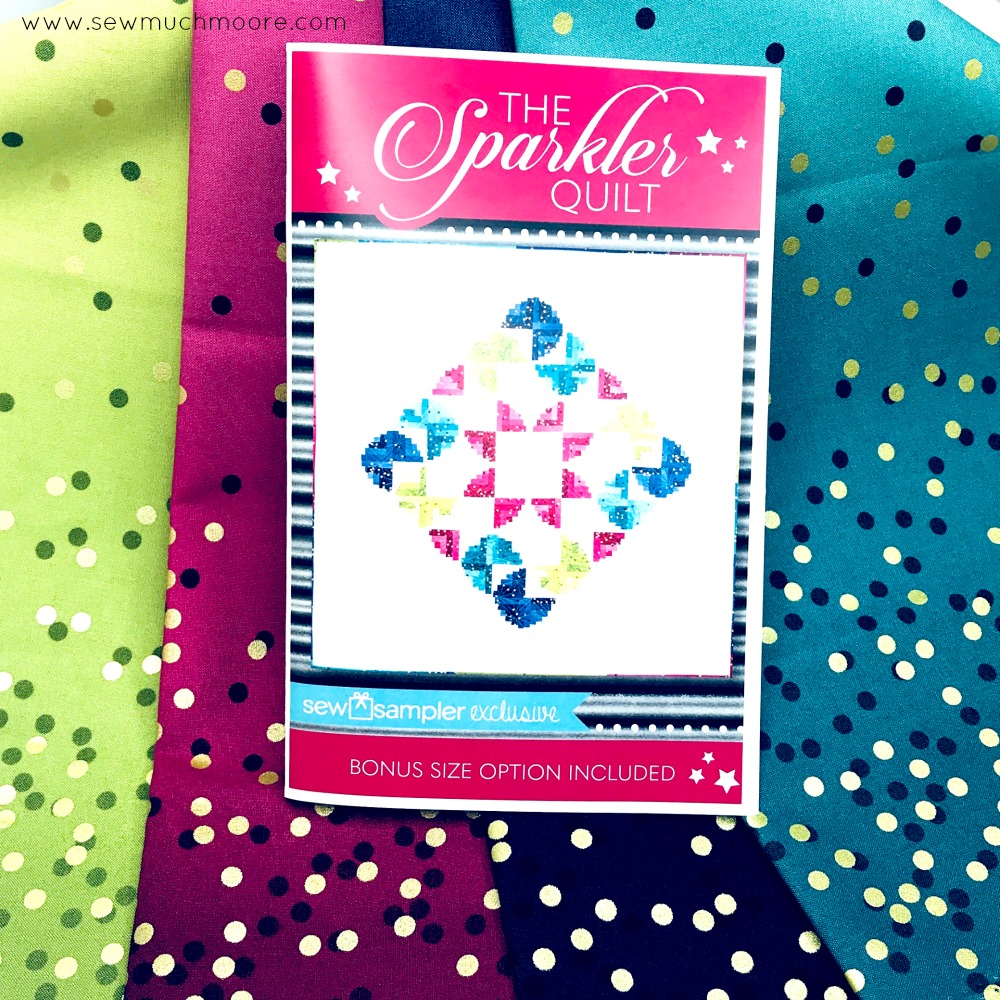 This post contains affiliate links for your convenience. ? Read my full disclosure policy here.
I am guessing you will agree with me that this may have been the most amazing Sew Sampler box to date!  I have loved them all.  I am extremely excited that I received a total of (4) half yard cuts of fabric!  Can you believe it?!!!?  Here's a list of the items in this month's box:
~ an exclusive Quilt pattern for Sew Sampler called
The Sparkler Quilt.  
While the pattern is only available to Sew Sampler subscribers – I wanted to remind you of the finishing items you will need:  (3) yards of
Background Fabric
& (3 3/8) yards of
Backing Fabric
 ~
This Sew Sampler box also included the final basket recipe card and quilt finishing instructions, which were designed by Lori Holt of Bee in My Bonnet.  Don't wait to pick up your 2017 Basket Blocks Sew Sampler Bundle as well as the additional yardage needed to add the perfect finishing touch to your quilt: Confetti Cotton C120-Cloud & C120-SweetMint.  Take a look these blocks!  Just lovely!
I was a little curious about how the Creative Grids 4″ Curvy Log Cabin Trim Tool worked.  I found this handy video, which does a great job explaining the tool.  They really spell everything out.  Genius!
If you haven't already signed up for this monthly subscription box and want to know more, just follow this link:  
Sew Sampler box from Fat Quarter Shop
.   These boxes are a fantastic value. Every month the creative folks at Fat Quarter shop will fill your box with unique notions, pretty fabric, a pattern and even exclusive coupons! You may also cancel at any time, which gives you total flexibility.
Thank you, quilting friends, for stopping by the blog today.  Happy Quilting!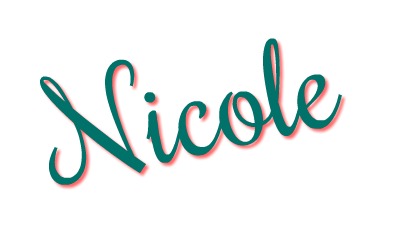 Check out these other subscription boxes!  They really are great!