In case you didn't know….Bella Strega means "Good Witch" in Italian.  I first saw this done at a local Show & Tell for the Kansas City Modern Quilt Guild.  The project was done by a new member, Angel, and I was complete captivated!  It was amazing!  I knew that I needed to make one of those!  A year went by and our Schoolhouse Chair organized a workshop.  I was the FIRST to signup for the sold out class.  The project took one day (I cheated and sewed together my background before class).  I quilted it up the next weekend and had it ready in time for Halloween!  Let me show some of the details and also some inspiration so you might want to make a Bella Strega Wall Quilt of your own!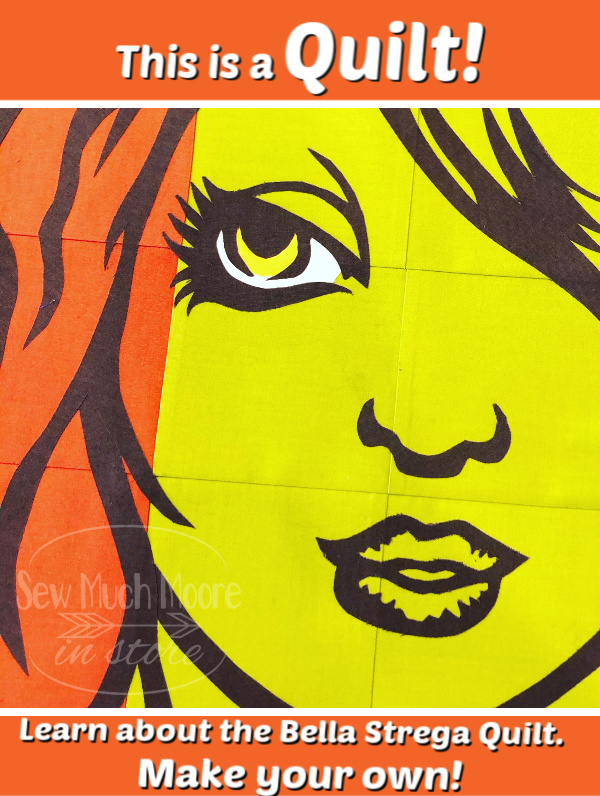 This post contains affiliate links for your convenience. ? Read my full disclosure policy here.
Bella Strega – Materials List
Bella Strega Quilt Pattern – pattern by Laurie Ceesay Landree
Fabric (Forty 5″ squares) I am linking the fabrics I used below:

Scrap of White for the eye
1 yd fusible web (I used Misty Fuse)

You will also need to use Baking Parchment Paper if you use Misty Fuse
I will also recommend a telfon sheet.

3/4 yd backing fabric
Low Loft Batting
Thread to match the outline and also thread for quilting
Supply List
Sewing Machine
Quarter Inch foot for your sewing machine (you will use this for piecing the background together)
Tracing surface
Pencil or marking tool for tracing
Scissors for paper fused fabric
Sewing Pins or Wonder Clips
Acrylic Ruler
Self Healing Rotary Cutting Mat (the spinning mats are ideal)
Iron & Ironing Board
Pressing Mat (to prevent the Fusible webbing from sticking to your iron or ironing board)
Optional embellishments like sequence, buttons or fabric paint.
Tracing the Pattern
This tracing pattern is based upon original line drawings, by Laurie Ceesay Landree. These drawings are meant to be traced, fused to fabric, and then cut. If you already have a light box, then go ahead and use that for tracing your pattern. You can also use a sunny window. I had the opportunity to try out a Wafer One Lightbox and can't tell you enough good things about this product! Each size option has with a see-through cutting surface option, which also makes this product ideal for fussy cutting and foundation paper piecing.
Below is a picture of our workshop instructor, Angel, as she is tracing a student's project. Since I used Parchment Paper and Misty Fuse, I traced the drawing onto the paper first. I was careful to include the name of each piece so that I wouldn't get confused. Then, I sandwiched the Misty Fuse between the paper and the fabric and used my hot iron to adhere the fusible webbing to my fabric. This was the perfect time to use my Teflon sheet and ensure that I don't get the fusible web on anything (like my hot iron or pressing mat).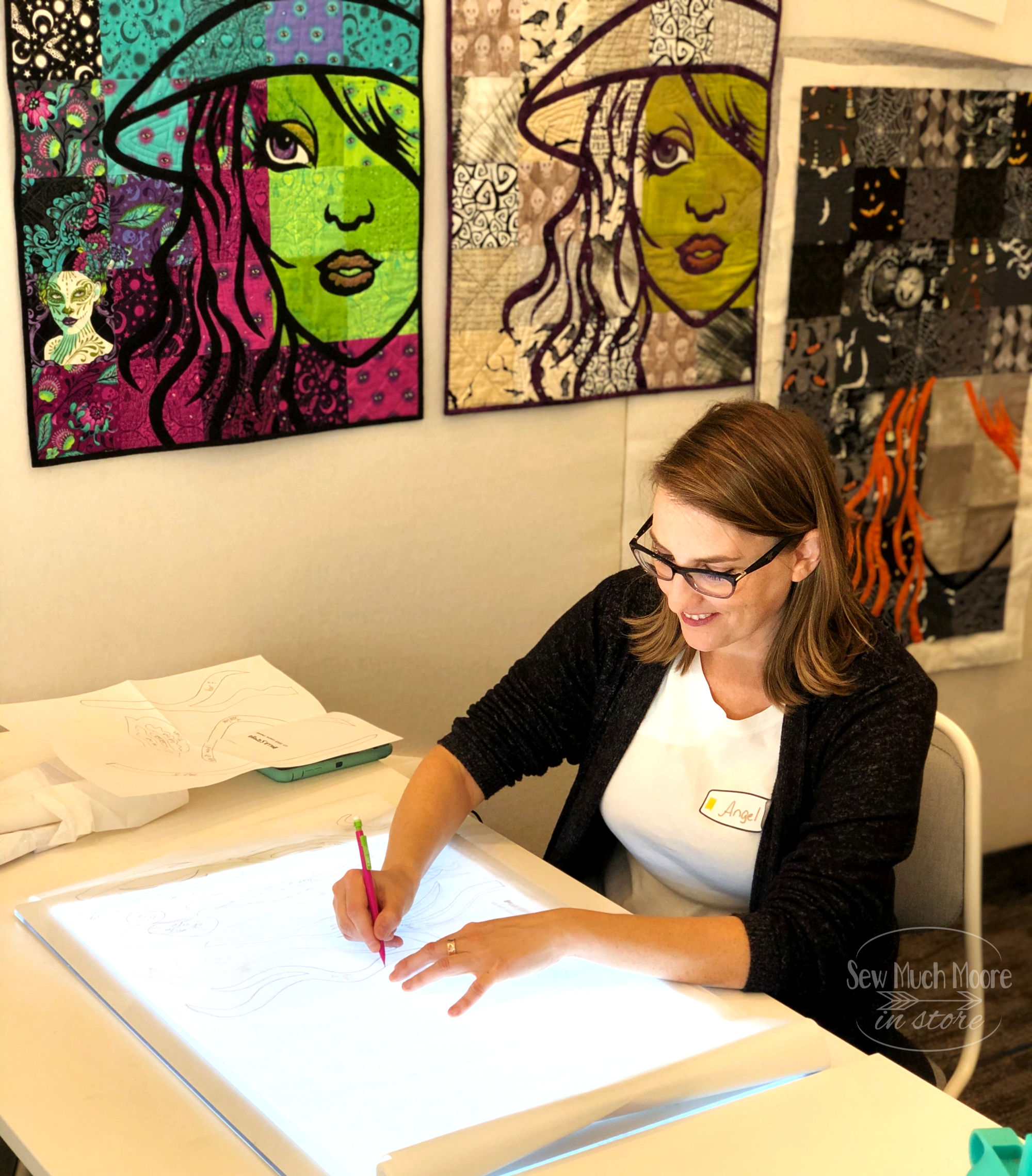 Using Misty Fuse
A good friend of mine introduced me to Misty Fuse. I met the owner of Misty Fuse, Iris, at a Regional Quilt Festival and was anxious to see what all the buzz was about. In the past, I had used stiffer fusible products and my needle always gummed up when I sewed my project together. Check out this video introduction on Misty Fuse and try some on your next project!
Line Drawing Assembly
The Bella Strega pattern includes an assembly diagram, so it goes together nicely. Once all the pieces are situated, then they just get pressed onto the background with a hot iron. The image below shows my outline fabric on my background patchwork. This is how far I got in the workshop. I carefully rolled up my project and took it home for quilting.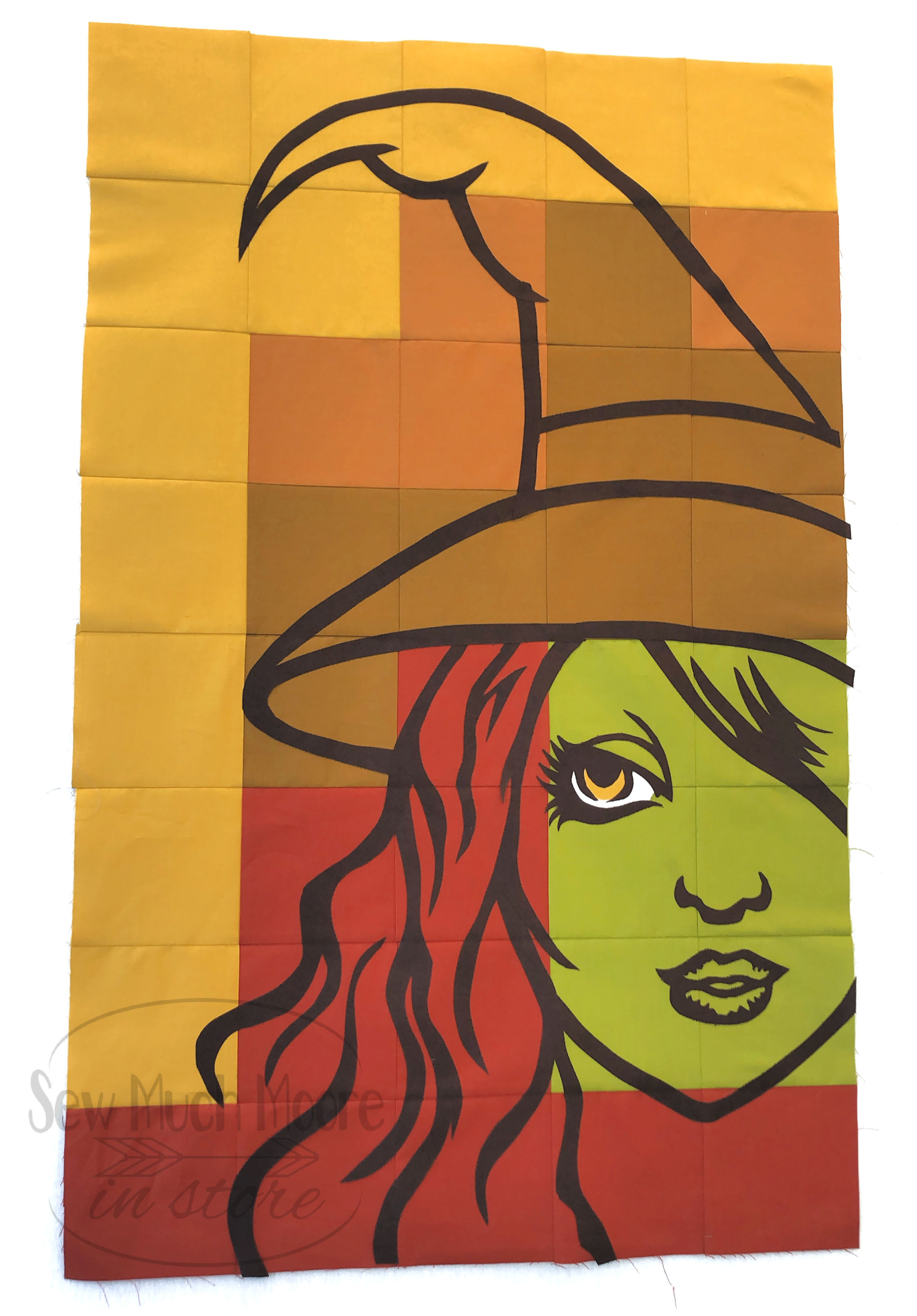 Finishing Touches
Now that the top was finished, I just needed to decide on my quilting design and how I wanted to finish the project. I used my Juki Miyabi 350 QVP to quilt the outline and the background. Since my Longarm allows me to freely move my project under the needle, I was able to easily stitch the outline fabric in place. Once I had the outline secured, I decided on a few different quilting techniques to finish the quilt. I used Free Motion Quilting in the hair and the hat. For the rest of the background, and the face/neck, I used a Non-Slip ruler to make lines and cross-hatching. I finished the quilt with some flange binding. What do you think?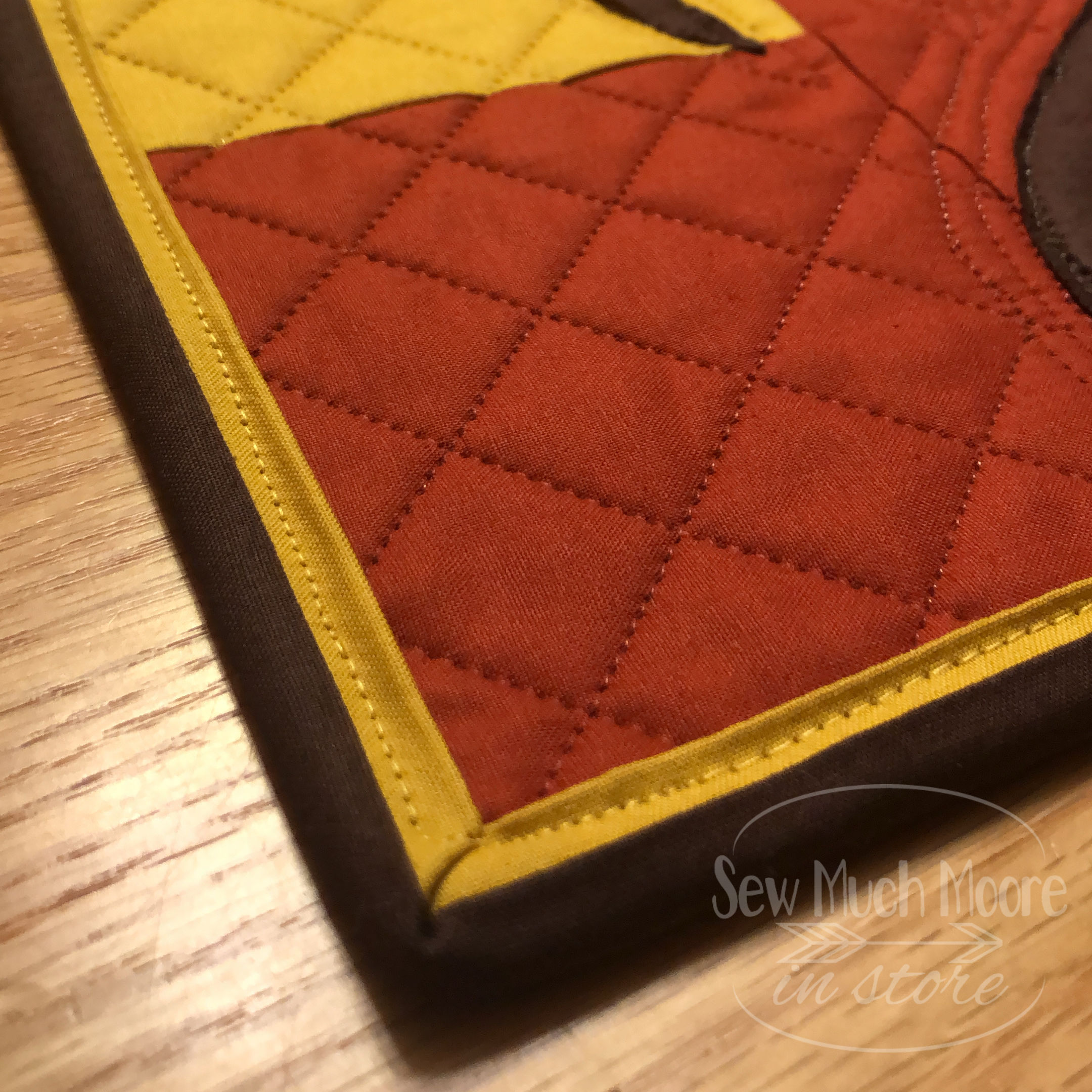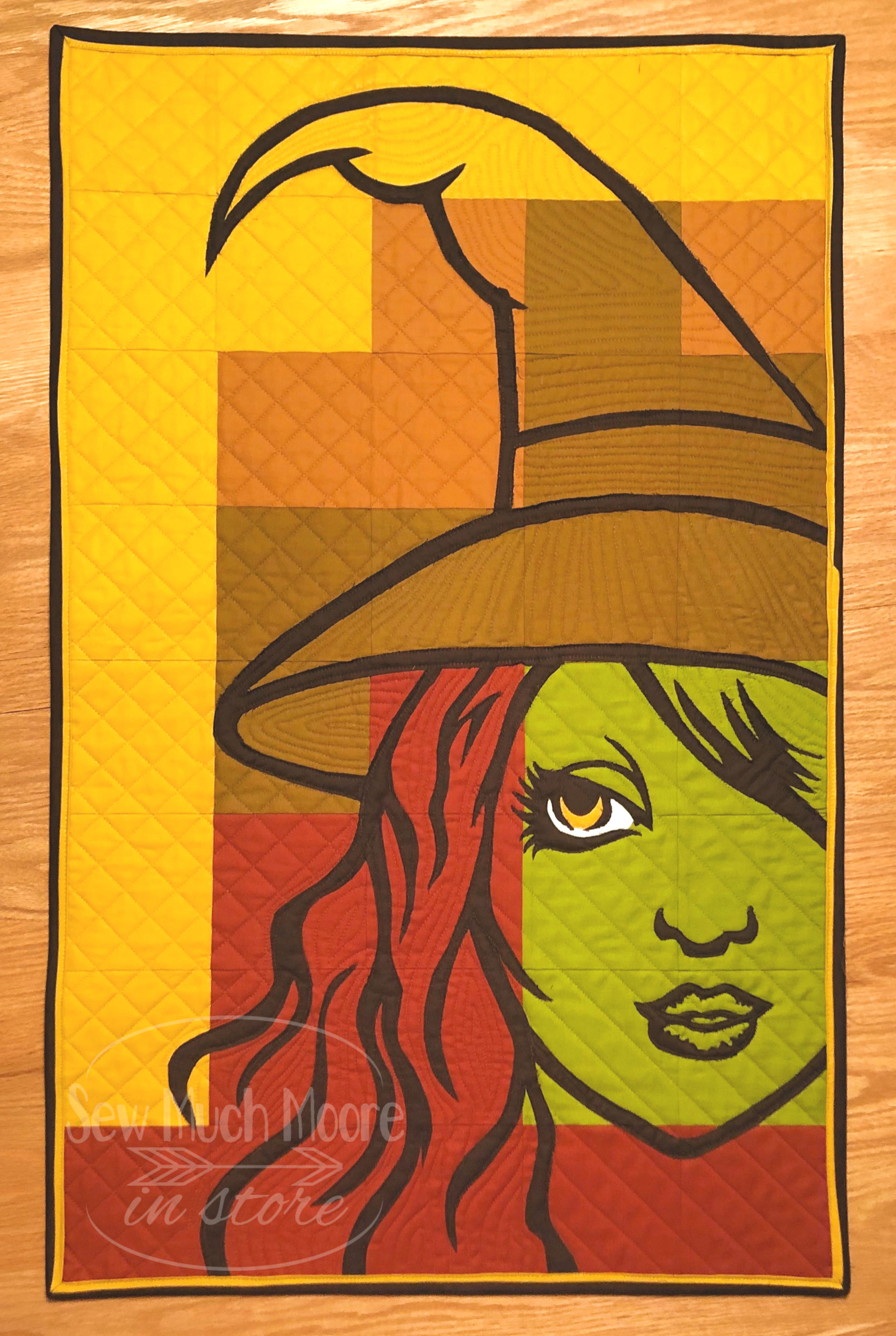 The Bella Strega Schoolhouse was definitely a success! The pattern designed mentioned that she had never seen a Bella Strega done in solid fabrics before (everyone has made them with a variety of prints). I think they all look marvelous! Look at all these beautiful witches!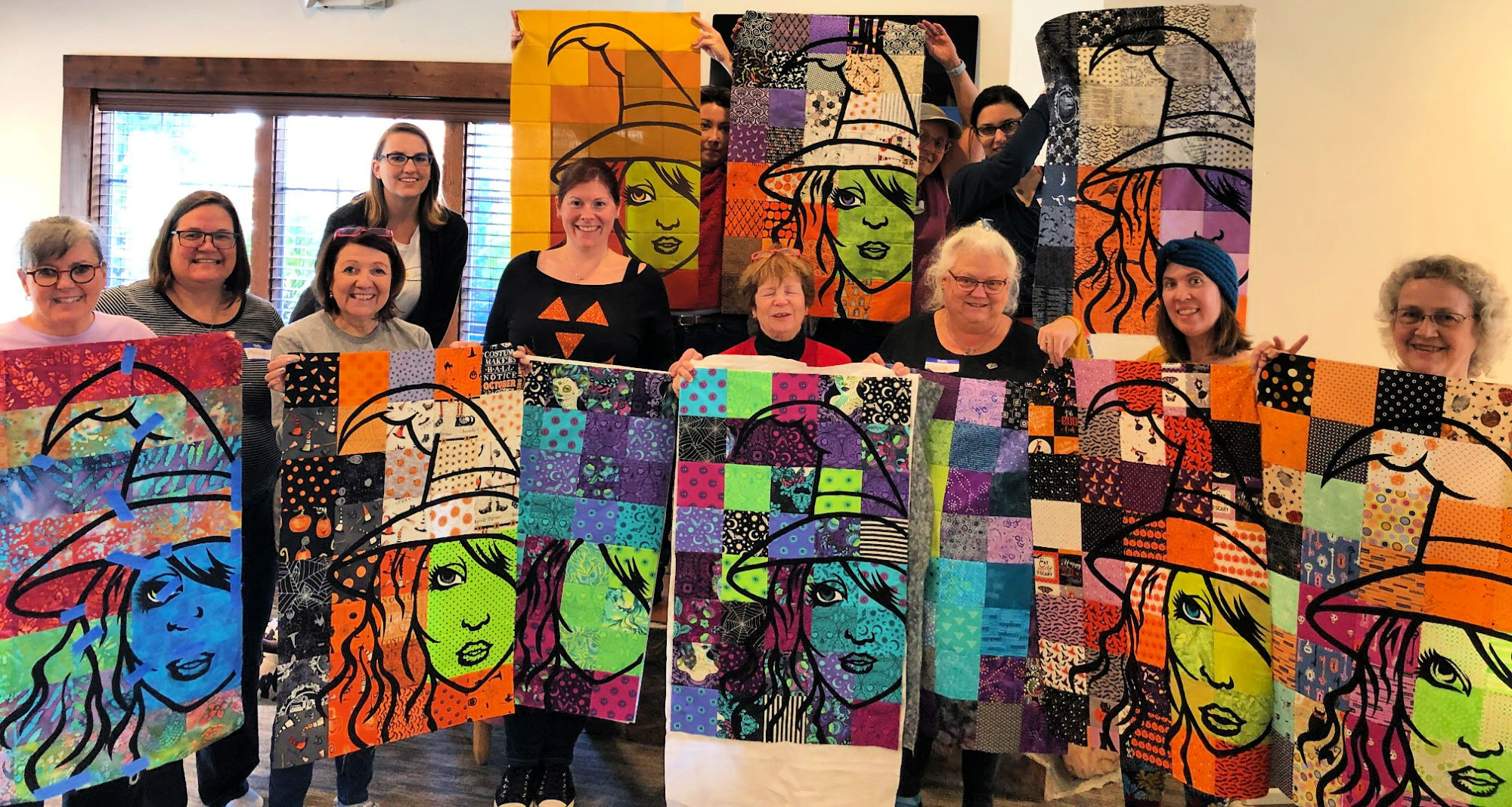 I hope you decide to try one of Laurie Ceesay Landree's patterns. She has many great patterns to choose from! I bought the Winter Bella pattern and will be trying that one next! Be sure to share your progress or completed project in my Facebook Group and don't forget to check out my fabric shop for some excellent fabric options!
Happy Quilting!