I love my Juki Miyabi J-350 QVP
I have wanted my own Long Arm Quilting Machine for a very long time.  For the past few years, I have been renting time on my friend's Long Arm and have dreamt about the day that I could get a Long Arm of my own.  As you may know, my sewing studio is rather tiny.  In my studio, I already have my Industrial Juki DU1181n and my domestic machine as well.  After my cutting table and ironing board, I barely have enough room for my cabinets and fabric storage!  I thought I would have to wait until my kids moved out before I could have enough room for a Long Arm Quilting Machine.  Well, that changed when I stopped by Quilter's HQ to check out the latest Juki Long Arm model.  Let me tell you about some of the features with my Juki Miyabi J-350 QVP!
Compact Size and Adjustability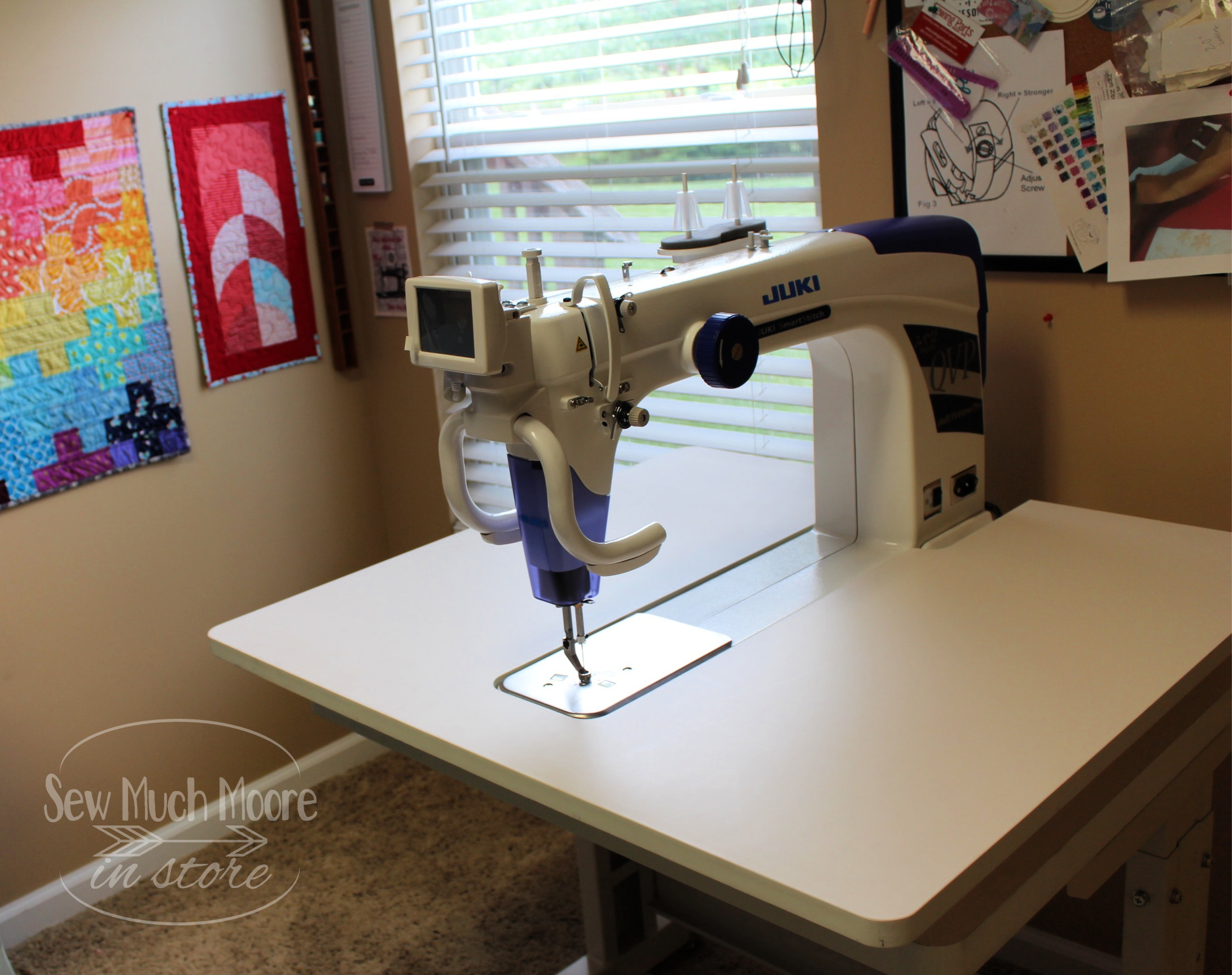 My Juki Miyabi 350 QVP measures 35.4″ x 33.7″ (that's the main table).  I also have the optional table extensions which provide and additional 15.7″ on each side.  This brings my total table top measurement to 66.8″ x 33.7″.  This fits perfectly against the west side of my studio!  The table is also adjustable.  I can either sit or stand to use my Long Arm Quilting Machine.  I am currently loving to stand when I quilt.  While the table is compact, the quilting area is more than enough space!  This machine has an 18″ depth and a 10″ height!  That's a ton of space!
Regulated Stitch option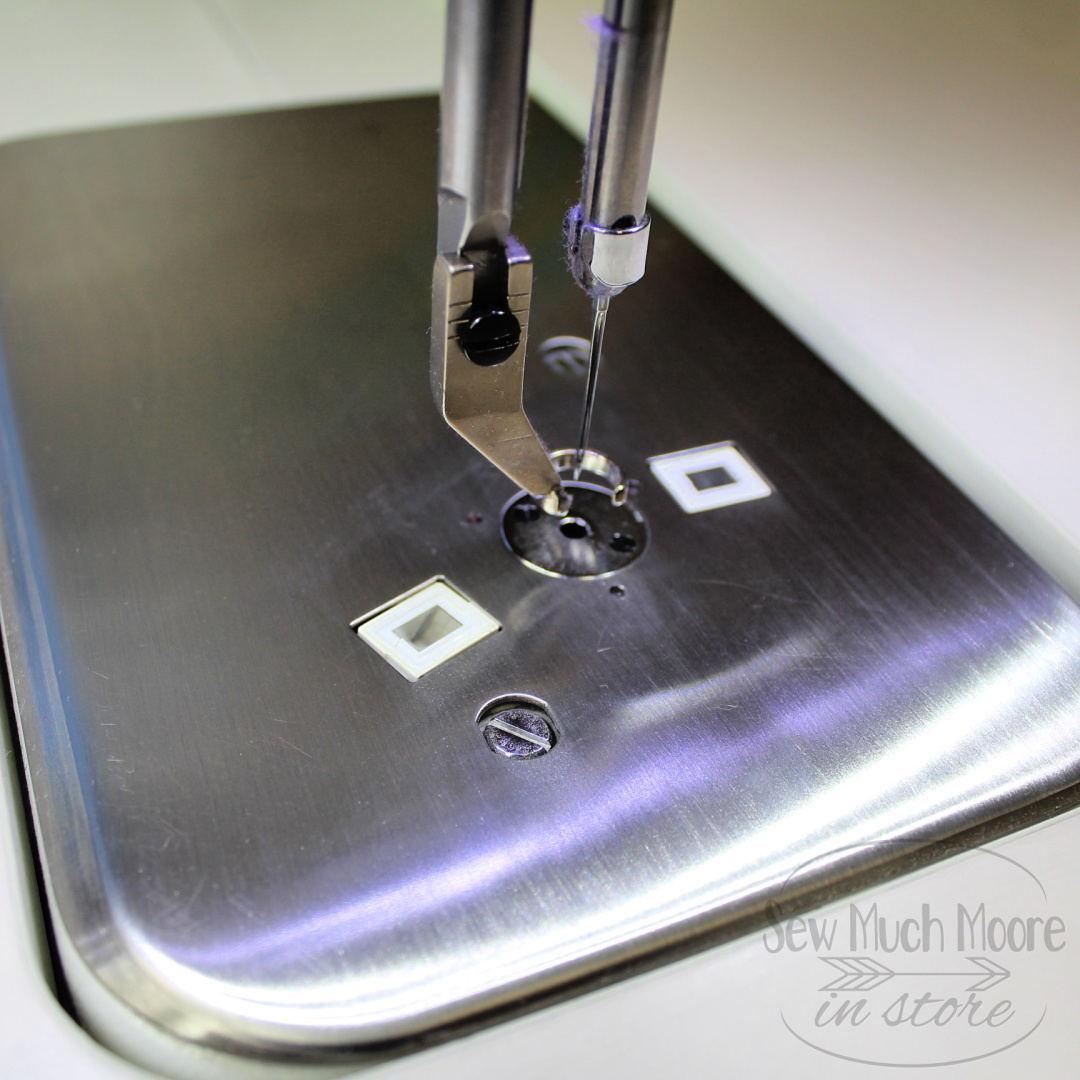 The feature that immediately caught my attention was the regulated stitch capability of the Juki Miyabi. I have used both constant and regulated Long Arm Quilting Machines and really love the results of a regulated stitch. A regulated stitch basically means the stitch length stays the same (or is regulated) no matter how fast you move the fabric under the needle. If you notice the little white boxes in the base plate (pictured above) – these are basically sensors that watch the fabric as it moves under the needle and adjust the stitch speed accordingly. Brilliant! The Juki Miyabi also has 3 other stitching modes, which are Basting, Constant and Manual.
Programmable LCD Touch Screen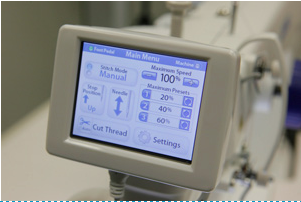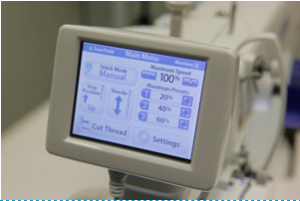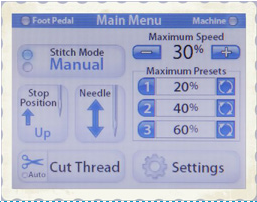 I have the basic (out of the box) display and functions, which include the Automatic Needle Positioned, Foot Control, bobbin capacity indicator, and stitch length (just to name a few). I can control the settings with a simple touch and the interface is easy to understand. There is plenty of room to upgrade the controls of this machine. I have big plans for the future!
Foot Control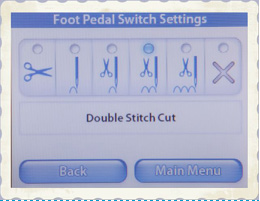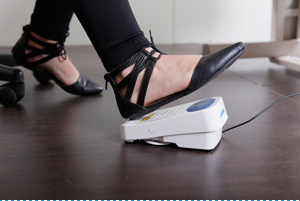 Threads are automatically trimmed by push button with the exclusive Juki knife system saving time and increasing efficiency. Upper and lower thread cutter with auto set thread lock. Choose the preferred threads locks prior to auto cut or choose and auto thread pull to bring your threads to the top of your quilt. This machine also has the electronic foot control with quick control thread cutting. The foot pedal can also be programmed to work one of two ways: 1. Used like a regular domestic machine (the harder you push the pedal – the faster the needle runs). 2. Push the pedal to start the programmed stitch and then push the pedal again to stop the stitching. I like to use the second option the most!
Great Visibility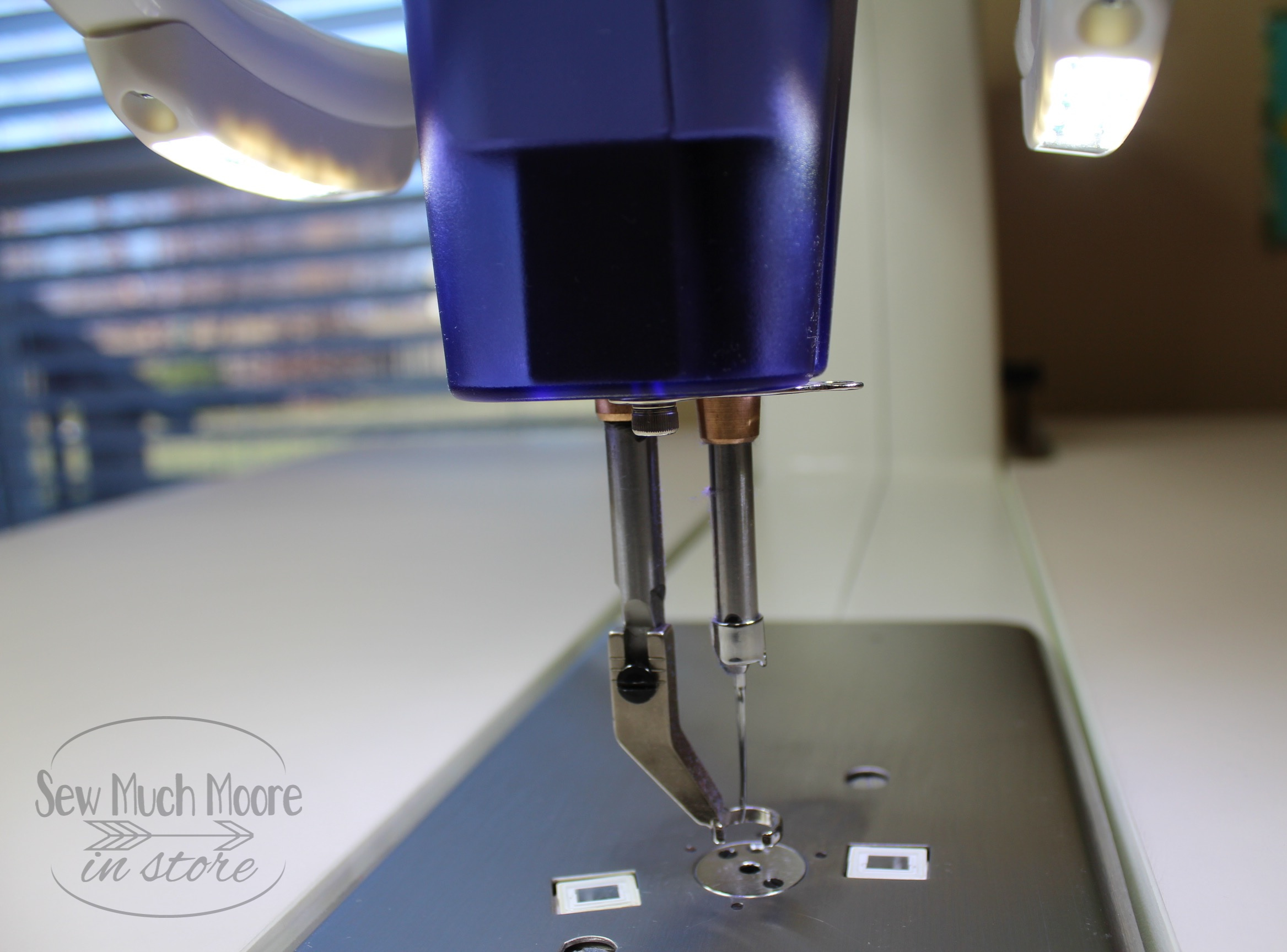 This machine has Dual directional LED lighting for bright, true white lighting of your quilting area. Having this bright light, directed onto the immediate work area is great for my eyes! I often like to Quilt at night and this additional lighting is such a relief to my eye sight!
Warranty and service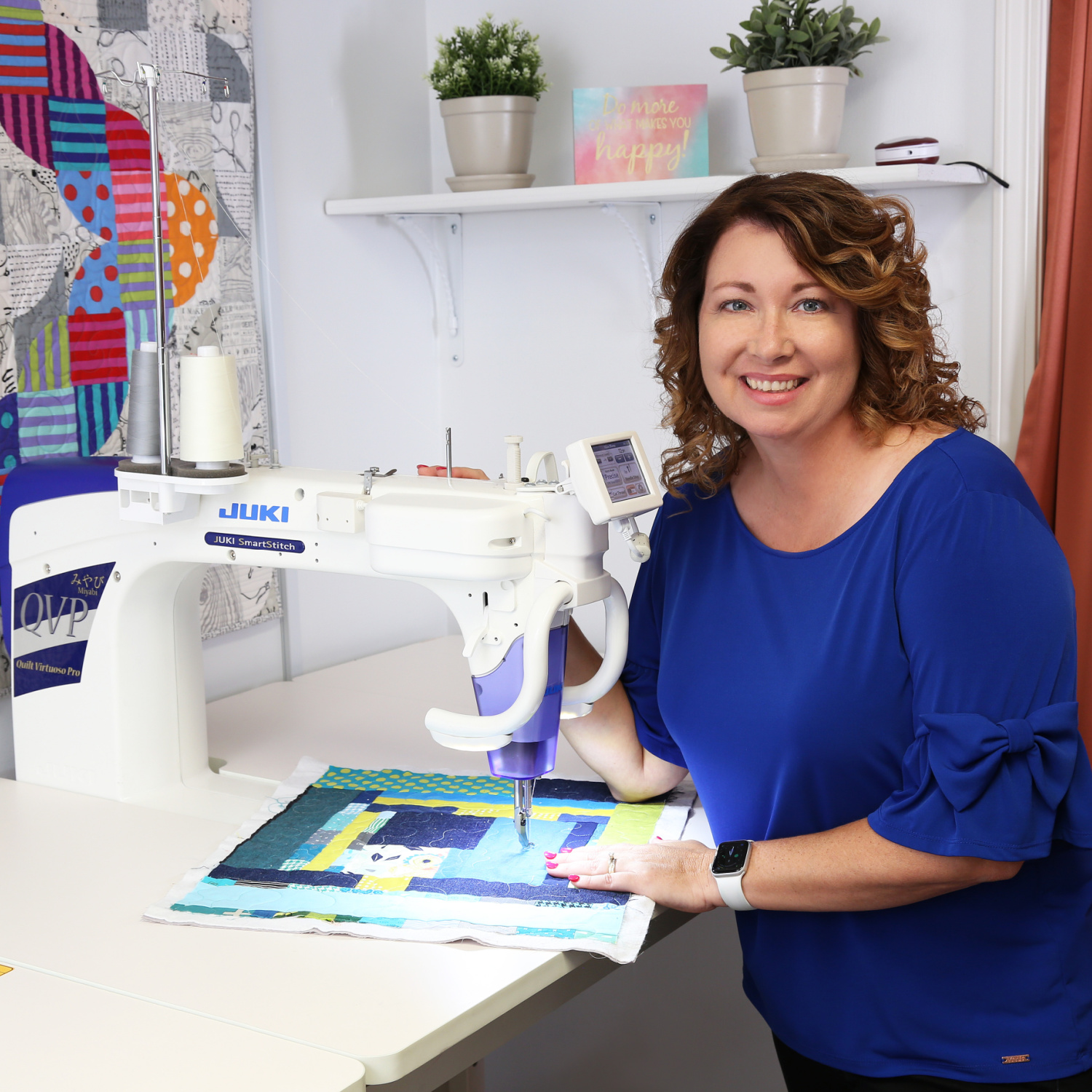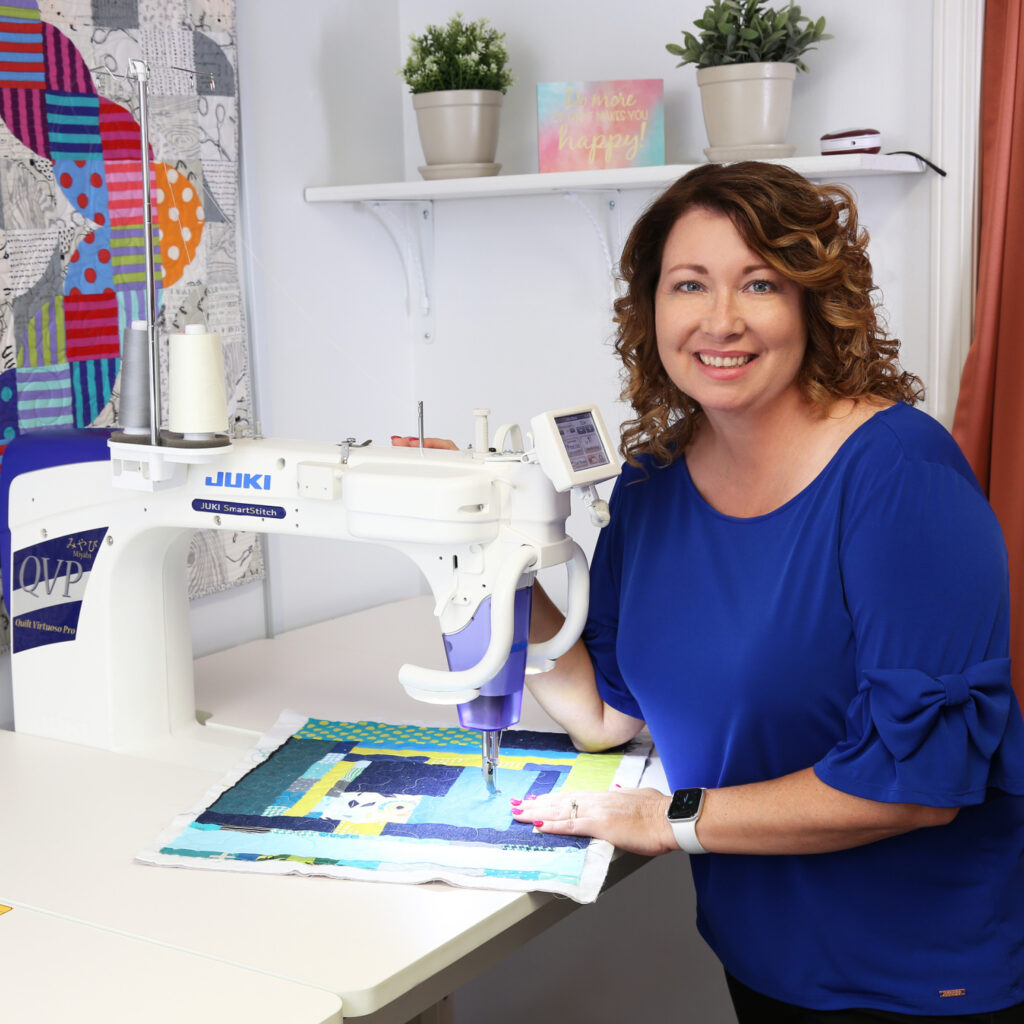 The Juki Brand offers an excellent factory warranty.  
There are so many more features to share about my new Long Arm Quilting Machine, that I have decided to start a series about it!  Be sure you are subscribed to my email newsletter so you won't miss anything.  I have loved learning all about my new Juki Miyabi J-350QVP and can't wait to share more about it with you!  Stay tuned for videos!
Happy Quilting,