At a recent group sewing event, we learned how to make a wonderful Christmas Table Runner with a Half Hexagon template. One of us saw the online tutorial that Jenny, with MSQC, put together and we were hooked!  These came together so simply and I find myself looking forward to making more.  These are such a fun and simple project!  I just loved making one, so I had to make several more!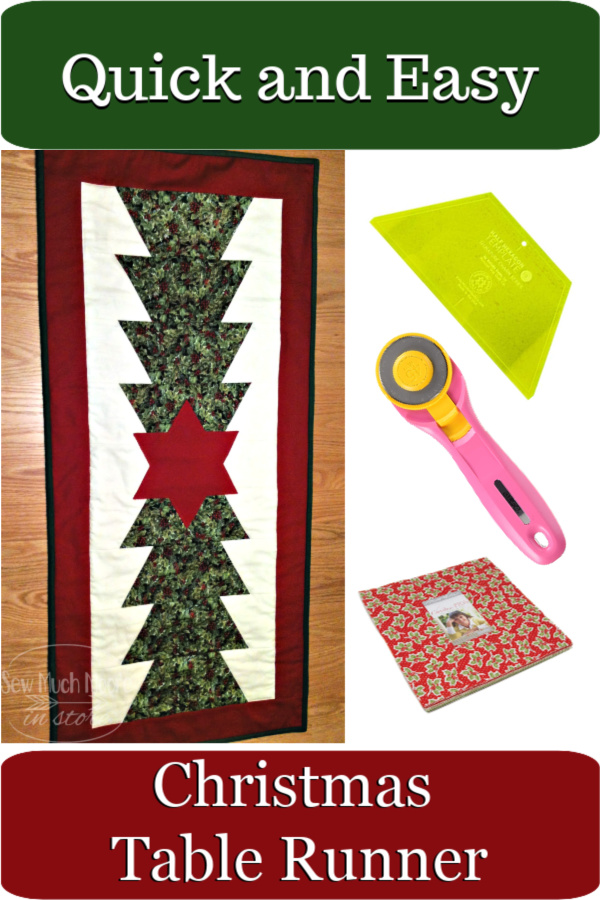 I used to sell these table runners in my Etsy shop, and they were very popular!  These also make a really great gift!  Let me tell you all the things you will need to make your own Christmas Table Runner (and the list is very short – Yay)
This post contains affiliate links for your convenience. ? Read my full disclosure policy here.
Christmas Table Runner – SUPPLIES LIST
Several 10″ x 10″ pieces of Christmas Fabric
Several 10″ x 10″ pieces of Background Fabric
Thread (I recommend using a 50 wt thread for piecing)
Batting
Border & Backing Fabric
Binding Fabric – Try this fun striped binding!  Super-Cute!
Christmas Table Runner – TOOLS NEEDED
Sewing Machine
Cutting Mat & Rotary Cutter
iron and ironing board (I just love my Wool Ironing Mat!)
Choosing and cutting your fabric, from your layer cake, is really fun!  You can usually find duplicates in each layer cake.  One 10″ square will yield (2) half hexagons.
Check out Jenny's tutorial to see how easy this Christmas Table Runner is to make!
Jenny's Half Hexagon Template works really well for the Layer Cakes, but if you wanted to use your existing Christmas yardage, you can use any type of half hexagon template.  Amazon has a pretty decent selection of Half Hexagon Templates as well.
I hope you have lots of fun making these Christmas Table Runners!
Happy Stitches!