I just love my Airshow Mini Quilt! I took a Quilting Workshop, which was hosted by the Kansas City Modern Quilt Guild. The KCMQG was hosting Latifah Saafir, with Latifah Saafir Studios. This workshop featured the Airshow Quilt pattern. Because the workshop was a half day, all the class participants learned how to make a mini quilt (or a pillow top). In this class we learned about Latifah's pattern and some great tips and trick for working with bias tape. Let me share more about how I made my Airshow Mini Quilt.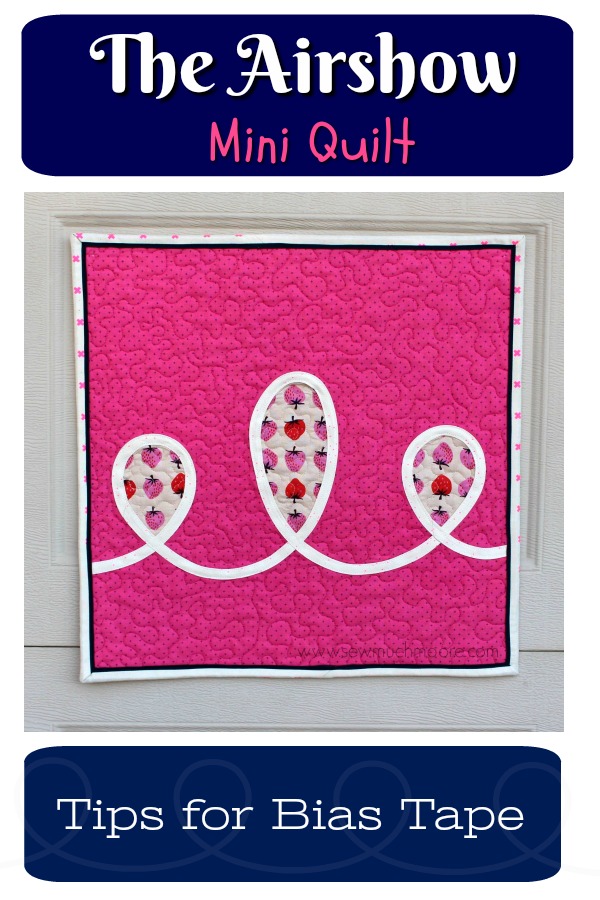 This post contains affiliate links for your convenience. ? Read my full disclosure policy here.
THE airshow mini quilt – MATERIALS LIST
Background Fabric: Qty (1) yard (I used Cotton + Steel Lipstick)
Bias Tape Fabric: Qty (1) Fat Quarter

for this Mini Quilt, I used Sprinkles by Cotton + Steel

Focus Fabric:  You can use scrap fabric.  You will need at least 3 pieces that are at least 8″ x 6″

for this Mini Quilt, I used Yours Truly by Kimberly Kight

Backing Fabric:  Qty (1) yard
Binding Fabric: Qty 1/4 yard
Cotton batting (this is the exact batting I used)
(just a side note about the fabric that I used. I hope you are able to find some, with the links I have provided. This fabric is out of production and will someday be gone forever)
In case you wanted to make a different (larger size) of this amazing pattern, here is an image of what fabric amounts are required for each size.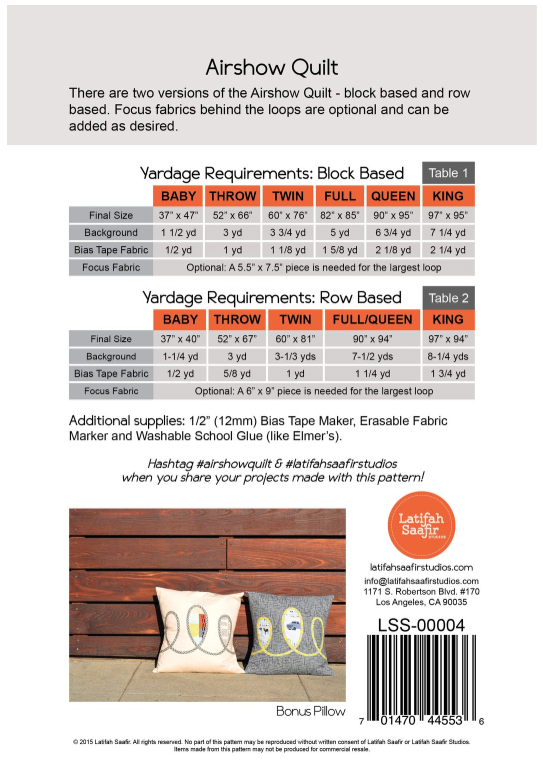 THE airshow mini QUILT – SUPPLY LIST
Sewing Machine (if you don't have one yet, here are some that I recommend)
Cotton Thread (I recommend Aurifil 50 wt)
Rotary Cutter with sharp blade (no kidding about a sharp blade)
Acrylic Ruler
Cutting Mat
Iron & Ironing Board
Sewing Pins or Wonder Clips
Erasable Fabric Marker
Washable School Glue (like Elmer's)
Be sure to check out my Amazon Shop to get all your Quilty supplies!

THE airshow mini QUILT – ASSEMBLY
Using Latifah's pattern, you will cut out your focus fabric and glue this to your background fabric.  Be sure to use Latifah's diagram to help you layout the pieces in the proper place.  Then, using your Erasable Fabric Marker, you will trace and draw your loop lines.  Make your bias tape and sew this over the lines.  Super fun and easy!  In case you haven't made bias tape before, here is a helpful video tutorial!
The entire class had a wonderful time making our Airshow Quilt Blocks! Check out some of these fun snapshots of the KCMQG Class! So many great varieties of fabric. Isn't it amazing how different these can look, just by selecting different fabrics? Say hello to some of my favorite people! I just love the Kansas City Modern Quilt Guild!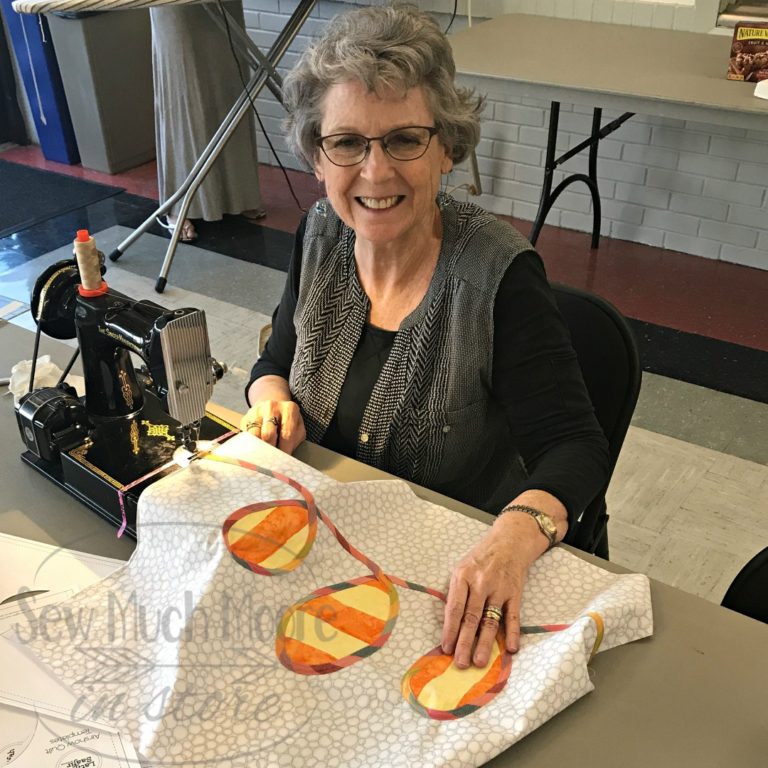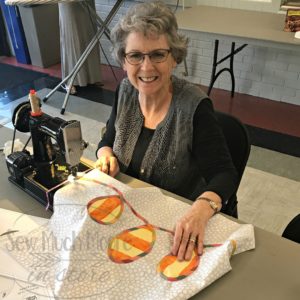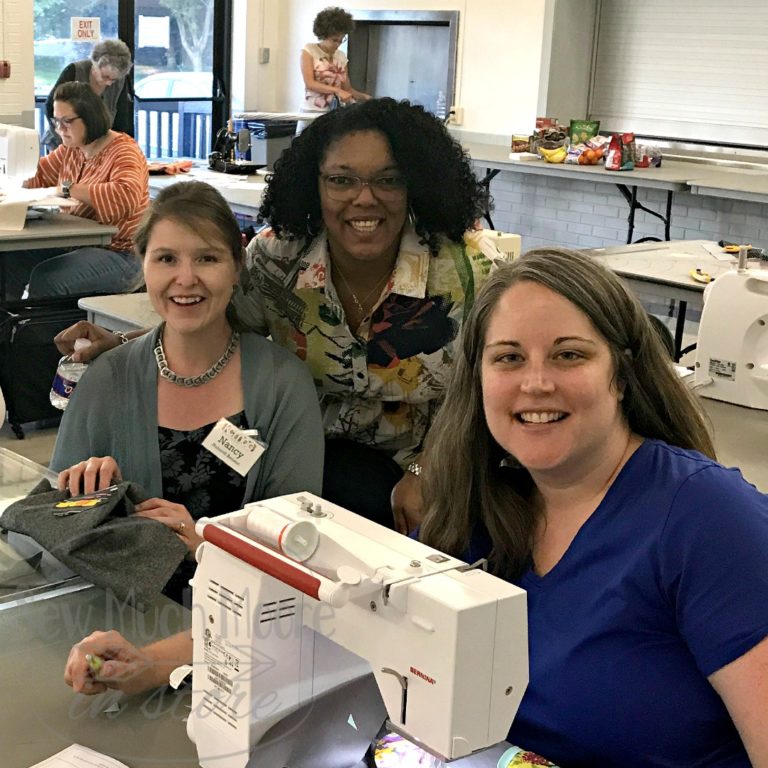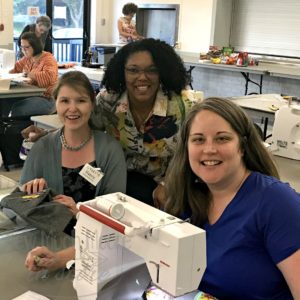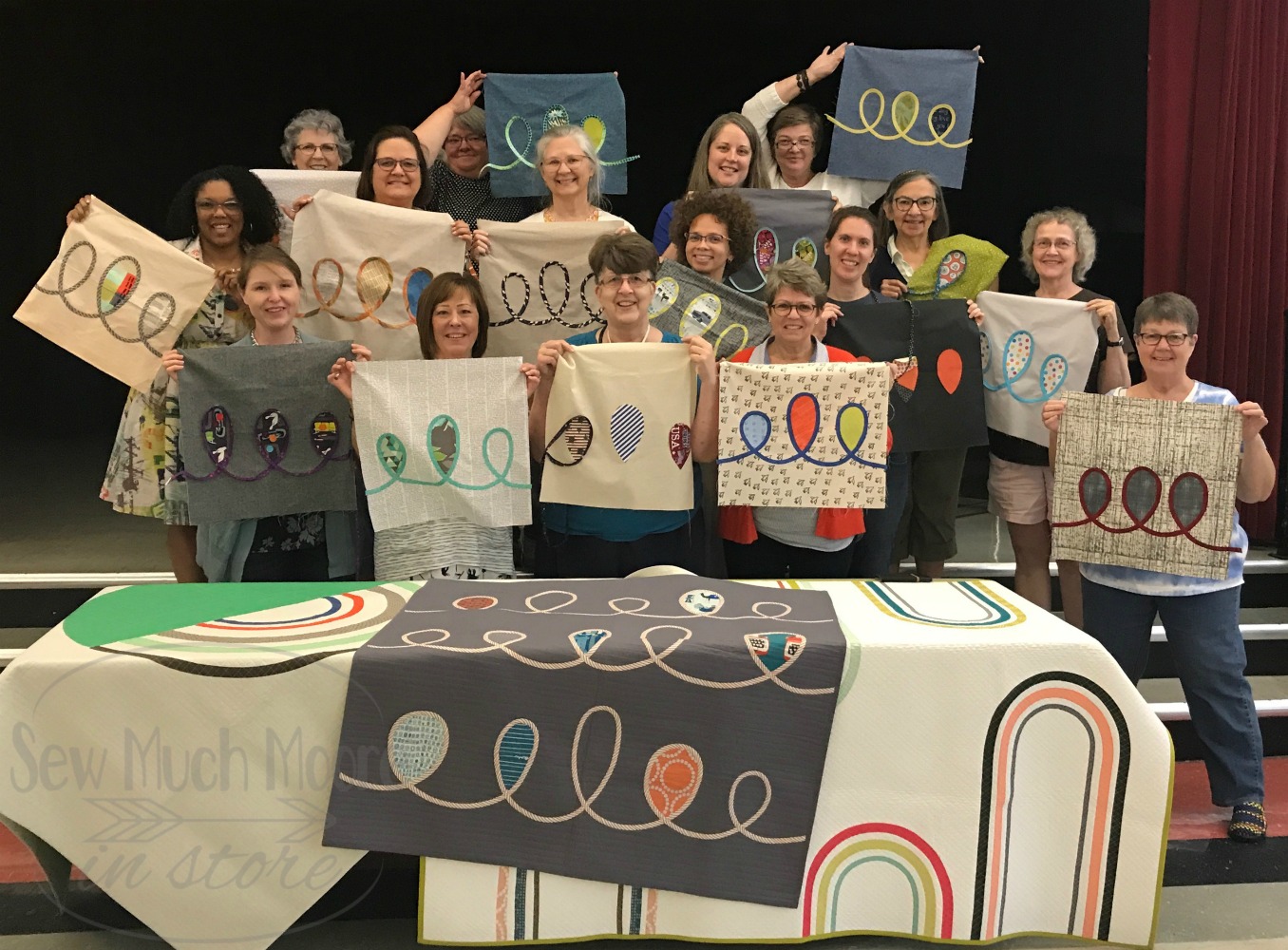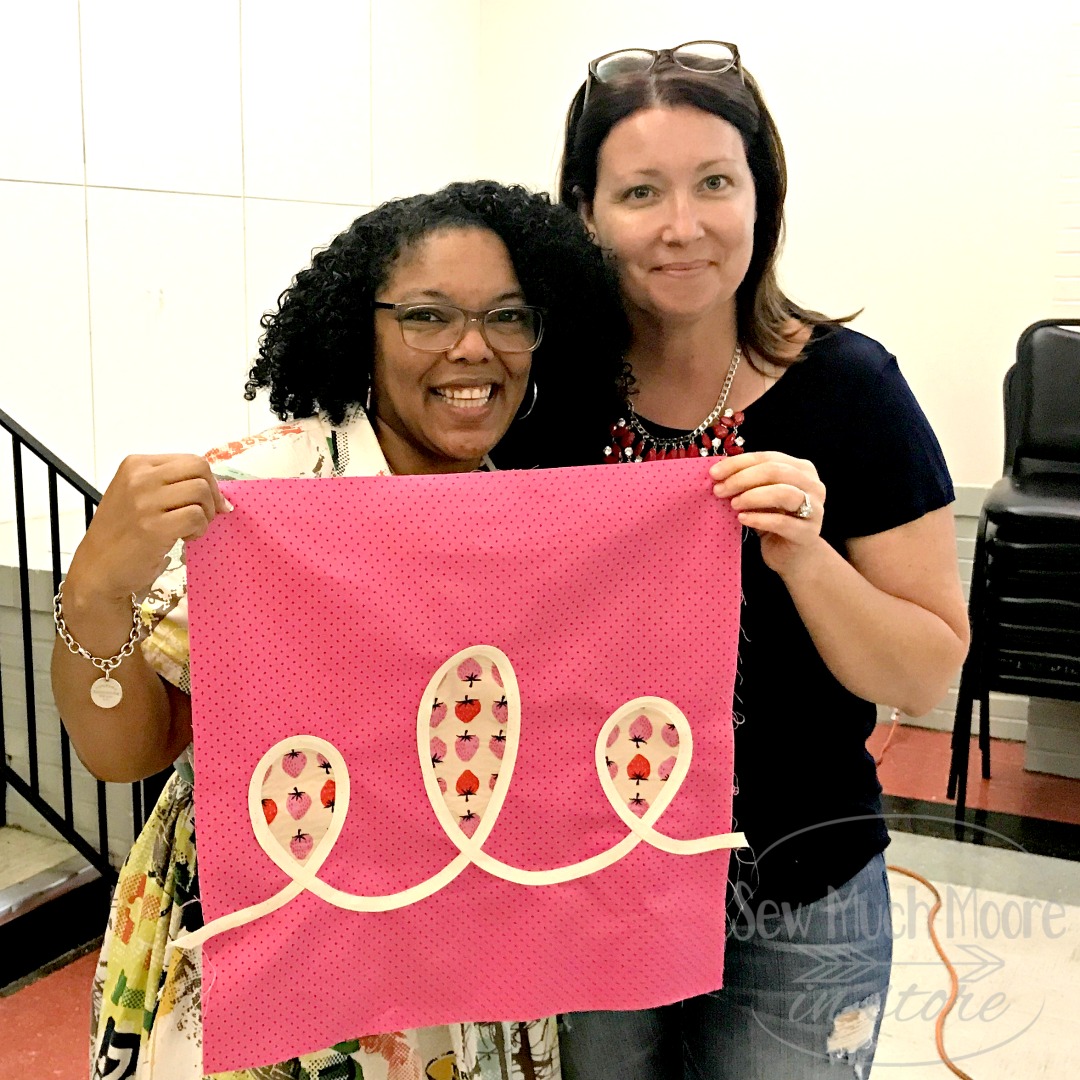 If you ever get a chance to take a class with Latifah Saafir, I highly recommend it! She is an excellent instructor and her style is amazing! You can learn more about Latifah on her website. If you belong to a guild, I would also recommend you make arrangements to have Latifah come for a visit! So much fun and inspiration!
I hope you try this fun project! This Airshow Mini Quilt has found it's place on my wall of mini quilts! Yay!
Happy Quilting!