I recently renovated my quilting & sewing space! Over the years, I have moved my sewing space from 3 different spaces. Let me show you how I was able to knock out a wall and join 2 rooms to create my new sewing studio. Follow along in the sewing studio renovation! Be sure to watch the video at the end, which takes you every step of the way!
Starting my Studio Renovation
The first order of business in my studio renovation was to remove EVERYTHING from it's current space! It was amazing to see how much stuff I was able to accumulate and actually fit inside a 10′ x 12′ room. My husband and eldest son helped move all the heavy things. I boxed up everything else, labeled it and placed it into my living room. It was not fun or easy to have this mass of equipment and supplies in our living room for over 2 weeks!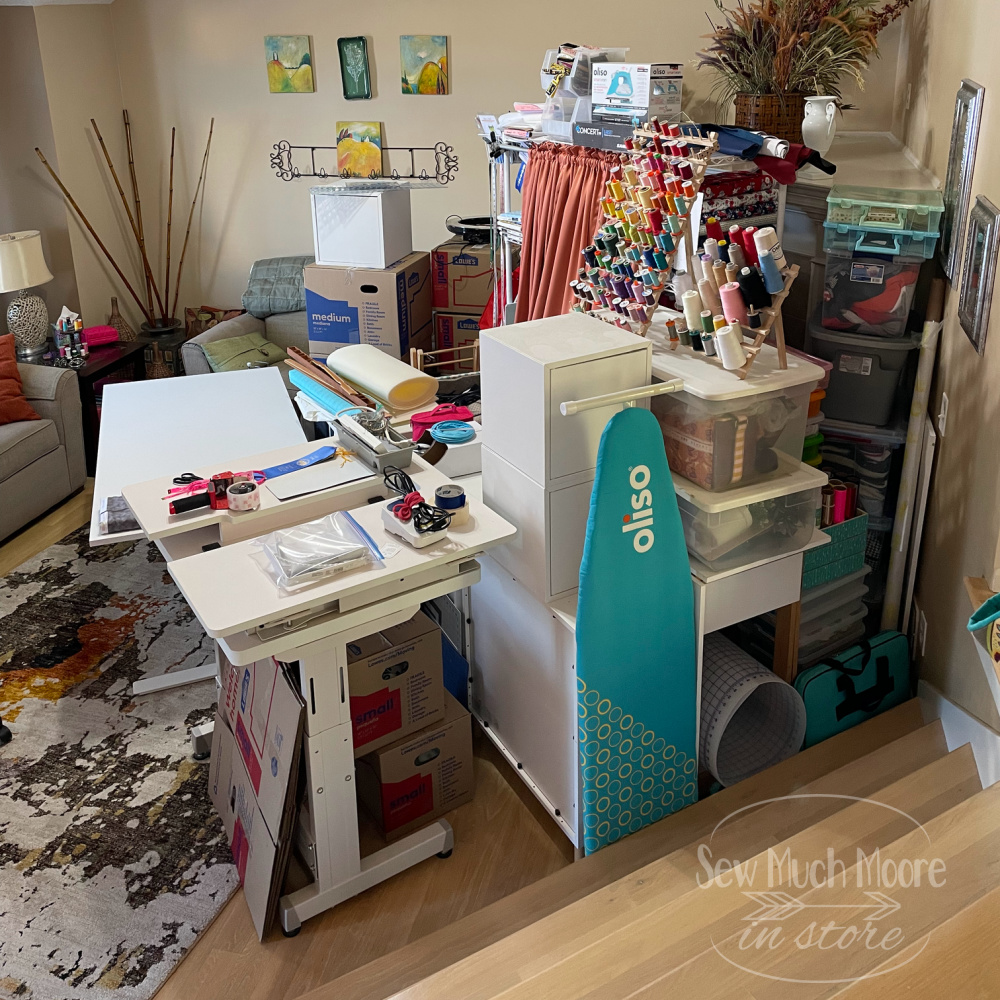 Tearing Down the Wall
I have always needed (wanted) a bigger studio. The only way I knew to get this (without renting retail space) was to tear down a wall. You see, my eldest son who was occupying our basement bedroom, recently moved into his first apartment. My youngest son was occupying another upstairs bedroom and my studio shared a wall with this bedroom. Well, when the eldest moved out – my youngest immediately laid claim to the basement bedroom. This left an available space for me to expand! We planned this several months in advance. During late 2021, it was not easy to find contractors! We were very fortunate to secure our favorite hometown handyman, who has always been so great to work with!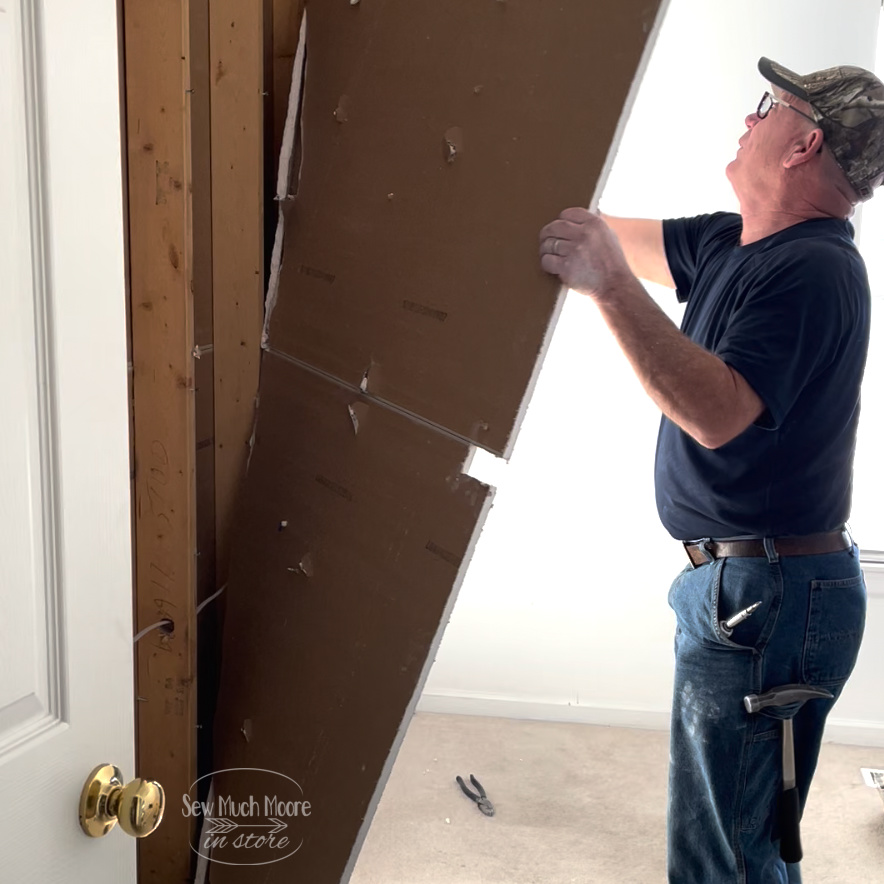 Taking out the Carpet
Once we had the wall down, it was time to tear out the carpet. This carpet was long over-due to come out. We built this house in 2004 and it was the original (builders grade) carpet. It was seen more action than any other carpet in this house!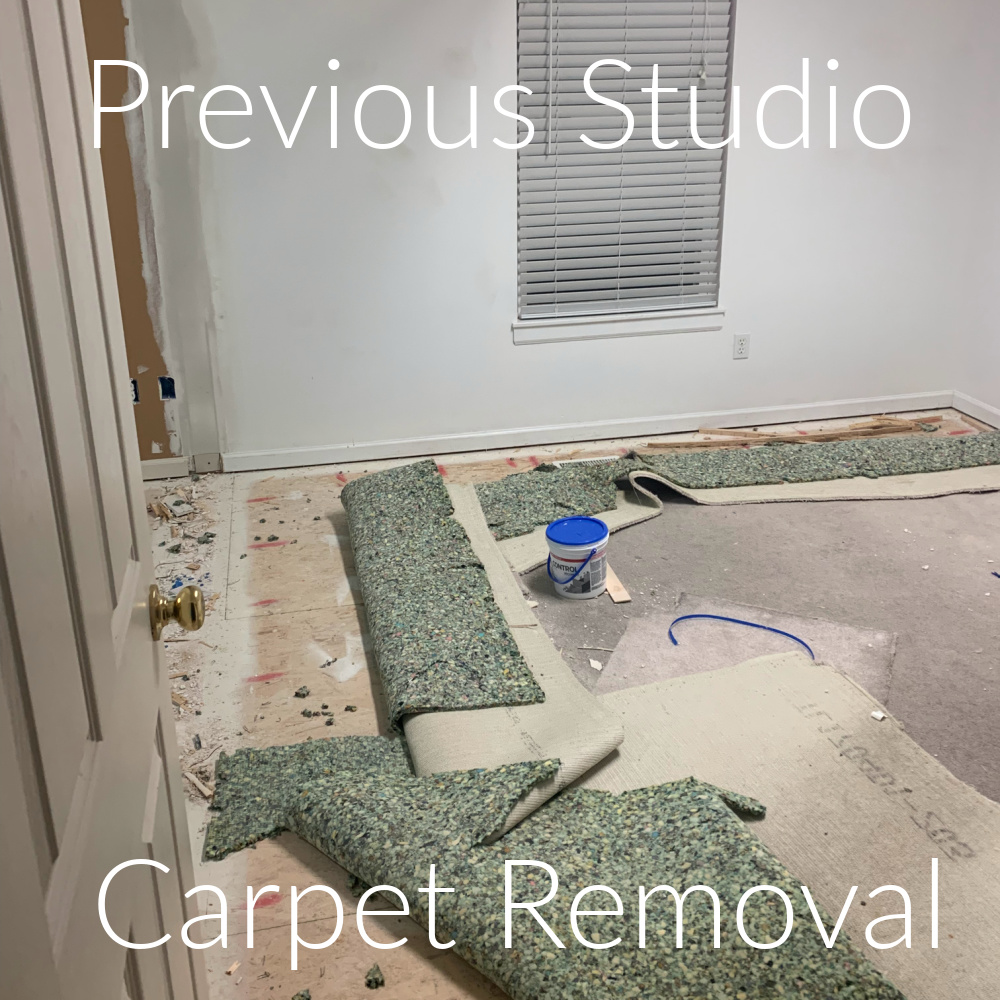 Studio Renovation – Painting the Walls
Only one of the rooms needed several coats of paint. That didn't stop us from putting several coats on all the walls! I have enjoyed having white walls in my old studio. This just make for better photography and it really brightens up the space. To learn more about how to brighten your sewing space, check out this article. My youngest son, and his friend Ava, helped with most of the painting. I am very blessed to have kids that want to help! My husband also did most of the finish and trim work. You can see his handi-work in the video linked below!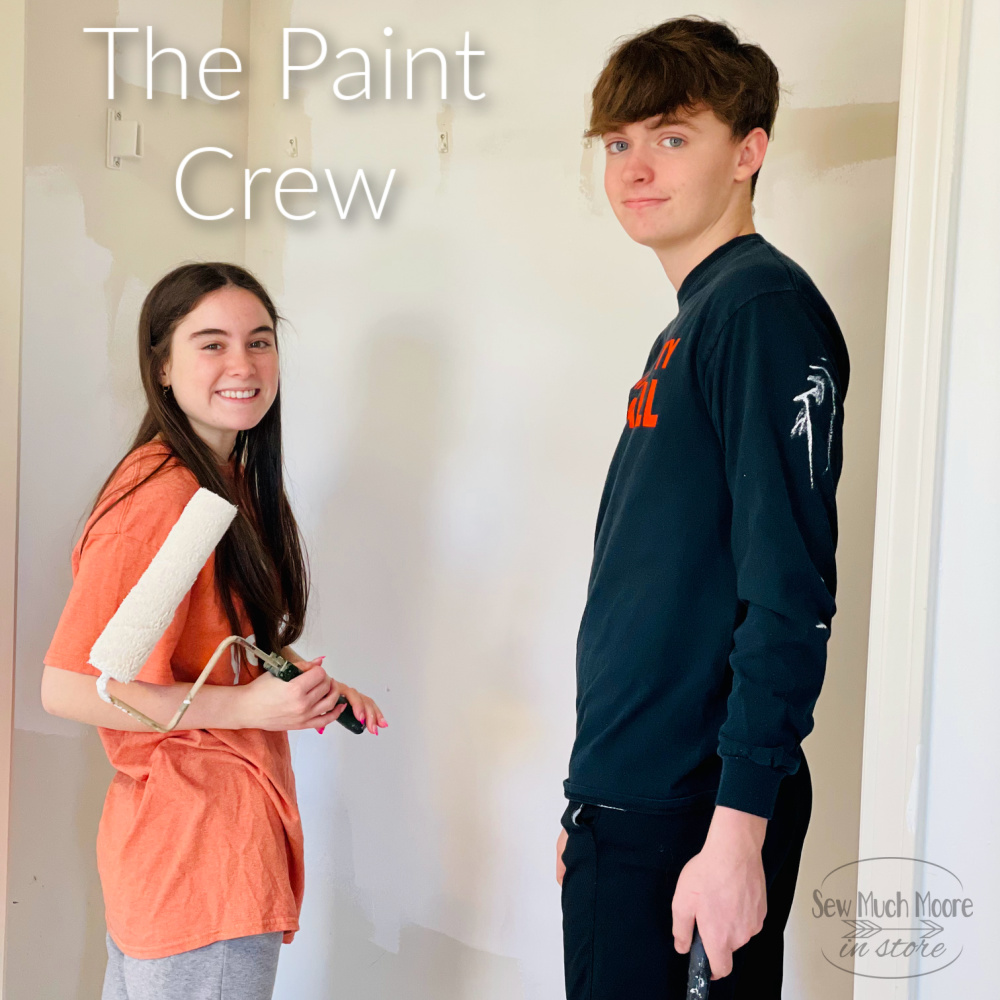 New Flooring!
Over the years, we replaced most of the carpet in our house. The rest of our house has hardwood floors. The only exception to this has been our bedrooms. Because the price of hardwood is kinda outrageous in 2021/22, and finding a contractor to install (only a small amount) was nearly impossible as well, we decided to get LVP (Luxury Vinyl Planks). My contractor had a worker assist him and the install of the flooring only took them one day! I am so pleased with the results and now we want to do the same to our Master Bedroom!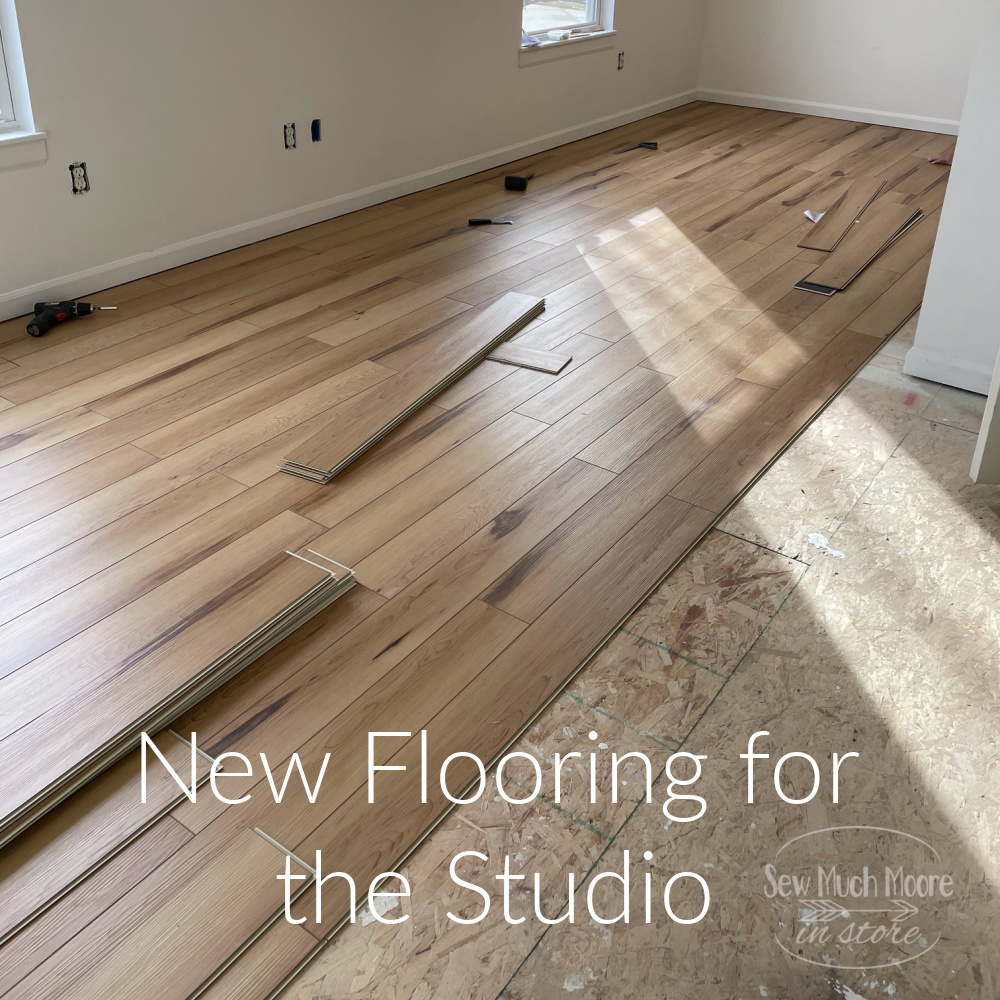 IKEA to the rescue
I have always loved IKEA furniture. The quality may not be the very best, but it is fairly affordable and will last a decent amount of time. Just about every piece of furniture in my studio (as of right now) is IKEA furniture. For this studio renovation, I added several more pieces to help me better organize all my stuff! And believe me – after going through my entire studio – I have a bunch of stuff!
Believe it or not, I am an IKEA assembly expert! In fact, if there is anything in my house that needs assembled – that's my job. I think I get that from my Dad. I love to read instructions and love it even more when there is a video tutorial! That might explain a lot about why I have a blog and YouTube Channel! Ha! If you would like to see a linking list of all my studio IKEA furniture, as well as all my machines and misc wall quilts, click the blue button below!
Don't forget the rigging!
You may have noticed that I have a bunch of equipment attached to the ceiling of my studio. You see, I create and produce a bunch of video content for YouTube, Social Media and a variety of contract work. Because of my work, I have a bunch of lighting and cameras that tend to get in the way of making! I had my handyman attach rigging to my ceiling to keep this video equipment off my floor and over the surfaces that I film. This makes for easier video creation and gives me more space to move around my studio. If you want to learn more about this rigging, be sure to check out this blog post.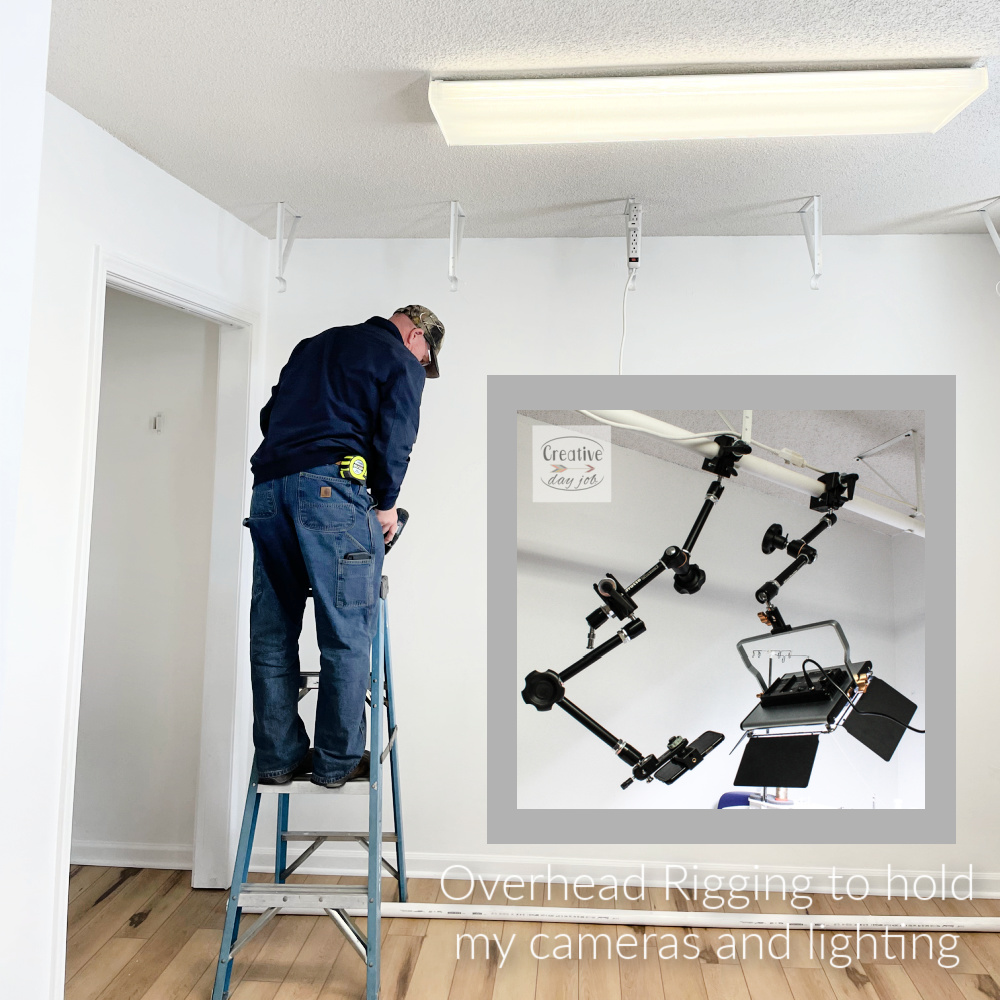 Move it all back in!
Now that all the major items are taken care of….. Wall removal, carpet removal, walls painted, rigging installed and we even added more electrical outlets and CAT-6 data ports – the next thing to do is to move back in! Check out each station to see how this came together. Be sure to watch the video below and grab your renovation list too!
I put together this video, which is a better demonstration of my renovated studio. I hope you enjoy it! Be sure to subscribe to my YouTube Channel, so you never miss a thing!
I hope you enjoyed this tour of my studio renovation! Be sure to grab your renovation list so you can track down anything of interest in my studio tour!
Happy Stitching!