My husband, Troy, has been with Penske Truck Leasing for more than 20 years, a loyalty that started fresh out of college. But Penske's not just about trucks; they've got a heart for community too. They've been part of various charitable activities over the years, and recently amped up their commitment to Breast Cancer Awareness Month through a special committee. That's how this Quilt for a Cure became my unique contribution to their efforts.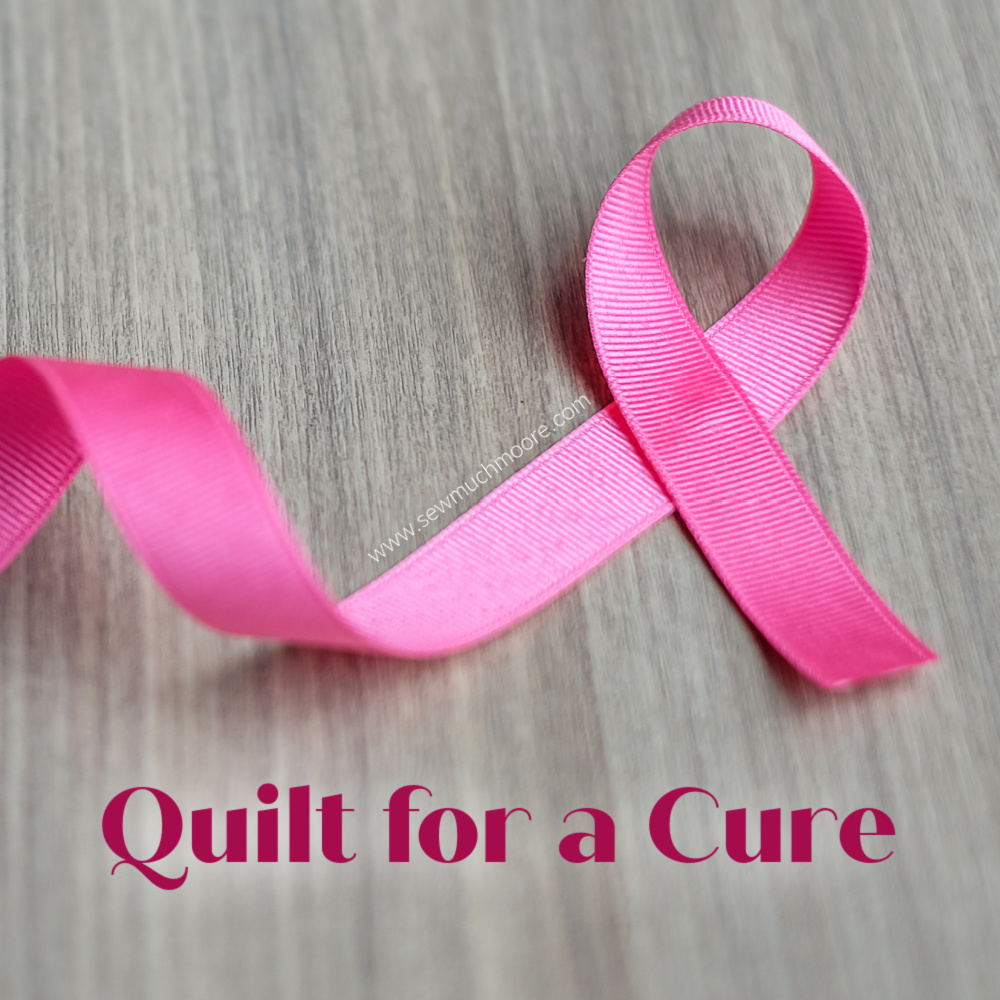 When Troy mentioned the work raffle, I was all in. Though I didn't have a specific pattern in mind, fortune smiled on me—my friends Jennifer and Trish had the perfect solution. They're the creative minds behind Everyday Stitches, and their (affiliate) Ribbon Quilt pattern was just what this project needed. You can even find this standout design in their Etsy shop, ready for anyone looking to make a statement quilt.
Why I Chose the Ribbon Quilt Pattern
I don't usually go scrappy, but this time, I wanted to shake things up. Plus, I decided to incorporate some old Penske T-shirts from previous charity events.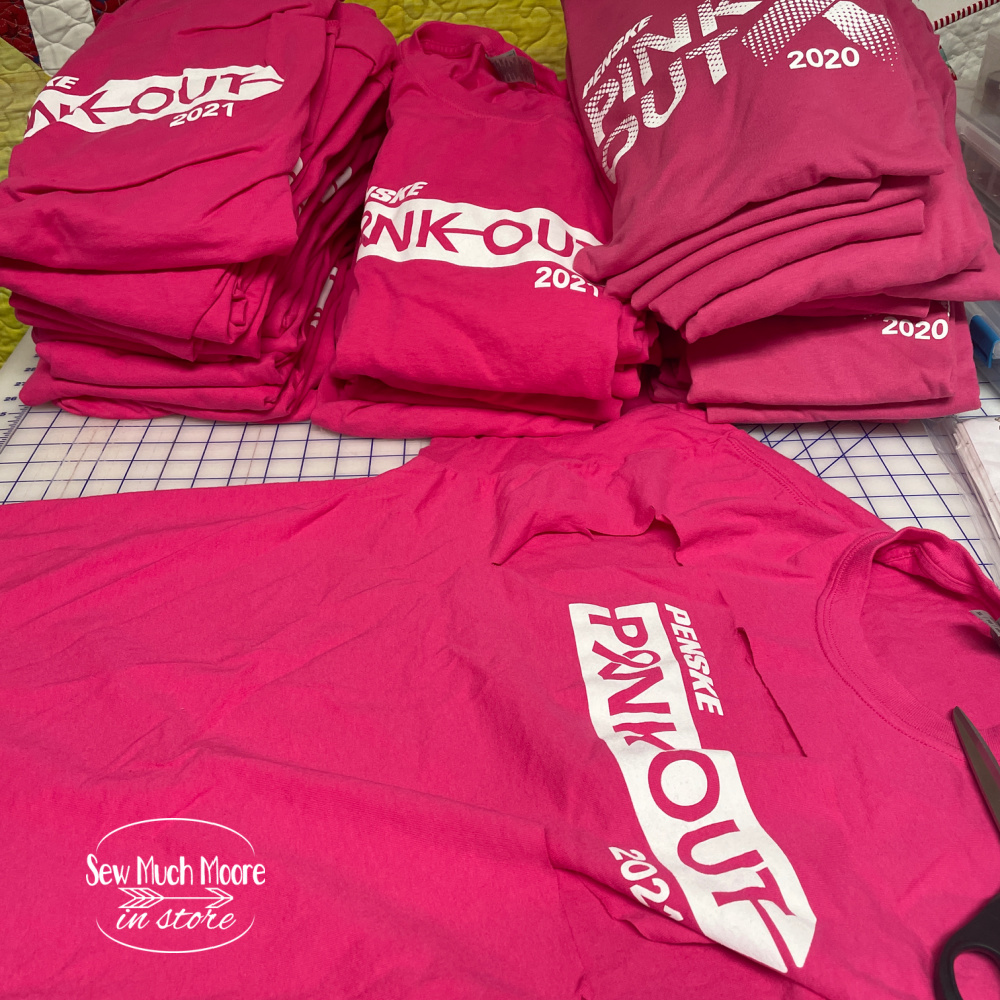 The Ribbon Quilt pattern is a dream to work with. It's all about fabric strips laid out in rows, and then you drop in the ribbon color of your choice. It sounds simple—and it is—but you've got to stay sharp on the strip lengths if you want that ribbon design to pop. Of course, I used my (affiliate) Juki, TL2010Q to whip this project together in no time. This semi-industrial sewing machine has served me faithfully for years and years.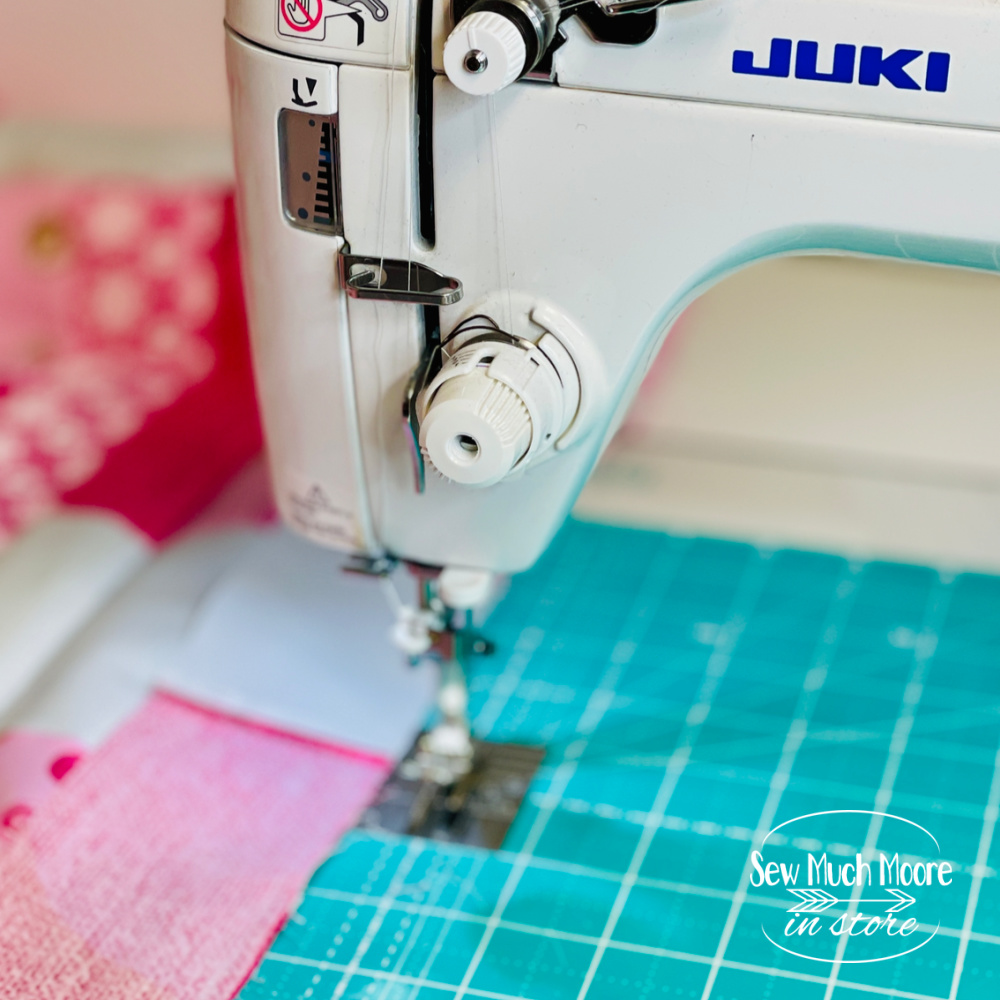 The Fun in the Details
I was able to fussy cut some of those Penske tees, making sure the word 'Penske' popped up here and there in this Quilt for a Cure. Adds a bit of company spirit to the mix.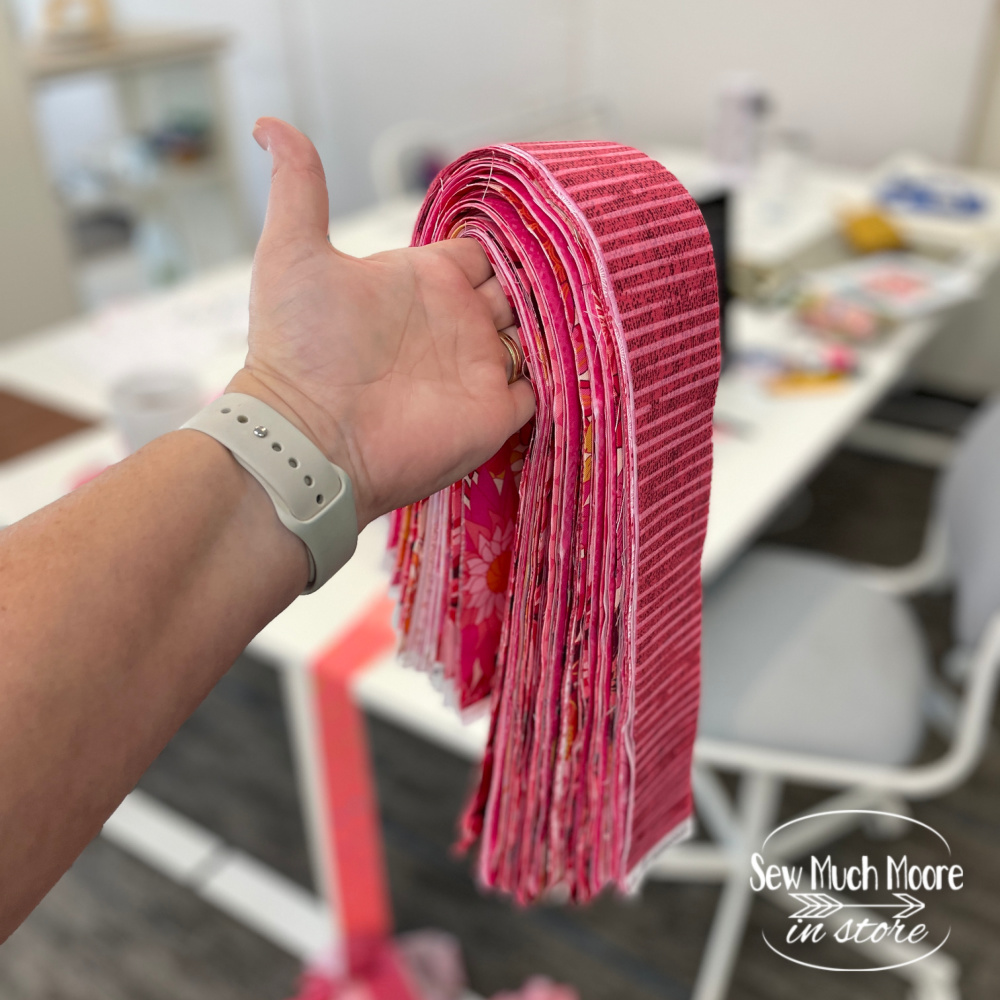 Fitting this into my schedule took some juggling, including one memorable sewing session during my Quilt Block Club retreat. Between hunting for the perfect fat quarters and then slicing 'em up, this project was nothing short of a blast.
The Finishing Touches
The quilting design was another crucial decision to make. I wanted something that would seamlessly pull all the elements together.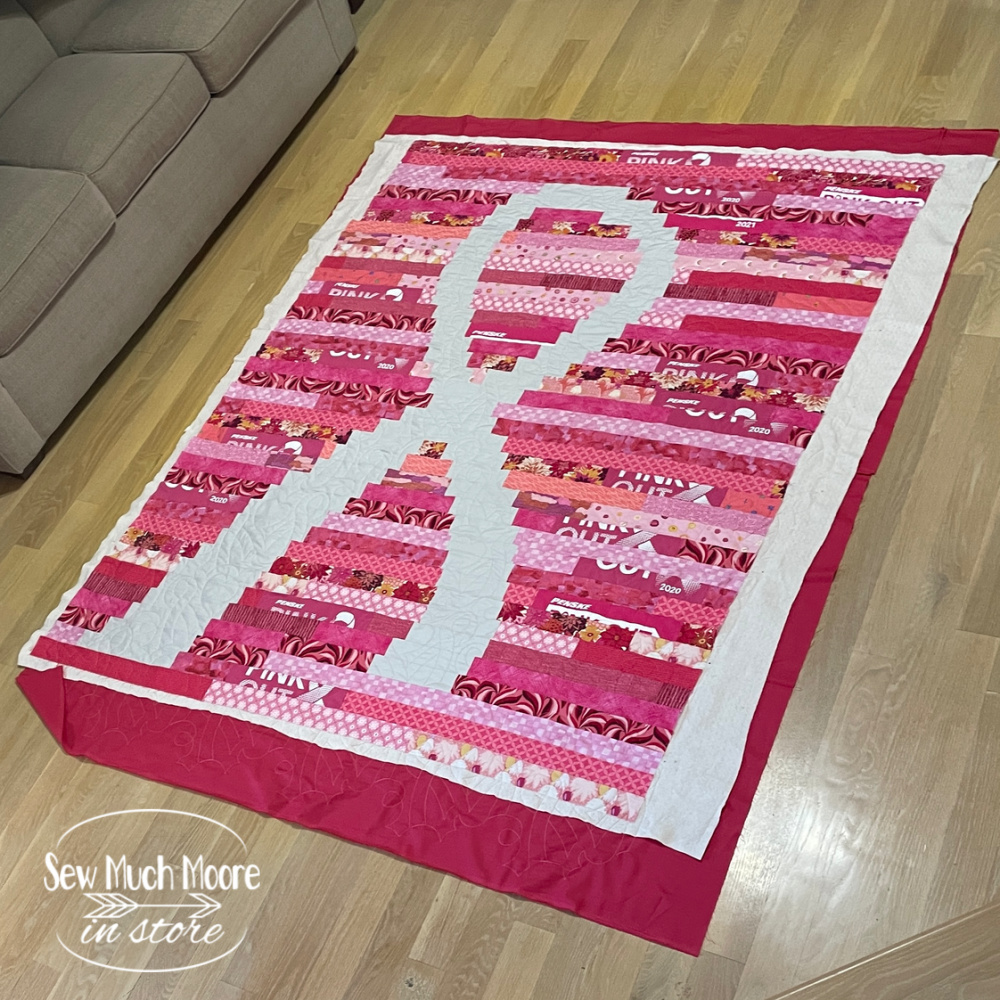 After some thought, I landed on the 'Ribbon Hearts' edge-2-edge quilting pattern, which  was designed by Keryn Emmerson. It stitched out like a dream, and I couldn't be happier with how it complemented the overall quilt. For the thread, I went with a pink Omni from Superior Thread, using it for both the top thread and the bobbin. Trust me, the pictures don't do it justice—take a closer look at some of the detailed shots to really get a sense of this playful yet intricate design.
Striped Binding for the WIN!
Now, let's talk about the binding because, if you know me, you know I have a thing for striped binding. For this quilt, I went all in and matched the stripes perfectly.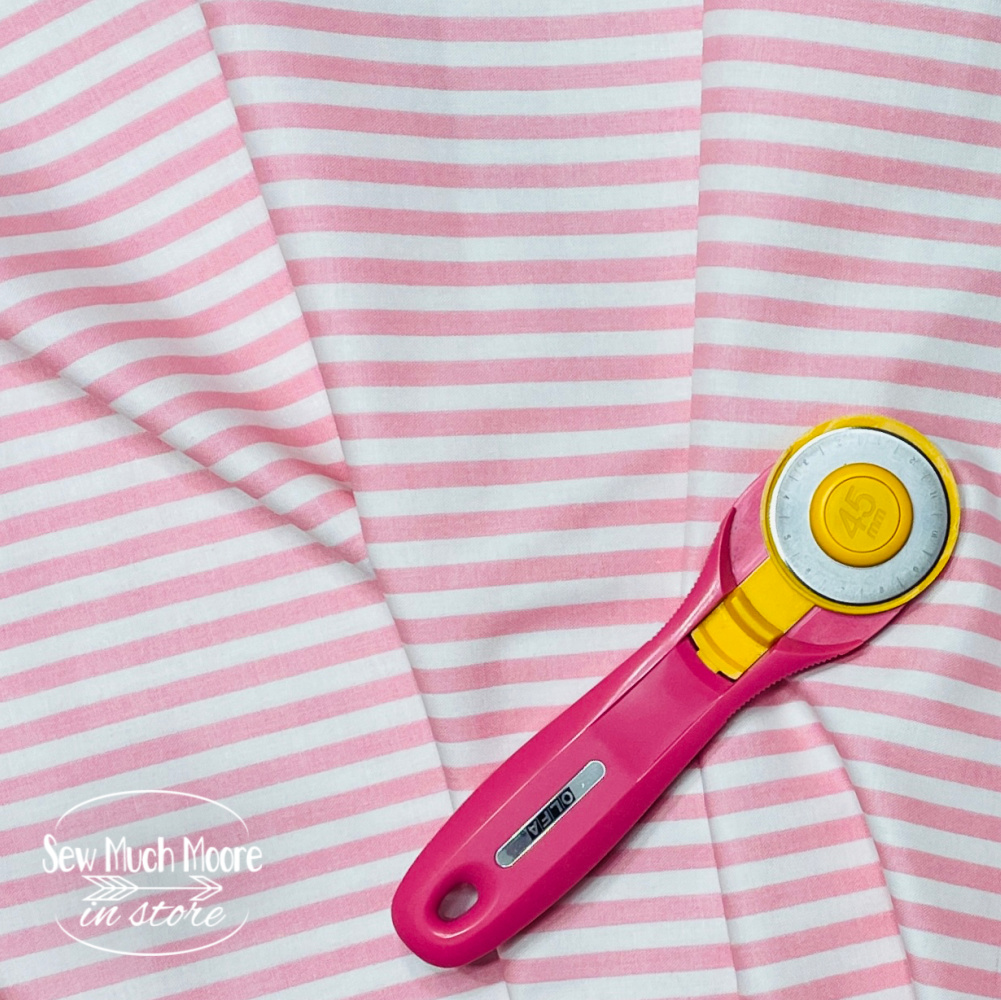 I even used a pink stripe fabric for the binding that you can find in my online shop. Never tried striped binding before? Don't sweat it—you can totally give it a try. If you're curious about how to make it work, check out this article on my website: Making Striped Binding for Quilts.
Quilt with a Cure End Result
This quilt took center stage at Penske's rental counter for about three weeks, right alongside other raffle items.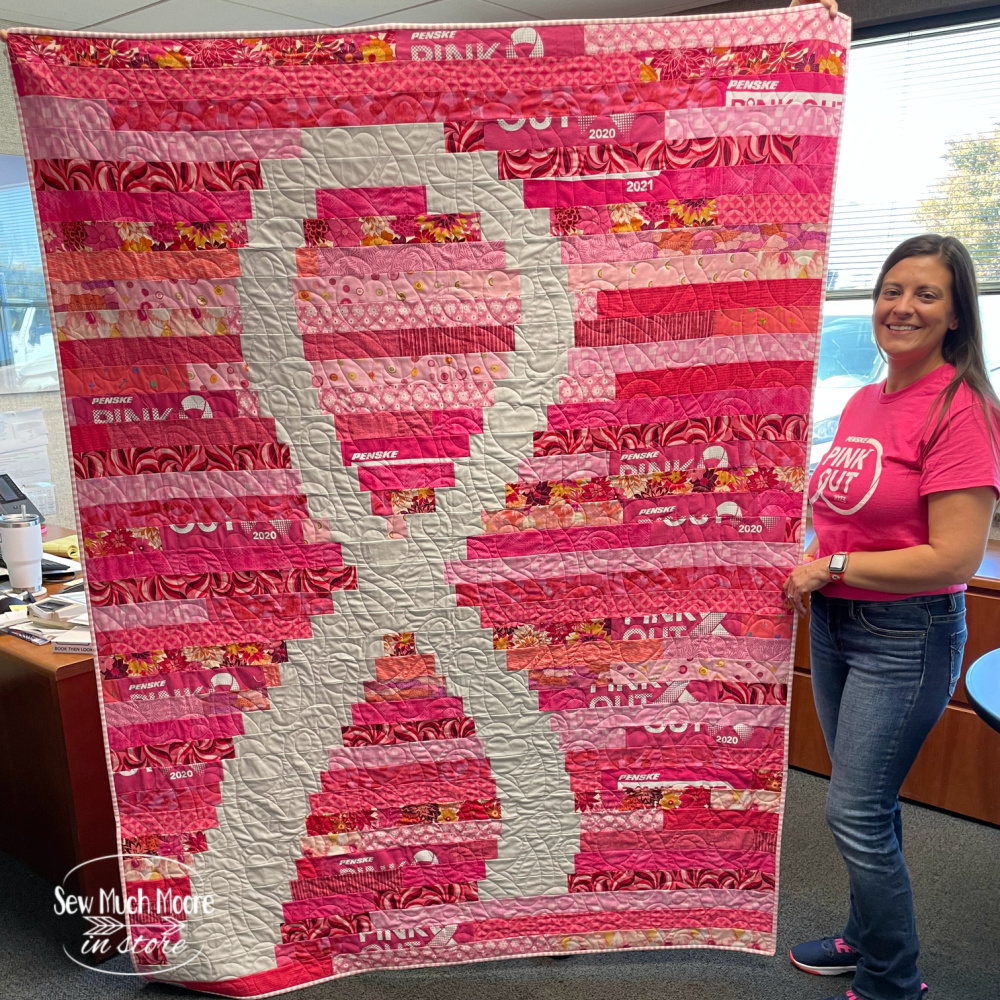 The team went all out selling tickets, and they managed to rake in over $2,700!
I was pretty stoked about that. And the icing on the cake? The quilt ended up with Troy's coworker Amie. It's always a win when someone who values handmade quilts takes it home.
What You Can Do
I was proud to contribute to this cause, but the fight against breast cancer doesn't end here. If you're looking for a way to chip in, check out the Susan G. Komen Foundation's website. Whether you or someone you know has faced breast cancer, getting your annual mammogram and doing self-exams are crucial. Seriously, your life might depend on it. 🩷