The Ooo Quilt is a modern and fun project!  This is another custom quilt I made for a very lucky High School Graduate!  The Ooo Quilt was chosen from one of my Missouri Star Quilt Company Block books.  This was from Volume 1, issue 4.  In the book, this quilt was called "Jump Rings".   We decided to use the school colors (orange and black), so the quilt could also pose as a Halloween Quilt.  The school mascot is a Pirate, so the skull and crossbones fabric worked out perfectly!  Let me show you all about this quilt so you can make one too!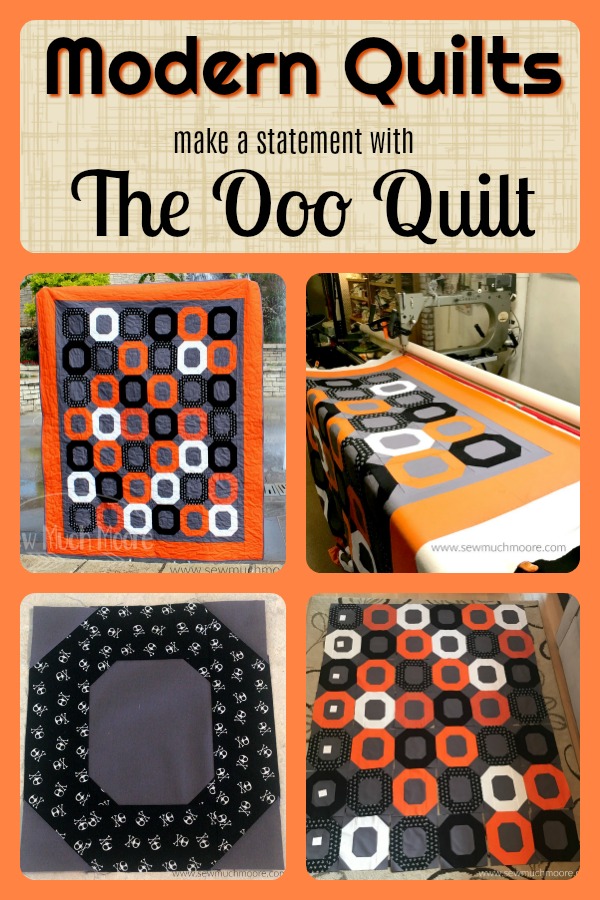 This post contains affiliate links for your convenience. ? Read my full disclosure policy here.
THE ooo QUILT – MATERIALS LIST
Missouri Star Quilt Company Block Magazine (Volume 1, Issue 4)
Qty (1) Jelly Roll

I cheated and cut up my own fabric and some specific Kona Solids that my client chose.

Qty (2.5) yards of background fabric (Pewter)
Qty (1.25) yards of border fabric (Carrot)
Qty (.5) yards of binding fabric (Pewter)
Qty (2.5) yards of backing fabric (more Pewter)
Cotton batting (this is the exact batting I used)
THE ooo QUILT – SUPPLY LIST
Be sure to check out my Amazon Shop to get all your Quilty supplies!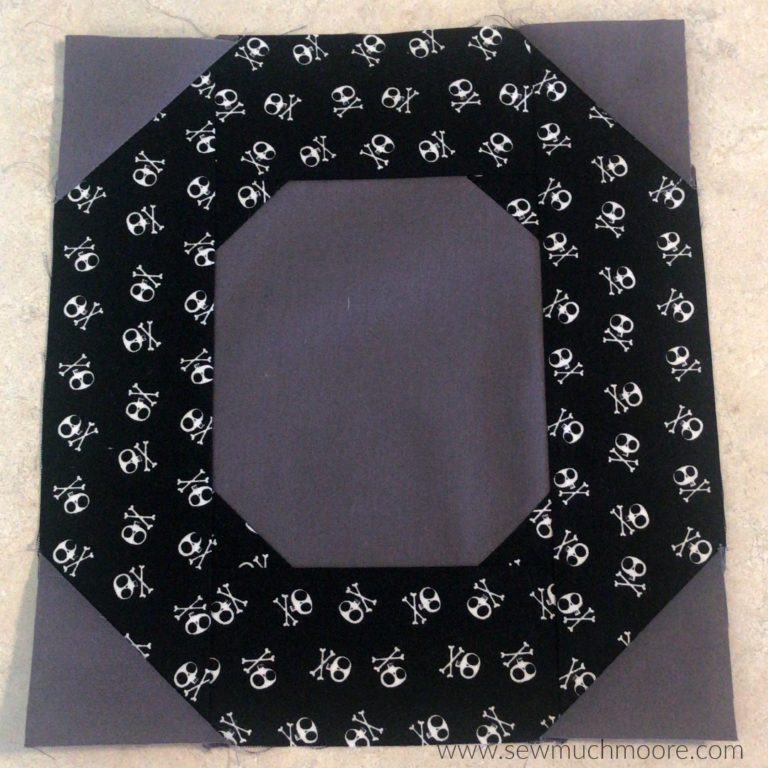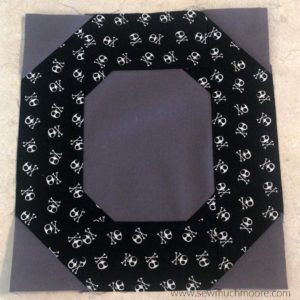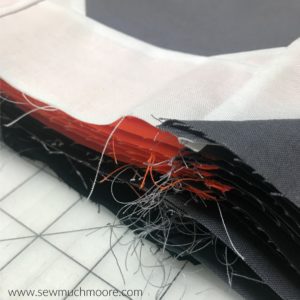 THE ooo QUILT – ASSEMBLY
Be sure to get yourself a copy of the Block Magazine.  In the pattern, you will find all the details for assembly.  The process is really simple.  Deciding upon the layout was fun.  It took me several times to finally settle upon a layout!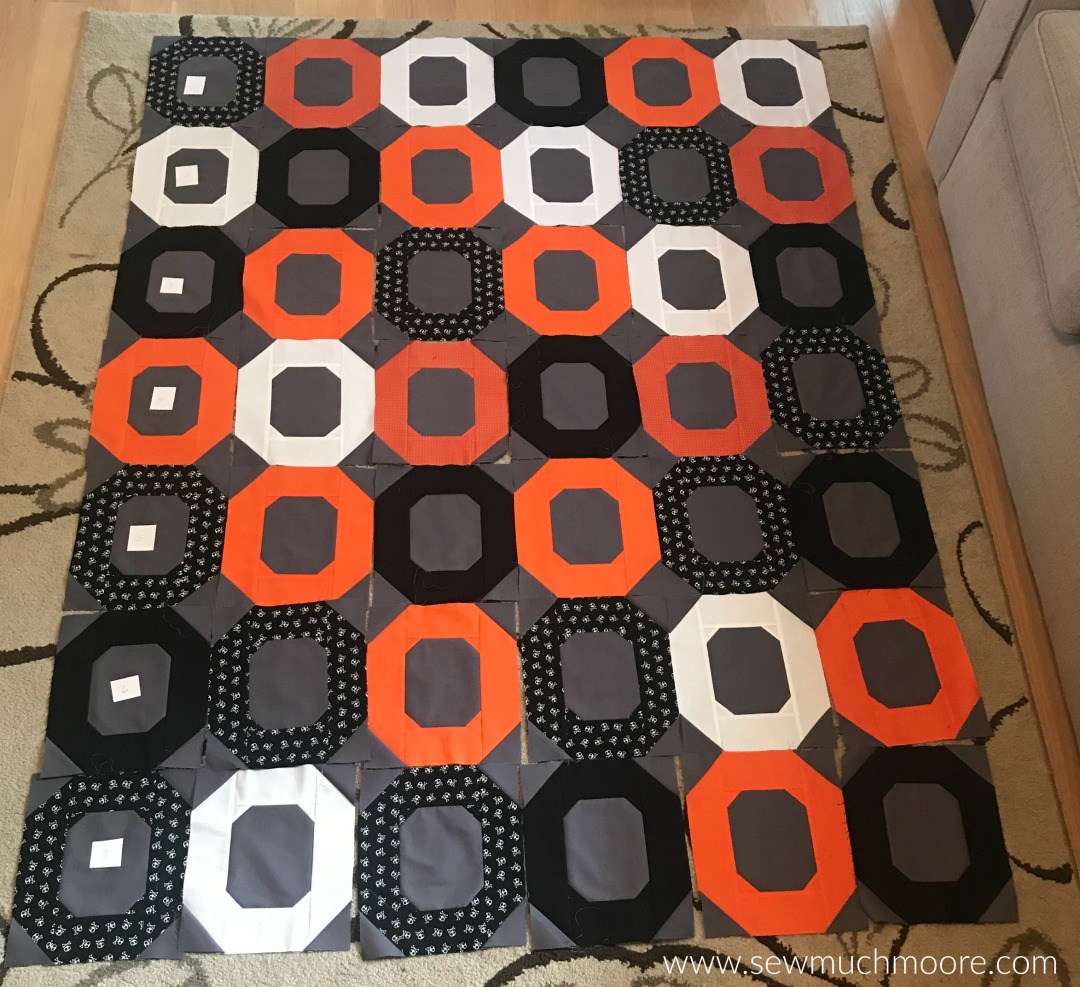 I numbered my rows, after I decided on the layout.  That really helps me to keep things straight when I get the blocks back to the machine for sewing.
THE 000 QUILT – ALMOST FINISHED!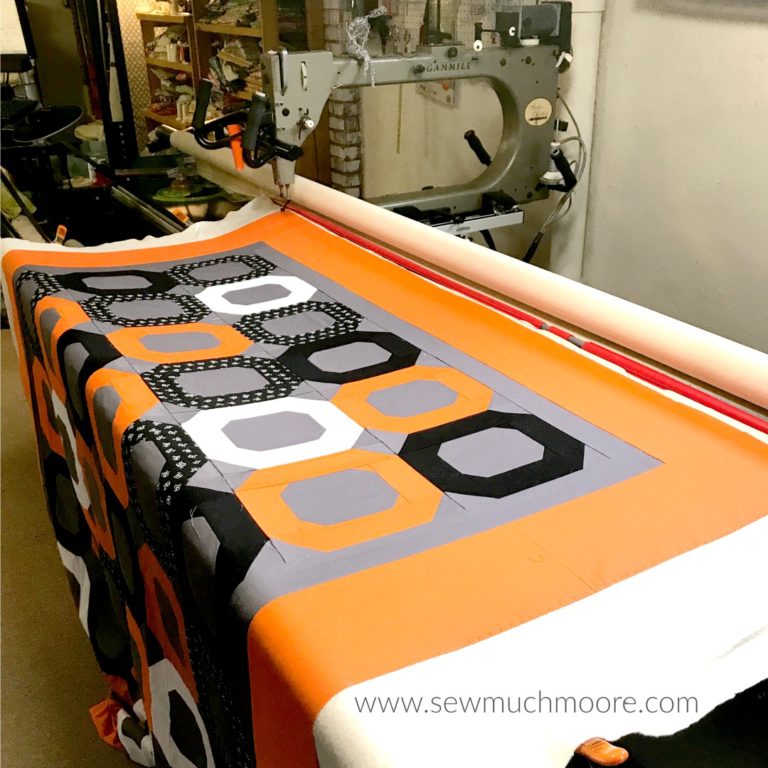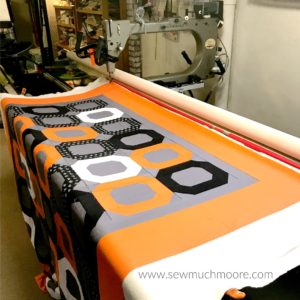 Once I had my quilt top assembled, I drove to my friend's house to rent some time on her wonderful long arm quilting machine.  Once you use a long arm quilting machine – it's difficult to go back to quilting on your domestic (just sayin').  I know everyone doesn't have a long arm option, so you can always use free motion quilting on your domestic.  It's simple!  Be sure you have a Darning Foot!  There are different kinds, based upon the shaft of your specific machine.  I always love my time with my friend's long arm machine!  I would love to have one of my own, but I have NO ROOM!  Maybe someday!  Until then, I hope to keep Tia Curtis as a close quilty friend!  She is so helpful and wonderfully talented!  She even took this fun picture of me (with the pile of quilts I accomplished in one day)!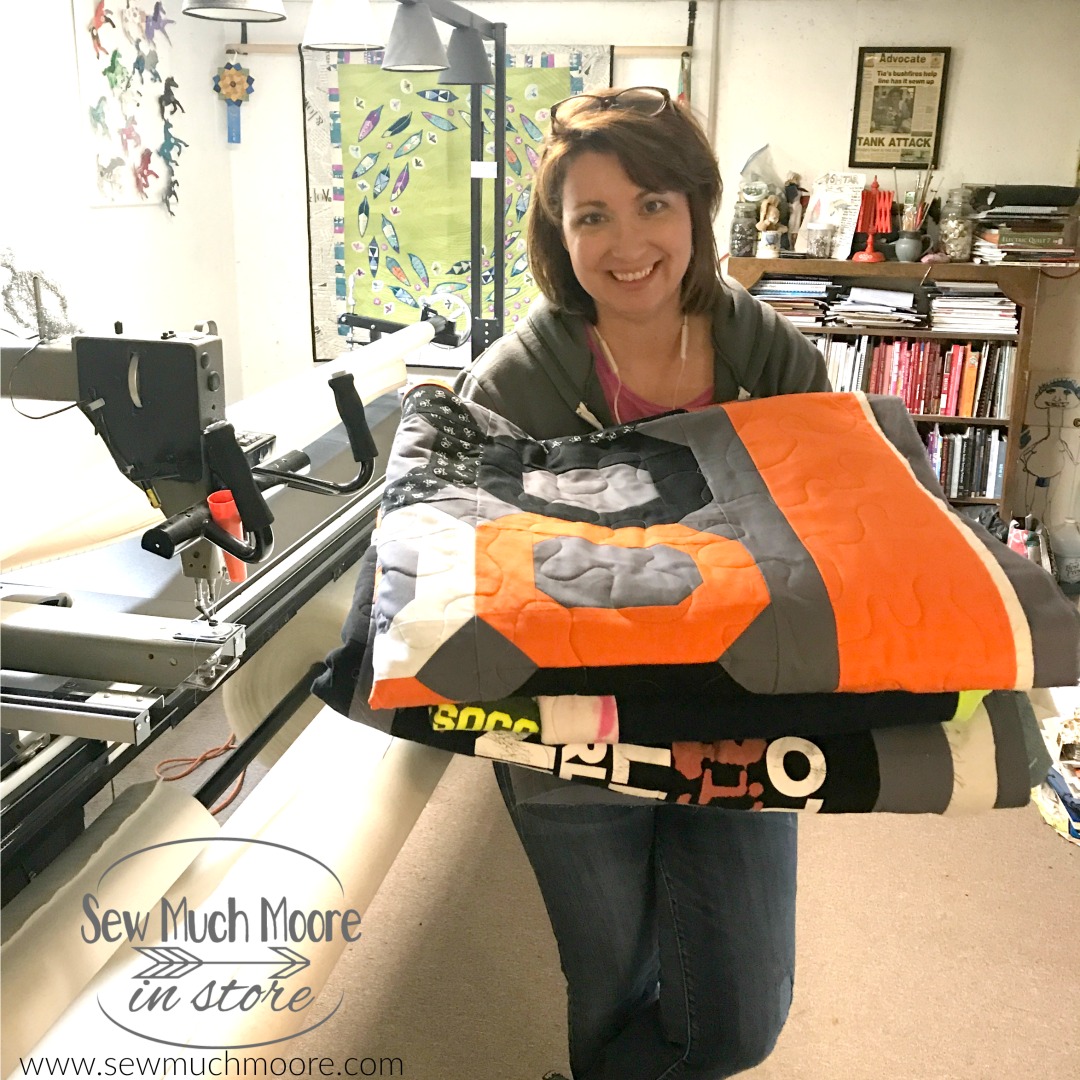 Once I sewed on the binding, I could not wait to take some pictures of this amazing quilt!  I convinced my husband to help me take some pictures of the finished quilt.  We took a drive to the Powell Gardens for some scenic pictures.  It is such a great location!  I liked this picture the best!  What do you think?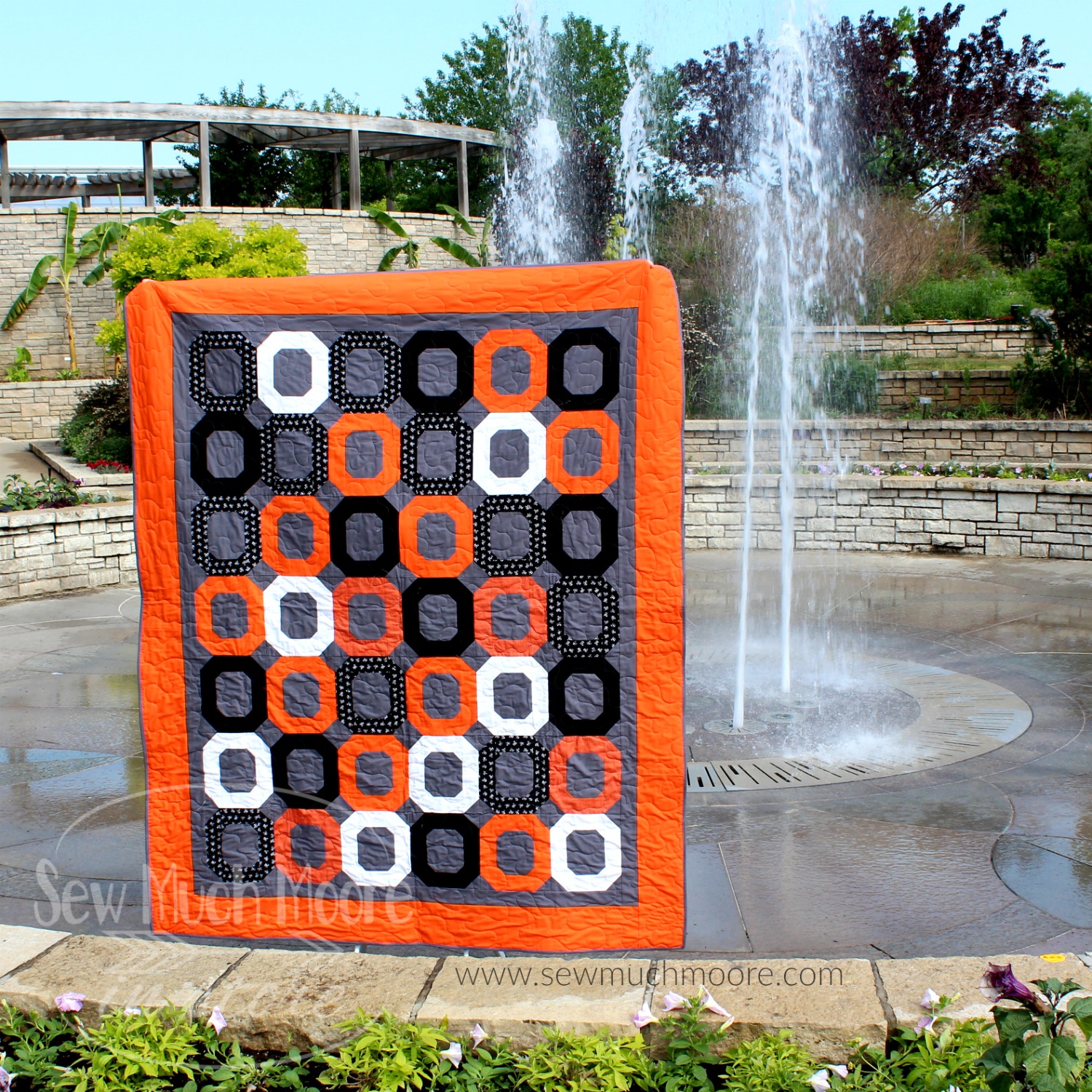 Making The Ooo Quilt was fun and easy!  I just loved making it and my customer loved the result!  Yay!
If I were ever to make this quilt again, I think I might simply use a Jelly Roll.  That would certainly make the process much quicker.  I hope you try to make one of these quilts.
Happy Quilting!