Have you ever wanted to take a piece of clothing and repurpose it into a pillow cover?  When my Father passed away, we were not sure what to do with all his clothes.  So many of what he wore reminded us of different days or events that we shared in his life.  I wanted to take some items and find a way to keep a hold of his memory while utilizing his clothing in the process.  In this tutorial, I will show you how I took my Father's button-down shirt and repurposed it into a Memory Pillow to cherish for years to come!    Let me show you how to make a Memory Pillow from a Men's Shirt!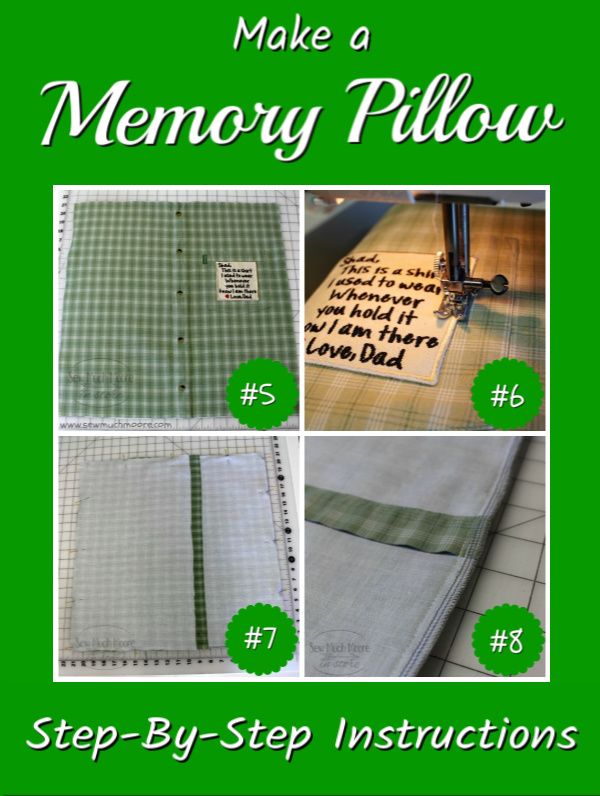 This post contains affiliate links for your convenience. ? Read my full disclosure policy here.
Memory Pillow – MATERIALS LIST
a Button-down shirt

Preferably made from cotton (but it is not required)
My Dad's shirt was a size XL, so that gave me a bigger pillow form option.

Pillow Form
Shape flex or SF101

This is not required, but it definitely gives the pillow cover a sturdier hand
Memory Pillow – SUPPLY LIST
Sewing Machine
Serger (not required, but recommended)  I use the Brother 1034D.
Cotton Thread (I recommend Aurifil 50 wt)
Rotary Cutter with a sharp blade
Acrylic Ruler
Sharp Fabric Scissors (this is my favorite brand)
Large Cutting Mat

I have a VERY large mat, but you really just need something that is a little bigger than the front of your pillow cover.  (try one of these)

Iron & Ironing Board
Sewing Pins or Wonder Clips
Memory pillow – CUTTING & prepping
The size of your pillow cover is going to be limited to the size of your shirt.  Measure the length and width of your shirt to determine the size of the pillow form you can use.  My shirt measured 30″ in length and 26″ in width.  I had a 20″ x 20″ pillow form on hand – so that worked out great for this project!
Before I cut the shirt apart, I buttoned the front of the shirt closed.  Using my favorite fabric scissors, I cut the front of the shirt away from the collar and the back.  I also omitted the sleeves.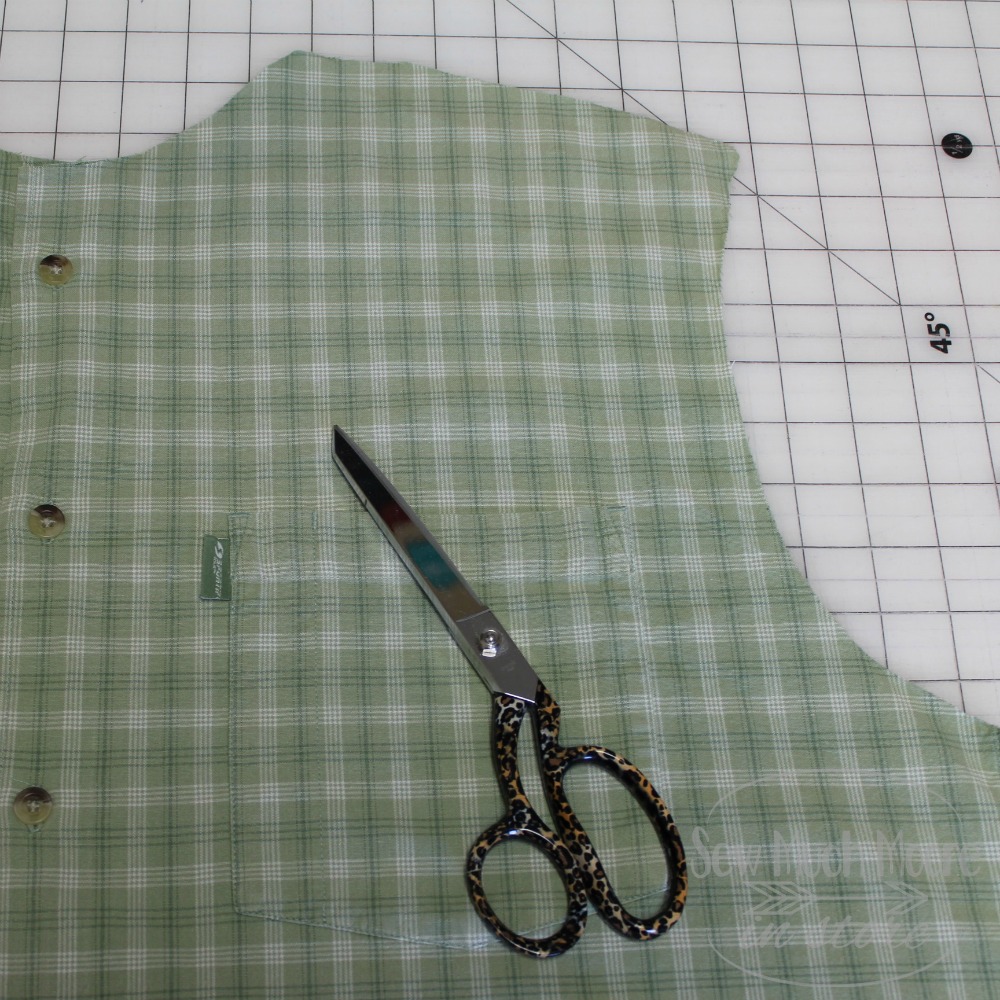 I cut the back away from the collar and sleeves as well.  Then I used the following measurements when I cut apart my Dad's shirt.  Again, my pillow form was 20 x 20, so I used the measurements listed on the below chart.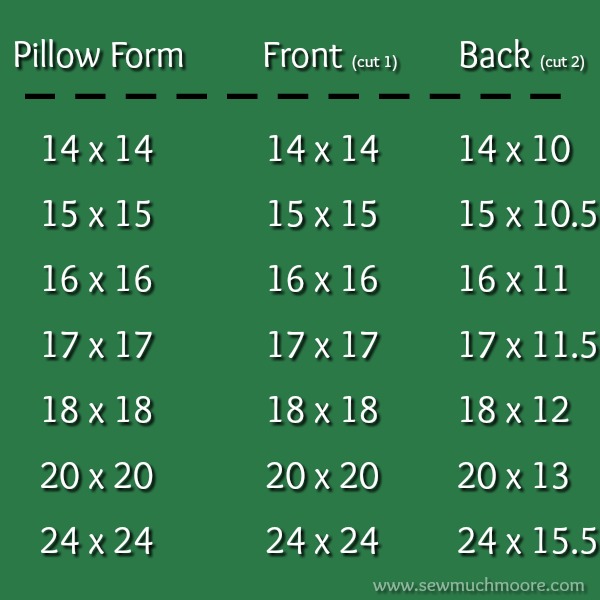 Memory pillow – sewing and finishing
Next, I followed these steps in assembling the pillow cover.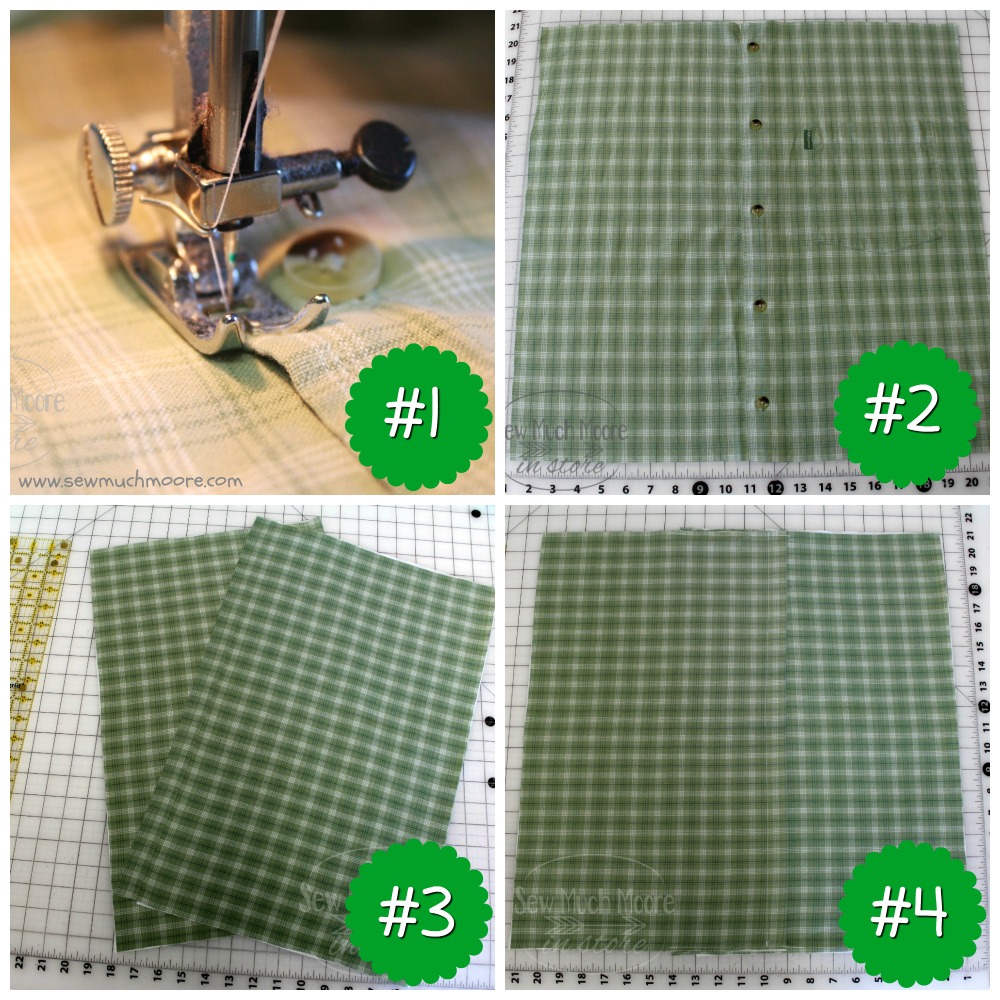 Step 1 – Sew the front of the shirt closed
Step 2 – Fuse the Shapeflex to the wrong side of the front and trim to size
Step 3 – Fuse the Shapeflex to the wrong side of both back pieces.  Fold a 1-inch hem on each side.  Trip to size.
Step 4 – Place one back piece on top of the other so that both hemmed edges will overlap.  This is the envelope opening.  Secure with stitches along the bottom and top edge using a 1/4″ seam allowance.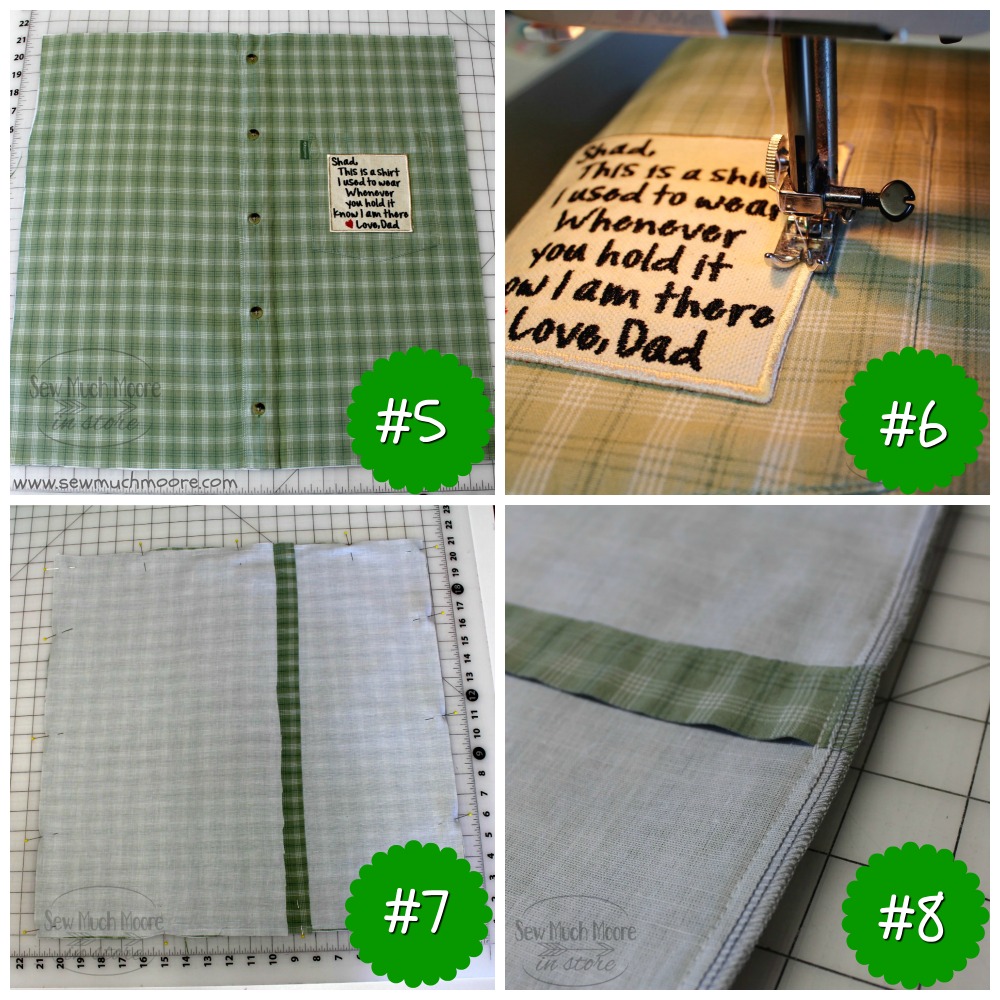 Step 5 – Follow the instructions to iron the patch onto the front of the shirt
Step 6 – Sew the patch to the front of the shirt.  This is optional (since the patch is technically iron-on).
Step 7 – place the back assembled pieces on top of the front (right sides together).  Pin along the edges.
Step 8 – Sew the perimeter of the pillow cover, using a 1/2″ seam allowance.  You can choose to serge this at the end.  I think it adds a nice touch and finished the cover nicely!
Now all you need to do is turn the cover right side out and install the pillow insert!  Yay!  This repurposed shirt is being gifted to my big brother.  You guessed it, his name is Shad!
You should make a Memory Pillow cover too!  These custom patches are the perfect addition to your next Memory Pillow project.  Be sure to check them out right HERE.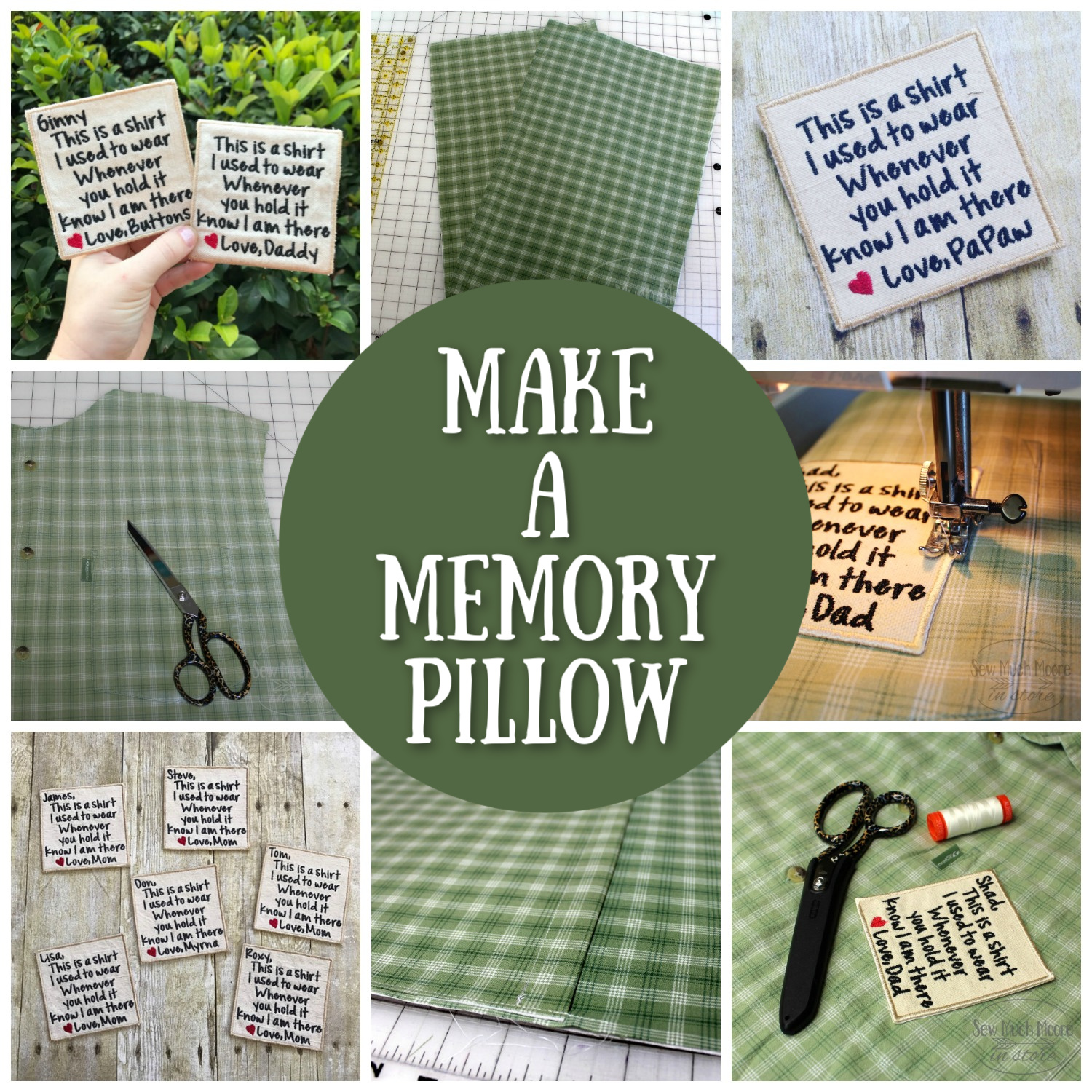 I can't wait to hear what you have planned!  Comment below!
Until next time – Happy Sewing!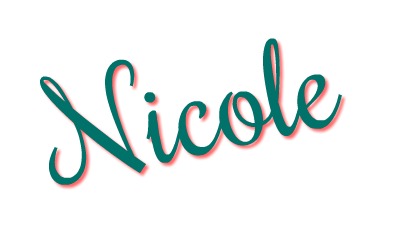 Check out these popular posts!
SaveSave
SaveSave
SaveSave
SaveSave
SaveSave
SaveSave
SaveSave
SaveSave
SaveSave