Have you made the Ultimate Travel Bag yet? I have always loved the look of this bag and was initially intimated by this pattern when my local Quilt Shop asked me to teach this class. This bag pattern (from byannie.com) has a lot of bells and whistles! I love the detachable adjustable strap, the exterior pockets and compartments and I especially love the interior! The inside is full of all the good things! Who doesn't love an interior that is lined with mesh pockets and zippered compartments? This interior provides easy visibility of contents, extra stretchiness and, best of all, adds absolutely no bulk to the seams. Let me tell you all about it how to make your own Ultimate Travel Bag!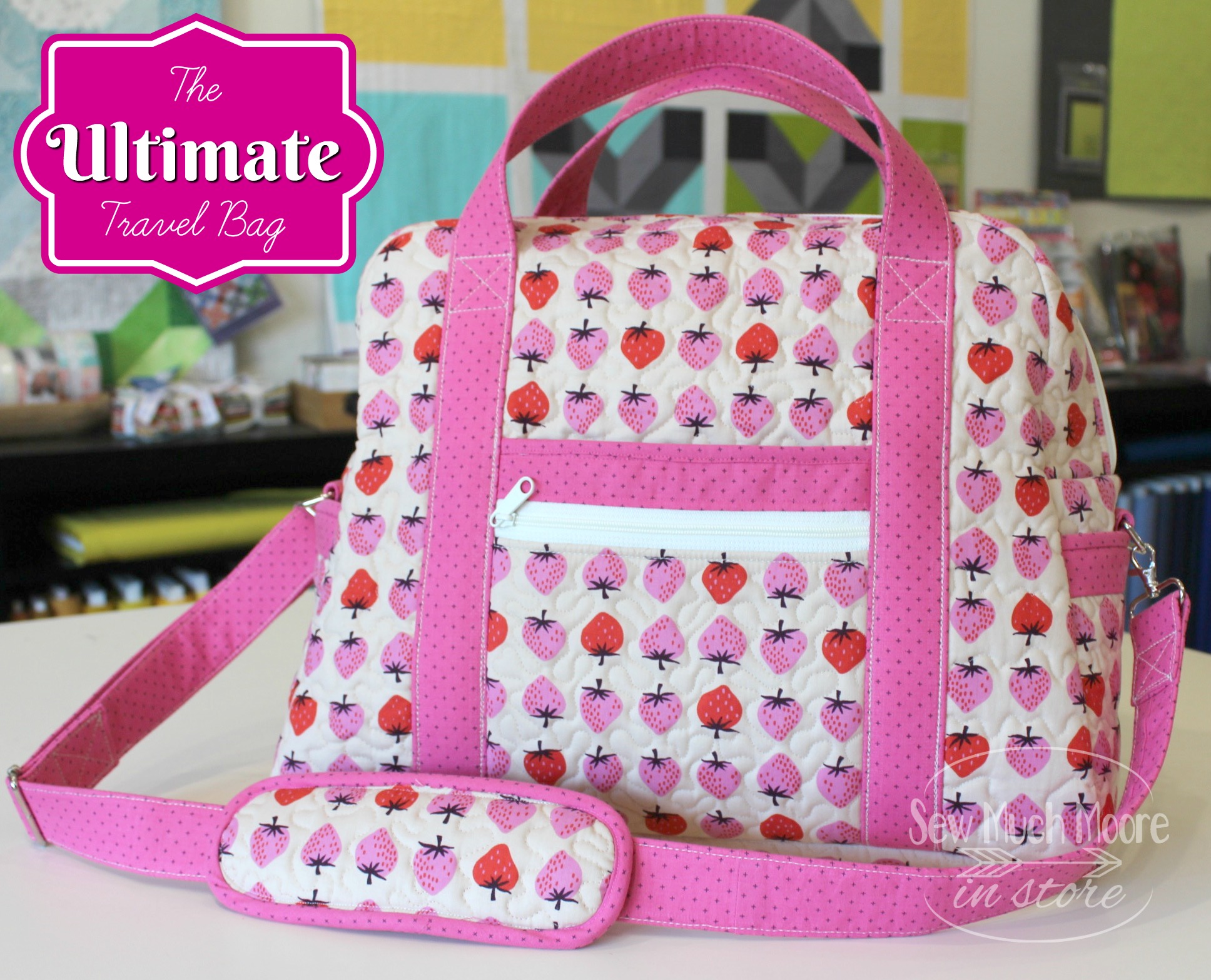 This post contains affiliate links for your convenience. ? Read my full disclosure policy here.
This bag is the perfect travel companion. It is very functional and is carry-on compliant and sure to turn heads wherever you go. I already mentioned the carrying strap and the inside pockets with mesh. I forgot to mention that it has a handy strap across the back that helps secure the bag to rolling luggage. Yay!
The Ultimate Travel Bag measures 18½" long x 13¾"H x 8″D.
The Ultimate Travel Bag is the perfect size to carry a small sewing machine. I can fit my little Kenmore or my Featherweight! If you intend to carry something heavy such as a sewing machine in your bag, I used a foam core board for the base. It worked perfect!
The Ultimate Travel Bag SUPPLY LIST
Main fabric (for body of bag, pockets, carrying-strap pad): 11⁄2 yds of 45″ wide
Lining fabric (for lining of bag): 11⁄2 yds of 45″ wide fabric
Coordinating fabric (for stabilizer sleeve, bindings, carrying strap, handle, zipper pulls): 11⁄2 yards of 45″ wide fabric
Mesh fabric (for inner pockets): 1⁄2 yd
Foam stabilizer:11⁄4 yds of 58″ wide product (I use this brand of foam)
11⁄2″ wide strapping (webbing): 51⁄4 yds
9″ x 5″ piece of fusible interfacing (recommended: Pellon ShapeFlex 101)
3⁄4″ – 1″ wide hook-and-loop tape (Velcro): 6″
Zippers (I get all my zippers from HERE.  You can send her a message and she will create a listing for exactly what you need)

Handbag zipper, 10″ (25.4 cm) or larger;
Handbag zipper, 20″ (50.8 cm) or larger
Double-slide handbag zipper, 30″ (76.2 cm)

Two 11⁄2″ (3.8 cm) rectangle or triangle rings
One 11⁄2″ (3.8 cm) wide-mouth slider
Two 11⁄2″ (3.8 cm) swivel hooks
Acrylic base stabilizer, 1⁄8″ (3 mm)-thick, 8″ x 15″ If desired, substitute foam-core board
6 buttons (I used purse feet)
Thread to complement the main fabric
Basic Sewing Supplies & Tools Needed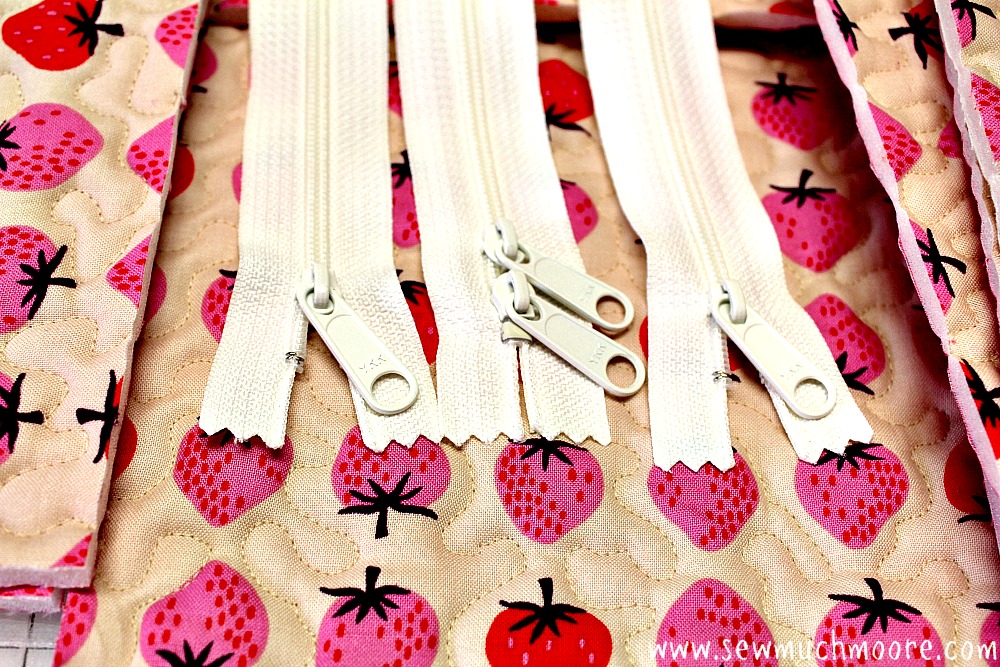 The Ultimate Travel Bag – construction
I recommend you read the entire pattern before you start making this bag. This will help you understand where and how all the pieces fit together. After review of all the materials, you should quilt your fabric sandwich and cut all your pieces. This pattern comes with some awesome pattern piece markers – so nice to keep organized!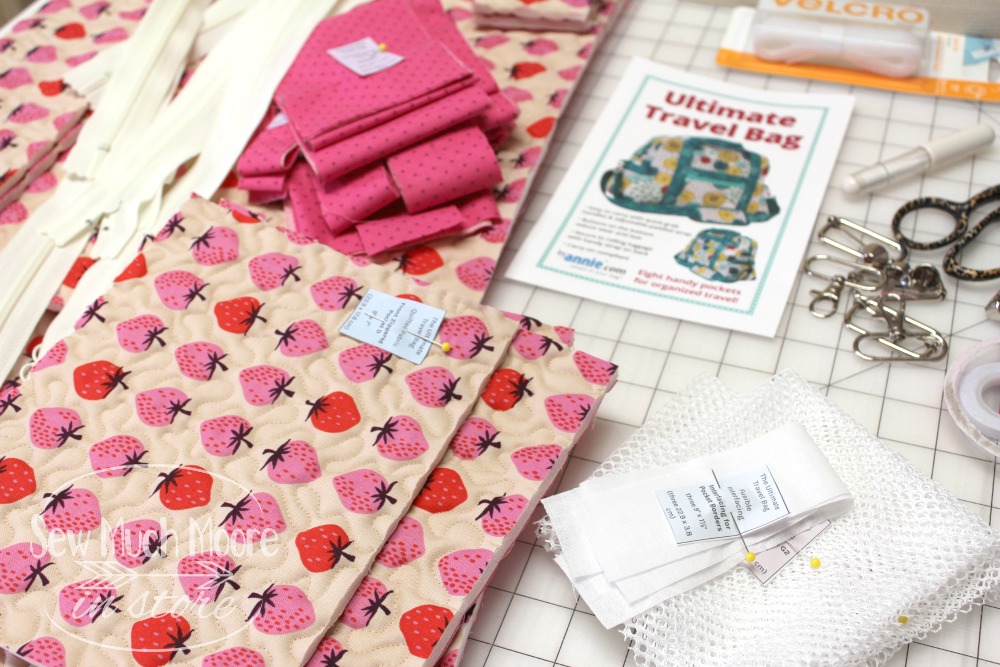 I took the first day to cut and prep all my fabric and materials. The next day, I started with assembly. This bag has lots of parts and pieces. You don't want to skip ahead or assume too much!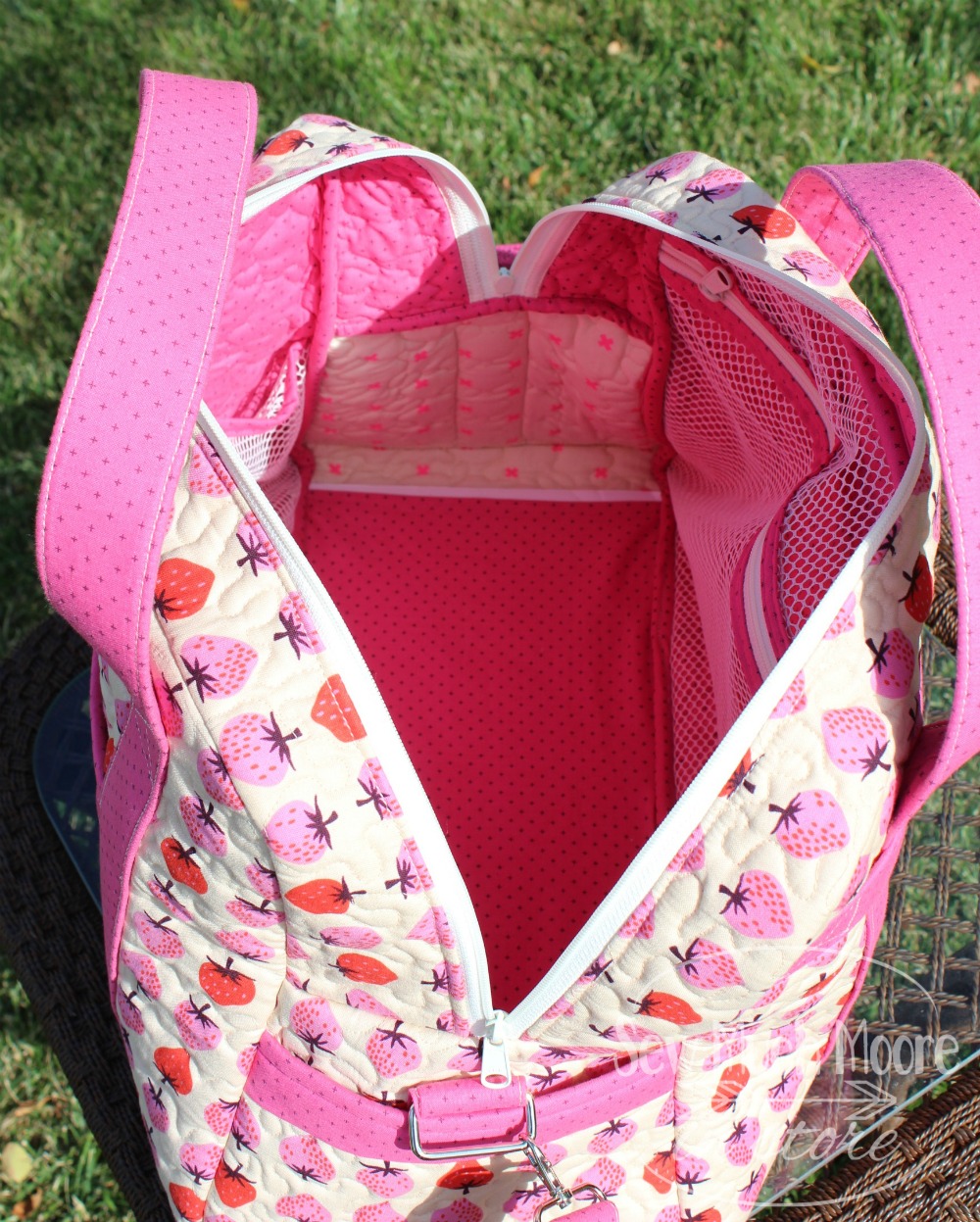 I mentioned in the supply list that I used purse feet instead of buttons. I like the look of these feet and they are super easy to install.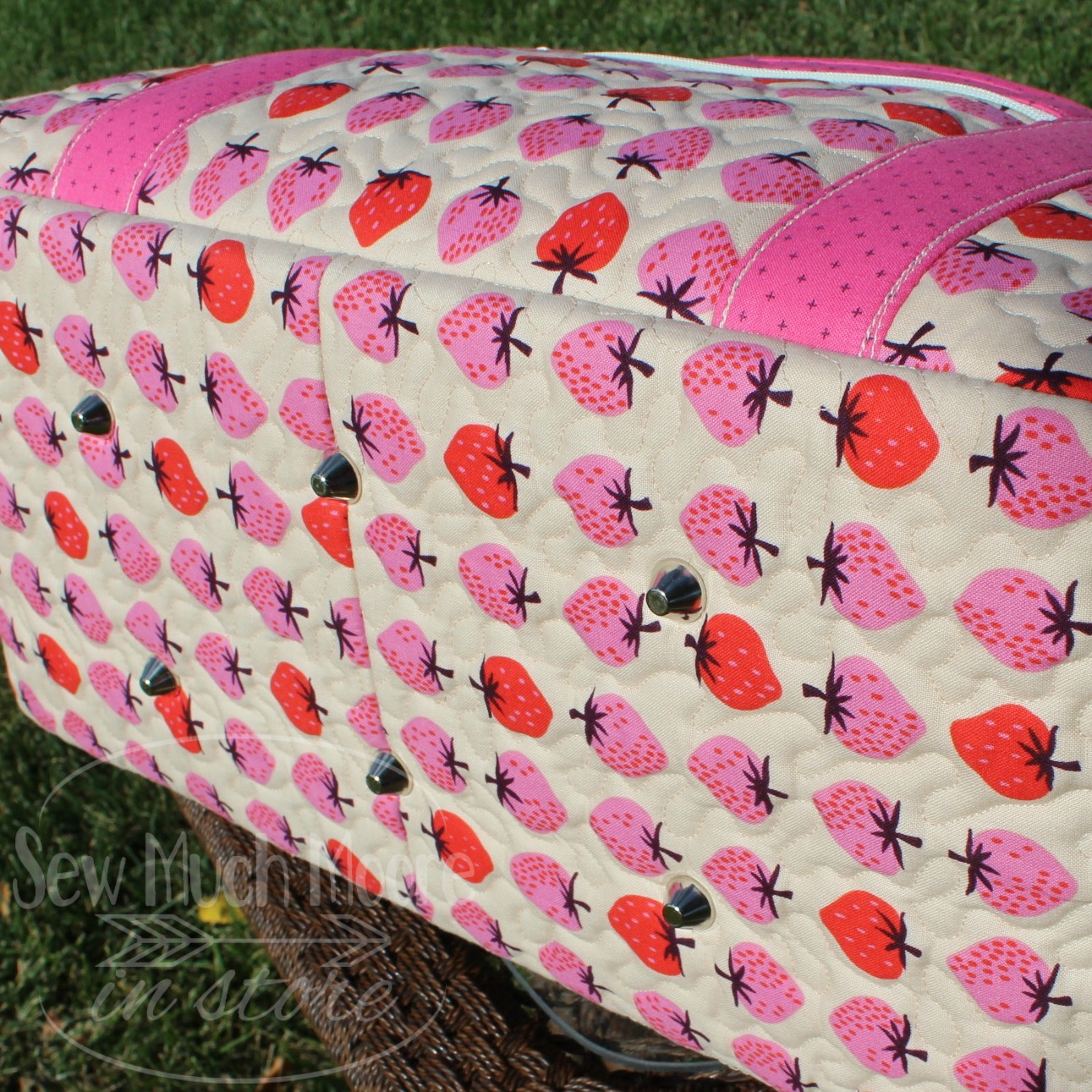 I think the interior binding was the trickiest part. I will admit that having a stiletto was completely necessary. I would recommend taking your time and going slow. The video even has a place where folks have asked questions and received answers. That's very handy! Here is a sneak peek of what you can expect in the Pattern/Video.
The Ultimate Travel Bag – all finished!!!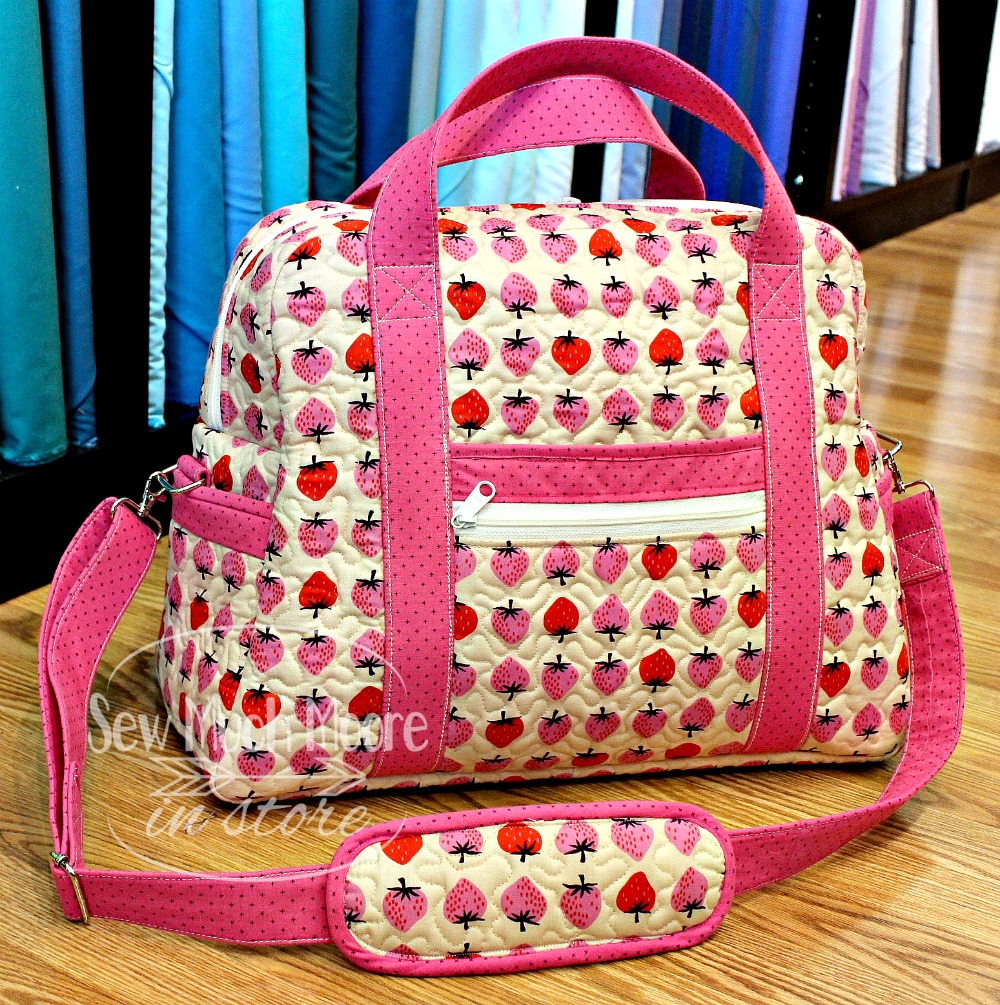 I really love how my Ultimate Travel Bag turned out. I already have my next bag's fabric already set aside – These will make a FANTASTIC gift!
I hope you take some time and enjoy this fun pattern!
Happy Sewing!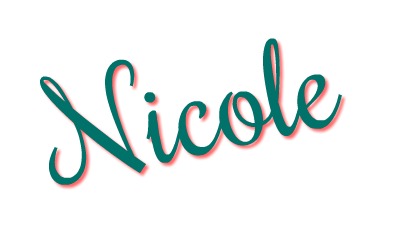 SaveSave