The Maple Leaf Quilt Block is the perfect block for the Fall Season!  This quilt block is a traditional design and likely originated in the late 1800s. Typically, this block is made in two strongly contrasting colors.  This nine-patch quilt block is super easy and looks really great! There are many ways to make a Maple Leaf Quilt Block.  Let me show you how I made this version.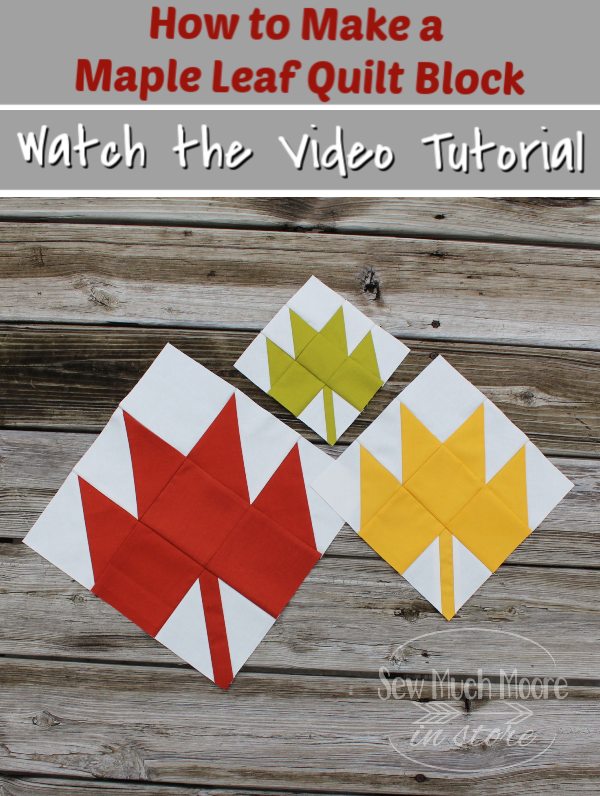 This post contains affiliate links for your convenience. ? Read my full disclosure policy here.
Maple leaf quilt block – Materials List
Leaf Fabric (there are so many great fall color choices – I have linked to a few of my favorite)
Background Fabric (I love this color for my background – I have linked to it below)
maple leaf quilt block – Supply List
Sewing Machine
Quarter Inch foot for your sewing machine
Cotton Thread (I recommend Aurifil 50 wt for piecing)
Acrylic Ruler
Self Healing Rotary Cutting Mat (the spinning mats are ideal)
Iron & Ironing Board
Four HST from one square
This method creates HST (half square triangles) on the bias, so you will want to generously starch your fabric and be sure to press your project and not iron. I love to make these quilt blocks, quickly!  The quickest way to make four HST is using the method below: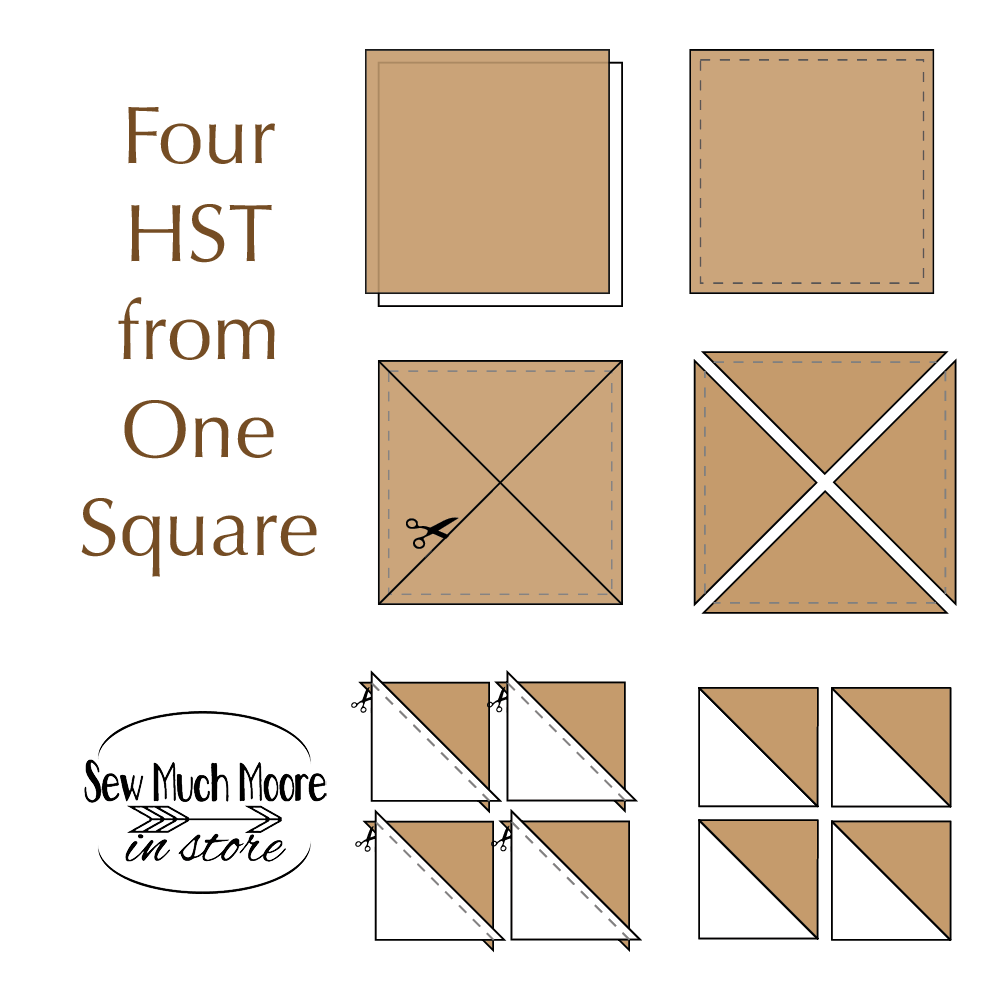 Step One:  Sew together the large square pieces:  Place (1) Background and (1) Leaf Fabric with RST (right sides together). Sew 1/4″ seam all around the perimeter of the square.
Step Two:  Mark two diagonal lines and cut the square apart.
Step Three:   Press each HST open.
Step Four:  Trim off excess fabric to your desired measurement.
making the stem block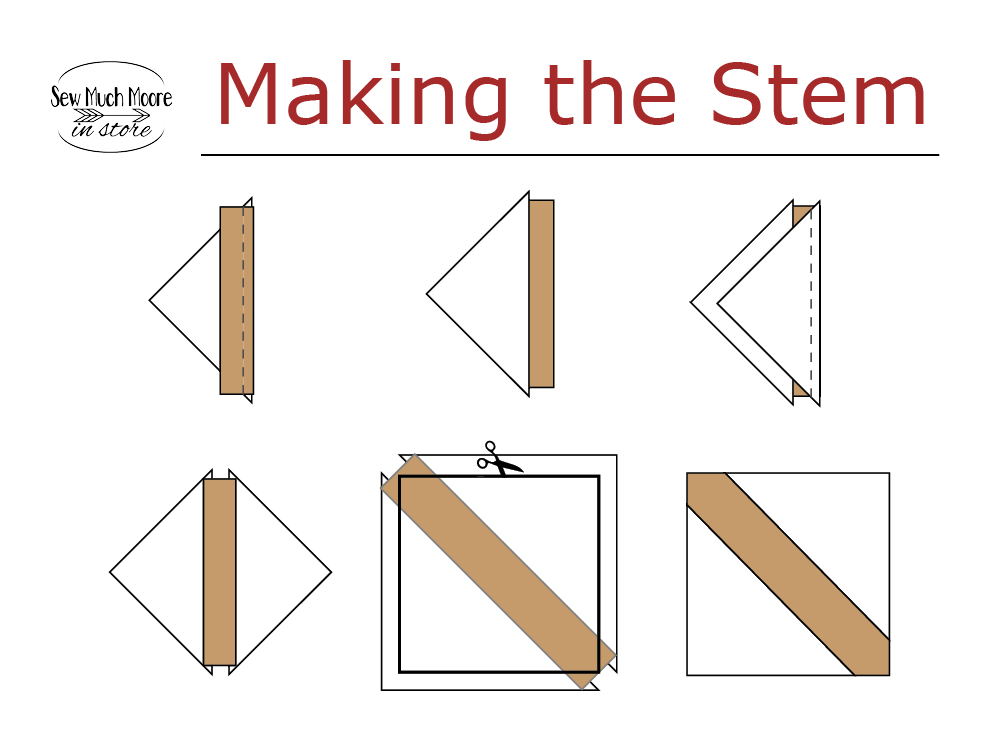 Step Five:  Cut one of the background blocks in half, diagonally.  Place the Leaf Fabric Stem piece against the raw edge (as shown in the picture above).  Sew a quarter-inch away from the raw edge and press open to the dark side.
Step Six:  Repeat step five with the remaining HST and press to the dark side.
Step Seven:  Center the 'stem' along your 45* angle on your acrylic ruler or cutting mat and trim this block to the appropriate square measurement.
maple leaf quilt block – assembly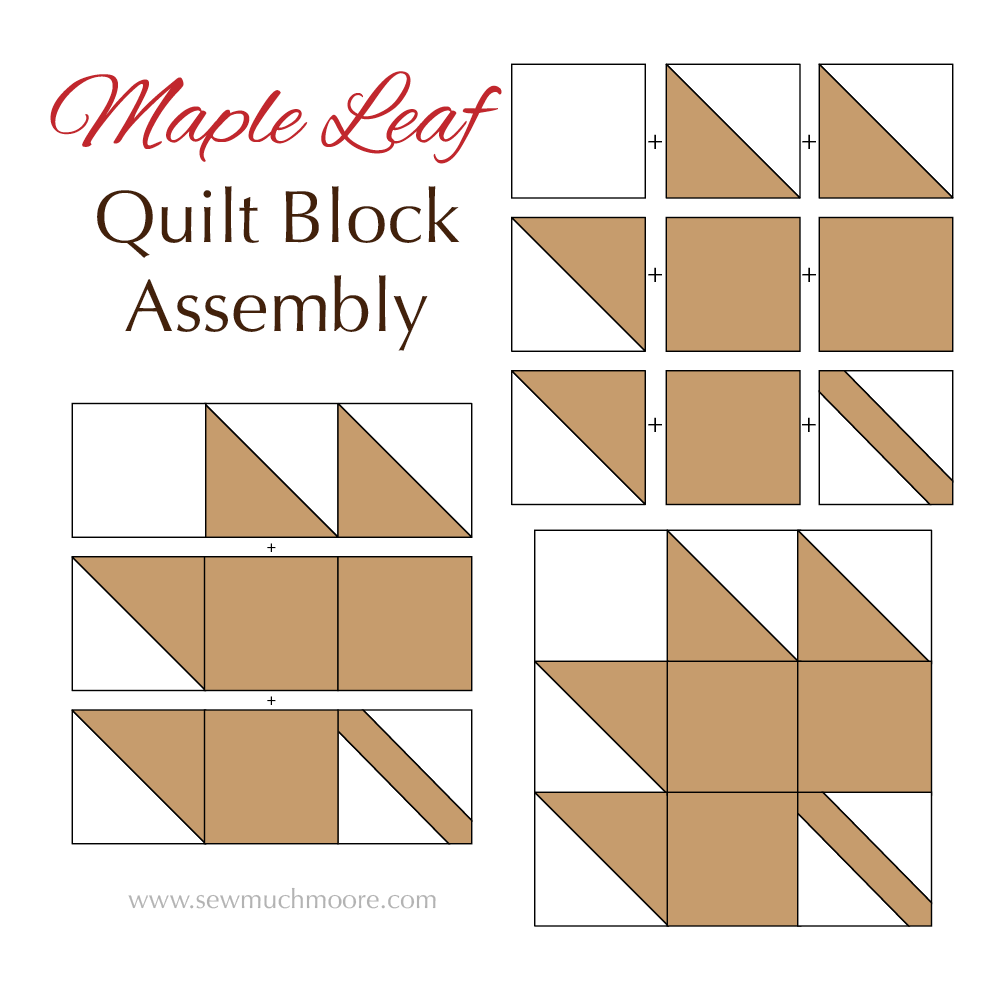 Step Eight:  Arrange your blocks in the correct layout (pictured above)
Step Nine:  Using a quarter inch seam allowance, sew each row and then sew the rows together.  Press your seams in the opposite directions. Be sure to nest your seams!
Step Ten:  Join all rows, using a quarter inch seam allowance.  Take time to nest your seams.  Press your completed block and trim down to the correct size (if necessary)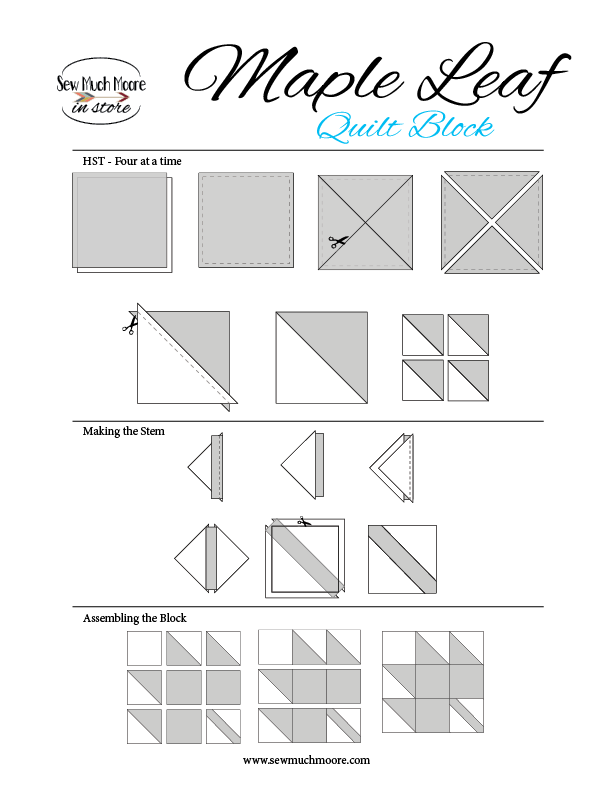 I have calculated and published a PDF Pattern for (3) different sizes of the Maple Leaf Quilt Block.  You have the option to make either a 6″, 9″ or 12″ Maple Leaf Quilt Block!  All three sizes are included in this PDF Quilt Block Pattern.  If you would like to download this pattern, you have a couple of options:
Option 1: Download for free.
To download the cutting measurements for free, you can subscribe to the Sew Much Moore Newsletter.  AFTER you sign up, you'll get a confirmation email – and you have to confirm or my email service can't send you the free pattern access email. But once you do confirm, you'll get access to not just this but several other free instructions too. Woot!
(PS – if you have trouble finding the pattern as a subscriber, please contact me)
Option 2: Purchase the PDF Pattern
Use the above link to purchase the PDF pattern. You'll be emailed a download link for a file that references the instructions in this tutorial and provides the cutting measurements for this tutorial.  You'll also be able to download this file in my shop.
Don't you just love this block?  It makes me crave a cup of Pumpkin Spice Latte, put on a hoodie or sweater and snuggle up in a Maple Leaf Quilt with a good book (or maybe even binge on a new Netflix series)!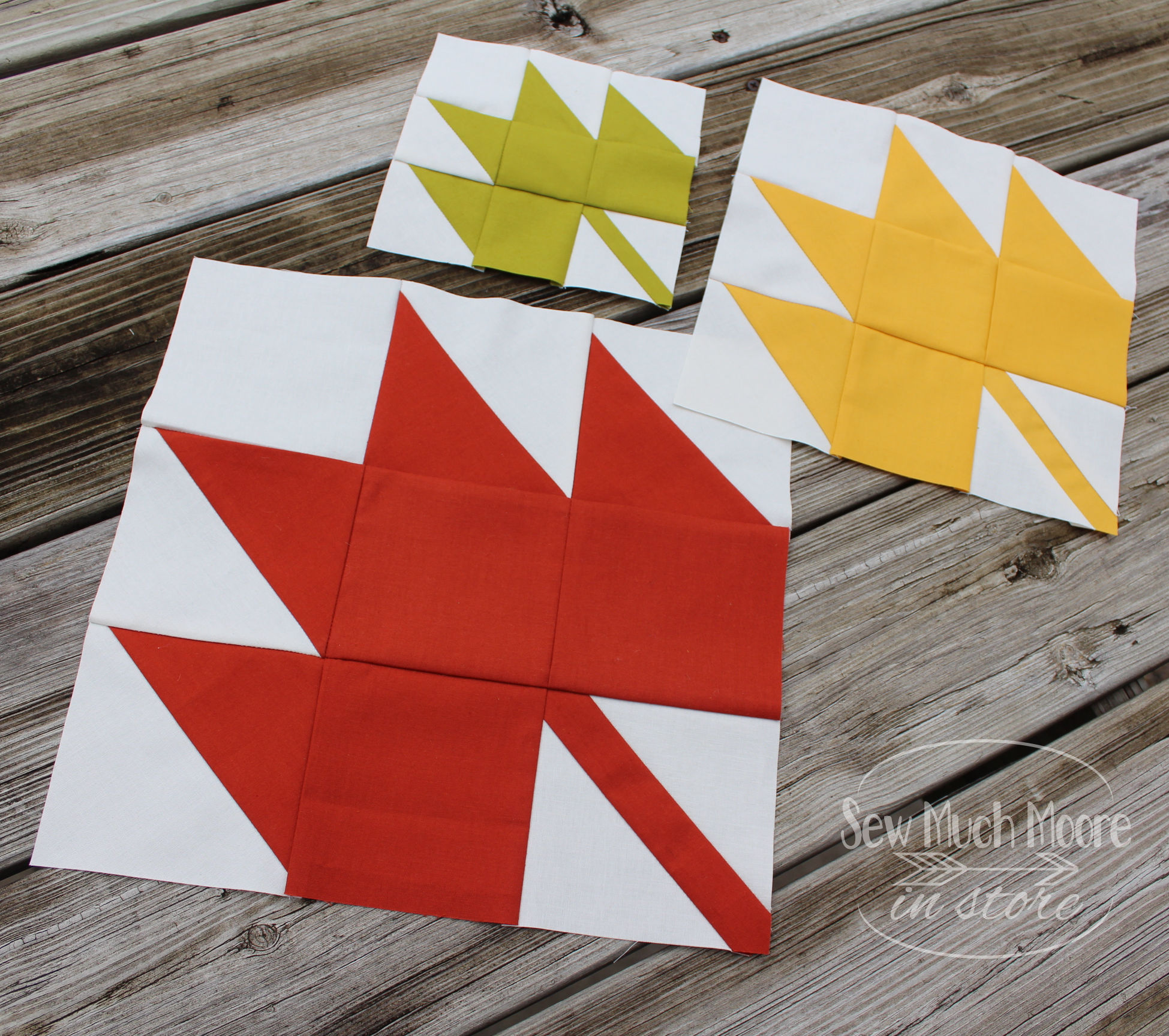 The options for this simple quilt block is fun to imagine!  You could make just a couple more for a seasonal Table Runner or several more for an entire Quilt.  The Maple Leaf Quilt Block is a really fun and simple quilt block.  I hope you make lots and lots of them!
Be sure to share your quilt block in my Facebook Group and don't forget to check out my fabric shop for some excellent fabric options!
Happy Quilting!