Foundation Paper Piecing Tutorial
I love foundation paper piecing! I think it is the easiest way to get perfect quilt blocks. Unfortunately, the technique is not as straight forwards as patchwork and requires us to think a little backwards! I wanted to take the mystery out of the foundation paper piecing technique for you. Let me break it down for you by showing you what you need and how to do it. Soon enough you will be wanting to make everything using this technique.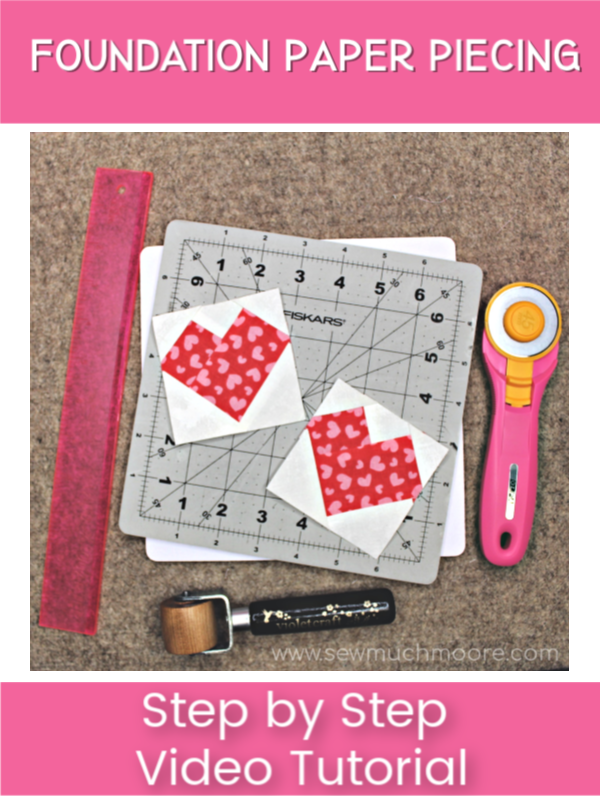 This product contains affiliate links for your convenience. ? Read my full disclosure policy here.
tools and supplies needed
I used a free pattern from the Valentines Day Table Runner post. You can find that right here. Most of that pattern is patchwork, with the exception of a few end border hearts. You will find those on page 2 of the pattern.
I am a visual learner and could never figure out how to perfect the FPP technique by reading instructions. I figured it would be better if I made a video to explain the process. I hope you find this video helpful!
I just love that little heart block! I think I might make more and turn them into a cute little Mug Rug!
What would you do with a few of these little blocks?
Let us know in the comments below!
Happy Sewing!