The house always seems so sad and dreary after the Christmas decorations come down. I like to have some Valentines Day decorations ready to help spruce up the decor. I stumbled upon a really great free pattern, by Jen Daly, and decided to give it a try!  Take a look at this lovely Valentines Day Table Runner!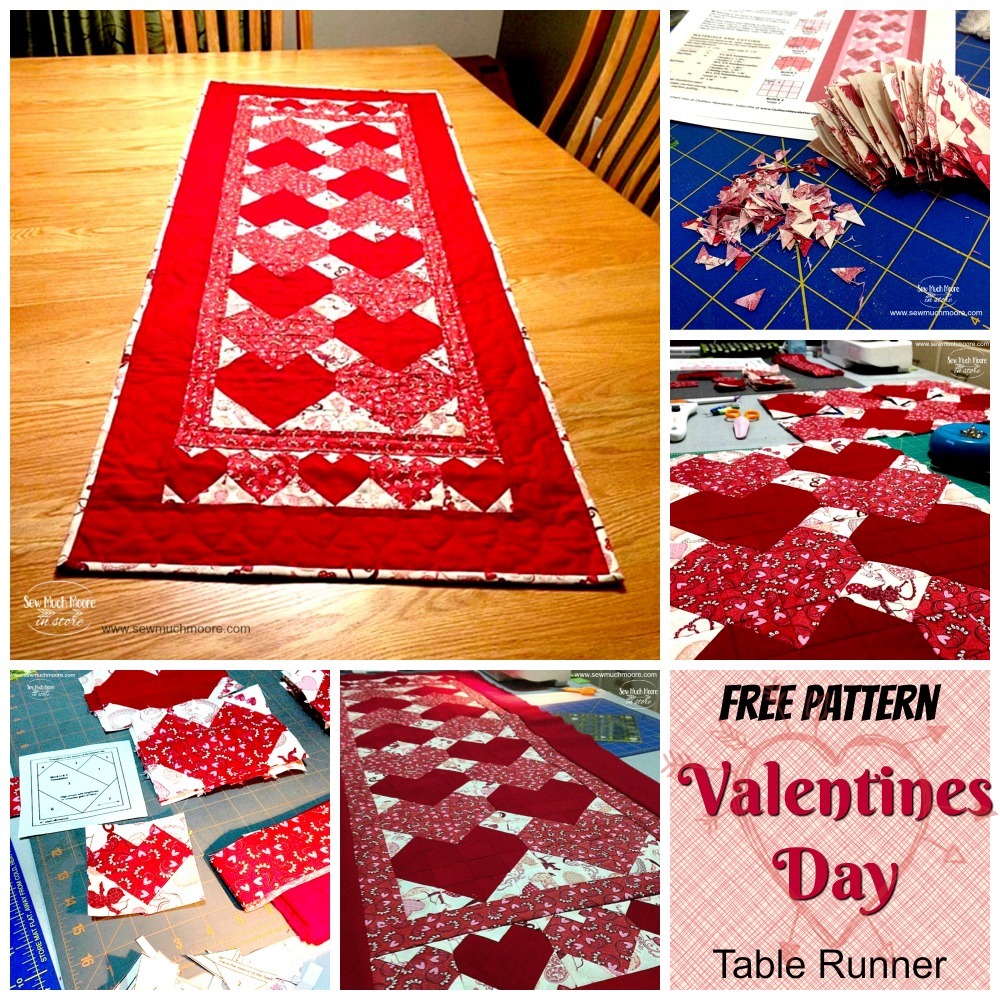 This post contains affiliate links for your convenience. ? Read my full disclosure policy here.
Valentines Day Table Runner Materials LIST
Free Pattern
Qty 1/2 yard of Cream Print Fabric (Cream Kona by Robert Kaufman)
Qty 5/8 yard of Pink Print Fabric (Bright Pink Kona by Robert Kaufman)
Qty 1 1/8 yard of Red Print Fabric (Red Kona by Robert Kaufman)
Qty 1 3/4 Yard of Backing Fabric (check out these great Valentines Prints)
25″ x 58″ piece of batting (this is my all time favorite brand)
Foundation Paper (I use this paper and get great results)
Valentines Day Table Runner Basic Supply List
Sewing Machine (here are some machines I recommend)
Cotton Thread (I have a recurring order for this thread – I love it!)
Rotary Cutter with sharp blade (I use this brand – 45mm)
Rotary Cutting Mat (I recommend this rotating mat – it's amazing!)
Add-A-Quarter acrylic ruler (perfect for foundation paper piecing)
Seam Roller (I LOVE this one)
Acrylic Ruler (I like this brand)
Iron & Ironing Board
Sewing Pins (these are super sharp)
Sewing Clips (I buy these often – LOVE them!)
Iron & Ironing Board (I'm currently using this brand of iron)
Valentines Day Table Runner assembly
Once you finish cutting out your pieces, the pattern is pretty simple to follow for assembly.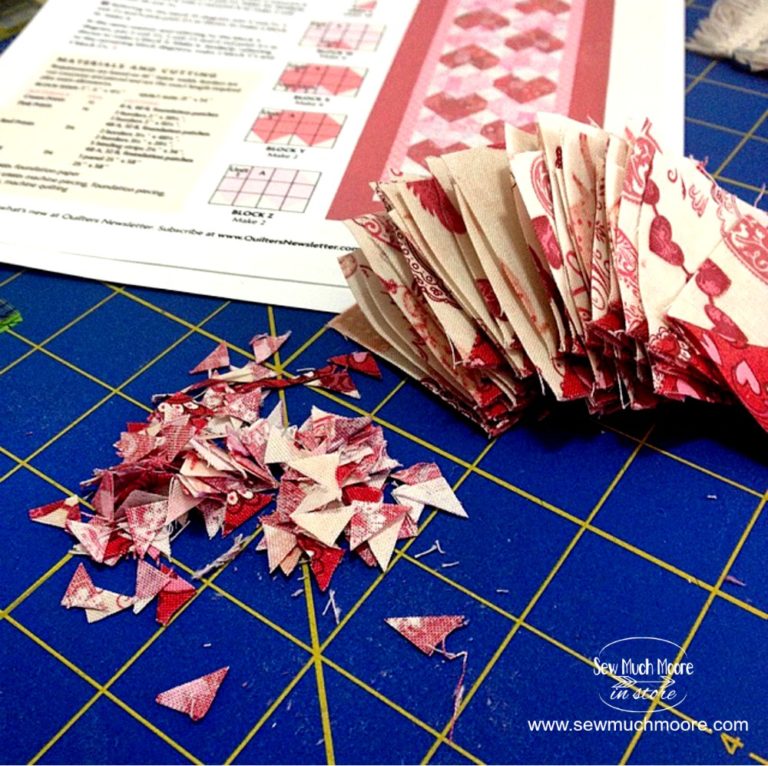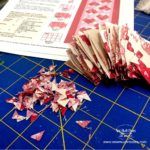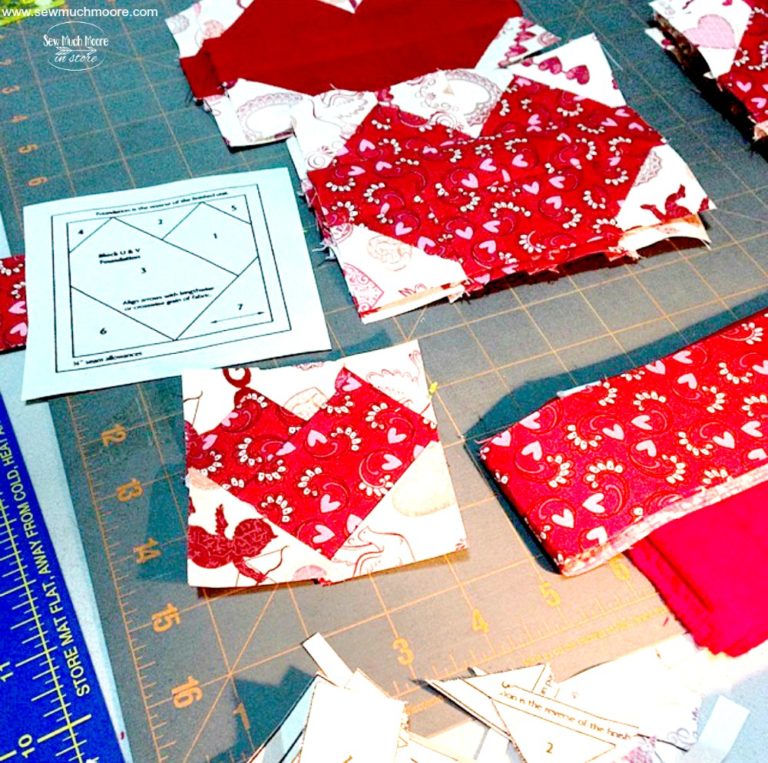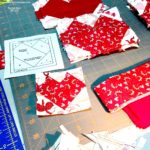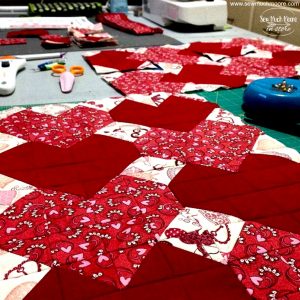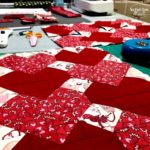 The trick is to take your time and keep your measurements true as you are sewing your sections together.  Before you know it, you will have your Table Runner top complete!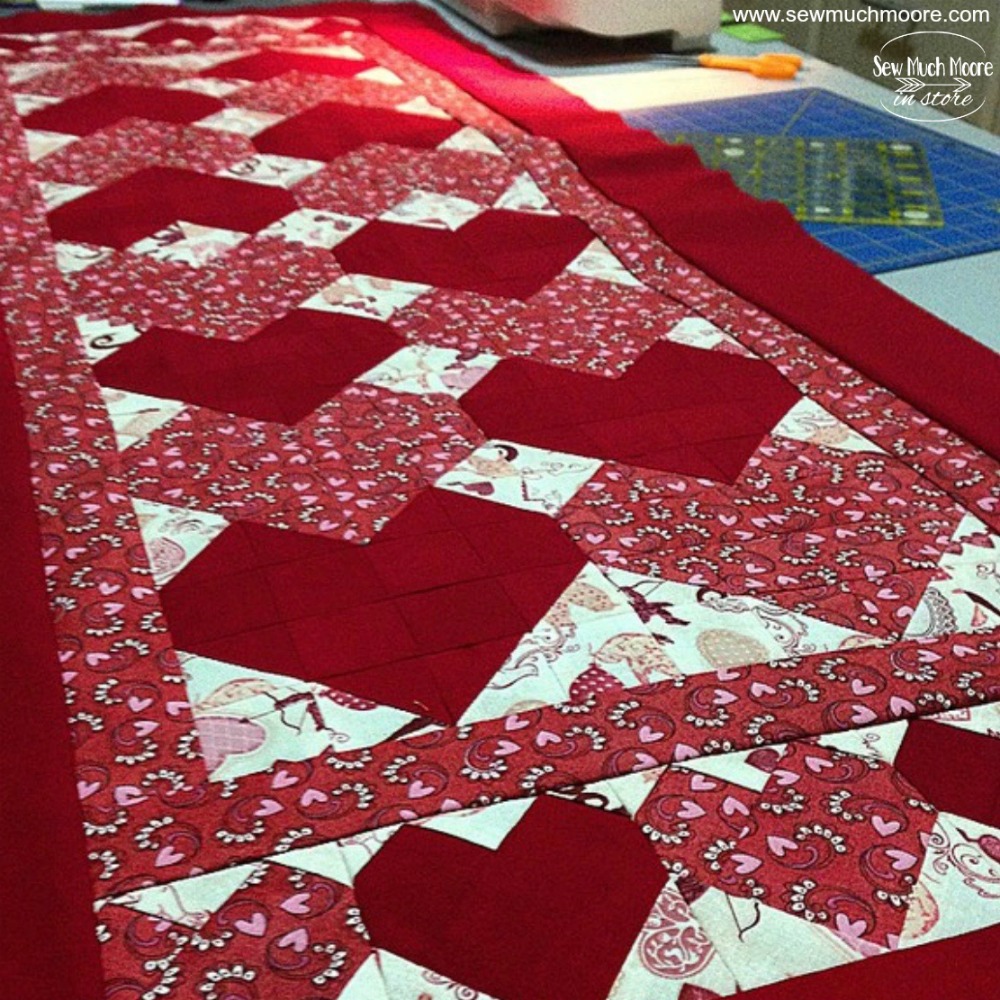 Valentines Day Table Runner Quilting
After I sandwiched my Valentines Day Table Runner top to my backing, I gave some thought about how I wanted to quilt it.  I have always loved Free Motion Quilting and wanted to try my favorite doodle on this project.  Ever since I was a young girl, I had doodled a string of hearts and was excited to incorporate this design into this table runner.  The doodle is quite simple.  It is just a continuous line of hearts!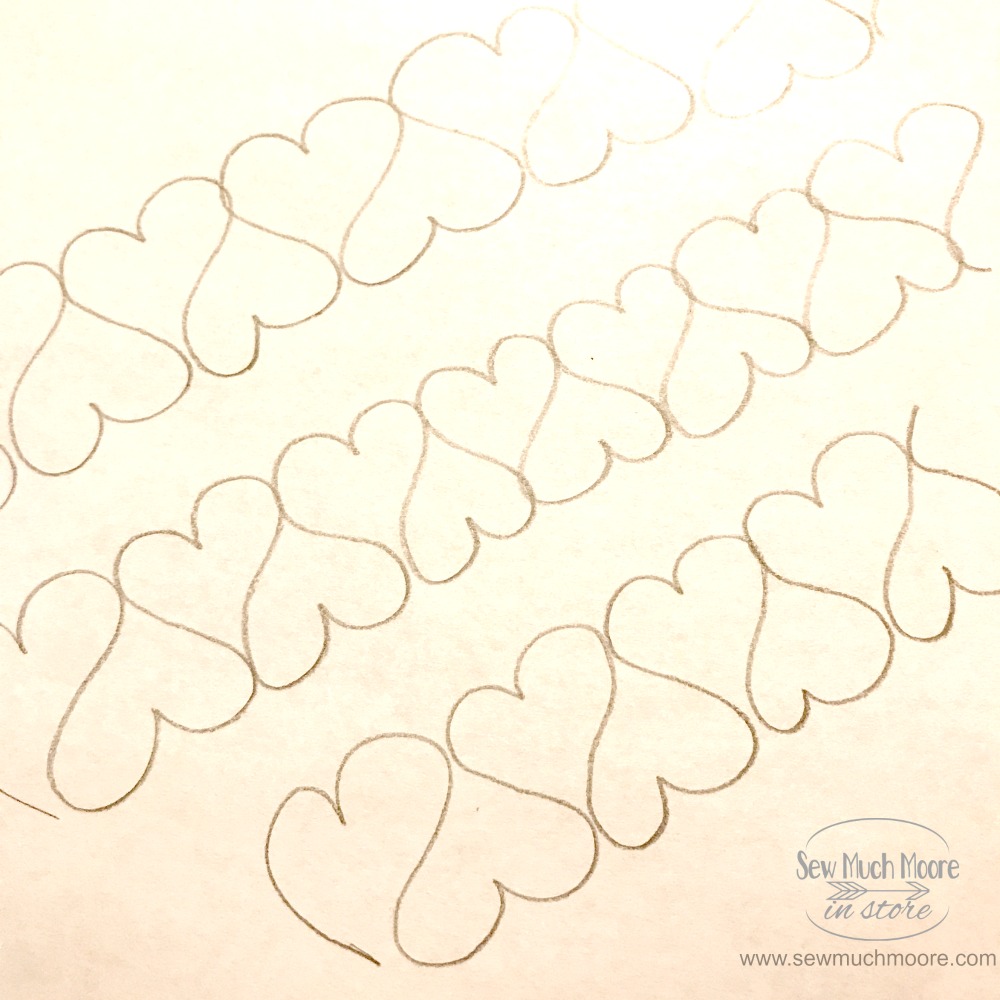 I used this continuous hearts quilting design all along the outside border of the table runner.  I finished the table runner with some basic meandering throughout the center of this project.
valentines day table runner completed
This table runner is a great length for our long dinning room table.  The completed measurements are 21″ x 54″.  You can make this even longer by adding more rows of hearts!  I simply followed the pattern and love the results!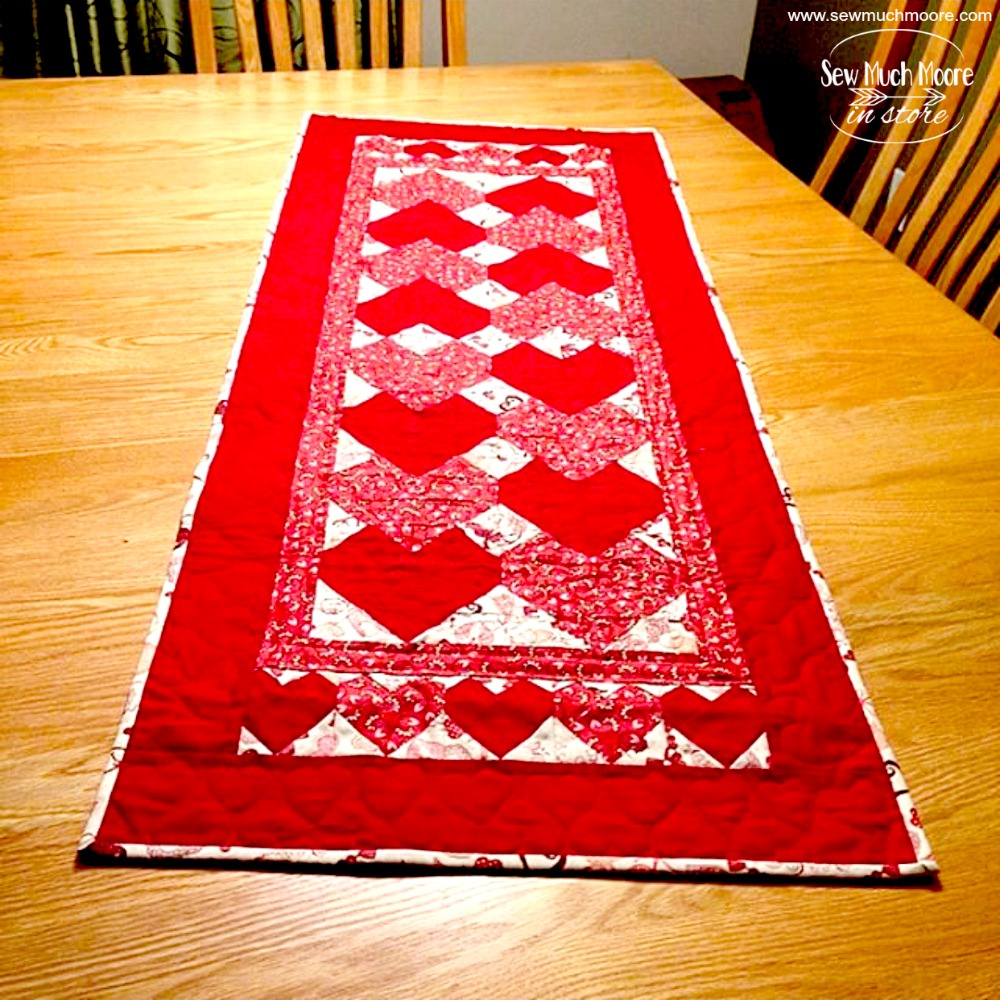 I hope you decide to try this out!  It is such a fun and easy pattern!  Let me know what you think in the comments below.
Happy Quilting!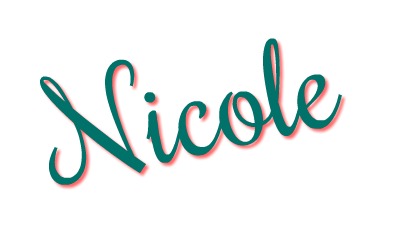 BE SURE TO CHECK OUT MY MOST POPULAR POSTS!