Do you ever spent lots of time (and money) on making the perfect handmade bag only to be disappointed with the hardware you had to use?  So many Big Box stores carry hardware that is bulky and ugly.  Wouldnt it be nice to find a hardware selection that has more variety of sizes and finishes?
I'm super excited to share that I have stocked my shelves with some really great bag and purse hardware!  Many of you already know how much I love using hardware when making bags, purses and totes.  Now I can also offer these great items to you as well!  Just take a look at what you might find in my online shop!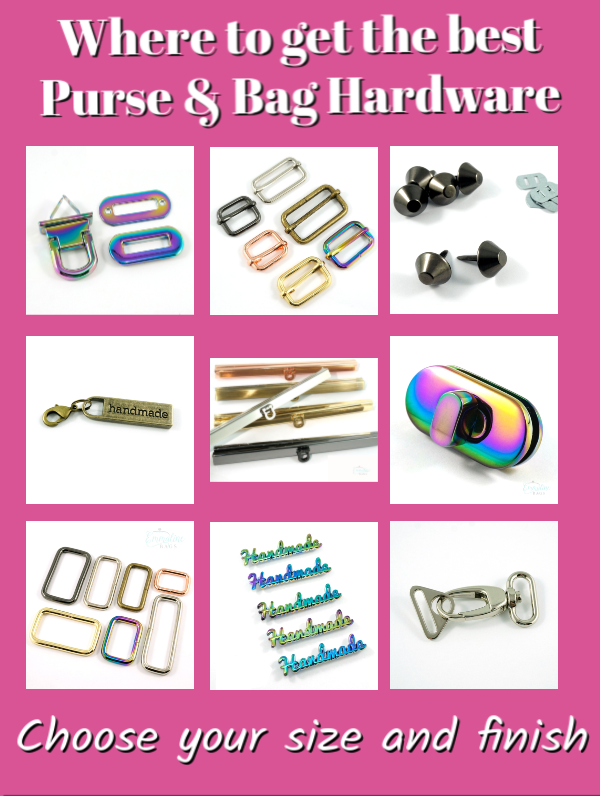 Considering all the things I love to make, it only made sense for me to start stocking and selling professional grade, high quality bag and purse hardware.  I have partnered with Emmaline Bags, Inc (based in Canada) to bring you most of my very favorite items!  Let me show you some of these right here.
Triangle Rings
Triangle rings are used in place of D-rings.  These triangle rings are top of the line, solid metal and come in a variety of sizes and finishes.  I just love them and use them on the Ultimate Travel Bag and the Betty Bowler Bag.  You can even use these on the Dayna Pack.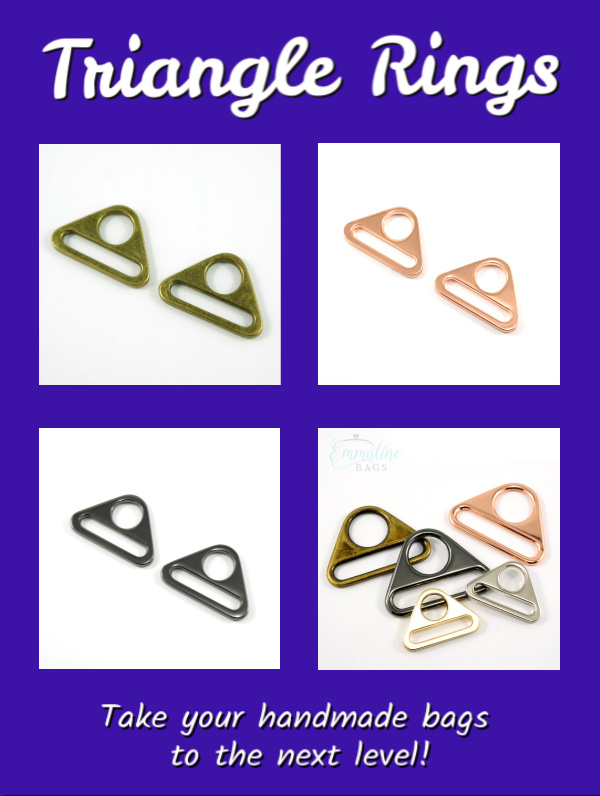 Bucket Purse Feet
These little gems are just about the easiest bling that you can add to your bag or tote.  With easy installation – bucket purse feet can really save the fabric of your bag.  I dont know how many times I have had to set down my purse in a spot that I wish was cleaner (ball games, airports and even restroom floors – eeewwwwww).  Adding bucket purse feet has extended the life of many bags indeed!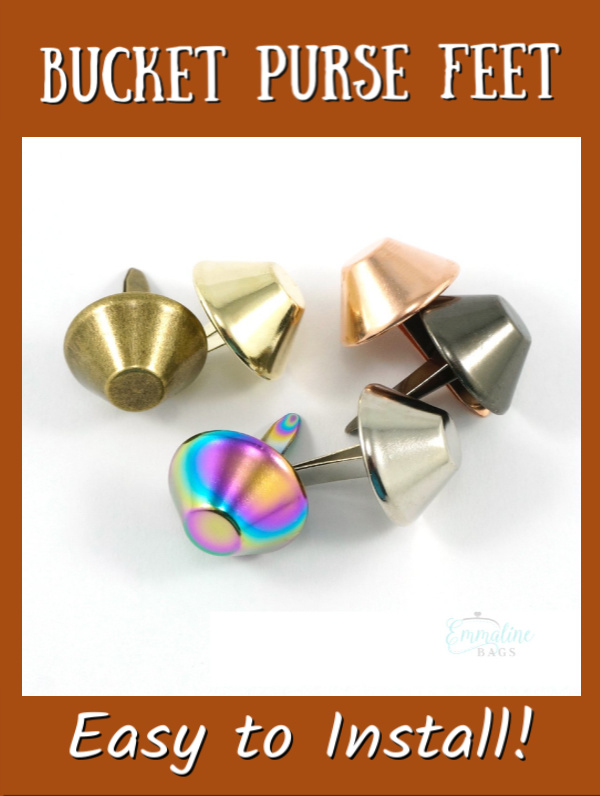 Adjustable & Removable Strap Hardware
If you've followed me for long, you know that I love to make purse and bag straps that are adjustable and removable!  In order to do this, you need 3 seperate pieces of hardware.  You need Triangle Rings, Swivel Clasps and Adjustable Sliders.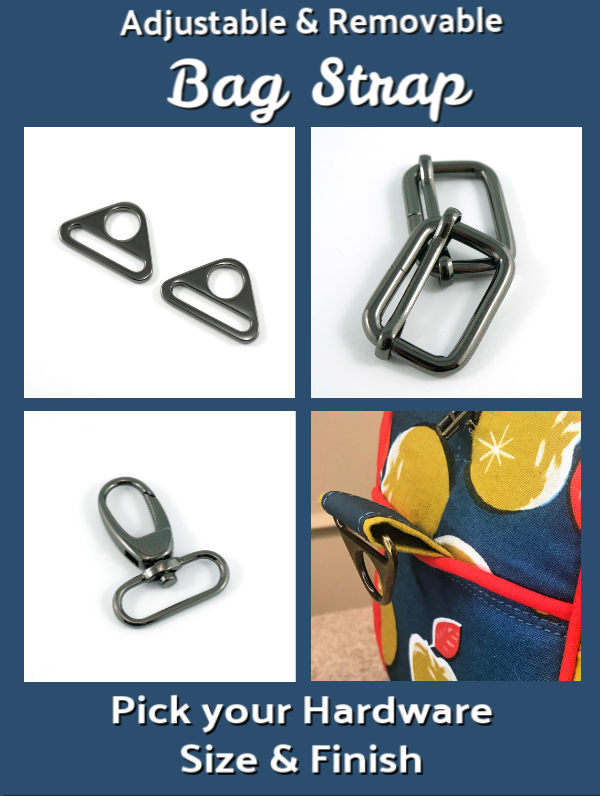 Fancy Finishings
You worked so hard on your handmade bag, so why not add some "Fancy Finishings" to make your bag complete!  Wheather you add a Metal Label or a Metal Zipper Pull, these final touches will complete the look of your handmade masterpiece!  Be sure to add your Metal Label during the construction of your bag!  You don't want the attaching hardware to show through your lining!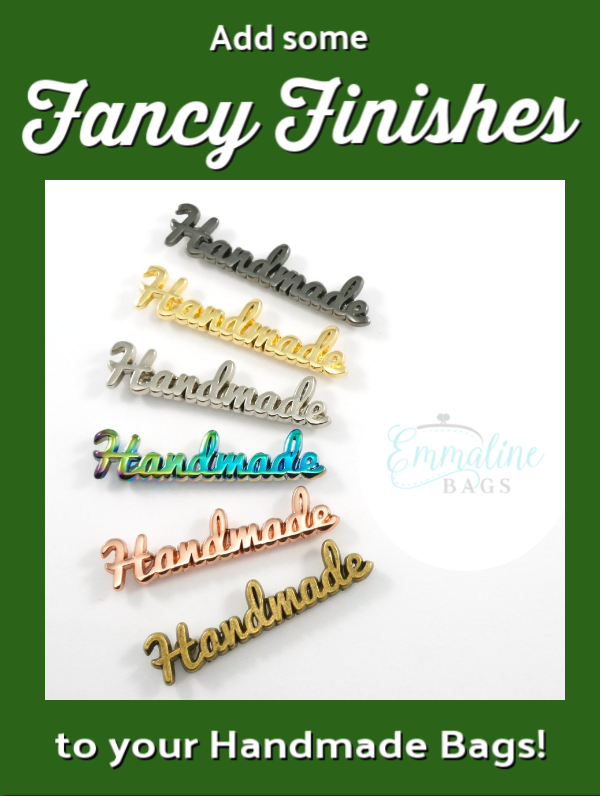 There are many more options in my Shop.  Head over and take a peek!  If you need something that you dont see offered, be sure to leave a comment below and I will add it to my list!
Happy Sewing!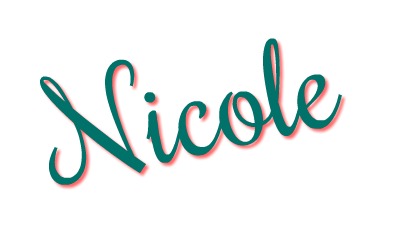 Check out these Popular Posts!
Sewing with Vinyl on my Industrial Sewing Machine – Making Vinyl Purse Straps