Make a Stars and Stripes Quilt
Our family is very patriotic. In fact, back in 1998, my husband and I said "I do" on Independence Day! Our two sons simply love celebrating our country's tradition by shooting fireworks. My eldest son even helps a family friend at a local fireworks stand. Needless to say, it was an easy decision for me to make a Stars and Stripes quilt. Let me tell you how to make your own!

This post contains affiliate links for your convenience. ? Read my full disclosure policy here.
MATERIALS LIST
Stars and Stripes Quilt Pattern by Camille Roskelley for Thimble Blossoms
(8) Fat Quarters of Red Fabric
(5) Fat Quarters of Blue Fabric
(1.25) yards of White Fabric
(2) yards of sashing Aqua Fabric (I've even seen it made with YARROW – Gorgeous!)
(3.5) yards of backing Fabric
(5/8) yards of binding Fabric (try THIS FABRIC for your binding – it's perfect)
64" x 80" cotton batting (this is the exact batting I used)
SUPPLY LIST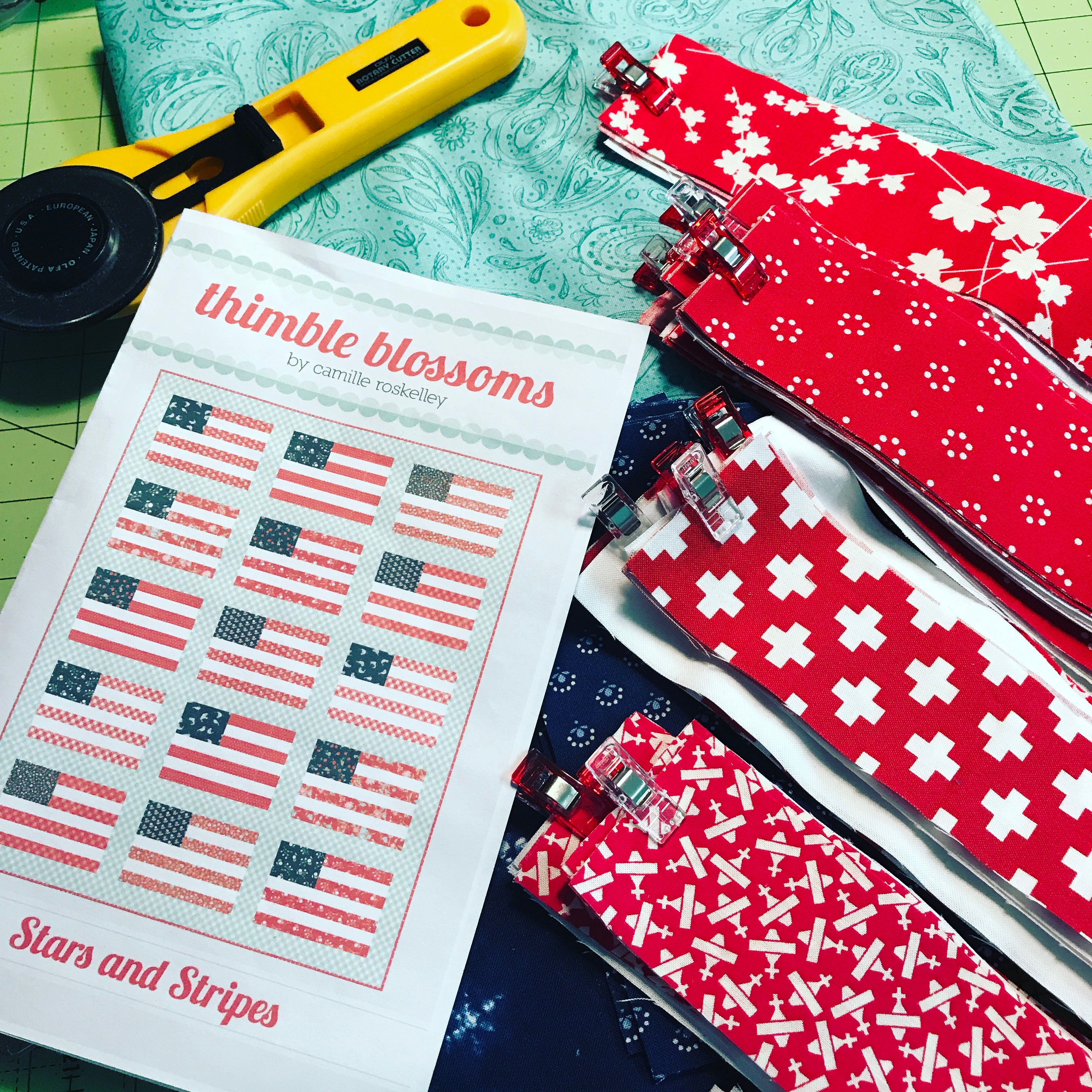 I am an active member of the Kansas City Modern Quilt Guild, which is a highly inspirational gathering of talented quilters. A fellow board member organized a fun activity called "Block Lotto". We chose this particular quilt pattern and color theme, so that all the blocks would be the same size and shape. In order to play Block Lotto, you need to bring a completed quilt block. In this case, participants would bring a completed flag block in exchange for a drawing ticket. Each completed quilt block would render a separate drawing ticket. At the meeting, there were over 180 quilt blocks turned in! WOW!!! That was enough blocks to make over 11 quilt tops! We did a drawing at the end of the meeting and it was sooooo much fun!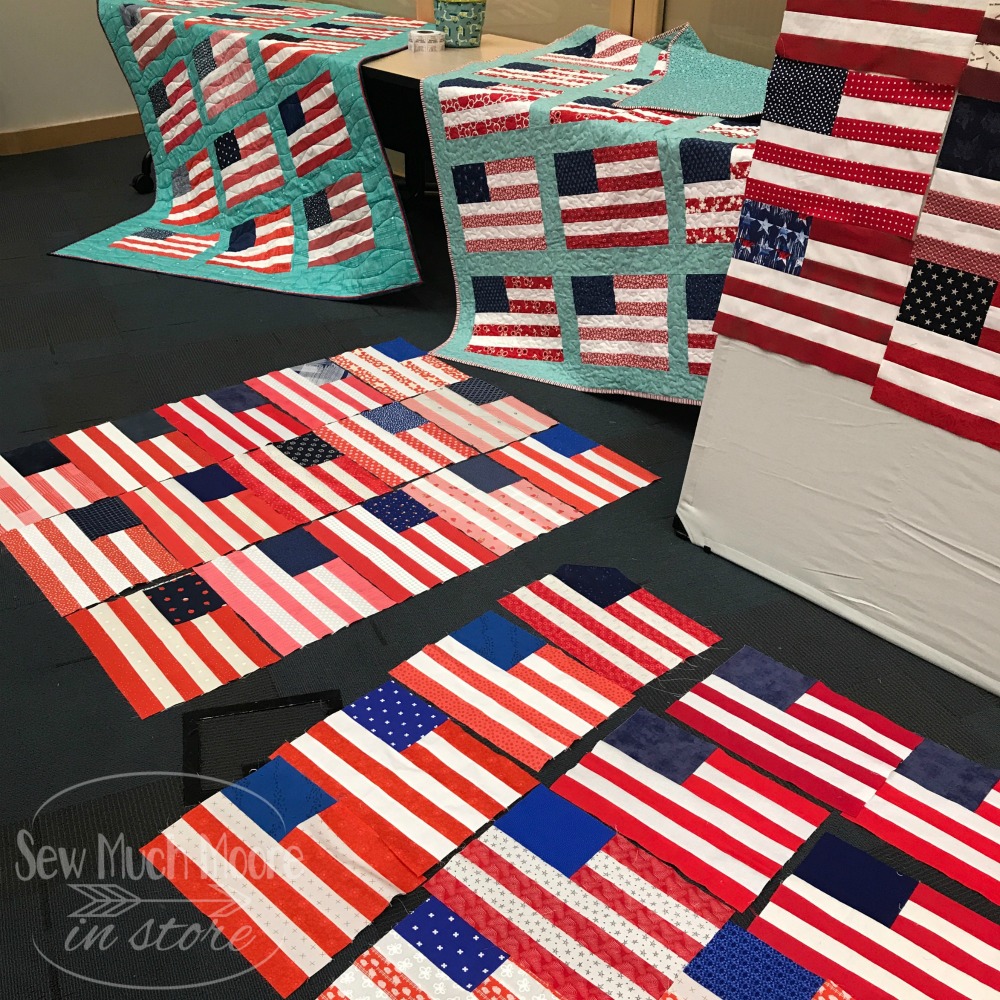 This quilt is a very simple project! I started cutting and assembling my quilt blocks while I was on a visit to my Mom's house. The cutting was very simple. It is my recommendation to layering a few like colored fat quarters to make quick work of this step. I was actually able to cut, sew AND quilt this project in less than one week! Normally, I don't start and finish a quilt in that short of a time span, but I really wanted to show a completed quilt at our Guild meeting (which was incidentally Flag Day)! I really love how it turned out.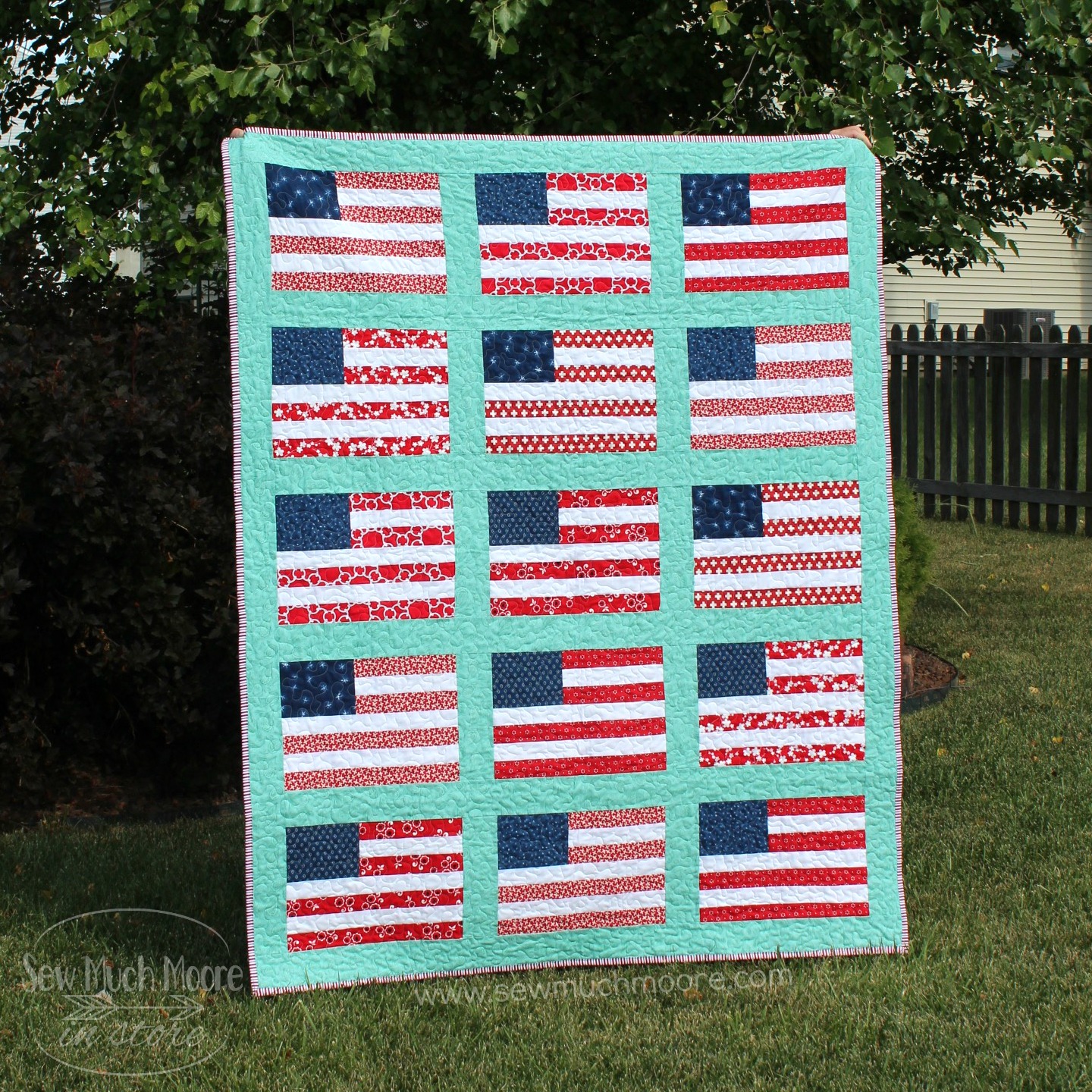 This will be a great quilt to bring to the city fireworks show. The kids are cuddling up with it already! I hope you make one too!
Be sure to join my Modern Quilts Facebook Group! Such a great community and lots of inspiration! See you there!
Happy Quilting!