You know about the Nine-Patch Quilt Block, right?  It's about as basic as peanut butter and jelly!  Kind of like the cornerstone (so to speak) of quilt blocks.  When I found out that my friend Jenifer Dick and Angela Walters were working on this book together – I was intrigued!  I have always admired Jenifer's work in this industry.  I got to know Jenifer through the Kansas City Modern Quilt Guild and love many of the quilts and projects she has shared with the group over the years.  When Jenifer asked if I could review her new book, I was beyond thrilled!  Let me tell you all about Jenifer and Angela's new book called the Nine-Patch Revolution: 20 Modern Quilt Projects!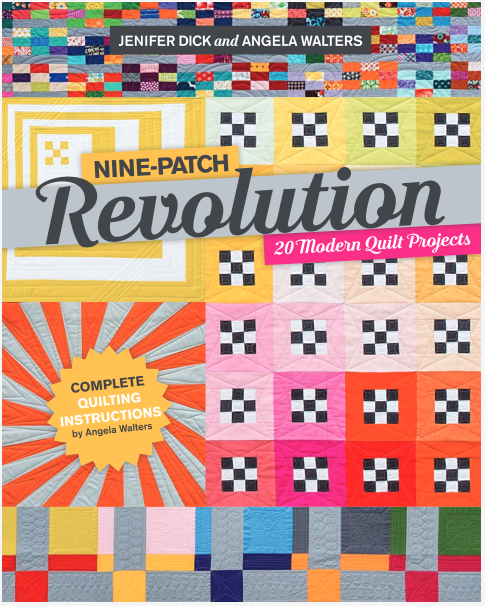 I was curious how Jenifer was going to take the basic Nine-Patch Quilt block and make it modern.  This gorgeous book is fully illustrated and packed with beautiful and inspirational pictures!  As the title suggests, there are 20 Modern Quilt Projects that are fully explained (everything you need to know to make these quilts yourself).  As a bonus, Jenifer has teamed up with Angela Walters who has also provided some extremely valuable quilting suggestions and inspiration for each quilt!  Let me show you some of my favorites from the book!
This post contains affiliate links for your convenience. ? Read my full disclosure policy here.
Nine-patch revolution – Nine-Patch 
Don't you just love that "X" in the center of the block?  Such a lovely surprise!  In her book, Jenifer does a great job of explaining the steps to create the "X" in the center of her scrappy nine patch block.  Jenifer makes note that this quilt is easily scalable since the finished blocks are 9 ̋ × 9 ̋. You can increase or decrease by multiples of 9 to create the size you want.  Yay!  Angela provides a wonderful illustration on how she quilted this quilt, using a continuous curve variation.
Nine-patch revolution -starburst
This is a fun and unique baby quilt!  Jenifer provides excellent instruction on the "starburst" design and also includes a free foundation paper pieced template.  Sometimes, picking out your fabrics can be a daunting task, but Jenifer has given some great advise and tips to make your selection process painless!  If you are new to foundation paper piecing – not to worry….. there are some excellent illustrations on this process for this pattern.  There are even tips on creating your checkered boarders quickly and efficiently.  Angela discussed her straight-line quilting technique for this project.  She even includes some useful step-by-step instructions that will get you quilting right away!
Nine-patch revolution -streaked lightning
I saved my favorite for last.  This quilt has me thinking of  my Dad, who was a HUGE race fan.  Perhaps it is the black and white that make me think of a race flag?  I truly love how the simplicity of the black and white nine patch is transformed with the colorful "Streaked Lightening" throughout the quilt.  Such an impact!    The block accents allow you to experiment with some improv cutting, so that precision is not necessary.   Whether you decide to make your quilt just like Jenifer's or choose your own colors; Jenifer gives you design advise on how to make those decisions.  Very helpful!  I also love the simplicity of Angela's echo straight-line quilting in the nine patch blocks.
If you are looking for inspiration and would like to try some of these modern quilts, I encourage you to get a copy of Jenifer and Angela's new book.  Pickup your copy from Jenifer's Website.  You can also add this book to your Amazon Cart.  Either way, you will be sooooo glad to add this modern book to your quilting library!  Check it out and let me know which quilt is your favorite!
Happy Quilting!