My week as a Juki Educator
As a Juki Brand Ambassador, I have had the privilege of representing and promoting Juki's products and brand. However, I was also given the opportunity to work as a Juki Educator, which is a different role altogether. As an Educator, my job was to help and assist others on how to use Juki's products effectively and efficiently. It was a challenging yet rewarding experience that allowed me to share my passion for sewing and help others in the classroom.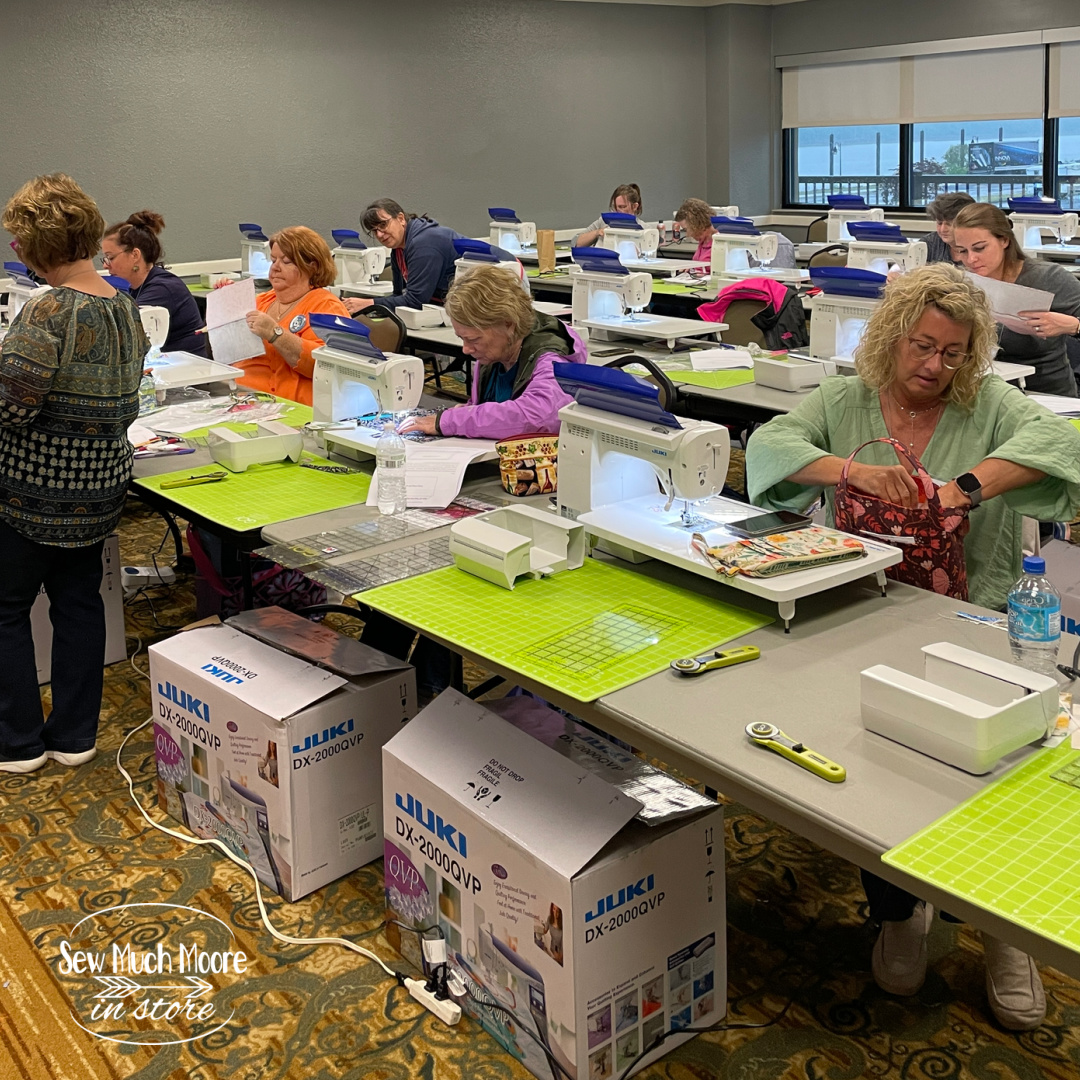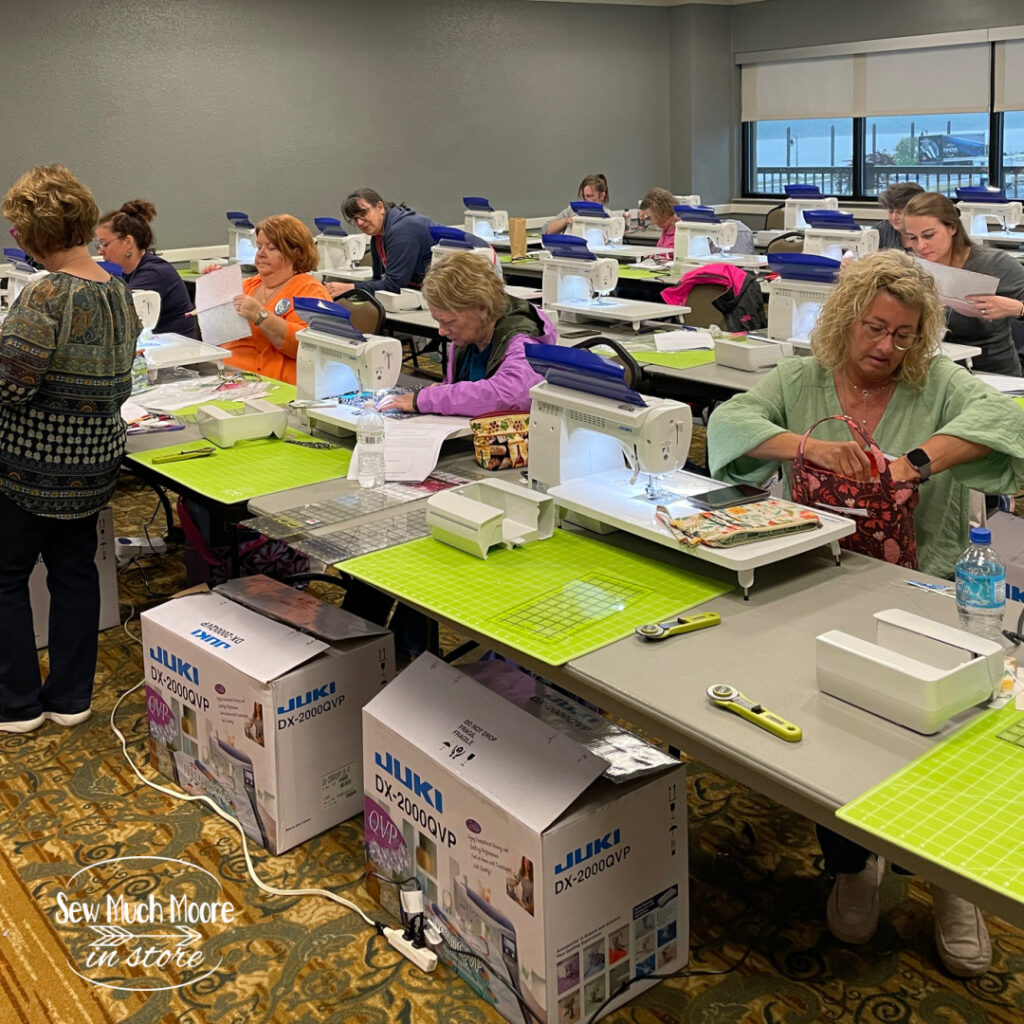 As a Juki Educator, I had the pleasure of attending the AQS Paducah Quilt show, where I spent time in the Juki Classroom, helping out with several classes. My colleague Kelly and I unpacked and set up 24 sewing machines, including the Juki DX-2000 QVP, which we featured at the show. It was quite a process, and we captured it in a fun time-lapse video that took us a few hours to complete. You can watch that little video on my Instagram.
Helping in the Classroom
Throughout the show, there were multiple classes held in the Juki Sponsored Classroom. Some classes were all-day affairs, while others were shorter, three-hour classes. Kelly and I split our time in the classroom, with each of us spending equal amounts of time helping.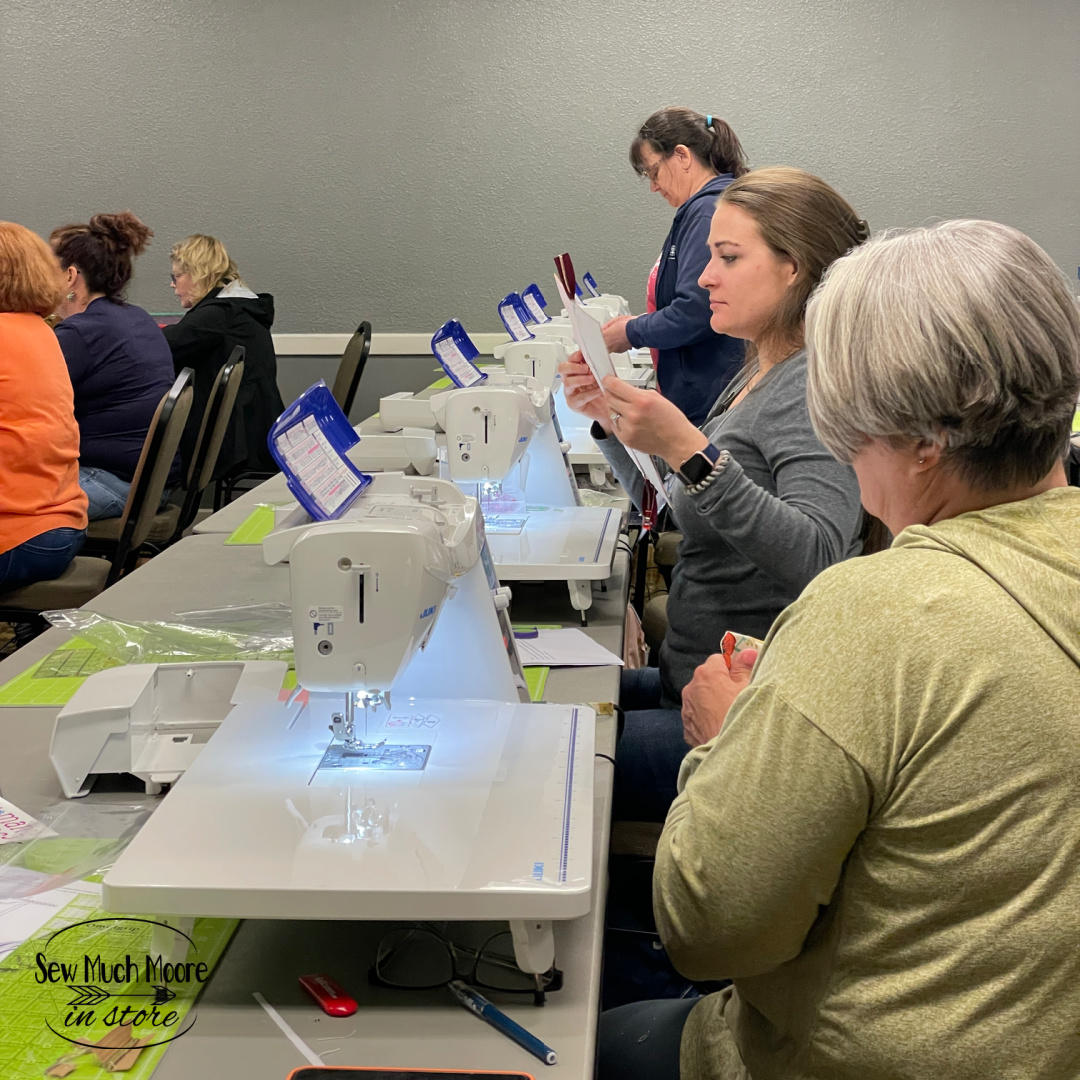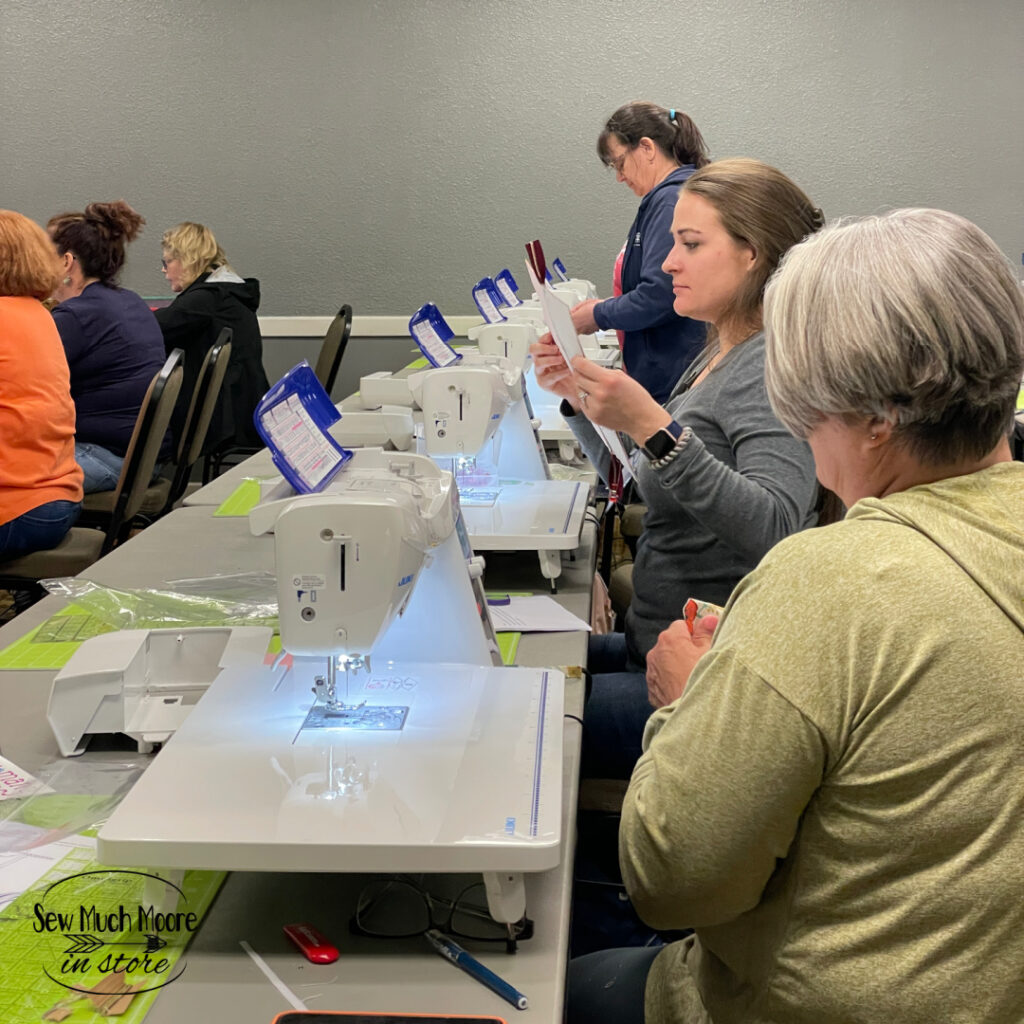 Depending on the class, we would switch out the presser feet to accommodate the instructor's needs for a particular lesson. Some classes required multiple presser feet changes, while others were consistent. We also helped with rethreading the top and bobbin thread and answered any questions about the machines.
Opposites Attract with Jenny Doan
I was lucky to help in several of the classes as a Juki Educator. One class that stood out was "Opposites Attract" with Jenny Doan, from Missouri Star, which concentrated on a quilt pattern featuring a quilt block on repeat.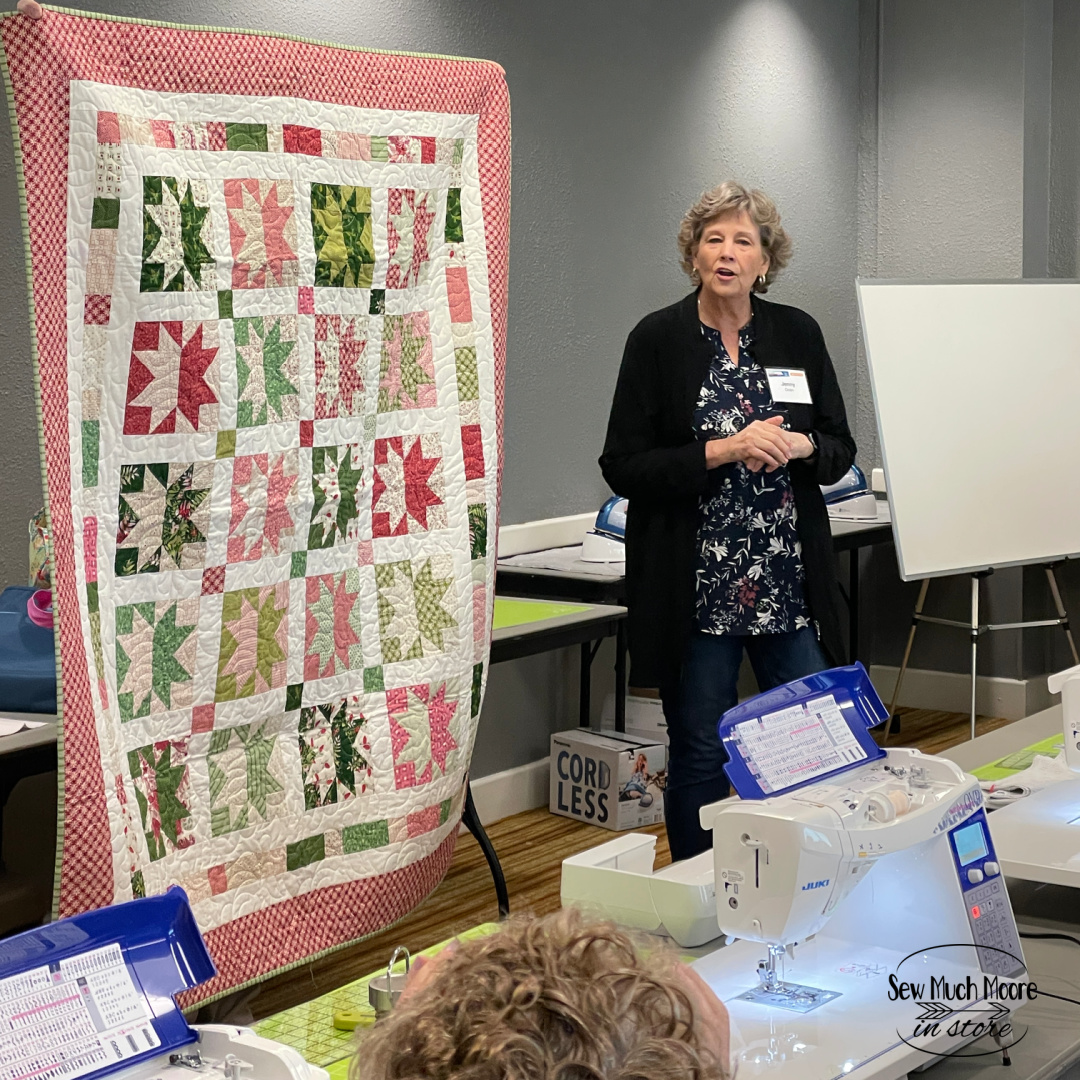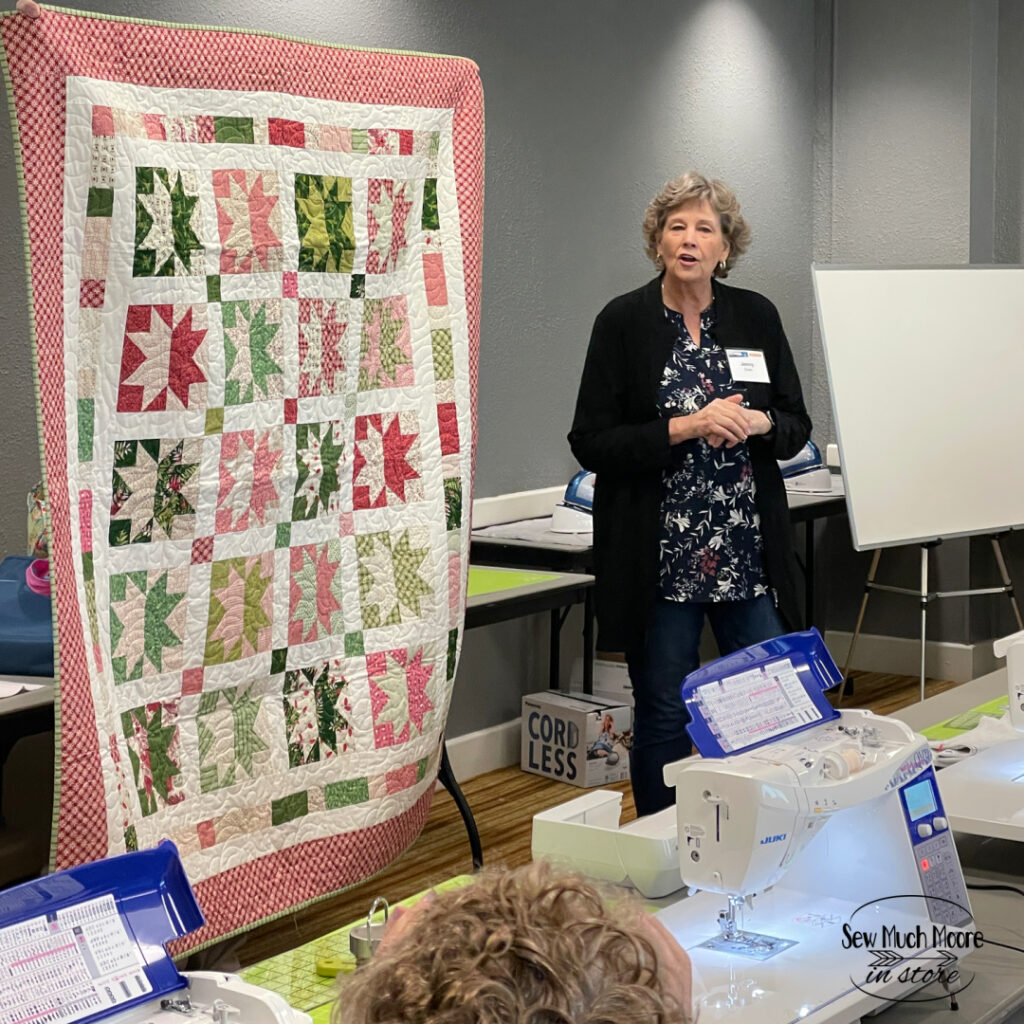 The class was taught by Jenny Doan, whose storytelling during instruction time was enjoyable to listen to. Her husband even joined the class to help, and everyone finished the quilt block and received ample instructions to complete the quilt at home. We used the patchwork foot, which comes with the Juki DX 2000 QVP, and didn't need to switch out presser feet.
Leading Lady Wristlet with Jessica VanDenburgh
Another class I assisted was "Leading Lady Wristlet" with Jessica VanDenburgh, the creator and designer of SewManyCreationsNY.com.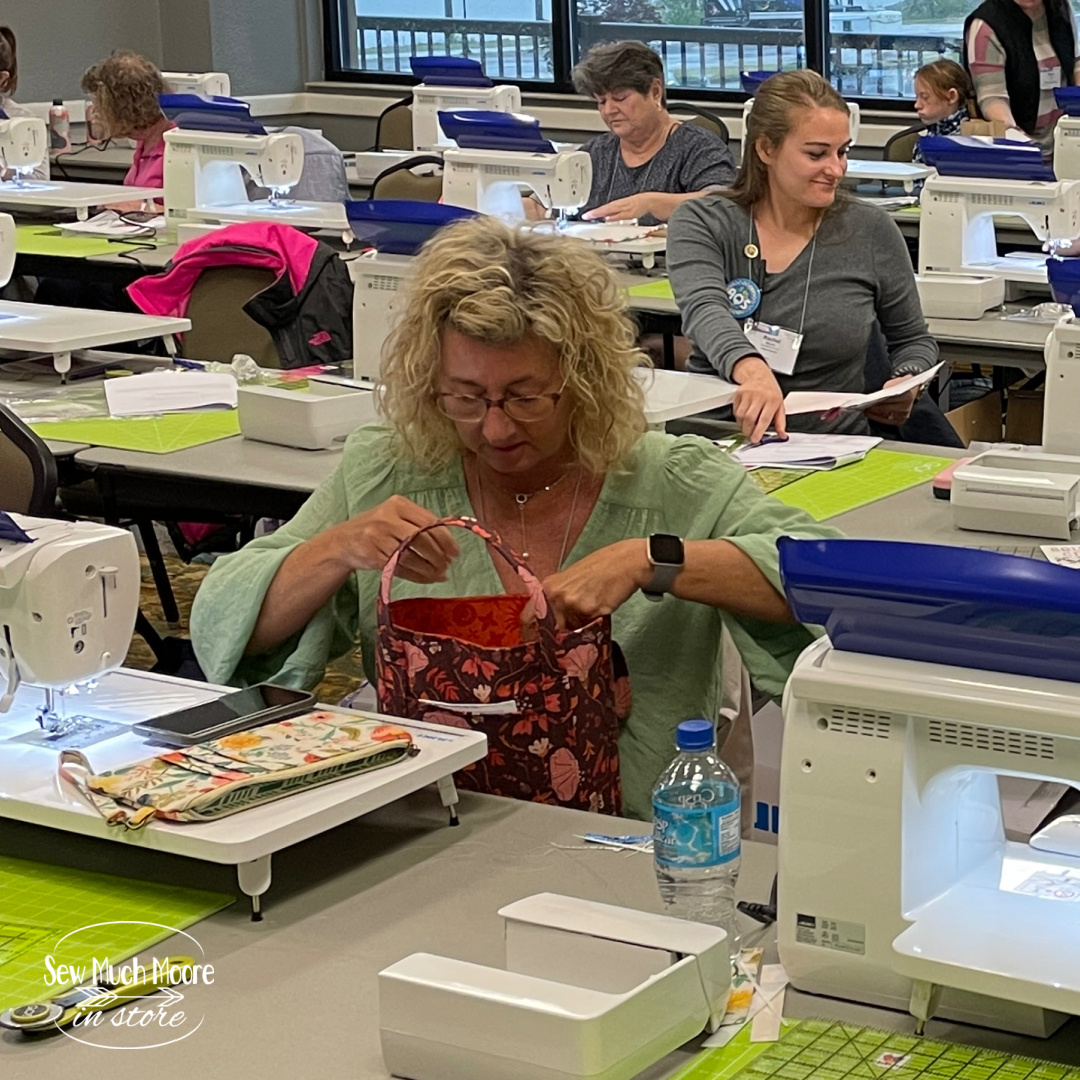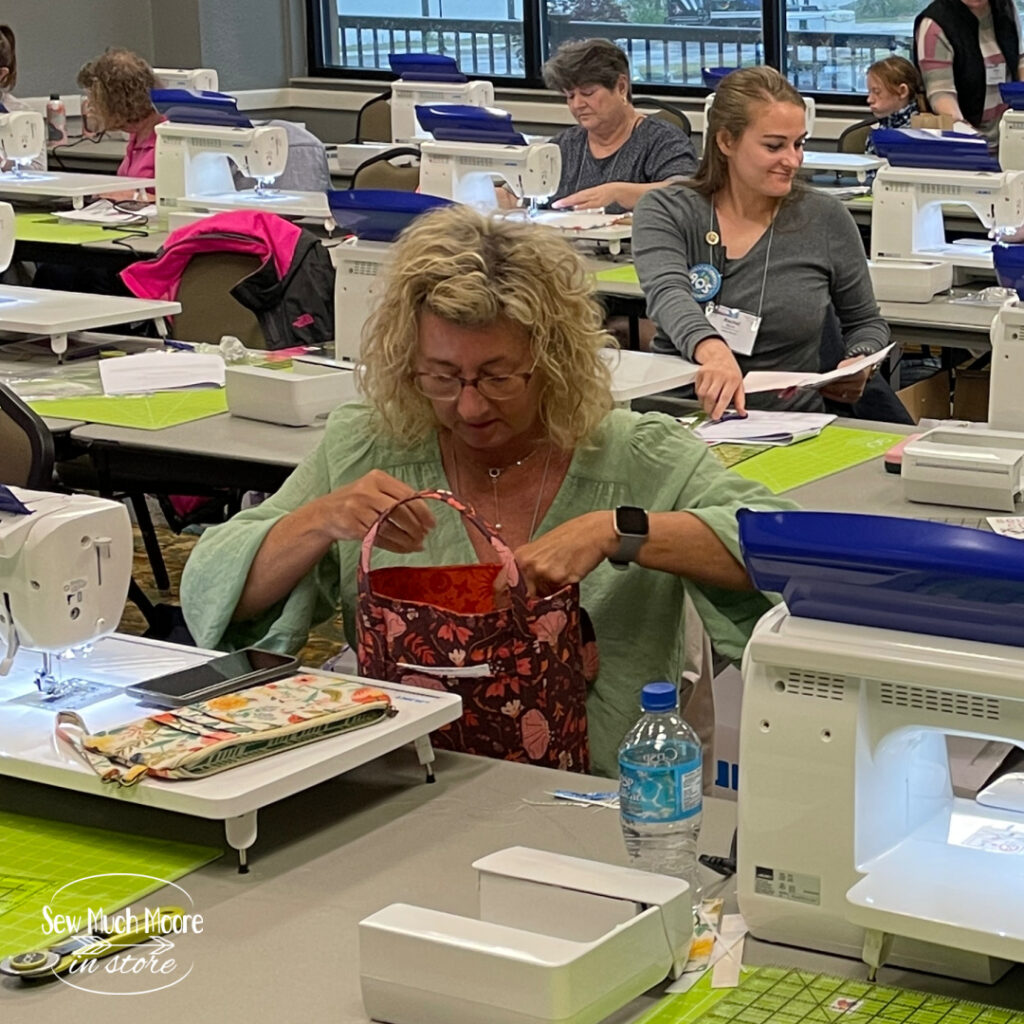 She taught a three-hour class on making a Leading Lady Wristlet, and everyone finished the project in no time. We used the standard presser foot and didn't need to switch out to a zipper foot since Jessica supplied a number five zipper, which is wider than a standard zipper.
Beginning FMQ with Shereece Nicole
Lastly, I helped in the "Beginning FMQ" with Shereece Nicole, with Sew Hooked on Treasures, who provided excellent instruction on several different free-motion quilting designs.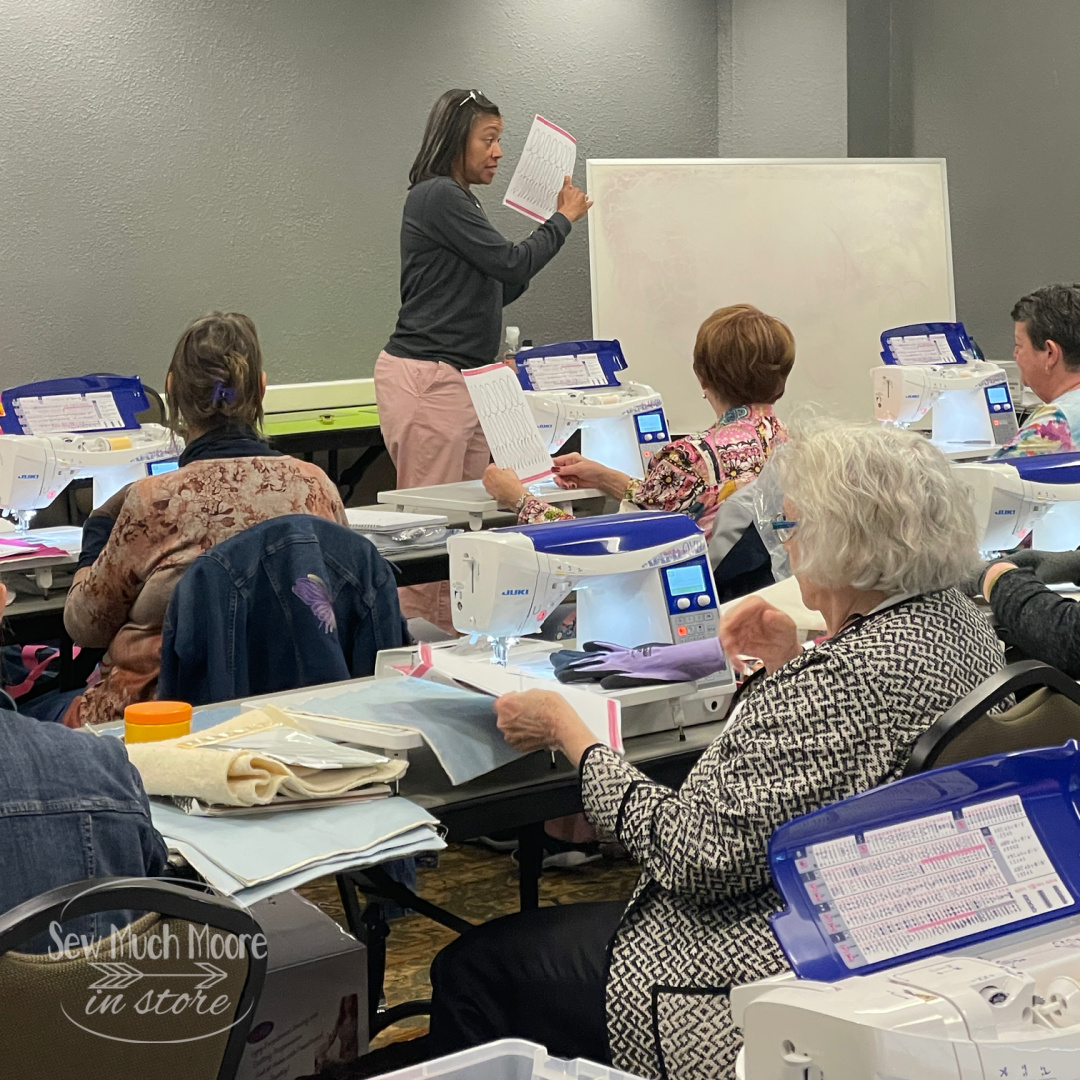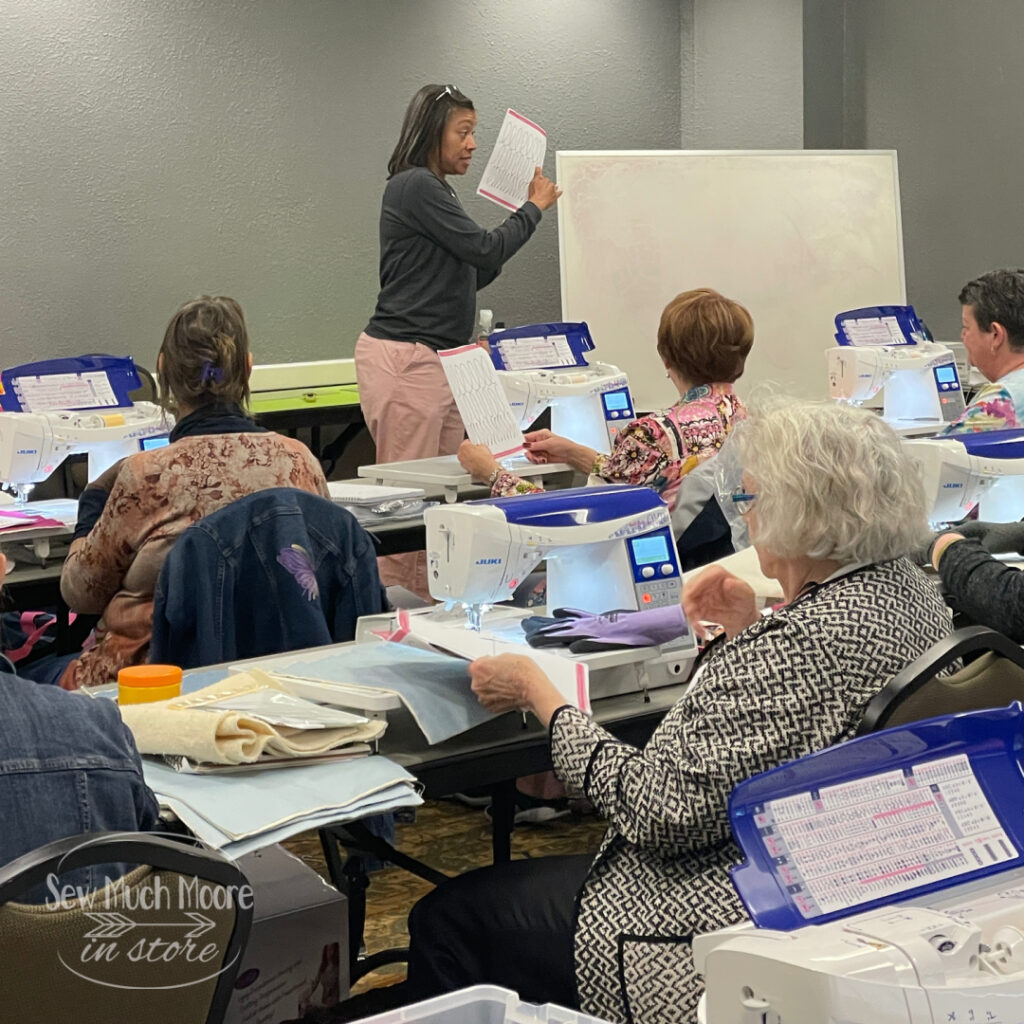 She walked her students through each design, ensuring they could find success with free-motion quilting. The Juki DX 2000 QVP comes with a large extension table and a free-motion quilting foot, making it easier for beginners to try their hand at free-motion quilting. It was great to see Shereece Nicole in person since I had not seen her since February at QuiltCon in Atlanta.
Packing it all up
As the classes ended, Kelly and I packed up all the sewing machines that did not sell. It was quite a task as we had to ensure that every foot, bobbin, attachment, and accessory was inside each box. There is even a little piece of paper (with Japanese print all over it) that goes between the presser foot and the needle plate!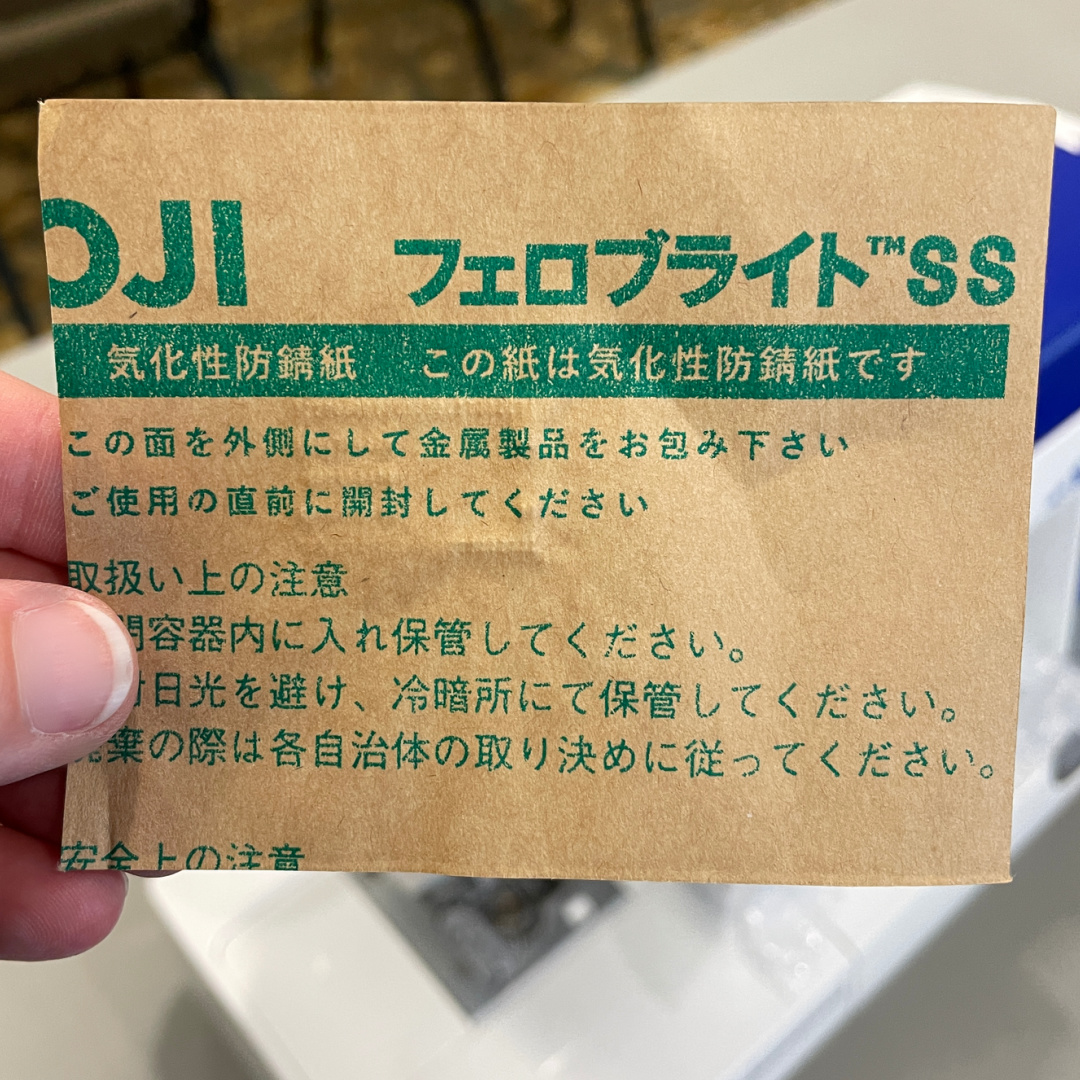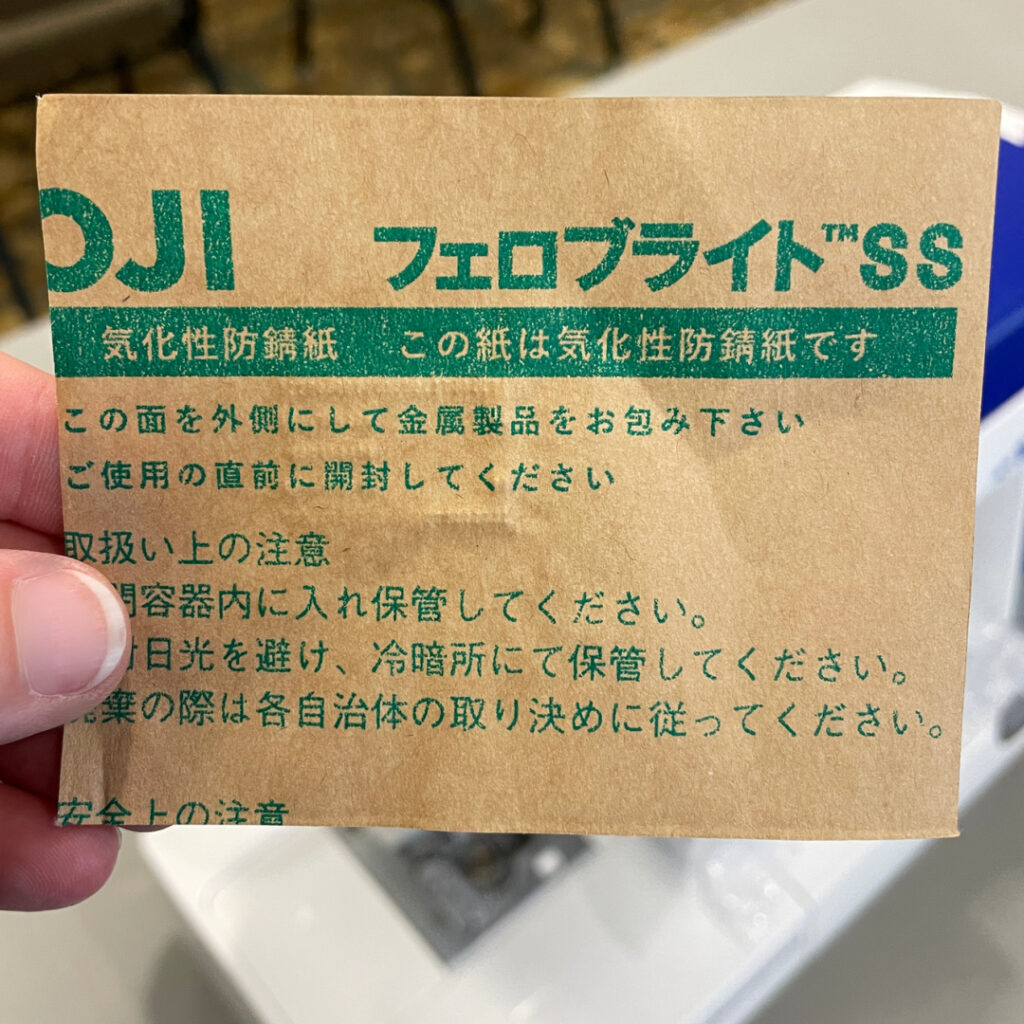 We also had to wrap everything back into plastic and make sure it was sitting inside the Styrofoam just right. Putting the machines back in their boxes took more time than setting them up. The organizers hired some help to lift all the sewing machines onto a pallet to ship them to their next destination.
Farewell to Paducah
Overall, my week at the AQS Paducah Quilt Show as a Juki Educator was a great experience. It was a lot of work, but it was so rewarding to be able to watch people learn new skills and complete their projects. I also enjoyed meeting some of the talented instructors and designers in the quilting community.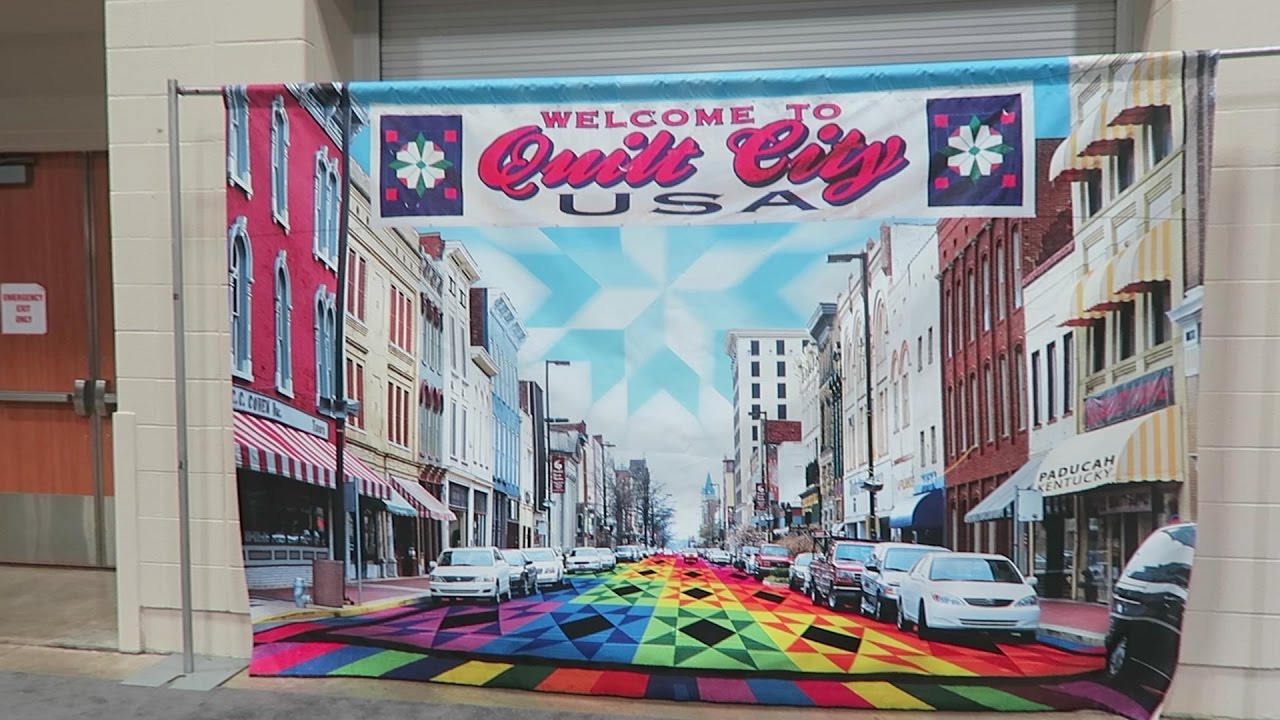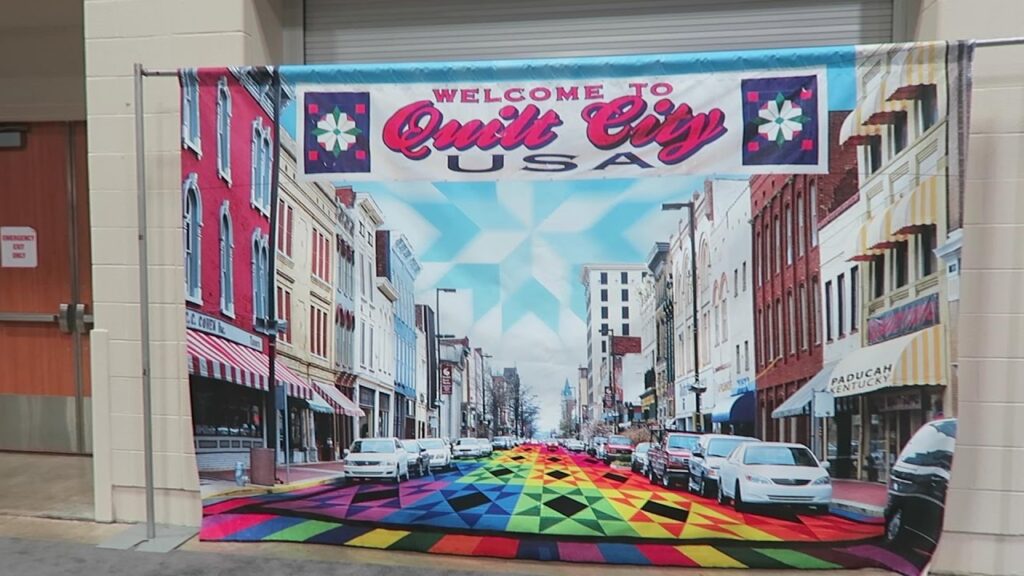 It was a pleasure to work with the Juki DX-2000 QVP sewing machine, which proved to be a reliable and versatile machine for all the classes we had. The only downside was that I didn't get to explore the entire quilt exhibit or spend much time on the vendor floor. Nonetheless, it was an amazing experience, and I'm looking forward to my next opportunity as a Juki Educator.
I would love to hear from you if you've ever taken a class at a quilt show and what your experiences have been. Leave those messages in the comments. I would love to hear about it.