It's never too early to start sewing and quilting for Christmas!  As makers, we are always thinking of ways to share our Handmade gifts with those we love.  Making a Handmade Christmas is the perfect way to show someone you care!  You can make a small, cherished mug rug, or even an entire quilt!  The choice is yours!  And talk about choices!  There are so many!  I recently went on an online scavenger hunt for some tried and true Handmade Christmas ideas and patterns.  I am super excited to share this collection of gems with you!  This collection of patterns is super affordable and most are absolutely FREE!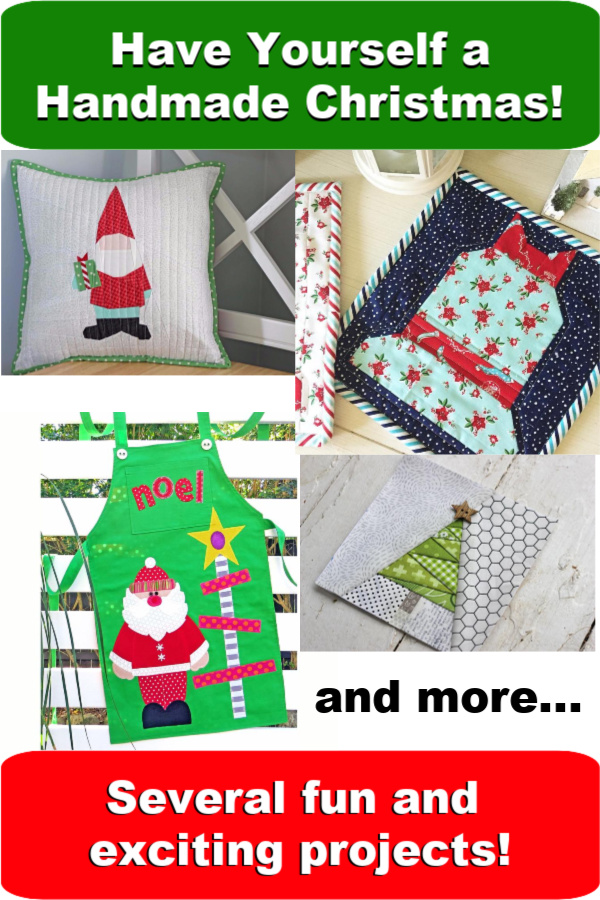 This post contains affiliate links for your convenience. 🙂 Read my full disclosure policy here.
Handmade Christmas – Foundation Paper Piecing
These patterns are fun and simple.  If you've ever tried foundation paper piecing, you will know how great these projects can be!  Not only do they turn out PERFECT, but they can also be added to other blocks to make a larger project!  I just loved these different patterns:
Christmas Gnome Paper Pieced Pattern
Geometric Christmas Tree FPP Pattern
Handmade Christmas – Gifts for Everyone!
If you are like me, you have a list of loved ones that you would like to make gifts for Christmas!  It's so hard to pick and choose who gets handmade, so maybe we should try some smaller projects?  Mug Rugs, Table Runners, Hot Pads and Child's Aprons are PERFECT quick projects!  Give these to your friends, neighbors, teachers, stylist (the list goes on and on)…  Here are a few ideas that should get your creative juices flowing!
Patchwork Table Runner with Hot Pads
Handmade Christmas – Who is "Quilt Worthy"?
Let's face it – not everyone is "Quilt Worthy"!  We all know how much work goes into making a quilt!  Quilts take lots and lots of time and and whole lot of supplies!  I mean, fabric isn't cheap!!  So, if you have a loved one that you want to make a Christmas quilt for, I have some fun recommendations for you!  Some are smaller Mini Quilts (which make really pretty table or wall decor) and some are full blown Quilts!  I found a fun patchwork project and a few improv patterns as well.  Let me show you my favorites!
Well, I'm pretty excited about this year's Handmade Christmas possibilities!  I already have the Improv Christmas Tree Quilt in progress and hope to finish this UFO before Santa comes!  I hope you find this collection of ideas inspiring as well!  Now, let's get to work and start making a fabulous handmade Christmas!  What else is on your Christmas Sewing list?
Tell us in the comments!
Happy Stitches!
Check out these Seasonal Posts!