Baskets are storage workhorses! They provide easy organization solutions, plus they're stylish and can add warmth to any room in the house. Making fabric storage baskets takes style to another level. You can make these for any season and even for everyday! I've seen these fabric baskets used in many, many ways! These are great for baby shower gifts. Just roll up some newborn diapers and other baby notions into a fabric basket – Voila! Make it even better if you choose a nursery theme fabric! Winning!!! I made one for a recent High School graduate. She chose the fabric of her (soon to be) college and she used it in her graduation party as a collection basket for her greeting cards! Perfect!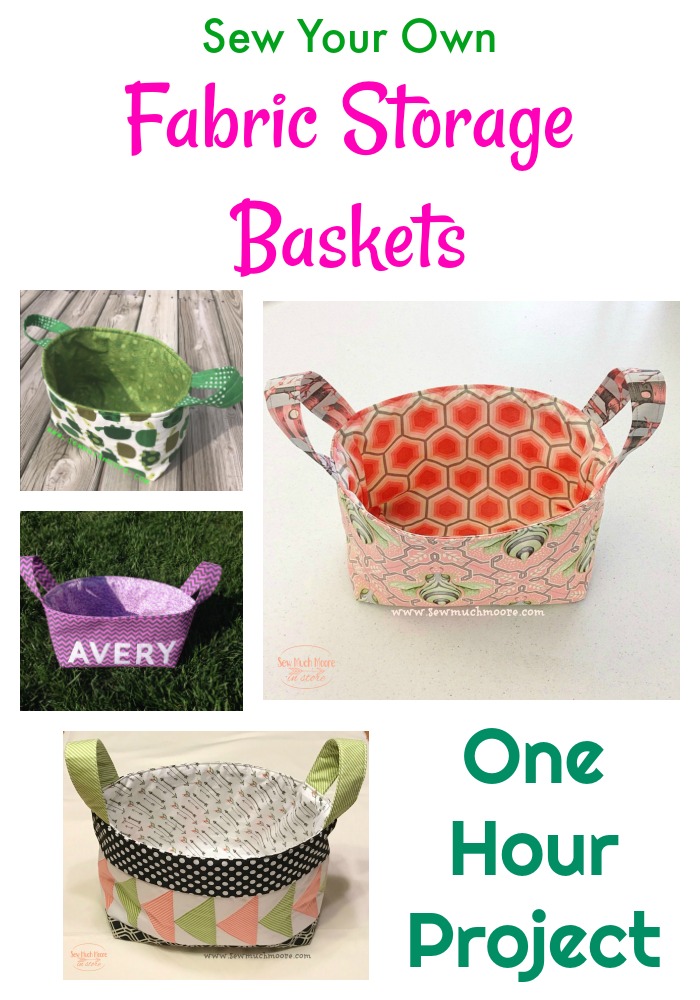 One of the best solutions to a lack of storage are baskets! Even better – DIY FABRIC BASKETS!!!
Ask any sewing enthusiast if they have enough storage. You will most likely receive a unanimous "Of course not" for a response! I have several in my sewing studio that I use for various items. One of my baskets is dedicated to all my saved fabric selvages. I used these selvages to make a project bag. You can check that out right here. Am I the only one that saves those?!?! Making Fabric Storage Baskets is super fun and easy! Let's get started!
~Supply list~
I really love the pattern and design of the One Hour Fabric Basket by our friends at Hearts and Bees. This pattern is an instant download and you only need some basic supplies to make your basket. This is a basic sewing pattern with a pictorial tutorial. I love that! You only need to have some basic skills necessary, like how to sew various size seam allowances and how to top stitch. Easy Peasy!
The sizing and finished measurements of the fabric basket are 10″L x 6″W x 7″H. This is the perfect size for storing fat quarters of fabric. The width fits folded fat quarters perfectly! Do you love how mine turned out? I used a retired fabrics by Tula Pink. Sorry – those prints are LONG GONE (unless you want to pay over $30 for a Fat Quarter). I also altered the pattern by adding a fusible interfacing. This gave my basket a nice form and shape. I gave this project a little sass by quilting along the existing fabric lines. Nice!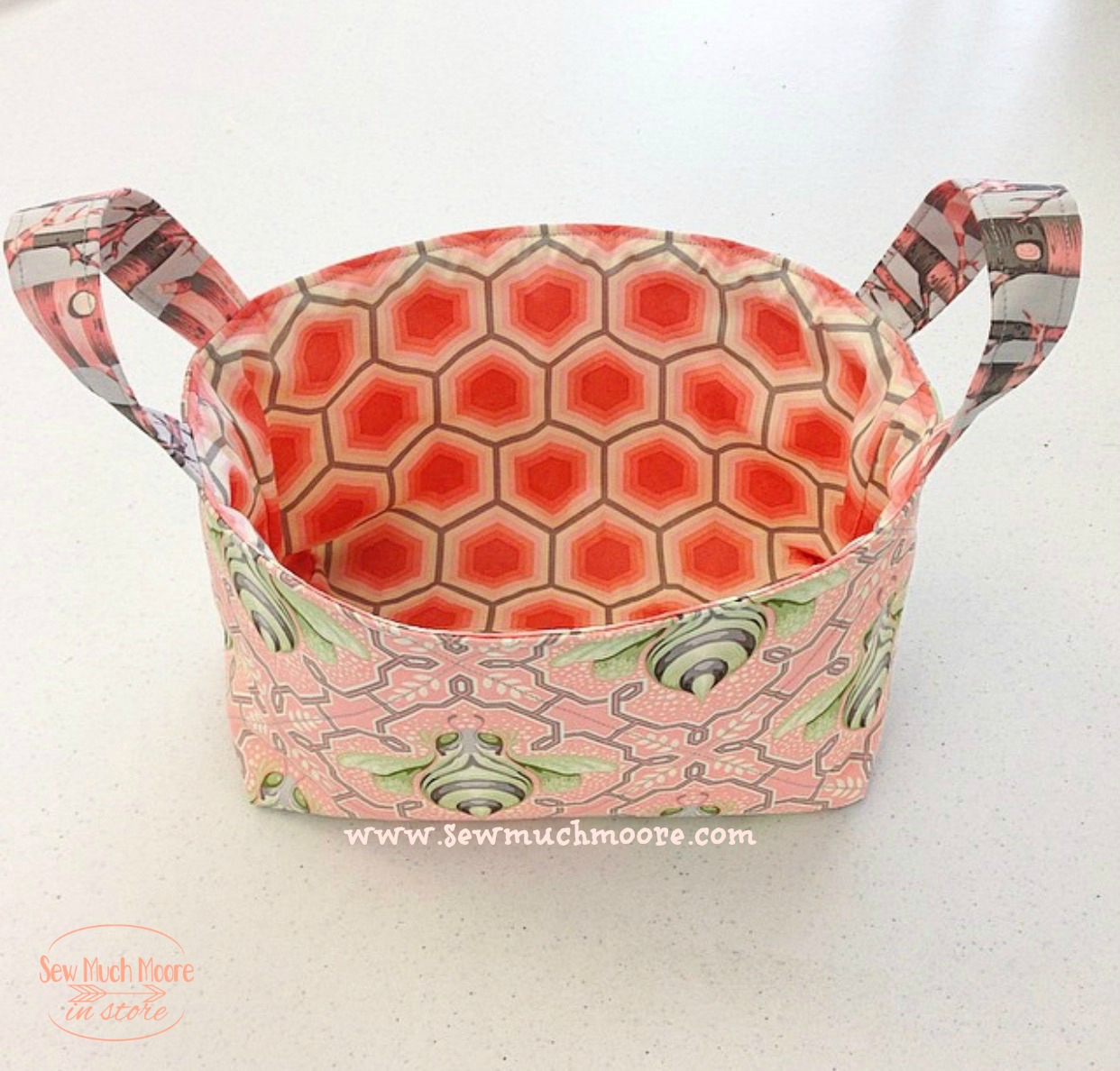 Why I made Fabric Storage Baskets
My Local Quilt Guild, The Kansas City Modern Quilt Guild, hosted a Christmas swap and we chose this pattern. My secret swap partner and I made each other a Fabric Basket. I love all the extra detail that my partner put into the basket that she made. She added some flying geese and coordinated this with the interior arrow fabric! I use this basket everyday to store my extra sporty fabric (which I give to my mother to make baby jackets).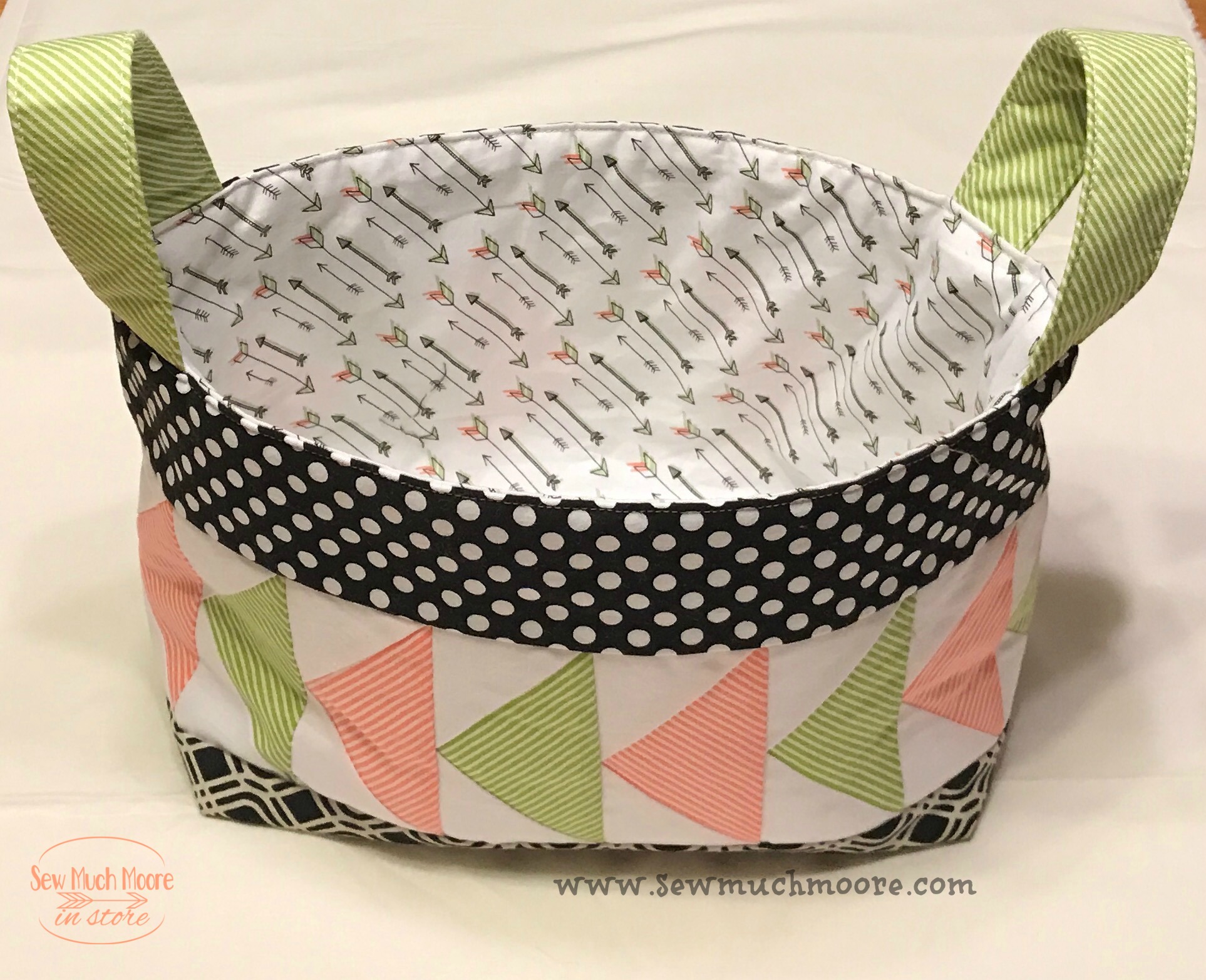 This pattern includes multiple size options! Make different sizes of Fabric Baskets with this additional pattern. The options are really fun!
This basket is perfect to use for everyday storage!
Happy Sewing!