So you want to gift a handmade quilt. Wow! You've just spent a lot of time (and probably a lot of money) making a quilt. Whoever is receiving this quilt is extremely fortunate! Gifting a handmade quilt is like giving someone a hug that keeps on hugging them. Did you know that some people don't even own a quilt? They have blankets (which we know are NOT the same as quilts). These new quilt owners should definitely appreciate their new quilt, but they probably don't know how to care for it or use it. Some folks think they need to store it away so nothing ever happens to it while others might throw it in the back of the car for a day at the beach. Whatever the case, I've come up with a few things to consider telling folks who receive your handmade quilt.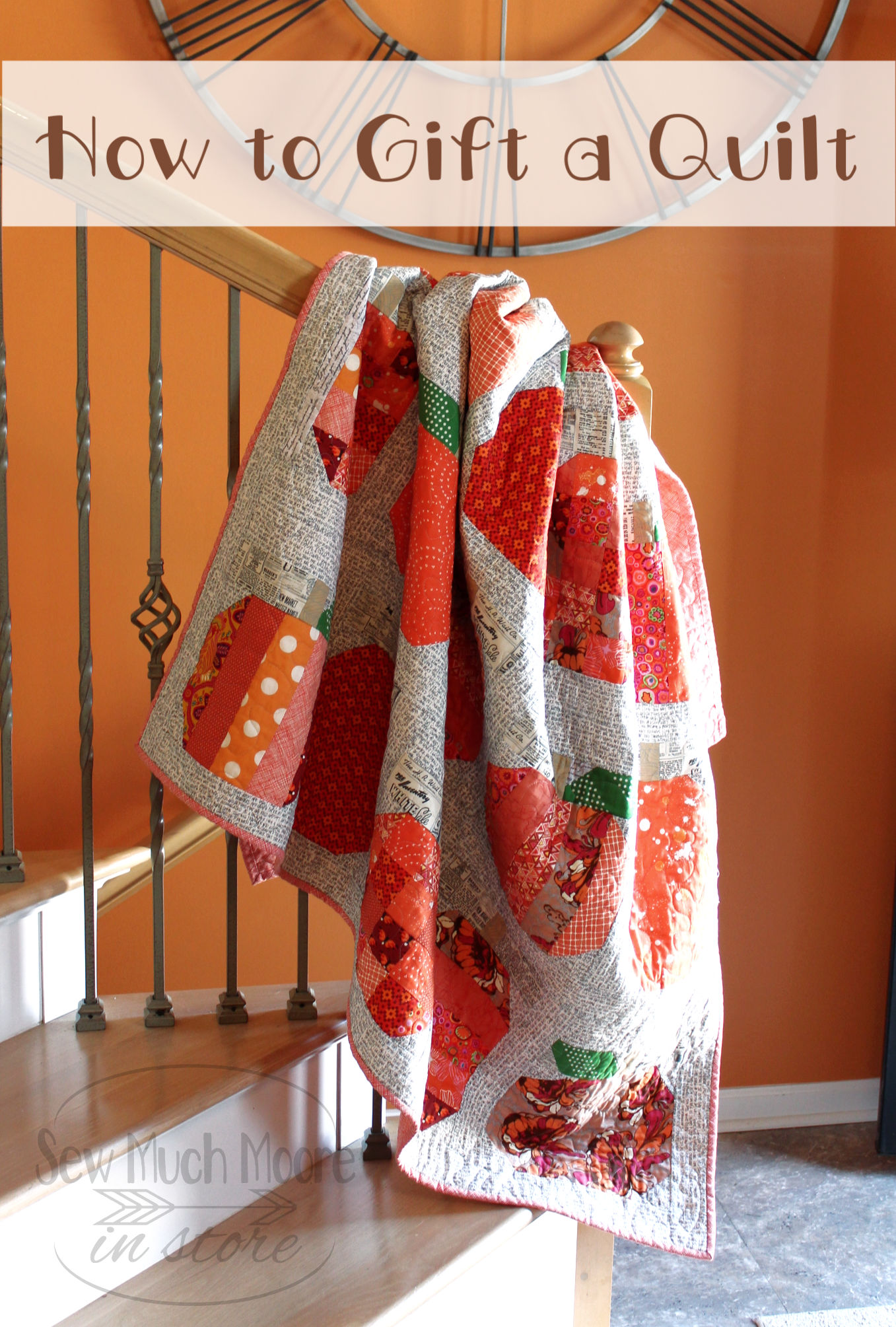 USE THAT QUILT!
One of the reasons we gift a handmade quilt is so that our loved ones will use it! There are lots of ways to use a new quilt! Unless the quilt is an antique family heirloom – we should encourage folks to USE THAT QUILT! Here are a few common examples of how to use your new quilt.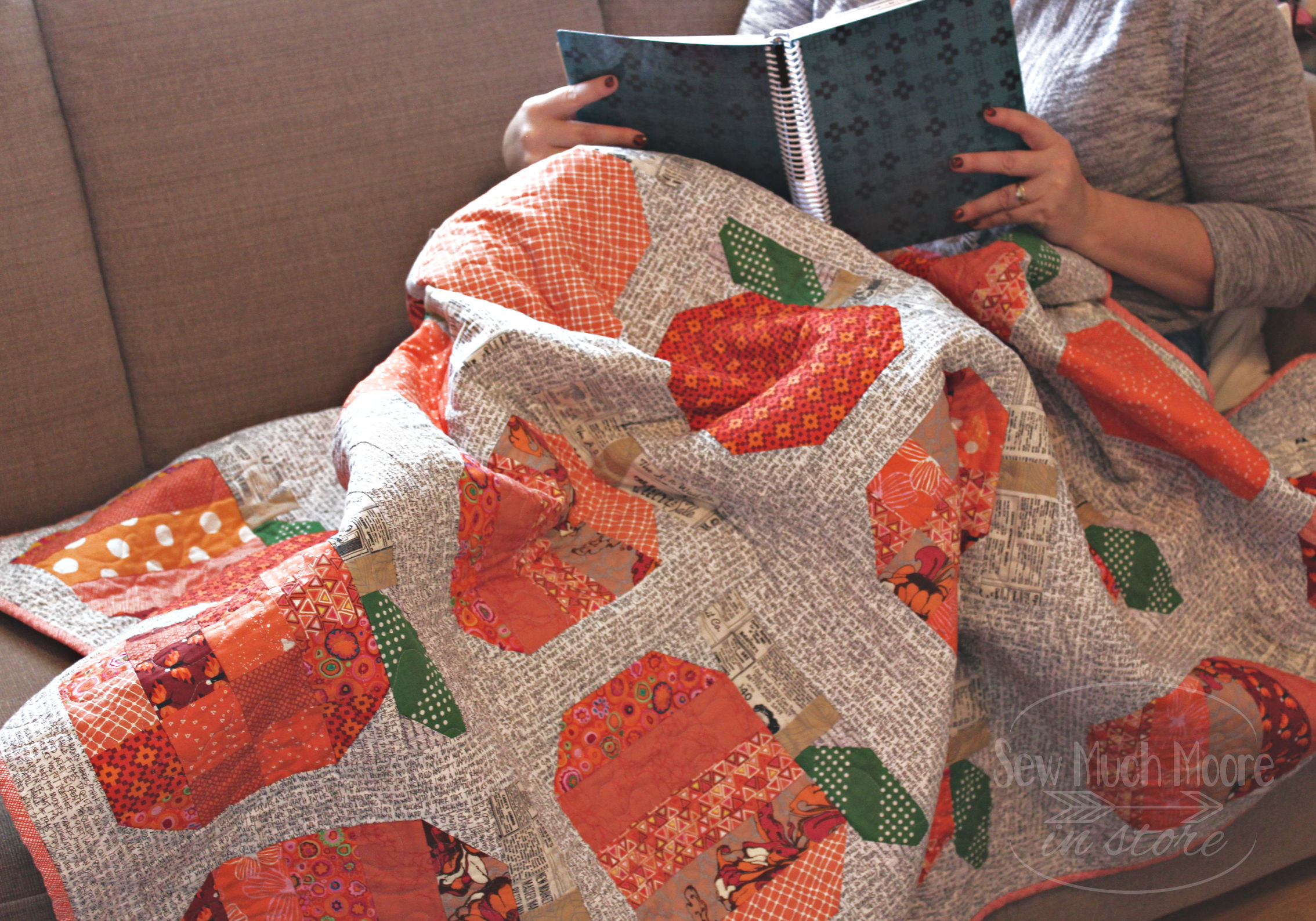 Lay that new quilt on a couch or chair

This is especially great for seasonal quilts and for curling up with a book

Show it off by using on a bed

It is so great when handmade quilts coordinate with existing decor

Bring it in the car

Tshirt quilts and lap-sized quilts are great for this!
Wash it, sometimes
Quilt owners may consider spot cleaning their quilt (unless it definitely needs a complete submersion). We typically wash our bed quilts just a couple of times a year (maybe more for the teenager's beds – LOL).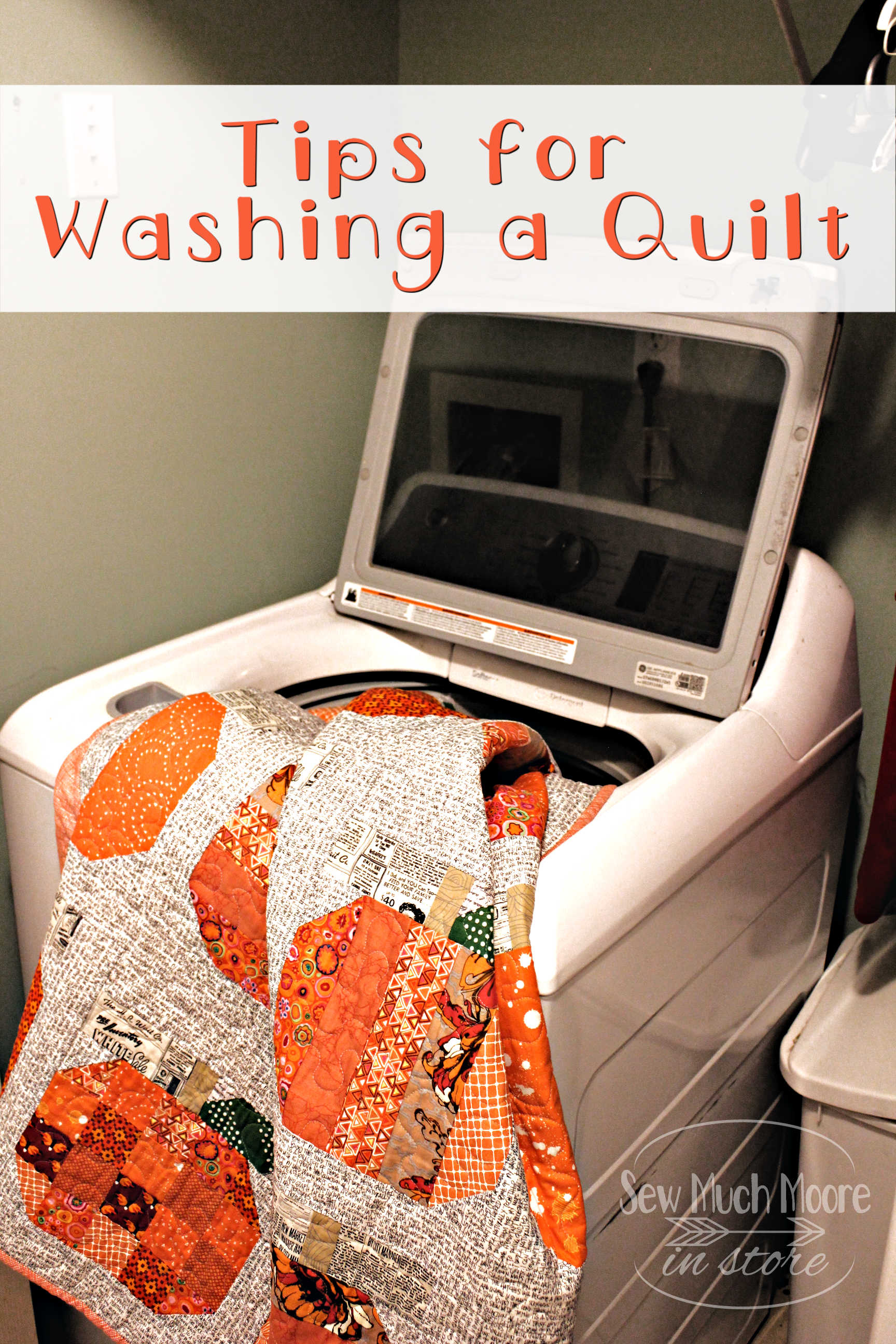 This post contains affiliate links for your convenience. ? Read my full disclosure policy here.
Be sure to use mild soap in the washing machine on a gentle cycle.

I can recommend this mild detergent.

You can gift them a bit of soap in this container and let them know that it only takes a small amount for a single washing.

Be sure to have them only use cold water when washing a handmade quilt.
It is always nice to include a color catcher and give them instructions on how to use a color catcher. If you use quality fabric in your quilt – you should have minimal color bleeding. That's why I love the fabric in my online shop – It's of the highest quality and has never bled out!
Can you put a handmade quilt in the dryer? You may want to give them special instructions if your quilt has lots of applique or embellishments that might be hindered with a tumble in the dryer.

I put lots of my finished quilts into the dryer to get that wonderful crinkle effect, while others I like to dry outside in the open air. You can decide which is best for your particular quilt. I would recommend using the LOW HEAT setting if you decide to use the dryer with your washed quilt.
Add a quilt label
When we gift a handmade quilt, we want the recipient to remember some of the important details of their new quilt! Creating and attaching a quilt label is a great way to do this!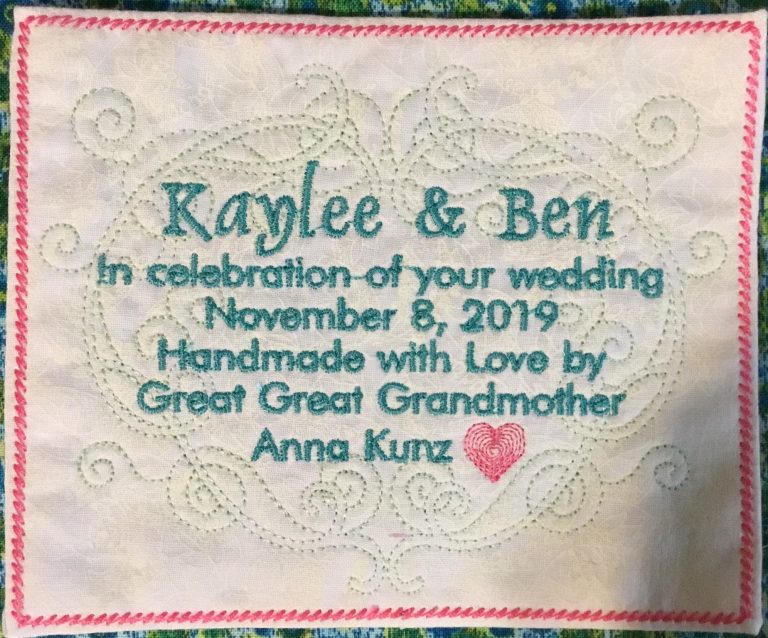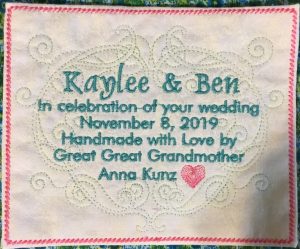 Check out this custom embroidered label offering from Silver Lining Quilts.
Things to add to your label

Give yourself some credit and help folks remember where this labor of love came from! Your quilt recipient will thank you for it!
It's a good idea to mention who the quilt is for (even though it might seem obvious at the time)
Put a date on it for posterity sake!
If the quilt was made for a special occasion – go ahead and mention that as well!
Give them printed instructions!
I have created a PDF Printable Document that you can use in your greeting card or print it on cardstock and make it your primary card! There are several occasions to choose from!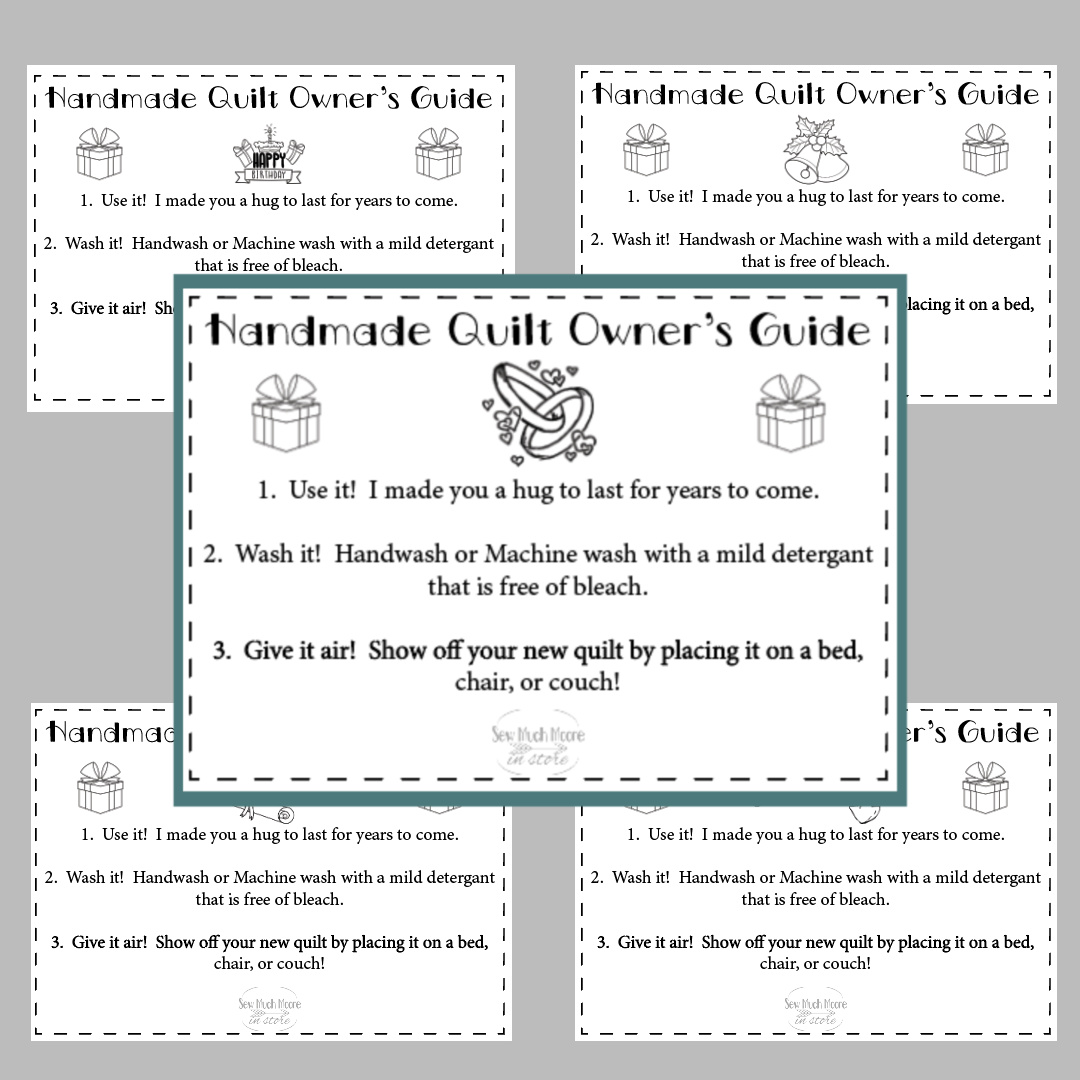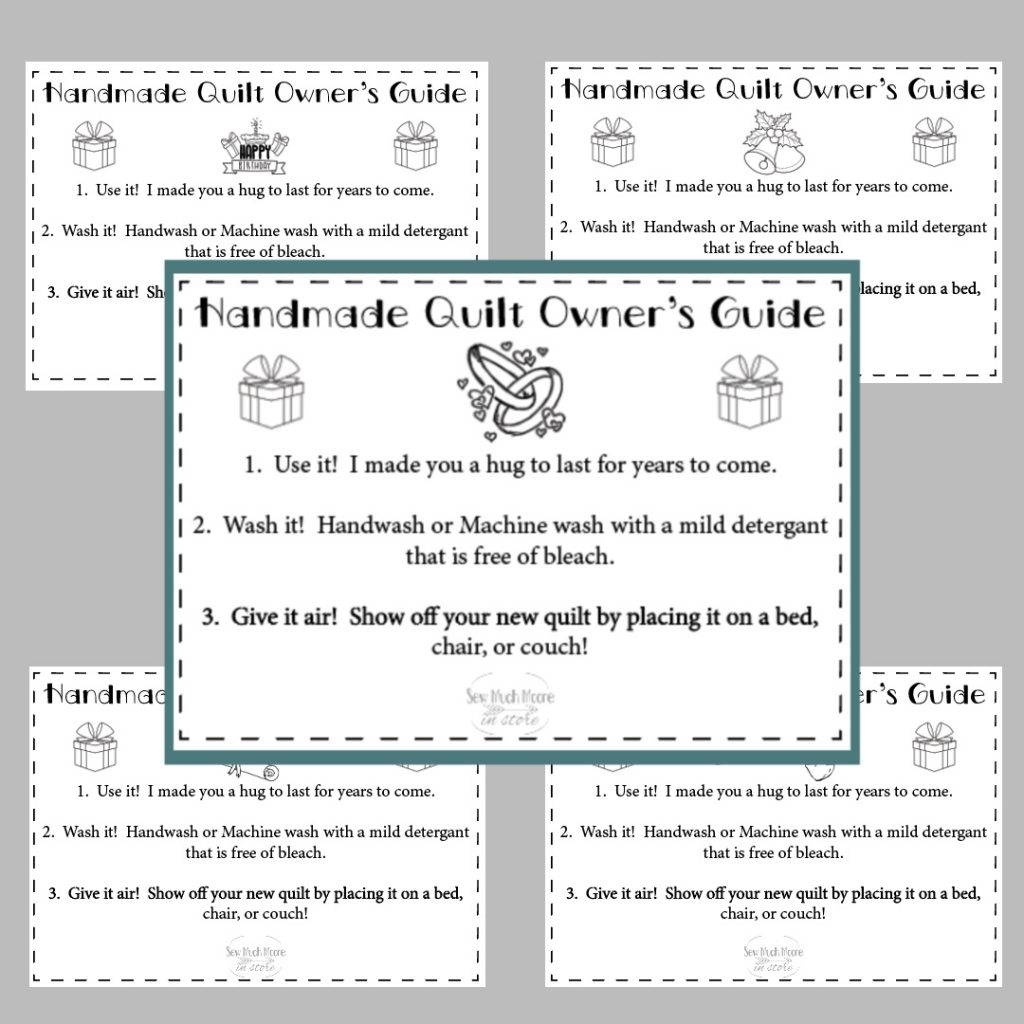 These PDF Printable Documents explain the most important things for a new quilt owner to know about their handmade quilt! Use these instructions when gifting your handmade quilt and help those new quilt owners be confident with their new quilt!
I hope you make lots of quilts for gifting this year! Nothing gives us more joy than spreading the love of a handmade quilt! Be sure to share your finished projects in my Facebook Group! We love to see what you've been working on!
Happy Quilting!