Being a member of a Modern Quilt Guild has it's benefits!  Our local Modern Guild, KCMQG, arranged to have Sara Lawson come for a lecture and workshop!  Sara's lecture was very informative and she even gave us each a swatch sample of many different kinds of interfacing.  Sara's workshop was sold out and all the attendees were excited (and some were a little nervous) about making the Amethyst Project Bag.  Let me tell you all about it!
This post contains affiliate links for your convenience. ? Read my full disclosure policy here.
This bag features ample storage space for any project or hobby – quilting, drawing, hand-sewing, and so much more! The lining features a zippered pouch, mesh zippered pocket, and elastics for holding pens or other items. The bottom of the case has an elastic buckle strap to hold quilt blocks, books, and rulers.  I plan to put some current UFO's in mine and easily take it to a Sew Day or Quilting Retreat!  Let me tell you what you will need to make your own!
Amethyst Project Bag SUPPLY LIST
3/4 yard of Exterior Fabric
1 yard of Lining Fabric
1/2 yard of foam interfacing  – like by Annie's Soft and Stable
2 yards of 20" wide Pellon SF-101 Shape Flex fusible woven interfacing
1-1/2 yard of Pellon #71 Peltex fusible ultra-firm interfacing
40" handbag zipper (I get all my zippers here)
9" all-purpose zipper
14" all-purpose/dress zipper
14-1/2" x 5" piece of mesh (lots of color choices here)
1/2 yard of 1/4" wide elastic
1 yard of 1" wide elastic
Plastic side-release/parachute buckle (it should be able to accomodate 1" wide strap) – check out the color choices here.
Basic Sewing Supplies Needed
Amethyst Project Bag – construction
As I mentioned above, we constructed this bag in a workshop.  There were close to 20 of us gathered together.  Prior to class, we were instructed to pre-cut and fuse all our fabrics.  I had a tough time figuring out what fabric to use for my exterior, so I decided to sew a bunch of my saved selvages together to create my own exterior fabric!
We got started at 9:00 am and worked through the early afternoon.  The first thing we did was assemble the interior.  Many of the class participants went outside of the pattern and made some custom modifications to the pattern.  Some added more pockets while others made their elastic spaces wider to accommodate different sized tools.  I followed the pattern and love how it turned out!  Here is my interior.  I added the elastic after I took this picture…
I think the most challenging part of the pattern is fitting the long zipper around the bag.  Sara to the rescue!!!!
If you ever have the opportunity to host Sara at your local guild, you will definitely want to also book a workshop.  We all had such a great time and Sara is a wonderful instructor!  Sara also explains this pattern in a video.  She takes you through the pattern (step-by-step) and helps you finish!  Check out this little trailer that explains her instruction video.
You can learn more about getting her full video (over 2 hours of instruction) right HERE.  Several of us finished and most of us were REALLY close to finishing.  Whenever I take a class, I am usually a Chatty Cathy and finish mine after the class is over.
Amethyst Project Bag – all finished!!!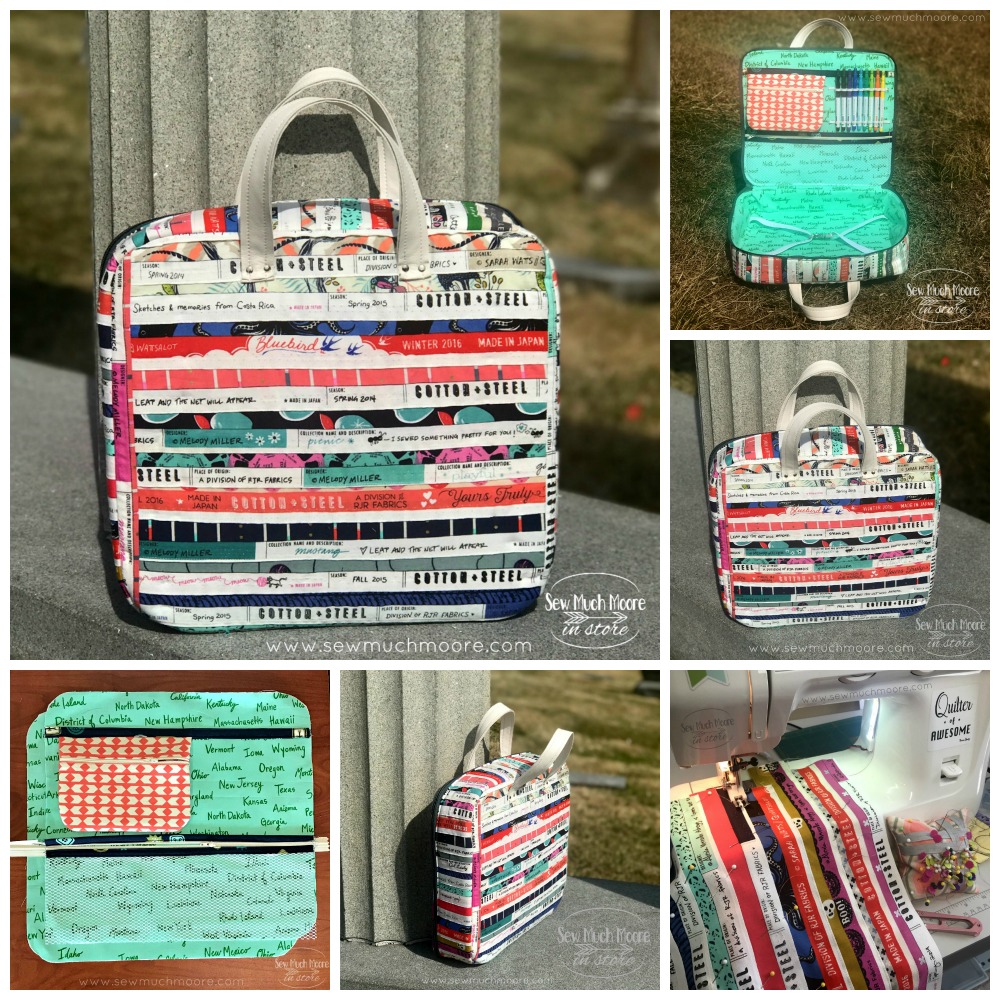 I really love how my Amethyst Project Bag turned out!
Update (one year later):  I still use this useful bag!  It currently holds my "forever" UFO.  I take it with me to sewing retreats so that I can be sure to work on it each time.
And who can resist a group photo!???!!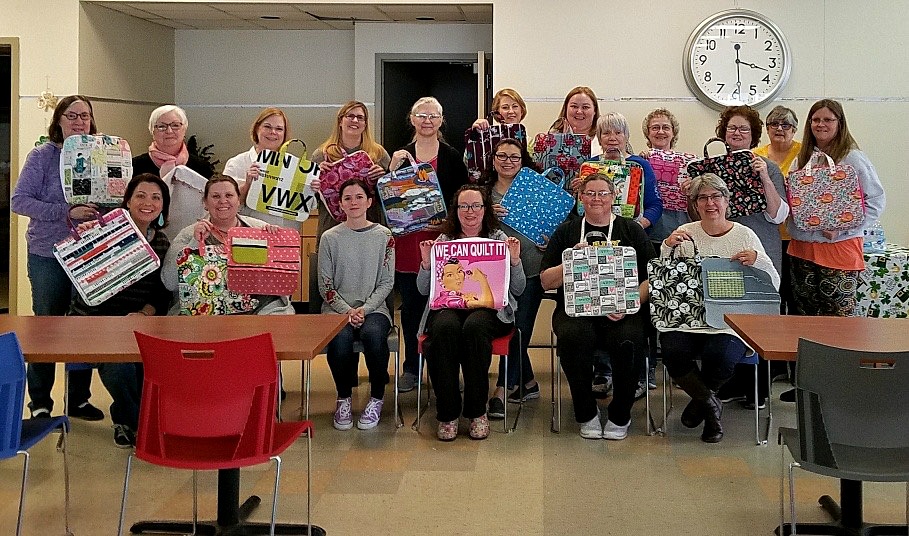 I hope you take some time and enjoy this fun pattern!
Happy Sewing!