As Quilter's and Sewists, we love to have all the latest tools and techniques to keep us evolving and creating!  I've been a quilter and sewist for some time now and have worked in and around the industry long enough to see many of the newest and latest trends & notions on the market.  I have divided this Quilters Gift Guide into several categories.  Whether you are looking for Quilt Pattern, Notions, Equipment or simply some inspiration – There is a little bit of everything for every Creative Person.  Let's dive right in!
This post contains affiliate links for your convenience. ? Read my full disclosure policy here.
My Favorite cutting supplies
I have a few rulers that I use every day!  They are my go-to rulers and I love them.  These rulers are the perfect size for my everyday tasks and I find the markings on them to be very helpful.  Let me show my top three rulers!


This ruler is my everyday sidekick.  I use it for lots of different things.  I like it because it is small and compact enough to fit into my Sew Together Bag.  I take it with me on retreats and use it every day.  I love that it even has the 1/8″ markings, which are perfect for some of the precision measurements I need.  I use it for joining fabric strips when making binding or sashing and I use this to help make the ID window for my ID Wallets.  I would not be content without my Omnigrid Small Marking Ruler!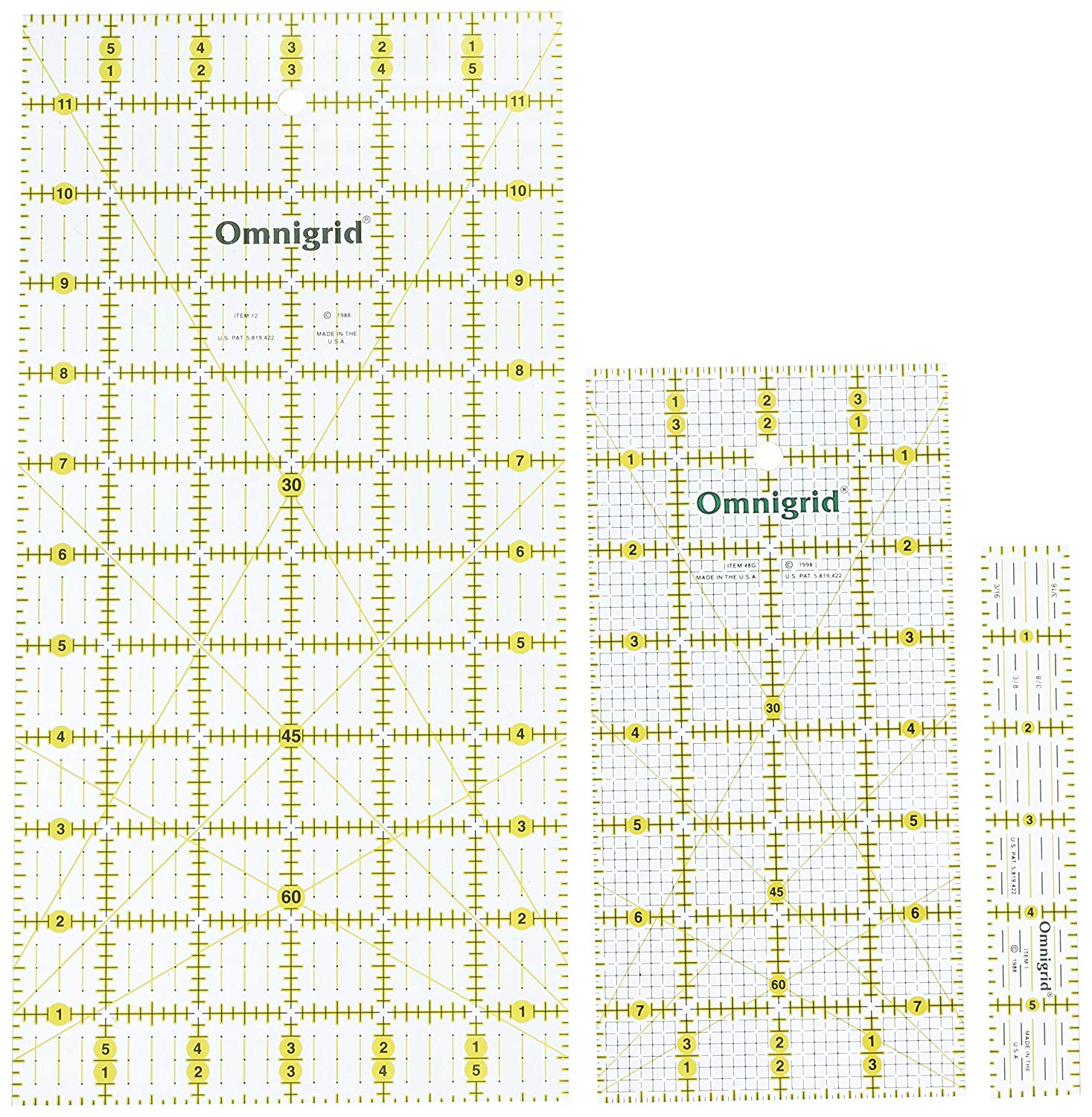 This Omnigrid ruler set contains one each of 3 Omnigrid quilting rulers (1×6″ and 6×12″, 4×8″ with grid) to execute a variety of measurements. The markings on the ruler are what you can expect from this brand.  Not only does it have markings for 1/8″, but it also has your common angle markings.  There are 30, 45 & 60 degree angles marked which are helpful for making certain quilt blocks or bias binding.  I love the larger rulers when making Quilt Blocks because the size is convenient and the markings are easy to understand.  I add True Grip stickers to the back of my rulers.  These help the rulers stay in place and they don't obscure the markings.

This ruler is a must if you are cutting fabric yardage.  I love the length of this 6″ x 24″ Omnigrid ruler.  I find that this ruler is perfect because it is less likely to slide around the fabric.  I also attach True Grip stickers to the back of this ruler to ensure the ruler does not slide while cutting.
Olfa Rotary Cutters
There are many different brands of rotary cutters on the market and the Olfa brand is definitely my favorite!  There are many colors and sizes available.  I use the Olfa Rotary Cutter 45mm size for cutting most of my fabric to size and then use my Olfa Rotary Cutter size 28mm for all my precision cutting.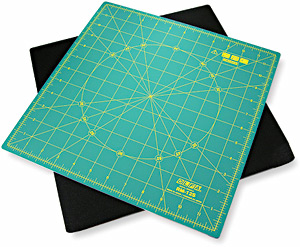 I've had my 17″ Rotating Cutting Mat for 4 years now.  I use it ALL the time!  This 2-piece mat has a non-slip bottom layer with interlocking green top cutting mat, yellow grid lines and markings, that rotates 360 degrees smoothly.  I love the Self-healing finish, which reseals surface cuts and provides a continually smooth surface for all my cutting projects.  I am sure to store my mat flat and out of direct sunlight.  You can also get 12″ Rotating Cutting Mat as well!  I even have a smaller 6″ rotating cutting mat – super handy for the work at your machine!
I used to own a Cricut machine, when I was really into scrapbooking.  I loved it and used it all the time!  Since I transitioned to sewing and quilting, my tools and supplies were just sitting in storage.  My inks and markers were drying out and it was just a shame to have it sit there and not being used.  So, I decided to donate my machine (and most of my supplies) to someone who could use it.  My friend came over and took most of it, including my circuit machine, all my cartridges.
Fast forward 7 years and now there is a Circuit for fabric lovers (The Cricut Maker) and I am really excited about it!  I've told Santa that I would like the Circuit Maker for my gift this year.  While I'm not sure I will get it (even though I've been a very good girl this year) – a girl can dream!!!
Black Friday deals will be available from Cricut! Save up to 40% off Machines with Cricut's Holiday Sale! Starting 11/29, Spend $50 and get a $10 coupon or Spend $100 and get a $25 coupon. Cricut.com is also offering Free Economy Shipping on orders $100+.

Must-Have Notions!
Recently, I've been searching for and using unique tools and notions that can make my sewing life easier.  I found a few you might love too! I'm a strong believer in making sewing and quilting as efficient as possible by using useful tools. This is why I've gathered a list of notions that can speed up your sewing and help you give your project that professional final touch.
These are perfect to keep your water and liquid starch!  I use this set for just that!  One for water and the other for Best Press.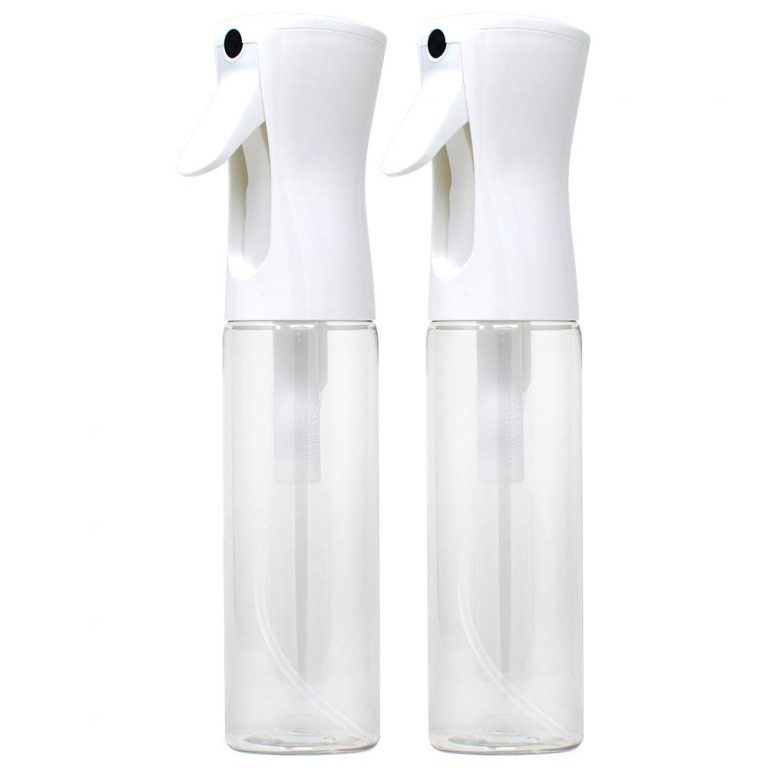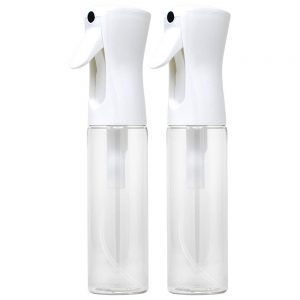 This iron is one of the newest travel irons on the market and I'm so excited about the Holiday price!  Head over to the website and pick from either Yellow or Pink!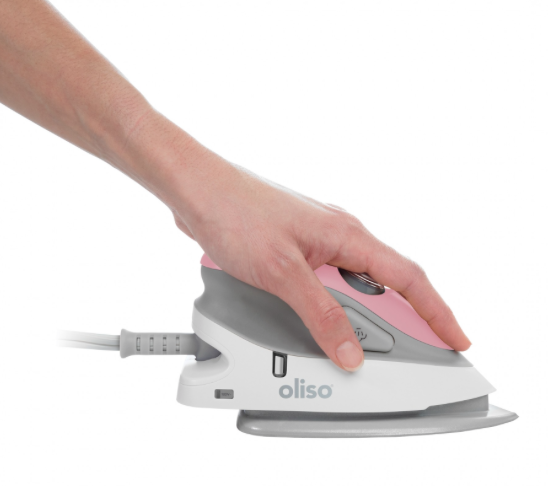 "Sashers"- Bias Tape Acrylic Templates
These little acrylic templates are just what you need to make a variety of sizes of bias tape.  Check out the video on how these work and get a set for yourself!  Talk about a time saver!
My friend, Jan, has really corned the market with her Wool Pressing Mat offerings.  Not only does she offer some standard sizes – but she can also cut these to your specific needs.  I am still using my wool mat that I bought from her almost 2 years ago!!!  Check her out right HERE!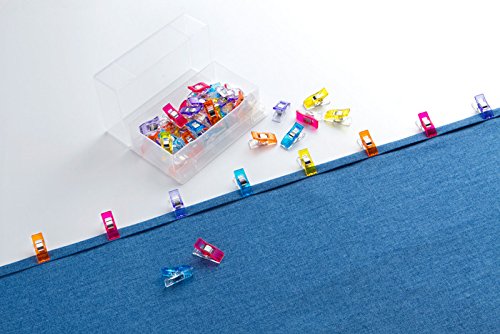 We all know that these are not a new item, but boy oh boy are they a MUST HAVE!  I don't know about your wonder clips, but mine eventually grow legs and walk out of my sewing studio!  I keep these on my favorites list to restock whenever my clip supply gets too low.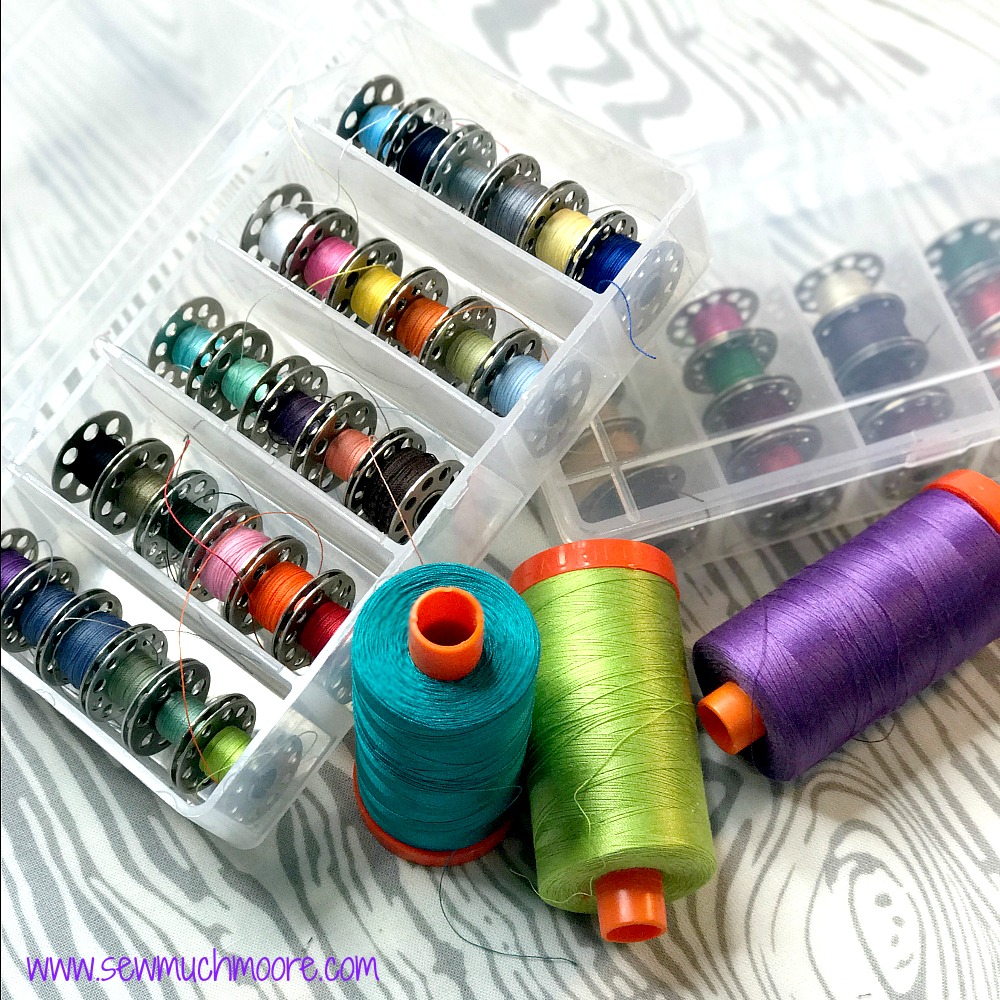 Having a bobbin storage bin is a great way to keep your bobbins organized.  I love these little clear cases for bobbin storage!  They fit my bobbins perfectly and I can still see what colors I have already wound.  I have 3 of these and may need to order a fourth.  I even use one of these to hold my size M bobbins for my Industrial Sewing Machine bobbins.  These make great stocking stuffers too!
You may wonder what Comic Book Boards have to do with Sewing and Quilting Notions, and I don't blame you!  It wasn't until I started using these to organize my fabric that I realized how wonderful these simple things can be!  Head over to my blog post to learn more about using these handy boards to help you organize your stash!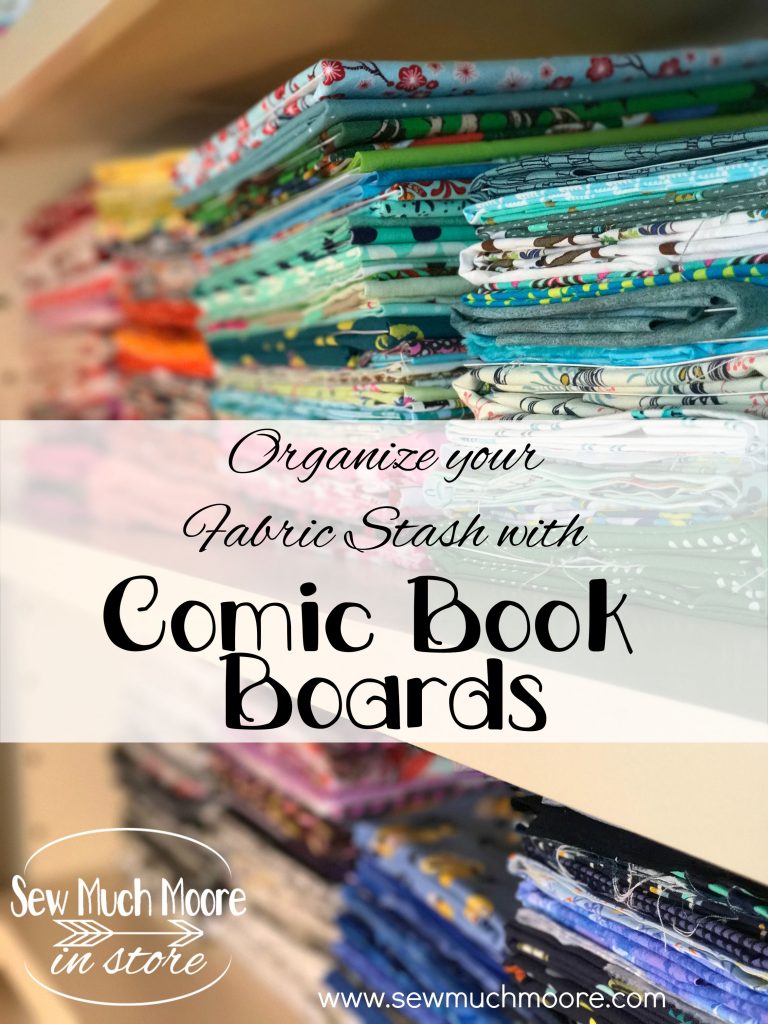 Show me the Fabric!
We all have our favorite Fabric Designers and Fabric lines.  I love the quilting and sewing industry because you can always be sure to find new and exciting fabrics each season!  2019 was full of some amazing Designers and Collections.  I love to keep up-to-date with these new products by following my favorite brands.  Here are a few of my favorites from 2019!
Just for fun!
I attend lots of Sew Days and Quilting Retreats.  I love to "Dress the Part" by wearing fun Quilty shirts and accessories!  These are some of my Favorites!
Wonderful PatternsLet's face it – there are a TON of patterns out there!  It can be a little intimidating and overwhelming to choose a pattern that you will want to start AND finish!  Here are a few patterns that I have tried (and loved) which made my list of favorites for 2019:
This quilt is on my "Need to Make" list for 2019!   This pattern is from one of my favorite pattern designers – Sew Kind of Wonderful!  You will use the Quick Curve Ruler Mini to make this quilt.
I completed the Starburst Quilt for a local Modern Quilt Show and I just loved the pattern that Jenifer Dick wrote!  This pattern is included in her book called The Nine Patch Revolution.  My version used a couple of fewer blocks than the original pattern.  I just love it!  You need to check out this book!  So many awesome projects!  Popular pattern designer Jenifer Dick and expert quilter Angela Walters have teamed up to provide 20 modern, diverse projects reinterpreting the Nine-Patch block. Nine-patches are easy to piece, aesthetically pleasing, and versatile, making it an ideal beginner's block, but also a favorite of more experienced quilters. Projects use a wide variety of techniques, from basic piecing and improv to paper piecing and wonky piecing. Each project includes detailed, step-by-step instructions for piecing plus quilting!  I finished this quilt for a Quilt Challenge and Quilt Show that our local Modern Quilt Guild held.  Be sure to use the Add-A-Quarter Ruler and also some Carol Doak's Foundation Paper for Foundation Paper piecing!  These little tools really help with this or any foundation paper pieced project!
The Hashtag Quilt was a fun and surprisingly simple quilt to make!  This quilt definitely makes a statement!  I  found the Stripology ruler to be a MAJOR time saver for this quilt!  So many cuts of the same size!  I also highly recommend that you use a 1/4″ quilting foot (be sure you get the right one – tons of choices for different machine shafts).  There is tons and tons of chain piecing, so be sure to wind lots of bobbins too – or you can cheat and get the pre-loaded bobbins.  I won't tell – hehe!  To learn how to make your own Hashtag Quilt – click HERE.
Whew!  I wish I could have included more Favorites!  It's really difficult to only list a few!  What do you love that I left out?  Comment below and let everyone know!
Happy Sewing and Quilting and I hope you all get what you want for the Holidays!  (even if we have to buy it for ourselves)