Quiet books are perfect for those squirmy little ones that need to sit still and be quiet.  Quiet Books are WAAAAAY better than a cell phone or a tablet because they offer imaginative play.  A Quiet Book is made of fabric (typically felt). Each page is usually focused on a different skill or interaction. They are colorful, provide a new platform for learning, and inspire independent play and creativity. These books are great for travel or moments when you might need to keep your child occupied and quiet/focused.  Here are a few more reasons to love Quiet Books:
✅playing with books helps to develop fine-motor skills and finger-type grabbing;
✅practice memory, logic and mental agility;
✅practice attention, sound, tactile and visual perception;
✅pages and removable elements are soft and pleasant;
✅different texture of materials.
There are tons of offers for patterns and materials out there.  After doing some research, I have rounded up some really great options for you to consider when making a Quiet Play book.  Let me show you all about it!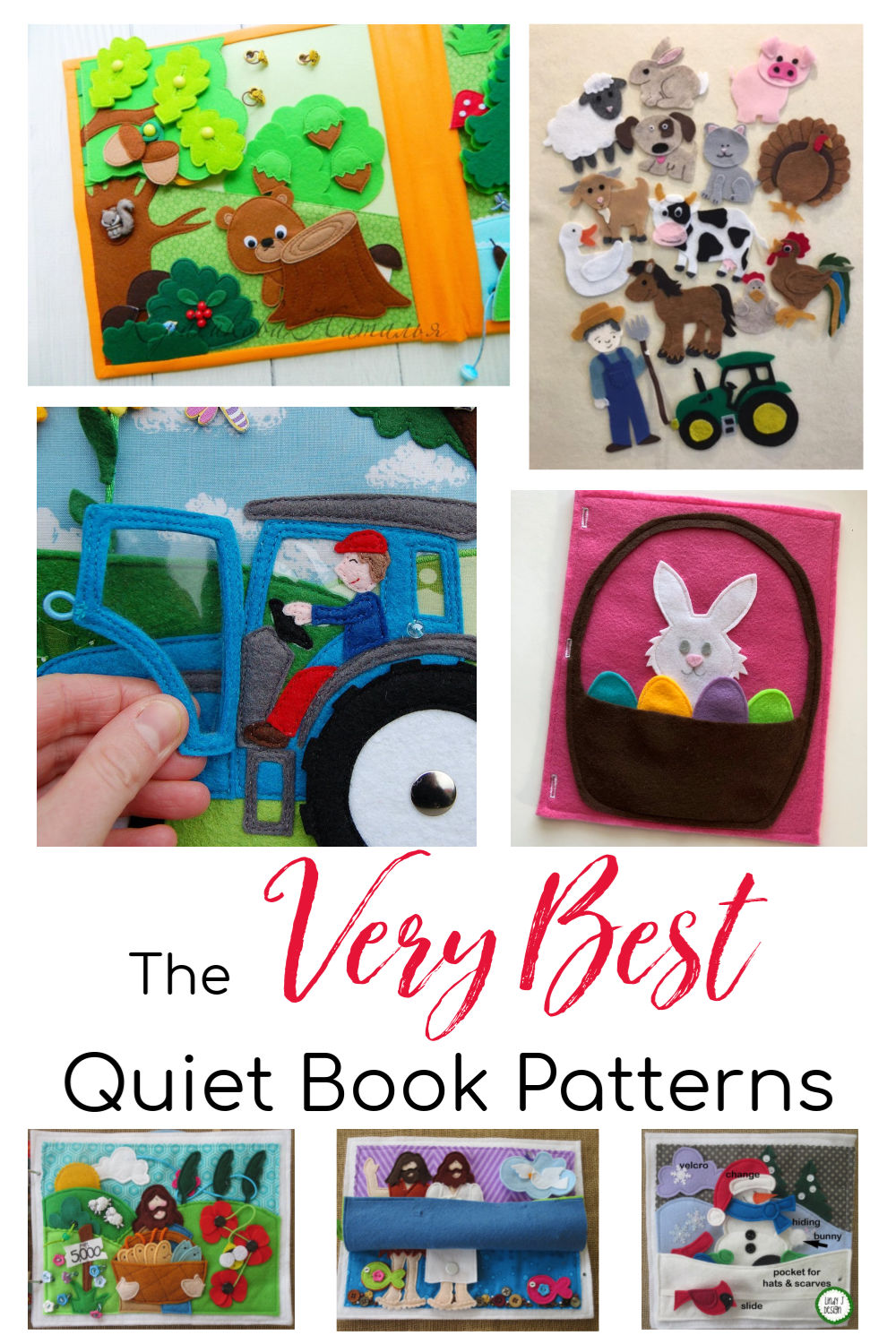 This post contains affiliate links for your convenience. ? Read my full disclosure policy here.
Quiet Book Materials to consider
Wool felt sheets will be your primary material when creating your Quiet Book.  There are tons of colors available!  It's a good idea to have a nice assortment.  These books look really great with bright and vibrant color!
You can even get stiffened felt sheets that are perfect for making your own Quiet Book!
Don't forget to get your eyelets and tool for preparing to put your pages together!
Quiet Book PDF Patterns
Making your own Quiet Book is very affordable.  There are lots of patterns out there and the ideas are truly endless!  Here are a few of my favorite patterns!
Quiet Book Kits
Quiet Book kits are a great way to leave the cutting to someone else!  There are tons of options out there and I have rounded up the most darling right here!  Remember, you will still need to assemble your book, but the kits give you a head start!
Quiet Book – Felt additions
There is also an option to simply create your own pages by creating your own scenes.  These patterns help your little tell their own story!  These patterns are fun and simple.  I would imagine that you could even assemble some of them with little dabs of glue!
Quiet Play Book Monthly Subscription option
The Quiet Book Queen has a great program laid out for Quiet Books!  She has Page Kits that come with the template, instructions, and ALL supplies you will need to make TWO Quiet Book pages!  Buy individually to insert into your current Quiet Book or purchase the subscription to collect them all to make your own Calendar Themed Quiet Book.
The page kit subscriptions always SHIP FREE!  No code required.
Children will learn the months of the year, while also practicing fine motor skills (snapping, zipping, tying bows, weaving), colors, shapes, letter and number recognition, and counting.  There is also plenty of opportunity for imaginative and creative play!
Quiet play Book – ready to purchase
Sometimes, we don't have the time to make these for ourselves.  Luckily, these can be purchased from Handmade Artisans!  This is certainly not the most economical choice and these are usually made outside of the US – but sometimes you just need to get things ordered and done!
You can also do a search for Completed Quiet Books on Etsy.  The selection is amazing, but I'm afraid this will not save you any time.  They are typically made to order. ✂️✂️✂️
So, pat yourself on the back for considering to make (or buy) a Quiet Book for someone special!  This will be a project that will be rewarding for you and the little person that gets to use it!
Happy Sewing!