Sewing and Quilting for the Fall Season is a perfect time to make something special for yourself or for others.  While we watch the leaves drop and the sky turn to grey, now is the perfect opportunity to use up some scraps or cut into that special fabric you have been saving!  Let me share some really great patterns and inspiration with you so you can start creating!  Check out these 15 fabulous patterns for fall!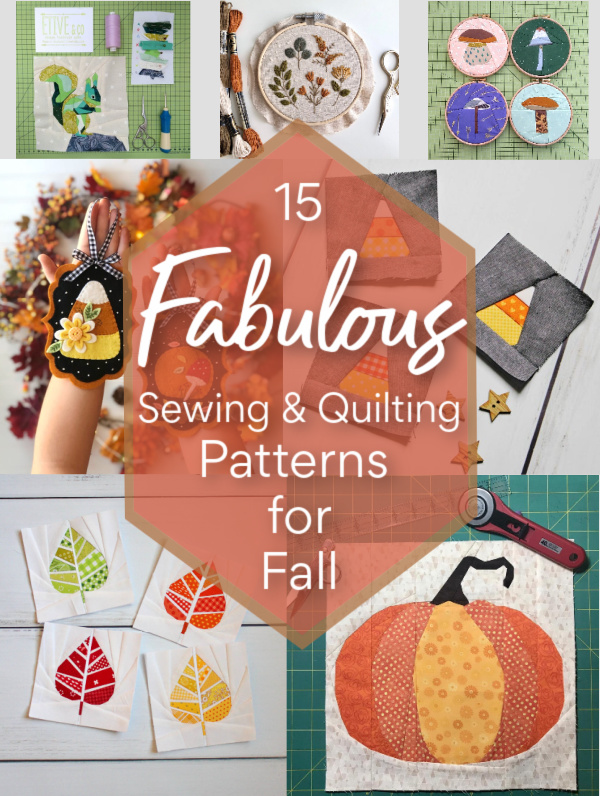 This post contains affiliate links for your convenience. ? Read my full disclosure policy here.
let nature inspire you
Most of these patterns are fun and simple.  Some patterns require a little more "know how".  If you've ever tried foundation paper piecing, you will know how great these projects can be!  Not only do they turn out PERFECT, but they can also be added to other blocks to make a larger project!  I just loved these different patterns:
Mushroom Foundation Paper Pieced Pattern Set
Small projects make quick finishes!
There is no need to make a huge fuss about these fun and seasonal projects!  Just pick one or two of them and get started!  They are fun and addicting!
Geometric Fall Leaf FPP Pattern
scrap busting projects ftw!
If you keep your fabric scraps (like many of us do) – these simple projects are perfect for you!  Grab your Oranges, Browns, Greens and Reds to create something Fabulous for Fall!
Gobble Gobble Turkey Pillow Cover
Mod Owls by Sew Kind of Wonderful
ps – you will need the Large Quick Curve Ruler and also the Mini Quick Curve Ruler for this pattern.  You can check these out in my SHOP.
Fall Quilt Block Pattern Bundle
Two Sizes in this Acorn Quilt Block!
I don't know about you, but I am excited about all the Fall sewing and quilting possibilities!  I've already made the Fancy Fox Tote and the Barn Mini Quilt…..  I think my scraps are beckoning to be made into something Fabulous!!
Tell us in the comments if you have tried any of these fun projects!
Happy Stitches!