I have always wanted to make a Christmas themed quilt!  Since I am a member of the Kansas City Modern Quilt Guild, I really wanted to make it MODERN!  I am fortunate to belong to a very active and exciting guild.  We have some really fun programs that encourage group activity.  One of these activities is called Block Lotto.  Last Christmas, the group made Holiday Patchwork Forest Blocks.  Even though I didn't win the Block Lotto, I was still excited to make my own Modern Christmas Tree Quilt.  Let me show you my quilt and explain how the Block Lotto works.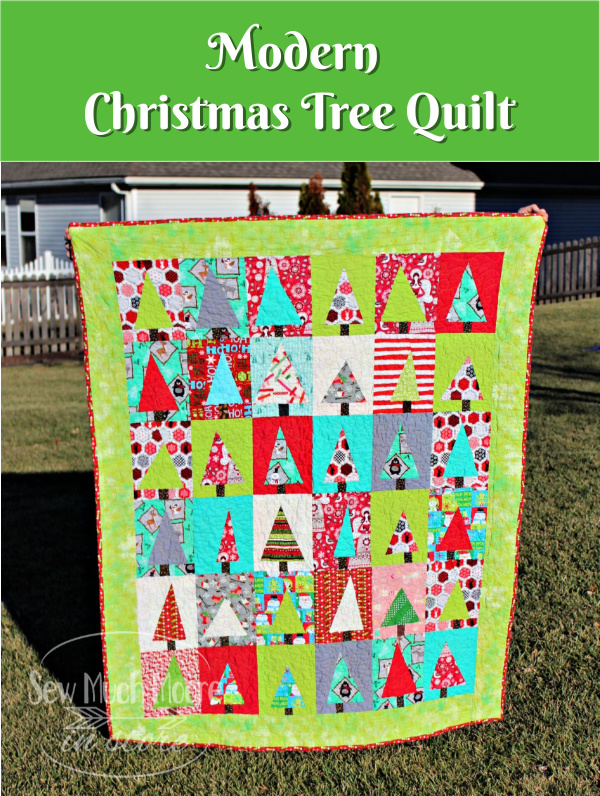 The Block Lotto idea came from the Calgary Modern Quilt Guild, where they decided upon a pattern and a color theme.  Our guild is very fortunate to have Kelly Lautenbach, who is our very own Guild Cruise Director!  Kelly keeps a close eye on fun things to do in the guild and she began this activity for the guild.  Kelly helped us decide on the pattern and the color layout.  It was important to name the color grouping so that the blocks would look good together.  For this Block Lotto, we used the tutorial by Amy Smart from Diary of a Quilter.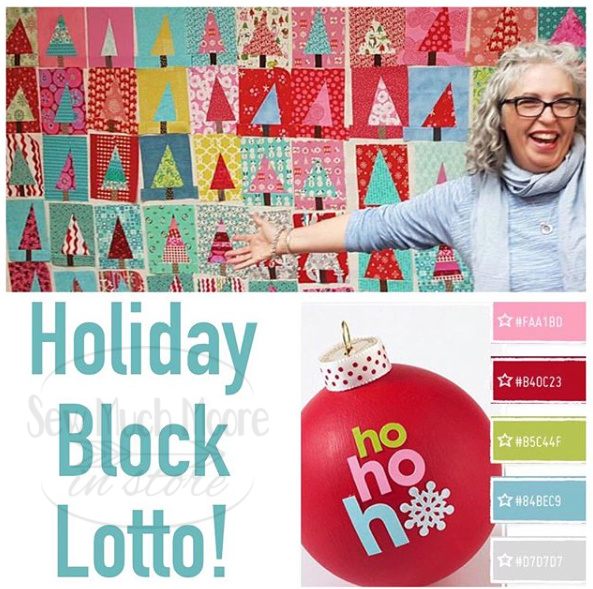 To have a Block Lotto, we have participants make a block (or a group of blocks) and bring them to the meeting.  We gave a raffle ticket for each block that was turned in.  We brought several design walls to the meeting and arranged as many quilt with the blocks that were turned in.  Since the color theme was the same for everyone, the quilts looked fantastic! Our members made 374 blocks which we separated into FIVE sets of blocks to make quilts and 13 sets of 4 blocks each for pillows. What fun we had. And our winners were thrilled!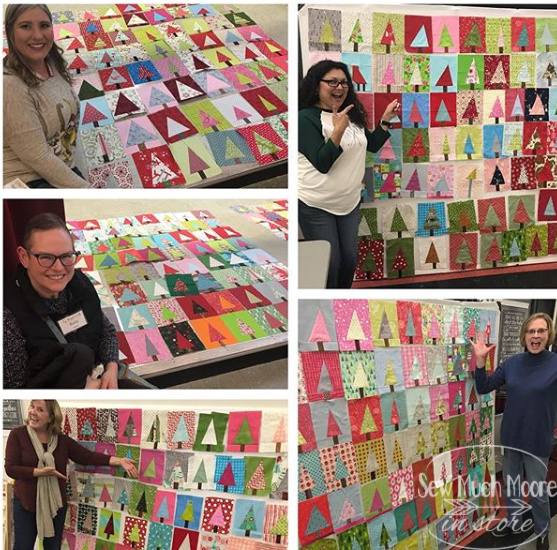 Finishing my Modern Christmas Tree Quilt
As you can see, I was not a block lotto winner.  Whomp Whomp.  That didn't stop me from making my very own Modern Christmas Tree Quilt!  I have to admit that I didn't finish this until the next Christmas, but I did manage to trade a few block with some quilty friends along the way.  To be honest, I probably wouldn't have finished this quilt unless my Local Quilt Shop (The Fabric Chic) hadn't hosted a workshop.  It's like they just knew what was on my UFO list!!!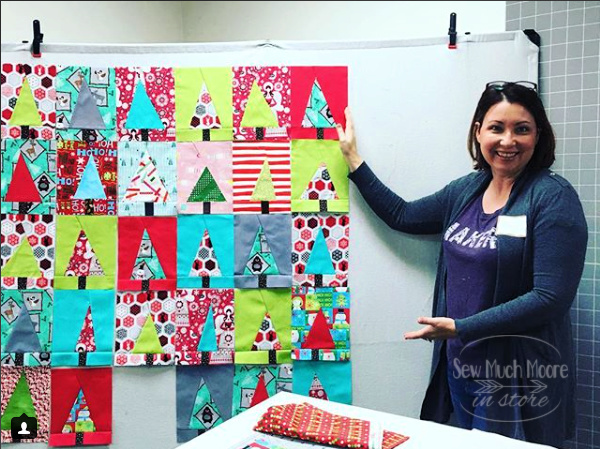 During the workshop, I was able to finish all my blocks and sew all the rows together.  I could have made my quilt top bigger, but I decided to add a larger border.  I used Moda Grundge Seeing Stars in Key Lime.  That really brought out all the green in this quilt.  The stars in the fabric were just perfect too!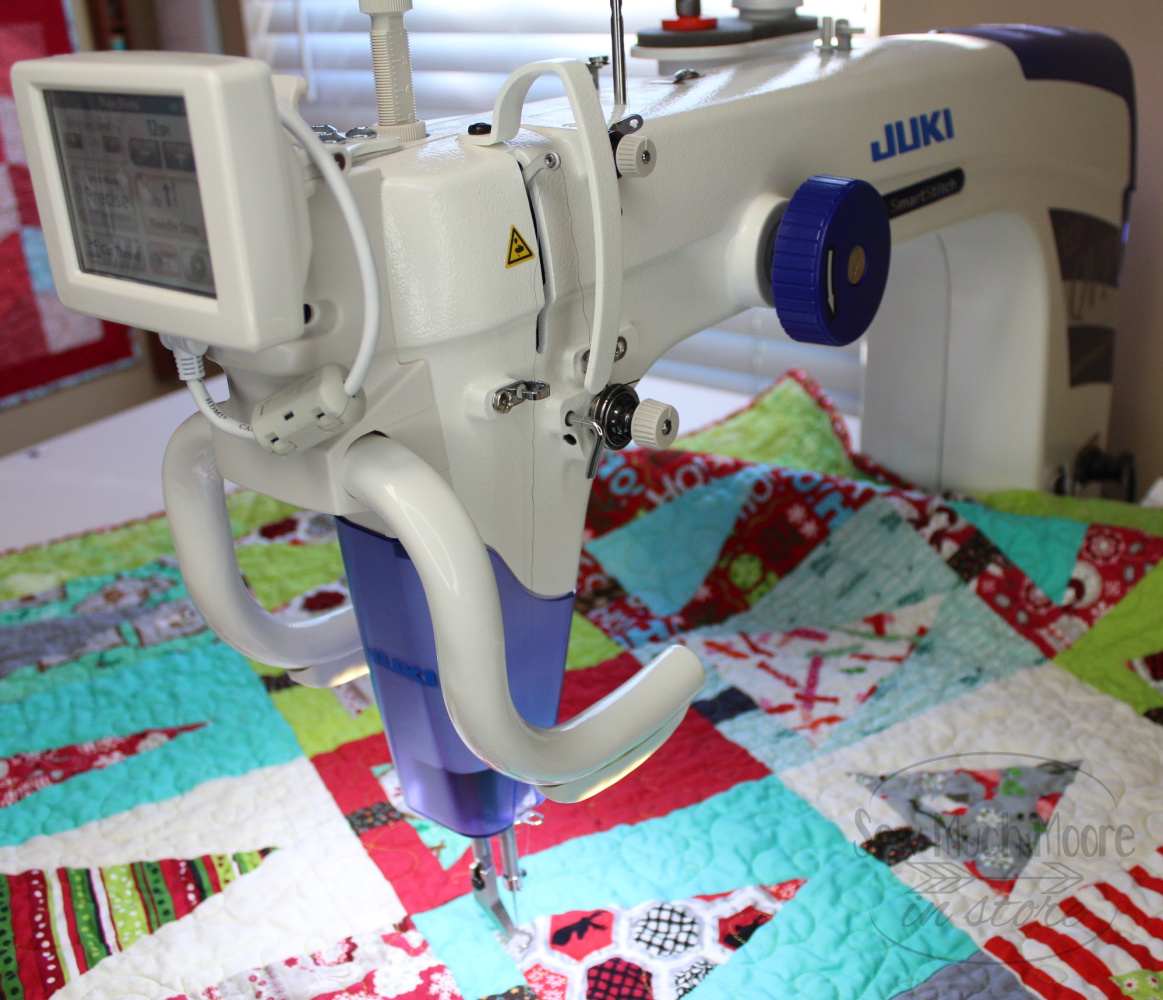 I quilted this all up on my new Juki Miyabi J350QVP.  If you haven't seen all the things my new machine can do – you should go check out my blog post and learn all about that!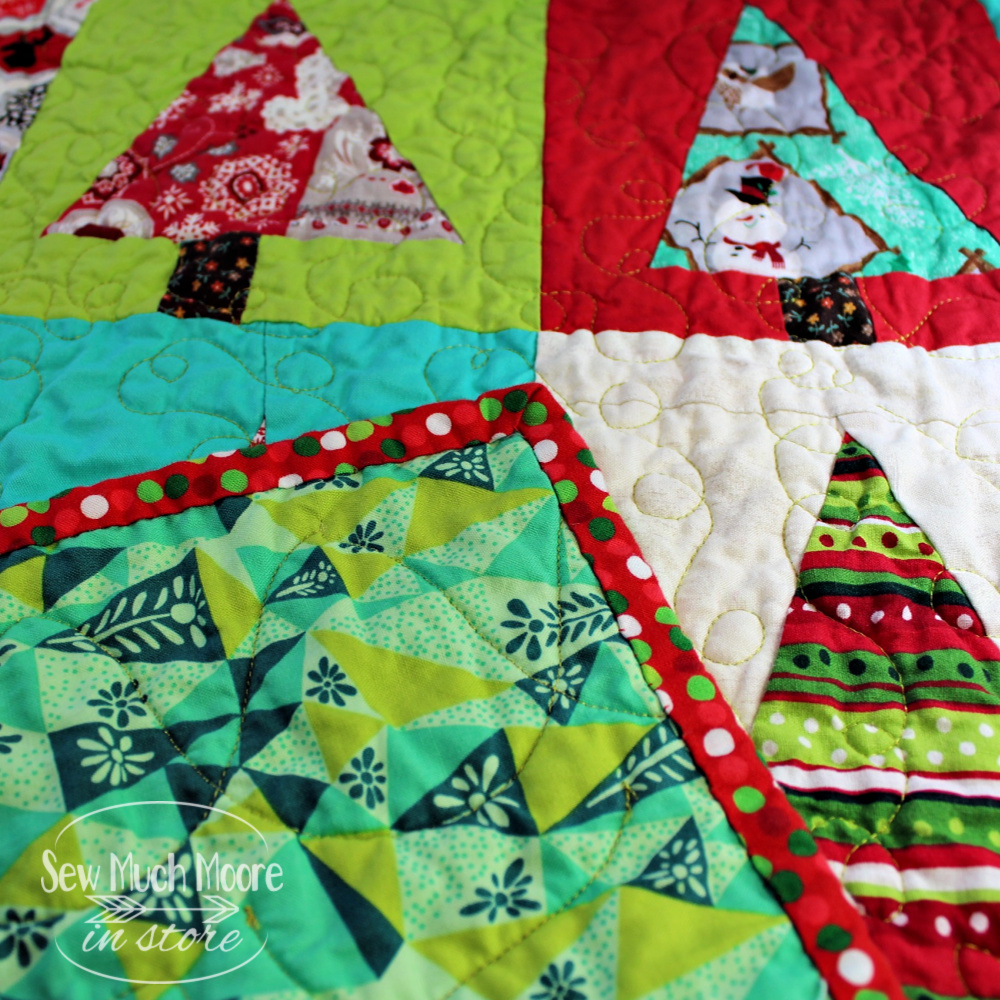 Finishing this quilt top, before Christmas, was a special treat!  I love to add seasonal decor to my home and this quilt is perfect for evening snuggles!  I hope you found inspiration in this post and perhaps share the Block Lotto idea with your sewing group as well!  Be sure to follow The Kansas City Modern Quilt Guild's Facebook Page to keep up to date on all the exciting activities!
Happy Quilting!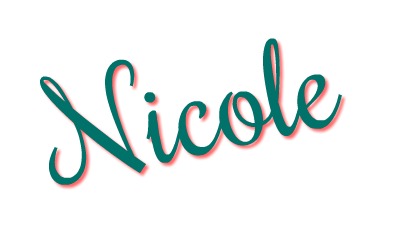 Check out more Christmas posts!