Description
Have you ever considered having a T-Shirt Quilt made?  It's a fun and popular thing to do with all those shirts you've collected and stored over the years!
How much does it cost to have a T-Shirt Quilt made?  You can generally estimate around twenty dollars per block.  The final size of the quilt depends on how many blocks you end up having and also the block dimensions.  The dimensions are decided by the largest T-shirt design. So no T-shirt design is cut off.  The number of blocks depends not on how many shirts you have since likely many of your shirts may have a front, back, or I even combine the smaller designs to combine multiple shirts into one block. 
Number of shirts for your T-Shirt Quilt
How many shirts does it take to make a T-Shirt Quilt?  The answer to this common question is…..it depends!  The minimum number of regular (Adult sm/medium) shirts is twelve, for a lap sized quilt.  You can have your quilt made as big as you want! (I draw the line at California King).  The best thing to do is pick your favorite couple dozen shirts (or less) and contact me to discuss all your options.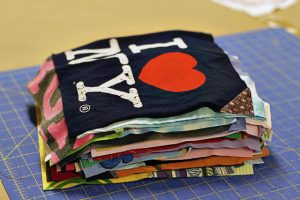 Do I need to do any prep-work before I send you my T-Shirts?  No prep is required!  In fact, it is best if you do not cut your shirts.  Just ensure they are laundered (without fabric softener).
What kind of shirts
What kind of garments can you use to make a Quilt?  Here is a quick list of items I often use:
 

– Cotton T-Shirts

 

– Sport Jerseys

 

– Button-Down Shirts

 

– Baby Clothes

 

– Sweatshirts

 

– Baby Blankets

 

– Blouses or Dresses

 

– try to avoid heavy denim or sequence
How long will this take
How far in advance should I start this process?  A T-Shirt Quilt generally takes 6-8 weeks to make.  During the busy season (Christmas and Graduation), it can take a little longer.  It's always a good idea to start a couple of months early to make sure you have your cherished quilt in time for gifting!  
T-Shirt Quilt design choices
Choose from a variety of colors that might best coordinate with your Quilt!  Add an optional fabric border on the front and consider choosing a coordinating fabric in between the shirts as well!  There are so many options when you design your own T-Shirt Quilt!  Use this website to make your color choices.  Choose one color for your backing and a color for the binding.  If you are opting for a border and/or sashing – be sure to indicate those colors as well.  They can be the same color or different colors.  The choice is yours!
Choose from a thickness of batting (the stuff that is in between the front and back of the quilt).  Do you like a heavier weighted quilt or a lighter quilt?  The choice is yours!
Perhaps an entire T-Shirt Quilt is a bit too much for you?  Consider a Memory Pillow instead!  Learn more about making a Memory Pillow right here!
Additional information
| | |
| --- | --- |
| Number of Shirts | 12, 16, 20, 24 |
| Sashing | No Sashing, Add 2" Sashing, Add 3" Sashing |
| Border | No Border, Add 4" Border, Add 6" Border |
| Special Addition | No Special Additions, (1) Custom Embroidered Block, (2) Custom Embroidered Blocks, (3) Custom Embroidered Blocks, (4) Custom Embroidered Blocks |
| Batting Type | Low Loft, Medium Weight, Dense Heavy Loft |