As a member of the Kansas City Modern Quilt Guild, I have met many well known quilters, designers and overall super talented folks.  That is one of the things I love about being a member of the KCMQG!  This past week, KCMQG hosted Mary Fons for a two session event.  Mary spoke at an afternoon Trunk Show and also make a presentation at our monthly evening event.  I was able to attend the afternoon show and all I can say is "WOW"!
I have never left a truck show and felt as inspired and thoroughly entertained as when I had the opportunity to see Mary and her fantastic makes!  Mary's overall mood was so cheery and bubbly – I was smiling from ear to ear for almost a solid hour!  We learned a lot about her process and some of the new things she is working on.  We got a sneak peak of her fabric line and were in awe of many of her quilts.
Mary brought several quilts to her truck show.  One of the most dramatic was her Half Square Triangle Quilt, she calls Pink Waves.  Mary explained that in this quilt, she perfected her technique of the half square triangle.  I should say so!  There are so many lovely bits of fabric in this quilt!  The quilting was just stunning!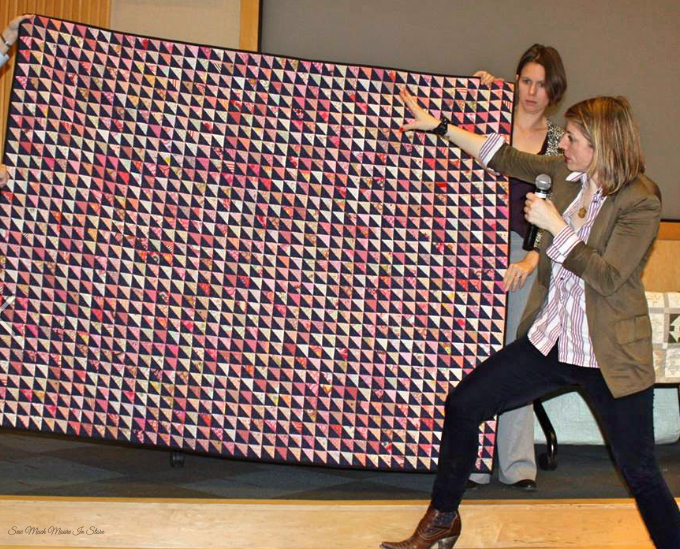 Mary's talk was very animated!  She was very expressive in her words and actions, which was very entertaining to watch!  I loved all her personal stories that she shared about her life journey and her adventures along the way.  In these pictures below, Mary was showing us her quilt she calls "Mary's Village".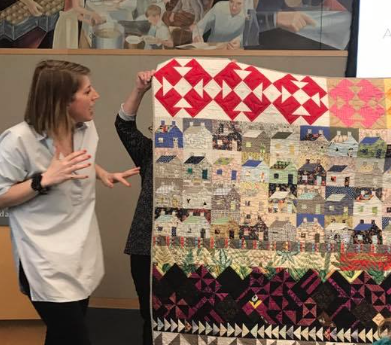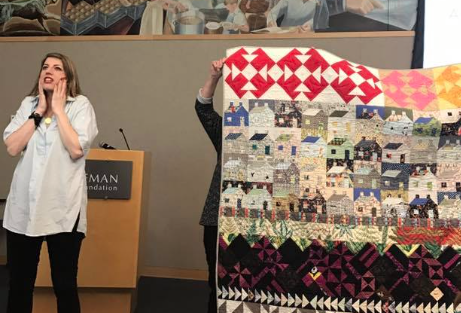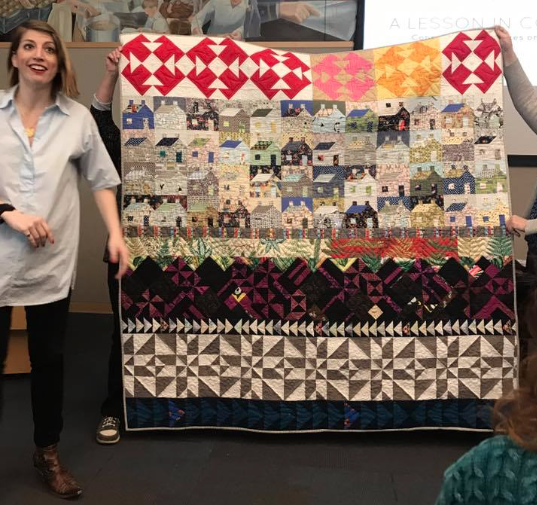 As if Mary's personality wasn't entertaining eno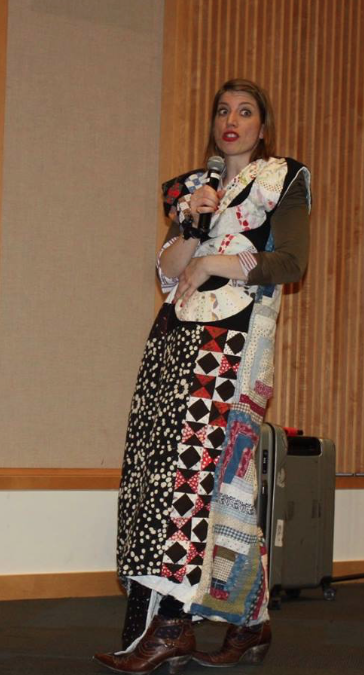 ugh, she brought out her Orphan Block Kimono!  This was something that she put together, without a pattern.  She is so creative!  Mary explained that she had several blocks that were either left out of a quilt because there were already too many, or she only made a few of the certain blocks.  She said, "what do you do with these Orphan Blocks?"  She wrapped herself up in her projects half done outfit and was proud as a peacock.  I loved it!
I could see some Nine Patches, lots of Log Cabins, and she even fashioned a belt for the outfit!  She also put in a lining!  Mary explained that she had used it as a picnic blanket as well!  Such a highly functional piece!
So many in the audience were just giggling away at her story!
Mary gave a nice presentation on how to pick your fabric and showed more of her quilts.  Later that evening, she came back to the Kauffman Conference Center and was the Key Speaker for the KCMQG monthly meeting.  I was sorry to miss it, but was later informed that I was actually there in spirit!  I started receiving text messages and Facebook notifications that Mary had used a picture of me, which was previously published in the Kansas City Star.  I couldn't stop giggling!  I was also glad that I decided against wearing this same outfit earlier in the day!

Although we won't get to see Mary on Saturday mornings anymore – I can be happy to have met her.  She is a truly amazing person and makes me proud to be a quilter!
Have you been fortunate to meet Mary?  Tell me what you thought!  I would love to hear from you!
You can follow Mary on her blog:  http://blog.maryfons.com