With each new year, I look forward to a new planner.  Having a planner helps me organize my months, weeks, days and even my hourly schedule.  The reason I chose the Quilter's Planner is for the sensible layout of the monthly and weekly schedule.  As a bonus, I can also track many other things in my life and have a wonderful resource of inspiration as well!  I also want to mention that the featured designer for 2019 is Camille Roskelley.  Camille is a quilter, a Moda fabric (Bonnie & Camille) and pattern designer.  I adore her style and gobble up her fabric each chance I get!  Just take a look at what you can expect with the 2019 Quilter's Planner!
This post contains affiliate links for your convenience. 🙂 Read my full disclosure policy here.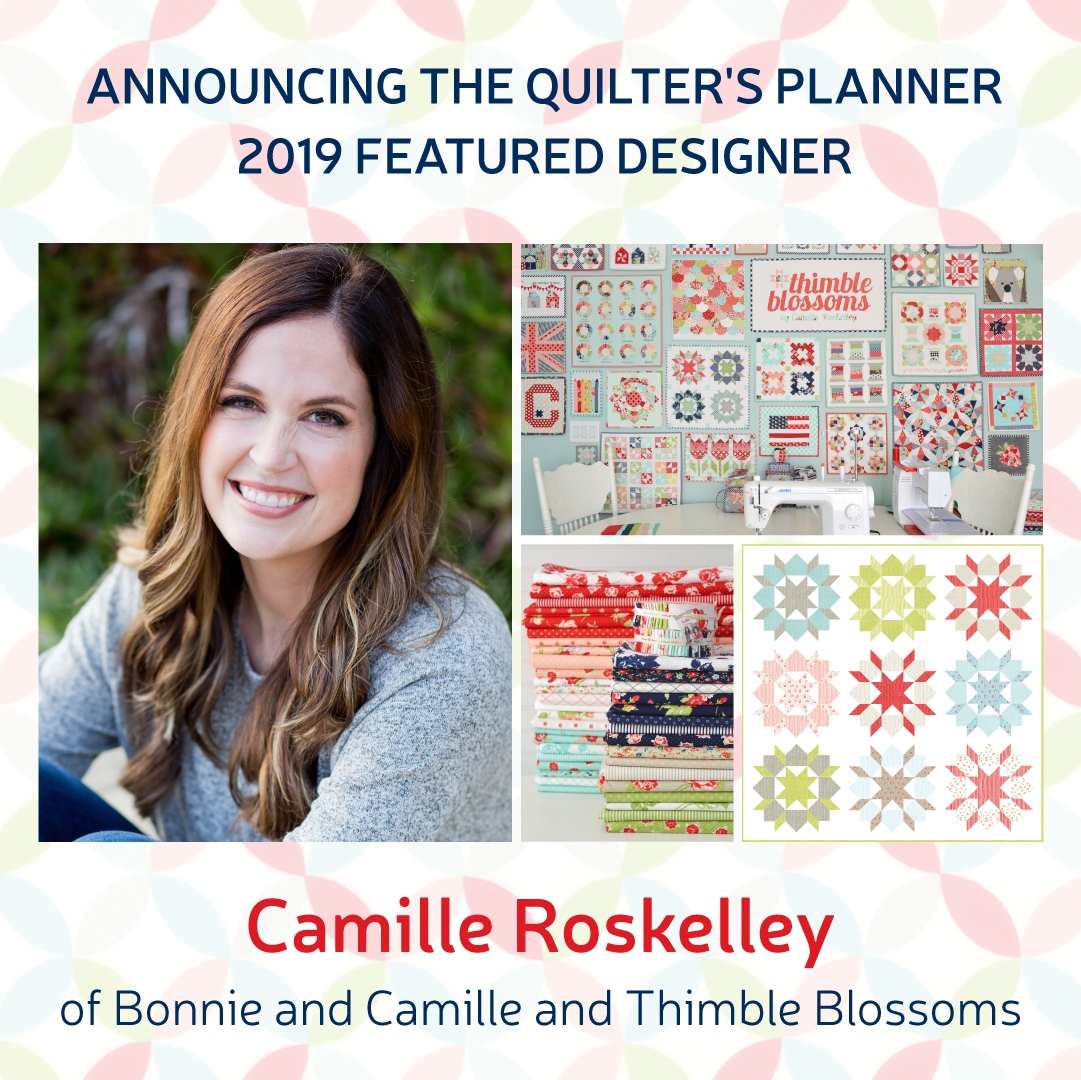 The 2019 Quilter's Day Planner is designed to bring joy to planning your day, so you can balance your daily responsibilities with your creative quilting life. This planner, made specifically for quilters, is a high quality 8″ x 10″ spiral bound book with monthly and weekly calendars, as well as quilt block patterns, graph paper and much, much more.
Full Sized 8″ x 10″ Planner Features:
This year's edition is full of improvements, including:
8″ x 10″ planner, 208 pages
A companion full-color glossy magazine with 13 quilting and sewing patterns by top designers

Traditional Sunday start day layout

(

I'm personally doing a happy dance about this!

)
Weekly and monthly calendar pages
Project planning pages and project at-a-glance pages
Monthly quilt blocks featured in a new Quilter's Planner Sampler Quilt pattern by Cheryl Brickey!
4 pages of planner stickers by 2019 Featured Artist Camille Roskelley

Can I just say that I LOVE these stickers!!!!  I use the stickers ALL. THE. TIME!

Laminated cover and colorful tabs designed by Camille Roskelley
To-do lists galore – Yay!
Photography of the 14 included patterns by Kitty Wilkin
Deadline planning pages
Bee block & swap projects planner
Yearly goals planning page
In-depth reference section with cutting measurements and yardage planner
Lots of graph paper (graph, dot, hexagon, and triangle) and blank drawing paper
Pocket on the inside back cover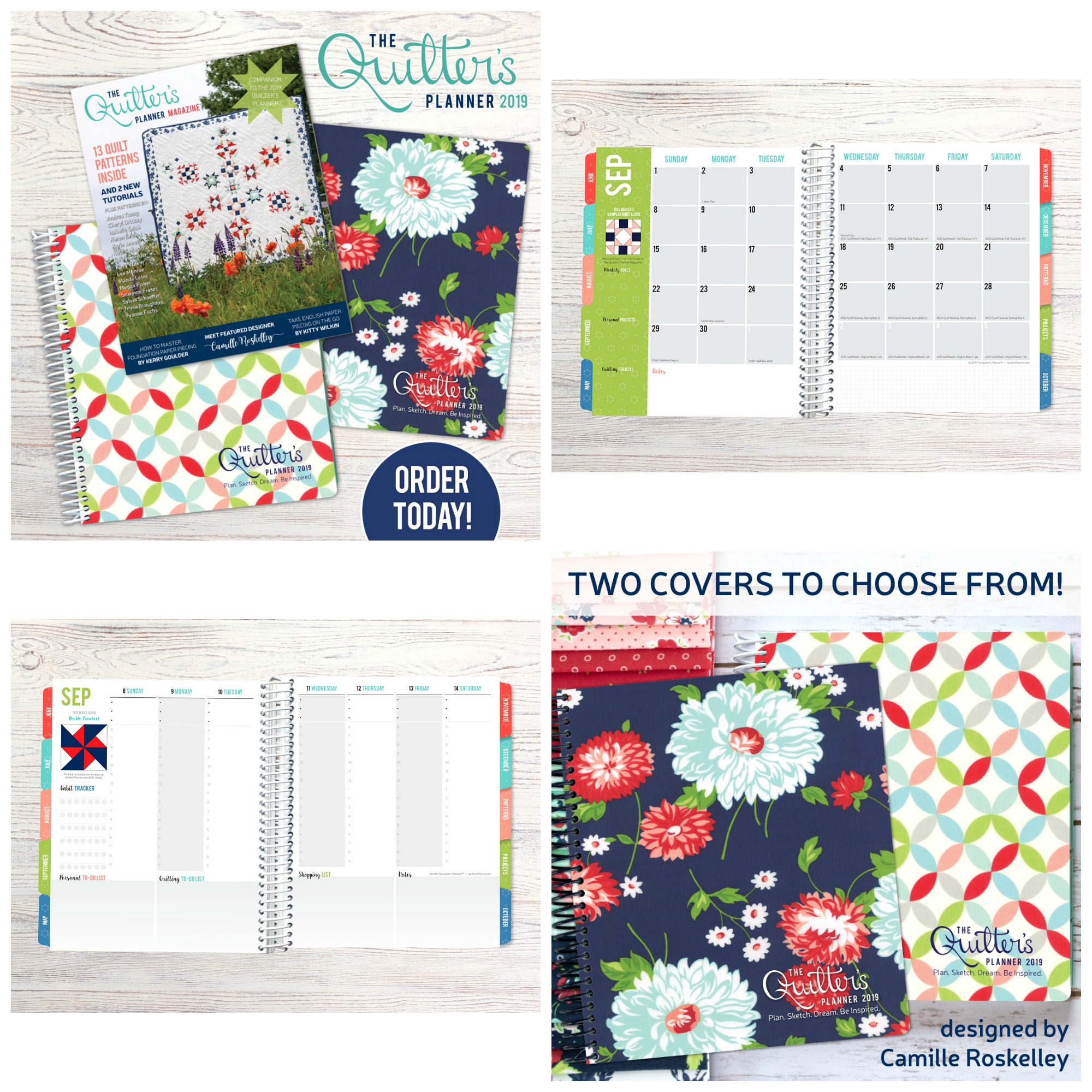 2019 Quilter's Planner – Block of the Month
I love how Quilter's Planner has made a fun community where folks can come together in a common project!  They would like you to join them on Facebook and Instagram as we sew the 2019 QP Sampler Quilt Block of the Month (BOM) pattern.  Check out their Facebook group and Instagram  for tips for sewing a beautiful sampler quilt.  You can get support and help along the way by asking their QP experts and group members.  You can join in at any point during the year.  It's never too late!
All you need to participate in the BOM sew-along is your copy of the 2019 Quilter's Planner and the accompanying pattern magazine.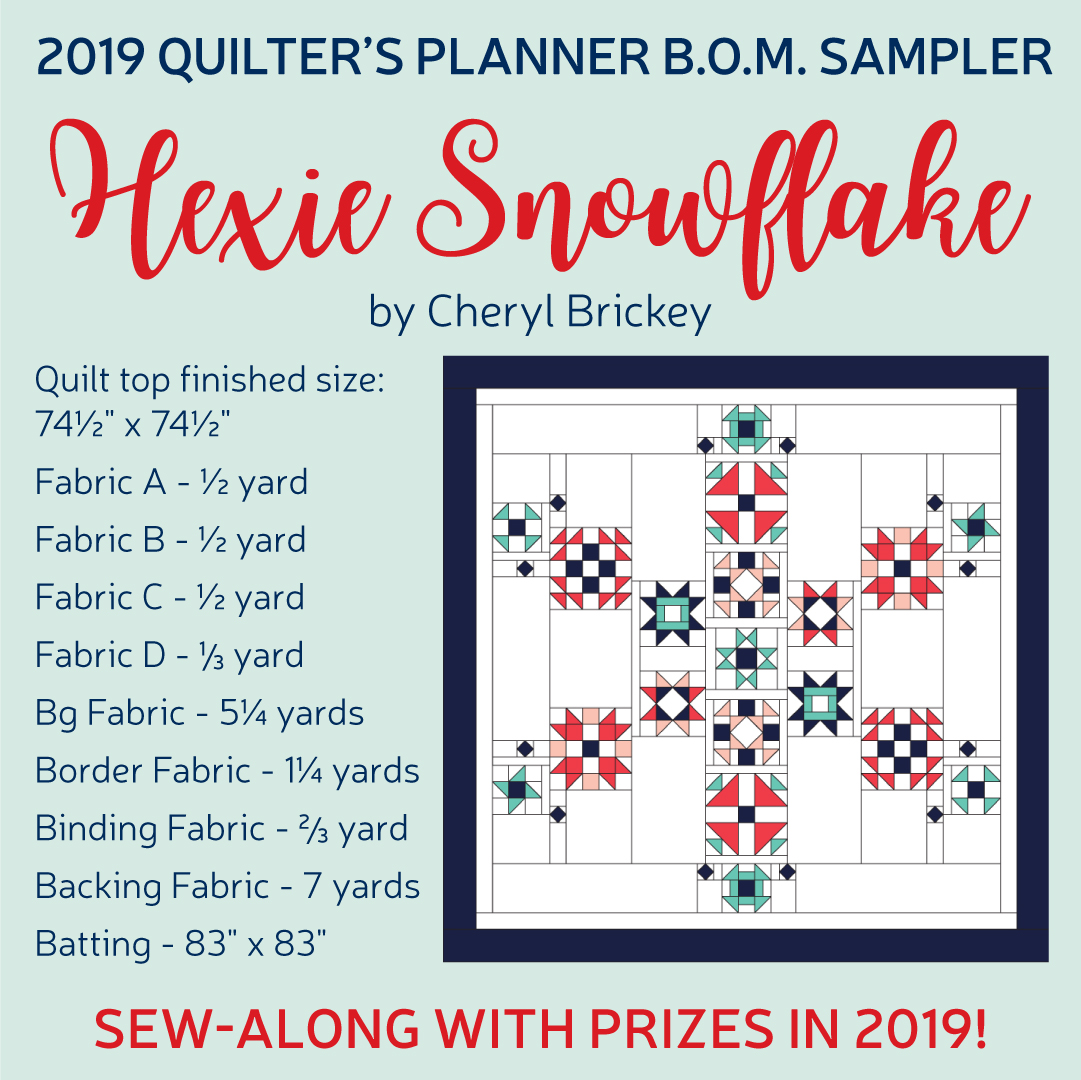 I'm looking forward to getting my copy of the 2019 Quilter's Planner.  Let me know if you have any planning tips or tricks for your Planner – we love tips and tricks!
I hosted a giveaway on Instagram, which was lots of fun!  Thank you to everyone for commenting and participating!  The winner will be randomly chosen on Friday, December 28th!  Best of Luck!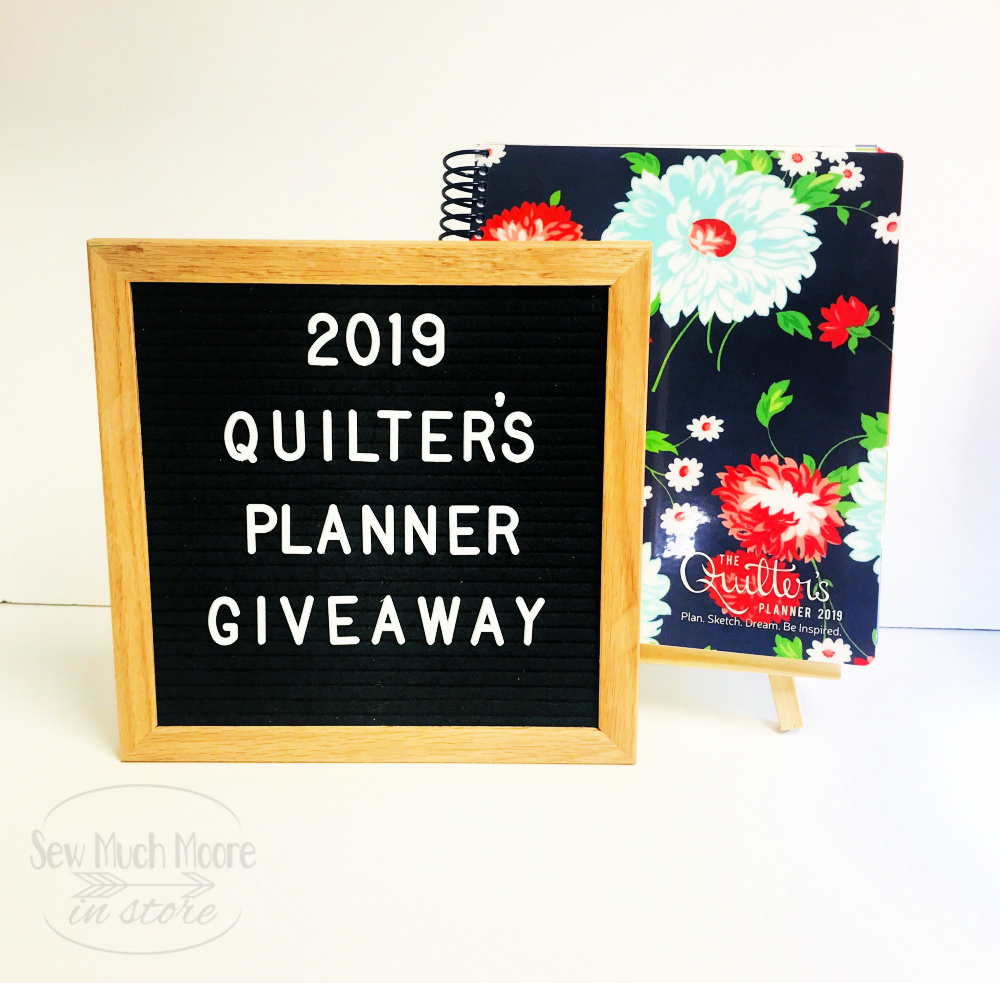 Happy Planning!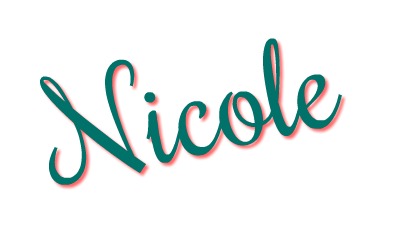 Check out this related post!