With each new year, I look forward to a new planner.  Having a planner helps me organize my months, weeks, days and even my hourly schedule.  The reason I chose the Quilter's Planner is for the sensible layout of the monthly and weekly schedule.  As a bonus, I can also track many other things in my life and have a wonderful resource of inspiration as well!  I also want to mention that the featured designer is Alison Glass.  Alison Glass is a surface designer who is currently designing fabric for Andover.  I adore her style and gobble up her fabric each chance I get!  Just take a look at what you can expect with the 2018 Quilter's Planner!
This post contains affiliate links for your convenience. ? Read my full disclosure policy here.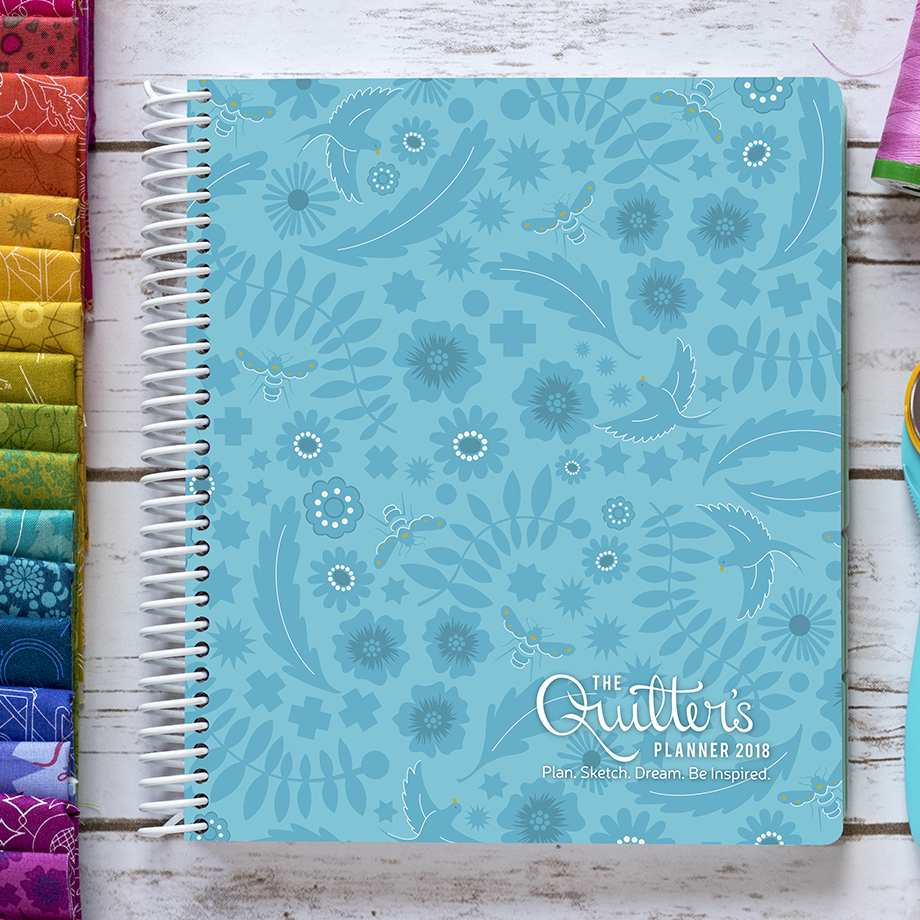 The 2018 Quilter's Day Planner is designed to bring joy to planning your day, so you can balance your daily responsibilities with your creative quilting life. This planner, made specifically for quilters, is a high quality 8″ x 10″ spiral bound book with monthly and weekly calendars, as well as quilt block patterns, graph paper and much, much more.
Full Sized 8″ x 10″ Planner Features:
220 pages
Includes a glossy magazine with 12 quilting and sewing patterns by top designers
Laminated cover, tabs, stickers and extra coloring pages all designed by Alison Glass
Weekly and monthly calendar pages
Project planning and project at-a-glance pages
Monthly Sampler Quilt Pattern by Cheryl Brickey of Meadowmist Designs
Quilt photography of the included pattern quilts by Kitty Wilkin of Night Quilter
Deadline and yearly goals planning pages
Bee block and swap projects planner
In-depth reference section with cutting measurements and yardage planner
Fabric chart from Andover Fabrics featuring Alison Glass fabrics
Dress form chart, graph paper and blank drawing pages included
Pocket on the inside back cover
2018 Quilter's Planner – Reference Section
The Quilter's Planner reference section includes all the most important quilting details… like diagrams and instructions for making HSTs and Flying Geese, the sizes of precuts, or the number of squares you can cut from the yardage you have.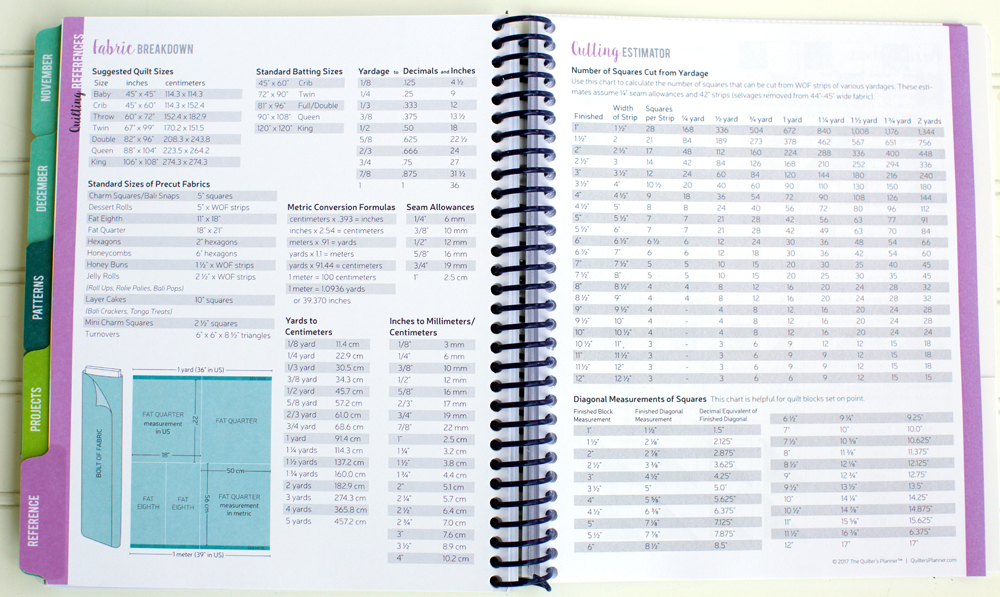 Check out this great video, that Stephanie Palmer made, which describes the reference section of the 2018 Quilter's Planner.
2018 Quilter's Planner – Project Section
The Quilter's Planner project section includes all the most important project details… like project tracking pages, which helps you identify the status of each WIP.  This section also has individual project pages which allows you to really get into the planning of each project.  Just think of how amazing your makes will be when you take the time to plan them out and have your notes in one book!!?!!  Below is just an example of how to use the Project Planner pages.  Brilliant!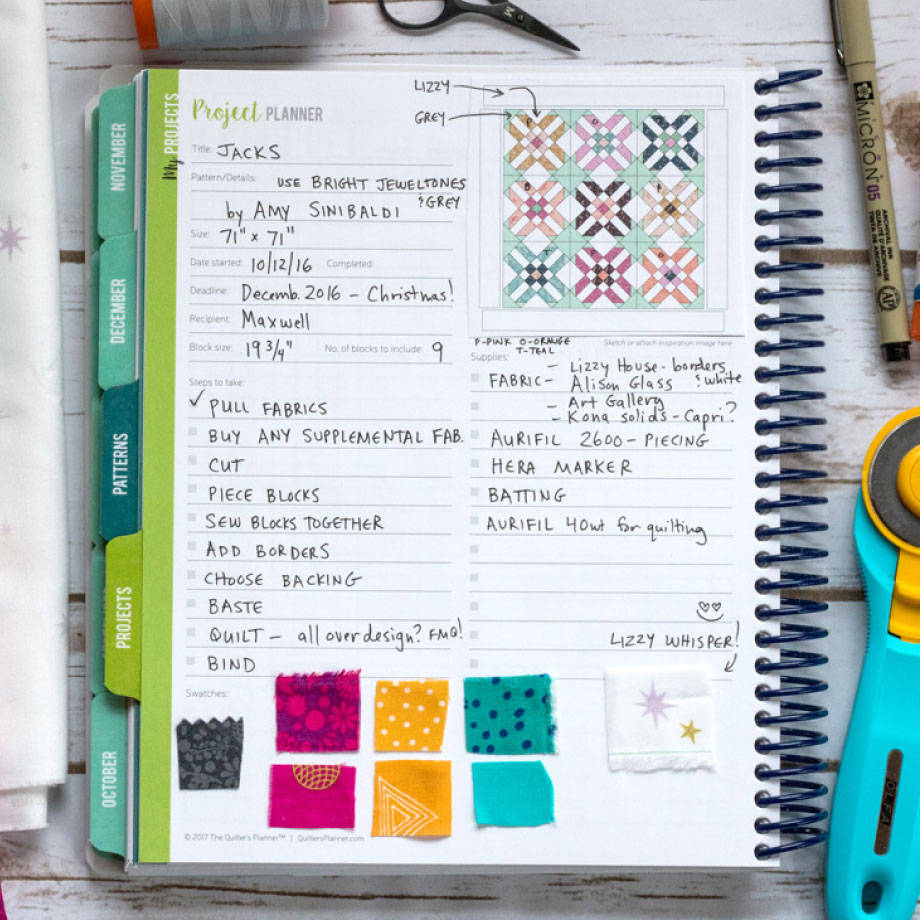 2018 Quilter's Planner – Pattern Section
The Quilter's Planner pattern section includes all the most important pattern details.  Each of the patterns are in eluded in the caption 2018 Quilter's Planner Magazine, which is included with your purchase of the planner.  Each month, you will have a featured pattern designer and pattern.  You can join the Quilter's Planner community to share your makes, ask questions and be inspired!  You can also simply purchase the patterns separately from the pattern, although the patterns come with the 2018 Quilter's Planner.  You can purchase the patterns separately right HERE.
2018 Quilter's Planner – Block of the Month
I love how Quilter's Planner has made a fun community where folks can come together in a common project!  They would like you to join them on Facebook and Instagram as we sew the 2018 QP Sampler Quilt Block of the Month (BOM) pattern.  Check out their Facebook group and Instagram  for tips for sewing a beautiful sampler quilt.  You can get support and help along the way by asking their QP experts and group members.  You can join in at any point during the year.  It's never too late!
All you need to participate in the BOM sew-along is your copy of the 2018 Quilter's Planner and the accompanying pattern magazine.
They have even made these free downloadable coloring pages to make it easier to plan your version of the 2018 sampler quilt (click here for the coloring pages).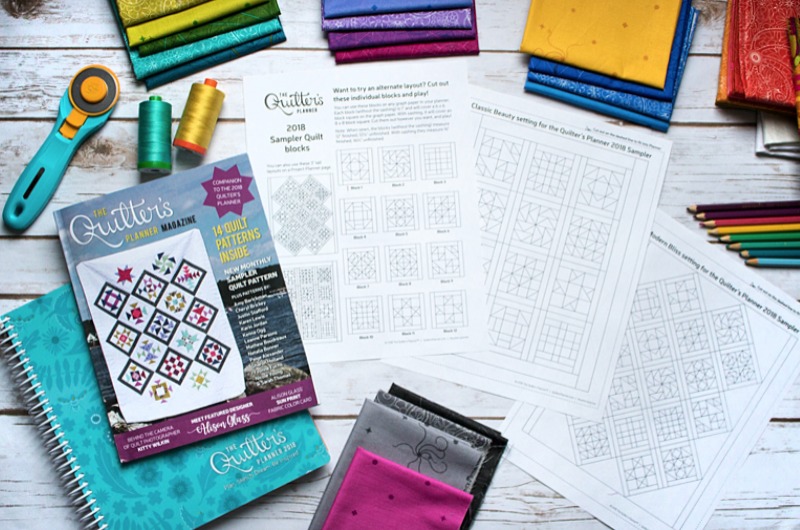 2018 Quilter's Planner – Let's have a Giveaway!
I am having a giveaway for a 2018 Quilter's Planner Mini on my Instagram account.  Check out this post to enter!   All the contest details are on the Instagram Post!
Here are a list of features that are packed in to this little mini!
QP Mini (5″ x 7″) features:
Small 5″ x 7″ 80-page book that fits nicely in your bag
Undated daily planning pages with to-do lists, appointments and shopping lists is the perfect companion to the full-sized Quilter's Planner
Meal planning and grocery lists to take on-the-go  NEW!!
Graph paper and blank pages for sketching or jotting down notes
Projects-at-a-glance pages so you can keep your full list of ongoing projects with you
Project planning pages so you can easily keep notes on your project and what you need to buy, to bring with you to the quilt shop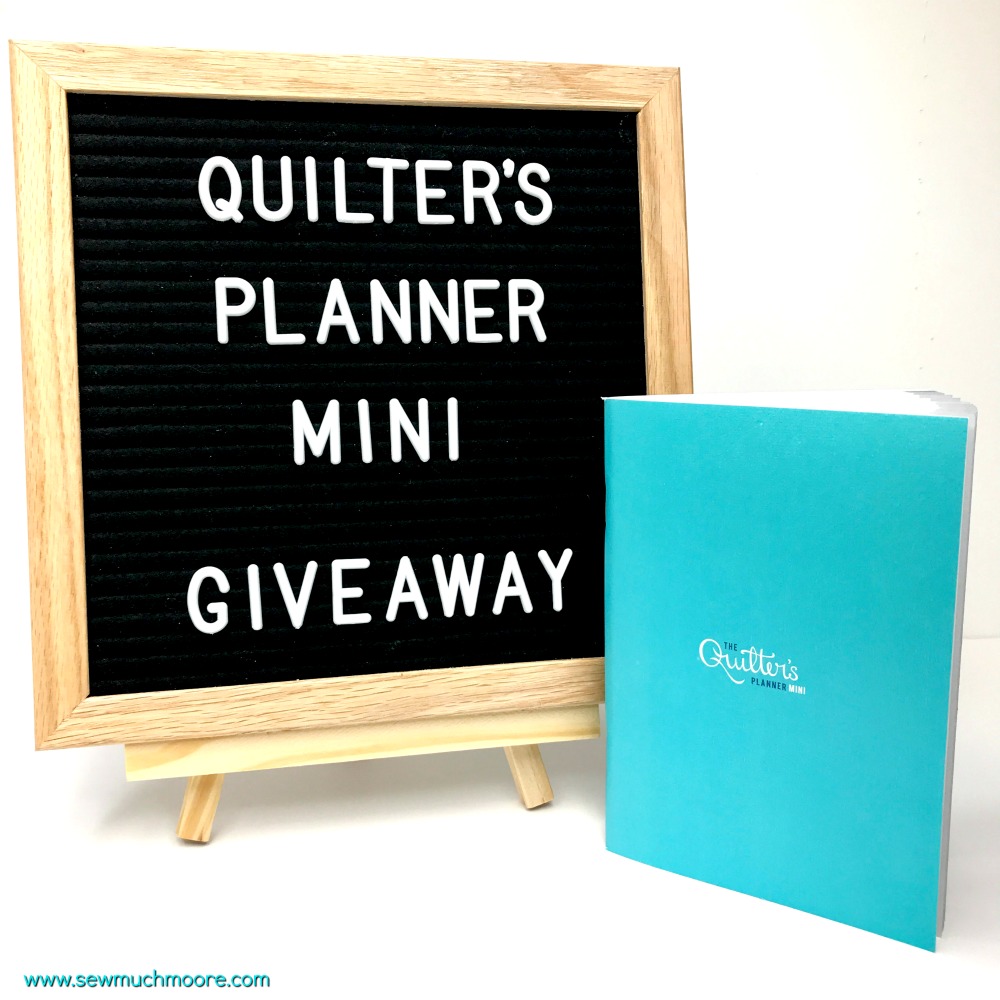 I'm getting ready to make a cover for my 2018 Quilter's Planner.  Stay tuned and Happy Quilting!